29/06/2021 at 12:52
#5700
admin
Week 56 update of the Cycling Monks Strava Group. Week ending 27th June 2021.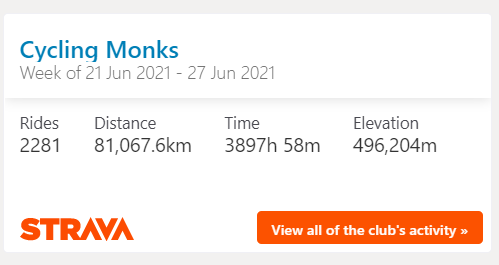 Club Stats. 1106 members collectively rode 81068 km in 2281 rides, climbing 496204 metres in 3898 hours!
The number of members are up by 31 as compared to last week. The week saw everyone collectively ride more, with total distance, elevation gained and time spent on the saddle were all up.
To be in the top 100, you needed to ride minimum 242 km during the week!
There were 6 who rode more than 100 a day!
1 rode a quadruple century, 14 at least a double century and 100 riders rode at least a century!
27 averaged above 30 kmph for the week. 21 climbed more than 4000 metres… Incredible riding by everyone.
Kudos to all the riders who have been working hard on their saddles…
Leaderboard: Overall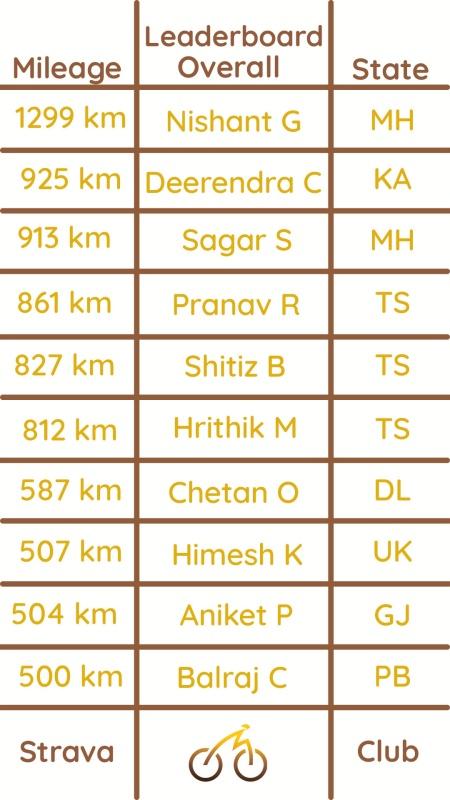 This leaderboard sees Nishant at the top! 6 riders averaged more than 100 km a day. The top 2 remain unchanged.
Nishant Gupta from Maharashtra was top of the charts. He rode an incredible 1196 km.
In second place is Deerendra CR from Karnataka who rode 925 km in the week. He was second last week as well.
Third spot is taken by Sagar Shirbhate from Maharashtra. He rode 913 km.
Leaderboard: Women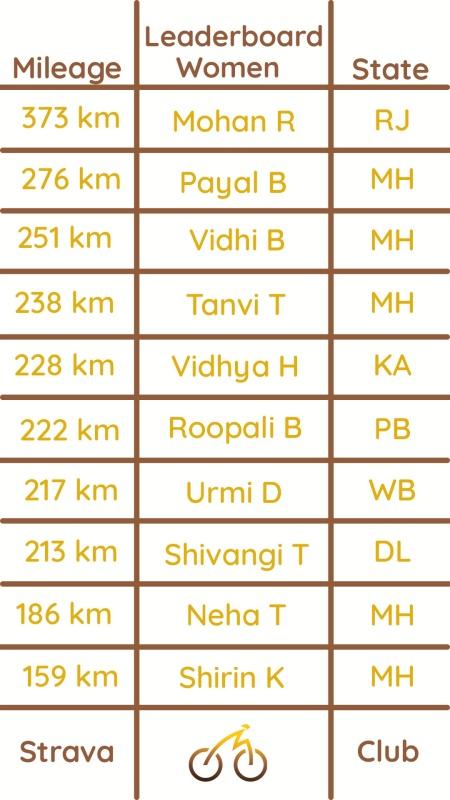 The women's leaderboard has gotten more competitive.
Mohan Rathore from Rajasthan was top of the charts this week. Riding an incredible 373 km. She is a new entrant to the leaderboard. She is 32nd overall.
Next up is Payal Bhatia from Maharashtra. Who rode an impressive 276 km. She is 76th overall. She was third last week.
Third is Vidhi Bhanushali from Maharashtra who rode 251 km. She is 96th overall.
There are 3 women in the top 100 this week, 1 less than last week.
Leaderboard: Longest Ride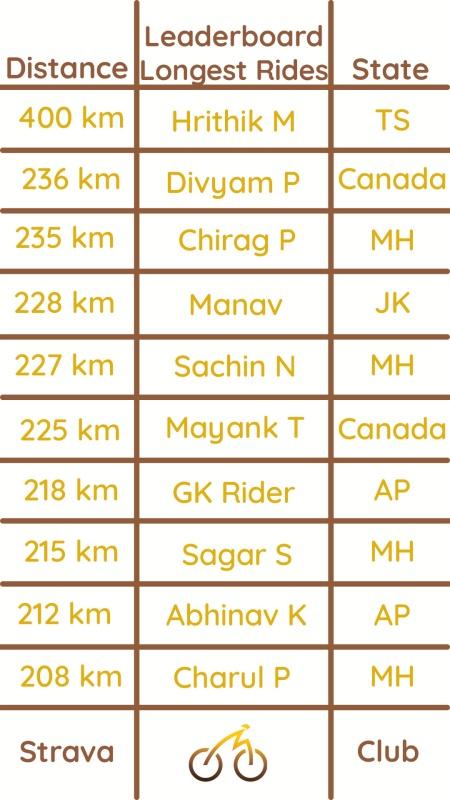 The monsoon and opening up of lockdowns ensured that long rides once again kicked started this week!
Top spot goes to Hrithik Melvani from Telangana for the longest ride. He did a 400 km long ride!
Next up is Divyam Patel from Canada having done a 236 km long ride. Incredibly he did it at an average of 31 kmph!
Third is Chirag Parmanand from Maharashtra, who did a 235 km long ride.
Leaderboard: Fastest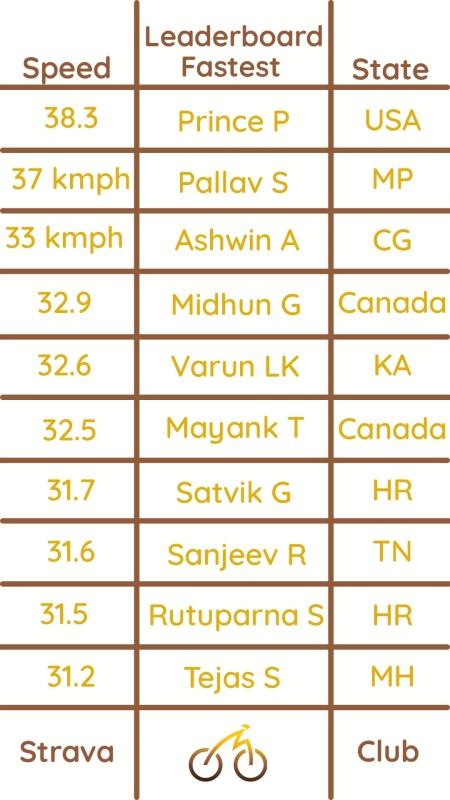 The top 27 have been riding at a seriously impressive pace. The top remained unchanged.
Fastest of the lot is Prince Patel from USA who averaged an incredible 38.3 kmph over the week! He was fastest last week as well.
Second fastest for the week is Pallav Sethi from Madhya Pradesh whose weekly average is a fantastic 37 kmph.
Third is Ashwin Anthony from Chhattisgarh averaging 33 kmph over the week.
Leaderboard: King/ Queen of the Mountain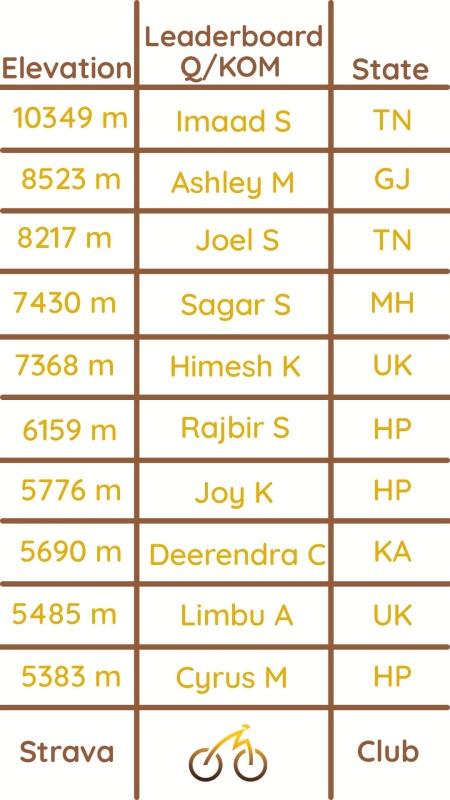 Riders from around the country seemed to have gone hill climbing this week, but the Nilgiris took the win!
Climber of the week is Imaad Sait from Tamil Nadu having climbed 10349 metres. He was third last week.
Second is Ashley Moras from Gujarat who climbed 8523 metres.
Third is Joel Sundaram from Tamil Nadu, who climbed 8217 metres during the week.
Join the Strava Club today!