After staying an extra day in Hanle to see the night sky, we rode from Hanle to Sumdo as we made our way towards Tso Moriri. This was part of our 90 day cycle ride in the Himalayas covering Spiti, Zanskar, Batalik, Ladakh, Nubra, Shyok, Pangong, Hanle, Tso Moriri, Garhwal and Kumaon!
---
Day 59: Hanle
Another day of rest. This time under the starry sky of Hanle.
Except it wasn't. We didn't get to see any stars in Hanle. The sky was so cloudy that we stayed another night. In Hanle we count the number of nights and not days!
Our luck turned to merdè and the clear sky to clouds. The night before we reached Hanle it was crystal clear, with people enjoying a gorgeous night sky. The two nights we were there it was as clear as a glass of milk!
Breakfast was standard military fare, 4 puris with chana. When Akshay had the audacity to ask for 'more' like Oliver Twist, he was given a stern look followed by a strict no!
Akshay might have taken the dejection of no extra pooris a bit too seriously as he stayed in bed for the first half of the day. I fought the gloomy weather and rode out to the monastery and village.
Hanle Monastery
It was a steep climb to the monastery which took the wind out of me. The view of the village and road we traversed was beautiful from the top.
The monastery itself on the other hand was rather plain Jane. Not that I minded the spartan setting, since I was all by myself there. No monks, no tourists, not even a dog. Just me. At such times one experiences inner peace.
As I was leaving I chatted with a tour guide from Leh who took a spin on my bike.
After the cycle ride he got chatty and complained about the morons he carts around. The 20 odd people on motorcycles couldn't turn a wheel if they life depended on it, yet they were 'riding' from Manali to Srinagar! The people in cars delayed the posse, while the bikes tripped over each other at every tiny stream. I couldn't help laughing at his woes!
The Village
I went to the village of Hanle. A small quaint village surprisingly unaffected by the influx of tourists. Barring a handful of homestays there is no impression of tourism. Which makes it perfect for riding or walking through.
I had gone in search of a tea stall, but found nothing. Instead I bumped into a cobbler from Punjab. As is generally with the people of the state, they have a knack of entertaining with their stories. He was no different as I laughed nonstop for the next hour!
The only reason our conversation was cut short was because of the rain and cold and my lack of a jacket! I rushed back to the B.R.O camp only to find Akshay still chilling in bed not having moved a muscle.
The rest of the day I followed Akshay's lead and did absolutely nothing! Besides sitting on my backside yapping away with anyone who had time.
B.R.O. Tales
A B.R.O engineer in charge of that area indulged us with stories of the road. Of blowing up mountains to build the road, of lighting up dynamite and running for life, of the fuse going off and waiting for hours to muster up the courage to check the explosive, of not bothering about uniform, of people's honesty in Ladakh and the northeast being a result of their religion and a lot more.
The other interesting conversation I had was with a labour from the state of Jharkand.
We are all praise for our soldiers who live in the harshest of winter conditions on the border, we forget the cooks who accompany them. These labourers get paid a pittance, no perks and advantages, no fixed employment, no winter gear, no insurance and work from early morning to late night.
The worst part, no recognition for their efforts.
Day 60: Hanle to Sumdo
We had a long way to go and started appropriately late!
For breakfast we were given three rotis and chana, not remotely enough to fill a cyclist's belly, but beggars can't be choosers and we dared not ask for more!
After thanking the wonderful people at the camp, we made our way to the checkpost where the cop on duty helped us hitch a ride from a passing jeep to Loma. We had already ridden the route the previous day and had no intention of doing so again.
To Loma…
The ride was once again fast and furious with Akshay standing out back with the bikes, while I did the smart thing and sat inside in comfort, listening to trippy Ladakhi music.
Along the way we saw two stupid couples. With their crash helmets tied to the rear of the bike, riding in slippers and no control over their overloaded machines. These people were the perfect example of educated illiterates!
Normally I blame tourists every time there is litter on the roads, on this occasion I saw a couple of locals dumping stuff out with gay abandon. The image of Ladakhi people being extremely responsible and clean was shattered right there. Of course it could be an exception.
At Loma we got our bikes off the jeep and offered to pay. He first asked for an exorbitant 1000 rupees for a 50 km ride and then didn't charge us a penny. The weird logic of people of the place is unfathomable.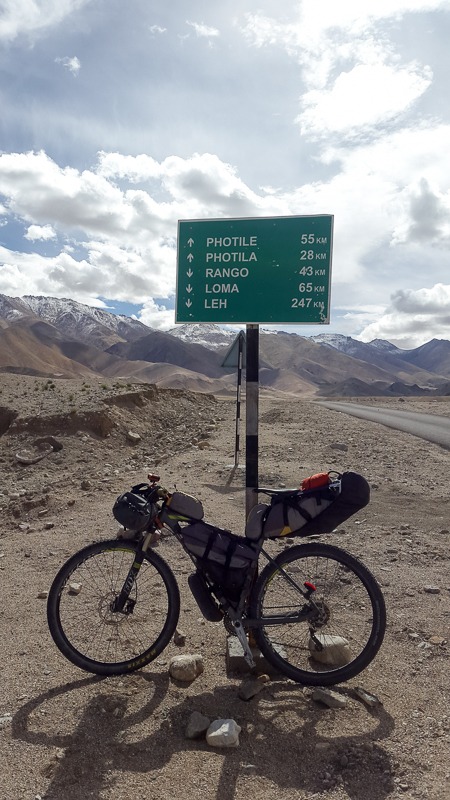 Loma
At the checkpost the two military soldiers on duty were cyclists. One had raced MTBs and the other had ridden from Bangalore to Kanyakumari. The former was the same guy from a couple of days prior and he once again rocketed away on my bike. The way he climbed and descended it was obvious he knew what he was doing.
A female personnel from the ITBP also rode my bike, but gave up after a couple of hundred metres.
I wondered why, only to see the soldier had put the bike in the highest gear and given it to her to climb a slope! Poor lady.
The wonderful people that they were gave us tea, biscuits and juice. They went out of their way to make us comfortable and wouldn't stop singing praises about the fact that we were cycling that terrain. High praise considering they live there even in the harshest winters. It was lovely to chill with all of them.
Nyoma
At Nyoma thanks to the GREF officer from Hanle we got lunch at the officer's mess. He even arranged stay for us there. Since we reached by early afternoon, we only ate lunch and moved on.
The food was excellent, but more importantly there was a western commode for use. The joy of going to the loo properly after shitting in a keyhole for a week was unbounded. I possibly had tears of joy after the luxury!
Mahe
The village of Mahe had one homestay, which was locked, with only a poster proclaiming it to be a former election office. Disappointed we moved past the village to the checkpost where another guesthouse was available.
Unfortunately, the owner had locked up the place and left, and no one knew in how much time would he return.
Though it wasn't all bad luck, we met an ITBP inspector who promised us accommodation at Tso Moriri in the ITBP camp once we got there.
After a long time I was meeting and interacting with a smart military officer. Often they resemble rotund accountants rather than fit faujis. We had a place to stay at the lake, but before we reached there the next day, there was the small matter of staying alive through the night!
With time and options running out, we rode on to Sumdo. The last settlement before the lake and our hope for a roof over our head.
The road to Sumdo was through a narrow valley, a stark contrast to the wide plains we had been riding through the past few days. I really wanted to go super slow through that section, but the sun was descending super fast. And who am I to argue with the sun.
Sumdo
Accommodation in Sumdo was rather erratic, from 100 rupees for a blanket in a tent dhaba to 600 rupees per person in a homestay to finally finding a simple room for 300 rupees.
The weird thing was that all three provided the same sort of toileting facility. One had to pick up their bottle of water and head out into the wild!
In most parts of Ladakh the people have learnt Hindi reasonably well. The accent is strong, but language skills are stronger. Not in Sumdo, everyone struggled with basic Hindi, across generations. Even though this village is on the crossroads to Tso Moriri, which sees a decent amount of tourist traffic.
Route Profile from Hanle to Sumdo
From Hanle to Loma the route profile can be seen in the previous blog: Tsaga to Hanle.
After Loma the road is flat all the way till Mahe. From Mahe to Sumdo there is a gentle climb.
There is food and accommodation available in Nyoma, Mahe and Sumdo. Very basic but usable.

Expenses: Hanle to Sumdo
Food for Two: Rupees 80
---
READ THE BLOG 61ST DAY'S BLOG FROM SUMDO TO TSO MORIRI