On the 62nd day we travelled from Tso Moriri back to Leh, where we stayed another 5 days before hitting the road again! This was part of our 90 day ride in the Himalayas covering Spiti, Zanskar, Batalik, Ladakh, Nubra, Shyok, Pangong, Hanle, Tso Moriri, Garhwal and Kumaon.
---
Day 62: Tso Moriri to Leh
It was a Sunday and all the men in the ITBP camp in Tso Moriri 'had' to bathe and attend temple service…
Morning Rituals
First thing in the morning, you pick up a plastic jerrycan, fill it with ice cold water at the hand pump and trudge to the dugout toilets a couple of hundred metres from camp.
You might be clinking glasses with your drinking buddy the previous evening, but in the morning it will always be clinking jerrycans!
The commander asked me if I was going for a bath. A rhetorical question, since the only answer was, yes. Shivering like a wet chicken, I filled a bucket with warm'ish' water and headed for my least favourite mountain ritual.
Teeth chattering and knees clanking I ran out of the bath, threw on as many clothes as I had and stood near the kerosene stove. The stench of which took me back to square one in a jiffy!
At a military camp, Sunday special breakfast is Maggi noodles!
Rather terrible, it had a weird flavour. Even though I was hungry, barely a morsel went down my throat.
As soon as breakfast was over, an elderly man walked in, asked if our stay had been comfortable and then gave us our marching orders! Even an idiot would realise we had overstayed our welcome. Idiots that we were, we took our own sweet time leaving camp!
Karzok
From the camp we went to the village of Karzok, in search of accommodation. The place is touristy and everything is expensive. We found a room for 800 rupees. I was overjoyed it had a western style commode.
The definition of luxury has changed over the course of this trip!
Tso Moriri is beautiful, the sparkling water mesmerising, the rustling wind enchanting. There is nothing that you cannot love about the place. Yet! There was something amiss.
I was roaming around listless and uninterested in the surroundings. Akshay was doing no better than me in the positivity department.
The weather didn't help, gloomy skies above and a fast emptying wallet below were dragging both of us down faster than Brexit was doing to the United Kingdom.
So much so that we were desperate to get away from that heaven. We searched the village for a vehicle headed out, unsuccessfully. That added to our damp squib spirits.
Redemption
Two lost souls were drifting around town in search of an escape clause! We didn't find what we were looking for, but Akshay did bump into the wonderful officer from Hanle who had so kindly helped us out. It was a Sunday and he was out with his family. No better place than Tso Moriri to spend a Sunday. As long as you aren't broke!
As things were fast going down the rabbit hole, Akshay managed to secure the services of a pick-up truck.
The driver was headed to Leh that evening and was willing to have two exhausted cyclists on board. Suddenly things started looking up. We had a few more hours by the lake and were ready to make full use of it.
We went around the village enjoying the bylanes taking pictures and making the kids pose with the bike. Even managing to find time to roam around the lake and actually enjoy the magnificence of Tso Moriri.
Inflated hopes and deflated tyres
Though it was a tale of two men and a bike. As my cycle wasn't in a mood to go anywhere, with the front tyre lacking air and me the will to pump it up! As a result he rode and I walked as we took in the scenery of the lake.
We ended up leaving later than expected, 7 pm from Karzok with a 5 hour drive awaiting us. The vehicle was stopped at the checkpost since tourists aren't allowed on the road at night. One look at our pained desperate faces, and the cops let us through.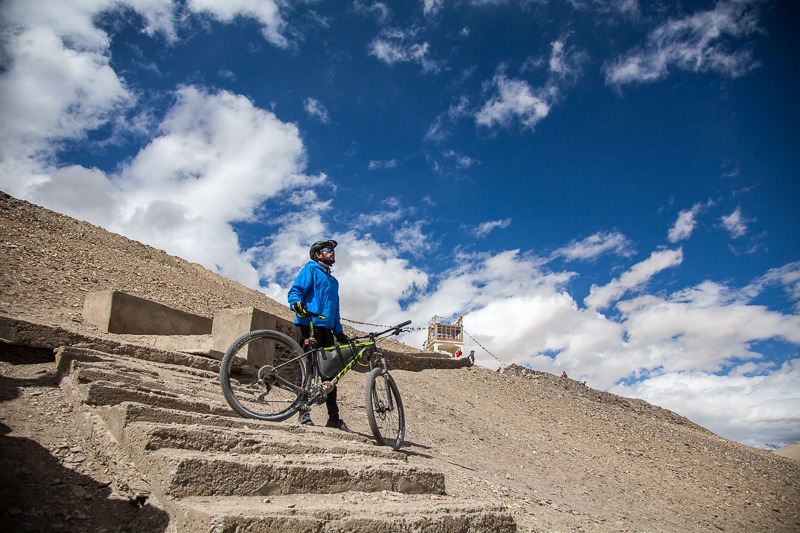 Night Secrets
Post Mahe it was new terrain for us, unfortunately it was dark and we couldn't enjoy the vistas that Changthang promises. We did enjoy dinner there though along with multiple sightings of the Ladakhi Red Fox.
The pick-up was driven by two drivers who took turns driving as they both were sleepy. I ended up keeping my eyes peeled chatting with the drivers to keep them awake.
My monotonous voice is terrible apparently as at one point both the drivers were asleep with the vehicle in motion. I had to yell to wake them up!
Home-run. Well, sort of!
Once we got back onto the main highway a can of beer was opened and the two drivers enjoyed it.
I am against drinking and driving completely, but these two guys drank in the most responsible manner imaginable. The co-driver had most of it, while the guy at the wheel took a few sips just for the pleasure.
We reached Leh and Zaltak at 2 am, and the place felt like home. Everything was just as I had left it. The feeling of familiarity was wonderful. The feeling of having Internet was even better. I managed shut eye post 4 am, only after I heard the mosque call in the still night.
The dormitory was filled with early birds. The first, the same cyclist we met at Pangong, left at 4. The next guy left at 5 and the last left at 7, making a mockery of my sleep! Zombieland was a certainty the next day.
Day 63 to 67: Leh
With just 3 hours of sleep, the first day back in Leh was spent like a zombie.
The gloomy weather continued with us in Leh. I looked up at the sky, washed my clothes and hoped for the best. The laundry gods looked down kindly on me and shone with some of their lost glory.
Success comes to those who are willing to risk it all. This truism applies to laundry as well!
A fruitful morning later, we headed to our usual haunt Ladakhi Kitchen for lunch, only to be accosted by Sumit and Tanvi who were probably (hopefully!) pleasantly surprised to see us. Over lunch we caught up with stories from both parties, Sumit's Himalayan Ultra race and our Ladakhi escapade.
Sumit was bussing it out to Manali that same evening as he wanted to check the road conditions of the highway after a week of bad weather. He had a record setting ride planned, which as most things in the mountain, was weather dependant. I dropped him on a Royal Enfield to the bus stop and after all these years, this bike still feels as alien as it did on my first ride.
Back in Zaltak, Duhorn and Shweta had joined the dorm party, the latter having returned after a second unsuccessful attempt at Stok Kangri. We went for dinner where we had a good time trying our best to explain India and the absurdity of south Indian movies to our newfound Korean friend.
Day 64
The second morning (and my last, allegedly) saw us joined by Niraj, a cyclist from Chennai. He had started from Manali, suffered from the altitude midway and had caught a ride to Leh.
We went for breakfast together, where I got to know that he owned a Royal Enfield Himalayan. He swore by his bike's reliability and said it was perfect, except… the list of woes was long enough to fill the Manali-Leh road! It ended with him getting a new engine!
Lunch saw Nithin return from Nubra, where he spent the last few days with someone's cranky granny. Whatever that means! He was overjoyed to find another Tamilian in the house. The two yapped away, giving us Hindi speakers a taste of our own medicine.
The turning point of my second innings in Leh was decided by dinner. Clearly the Punjabis or their food don't take too kindly to me. The oily, greasy, spicy rubbish was my downfall.
Day 65
The next morning instead of finding myself on the saddle to Manali I was sitting on the throne playing the toilet game. Plans were made on the basis of the proximity to the loo. Thus went most of my day.
Enough was enough, I ate chicken for dinner and was immediately fine. Vegetarian rubbish isn't my best friend.
Day 66
The morning after, the chicken did the trick and I was fit as a fiddle. I decided to err on the side of caution and stayed an extra day in Leh. Searching for a rock to hide behind with toilet paper isn't my idea of adventure.
While I was grounded, Niraj and Akshay booked flight tickets and took off from Leh. Homeward bound.
It hadn't stopped raining in Manali and Sumit was back because of the unfavorable road and weather conditions for his record setting ride.
Later in the day a cyclist from Calcutta, Anirban, landed up at Café Metta. He was riding a heavily loaded bike from Srinagar and was headed to Nubra.
Just to ensure that my health remained intact, I gobbled down some more chicken. I couldn't risk the consumption of sneaky vegetables!
Day 67
It was finally time to leave Leh, once and for all.
I awoke on time and got ready to leave. I took two minutes in the loo. By the time I returned, my bed had already been cleaned and fresh sheets placed. The landlady wasn't taking chances, she wanted me out immediately, tired of seeing me there indefinitely.
Tough luck for her, as my bags were unpacked and it took me a month of Sundays to put my things together and leave. By then Tanvi and Sumit landed up to see me off and we all went for breakfast to Ladakhi Kitchen.
Dosa Tackle
Our first breakfast later, Sumit invited me to join them for dosa at the YHAI camp. The offer was too good to refuse and I tagged along. I ended up eating so much of dosa, chutney, sambar and pongal that I was in no position to move my little finger, much less pedal a bike!
Before I knew it, the sun was overhead and it was too late to leave. The dosa made up my mind to stay an extra day.
Sumit wanted to take the KOM on Shanti Stupa, and he got his Pinarello Dogma 60.2 ready for the attack. The bike was fitted with spanking new Miche clinchers and off we went. Me sitting pillion on a motorcycle in an attempt to help pace him up the climb.
The start of the attack was good, but there were far too many people jay walking near the top, and the effort went to waste. With only a promise of returning the next morning.
Back at Jimmy's, the wheels were switched to carbon tubulars with an all out attack planned the next morning.
I was hell bent on leaving the next day and ate chicken at our tried and tested Ladakhi Kitchen. Things were looking up once more!
Expenses
Food in Tso Moriri for two Rs 520
Stay in Tso Moriri for two Rs 300
Transportation from Tso Moriri to Leh by jeep Rs 2500
Food for Two for five days in Leh Rs 2555
Stay in Leh for Two Rs 2400