15/06/2020 at 16:15
#3811
Avinash
Week 2 Update of the Cycling Monks Strava Group. Week ending 14th June 2020.
Club Stats. 179 members who collectively rode 23,451 km in 674 rides, climbing 135,366 metres in 1141 hours!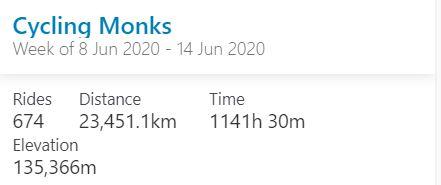 Leaderboard: Overall
Top of the charts this week was Balraj Singh Chauhan from Punjab, living up to his Super Randonneur reputation by clocking 589 km.
In second place is Rahul Nalawade from Maharashtra who rode 530 km in the week.
Third spot is taken by Sumith MK from Karnataka, who was at the top last week as well. Consistent effort for him. This week he rode 500 km.
*Only outdoor rides and 'smart indoor trainer' rides considered.
Leaderboard: Women

Among the women in the club, Neha Tikam from Maharashtra was top and in 19th place overall. She has been training rigorously this past week.
In second place is Simmy Pardal from Uttarakhand, with 203 km under her belt for the week. She is 40th overall as well.
Third was taken by Urmi Das from West Bengal having ridden 118 km this week. She is 85th overall.
Leaderboard: Longest Ride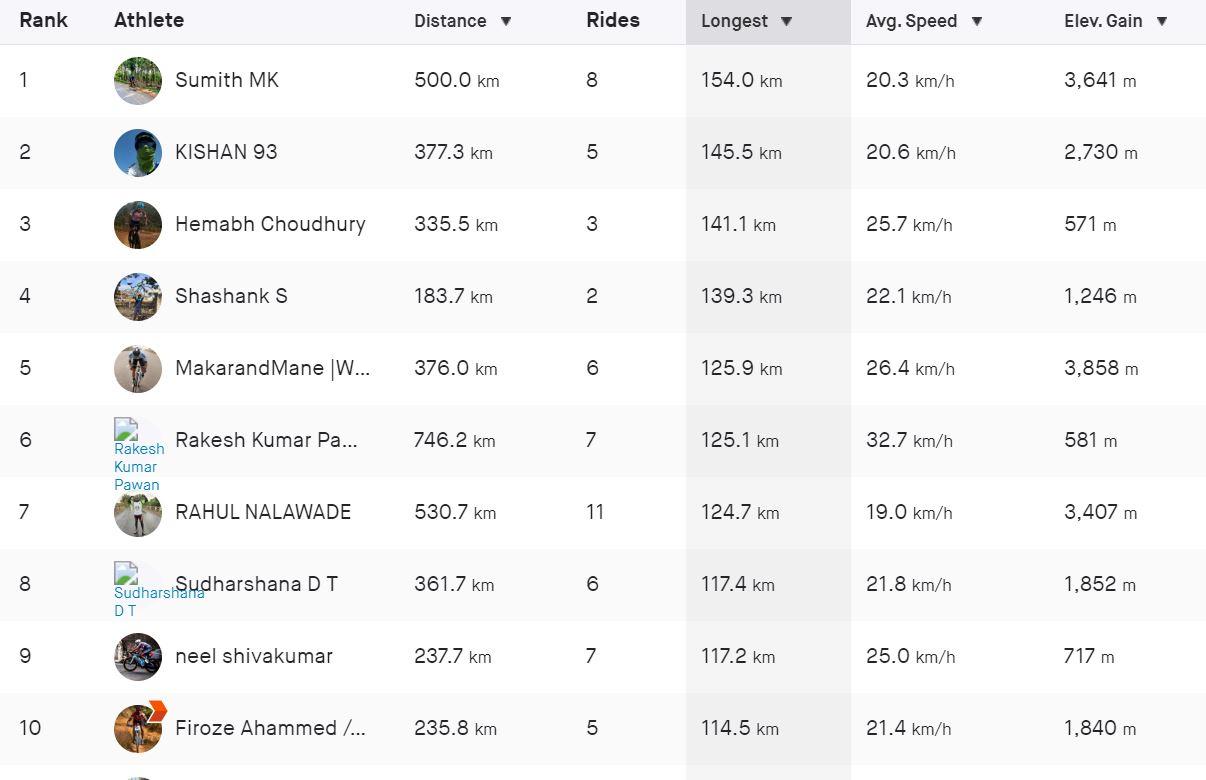 Top spot goes to Sumith MK from Karnataka for the longest ride, doing a 154 km ride!
Next up is Kishan also from Karnataka having done a 145 km long ride.
Third is Hemabh Choudhury from Assam, who did a 141 km long ride.
Leaderboard: Fastest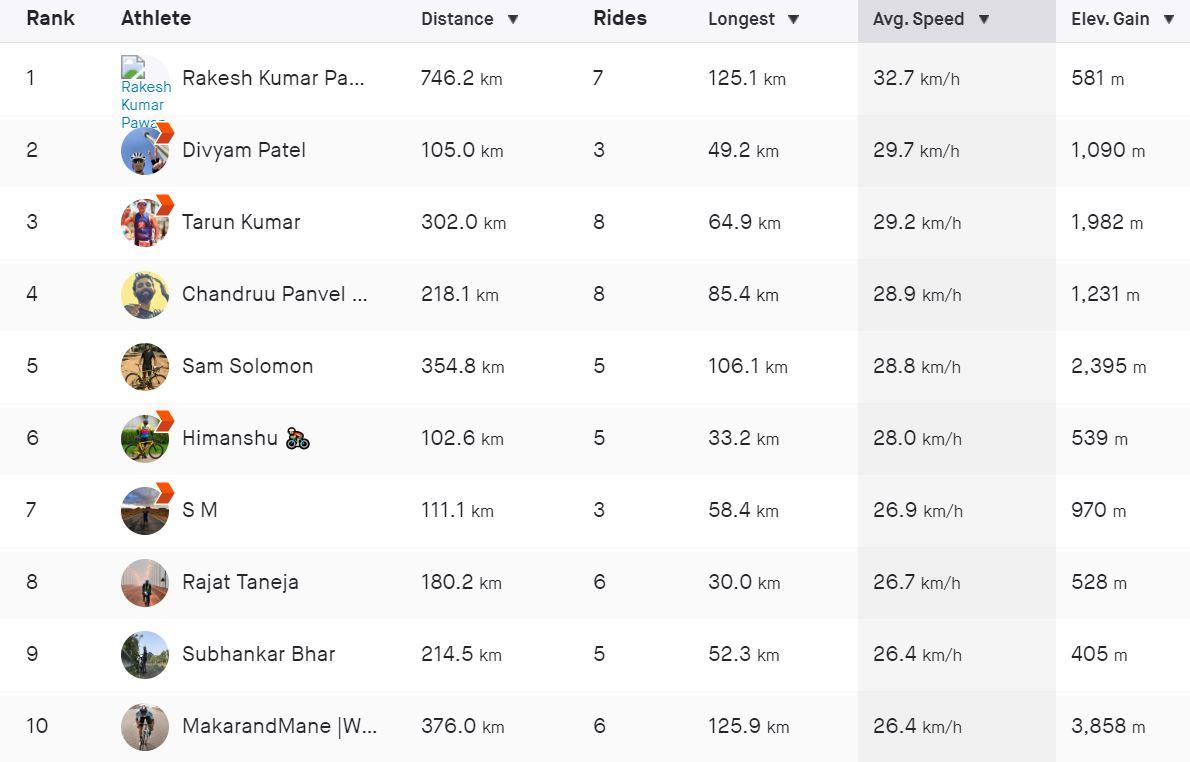 Fastest of the lot is Divyam Patel, based in Canada as he rode the entire week at an average speed of 29.7 kmph.
Second fastest is Tarun Kumar from Maharashtra whose weekly average is 29.2 kmph. This even after having a parallel 'running' week!
Third is Chandruu also from Maharashtra.
*Only outdoor rides and 'smart indoor trainer' rides considered.
Leaderboard: King/ Queen of the Mountain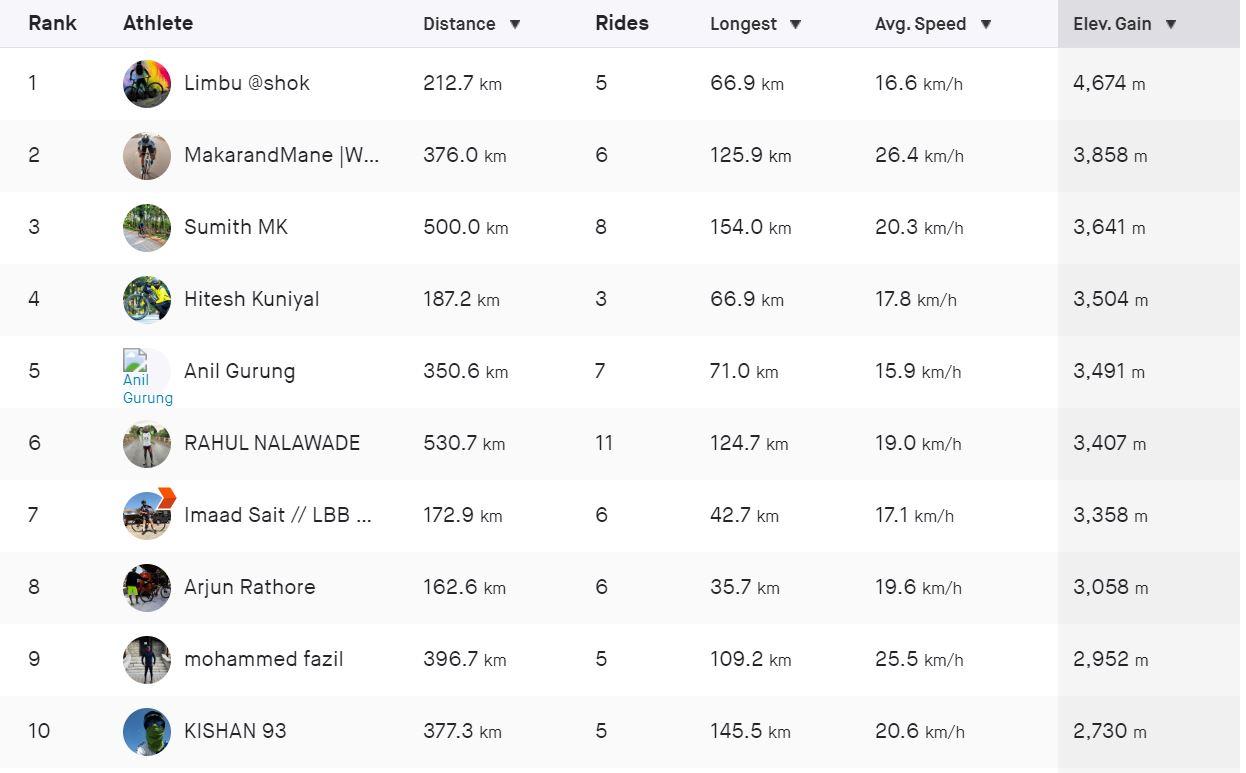 Climber of the week is Makarand Mane from Maharashtra. Who has used the Western Ghats to the hilt to add climbing miles to his legs.
Join the Strava Club today!