22/06/2020 at 14:31
#3831
admin
Week 3 Update of the Cycling Monks Strava Group. Week ending 21st June 2020.
Club Stats. 200 members collectively rode 27547 km in 744 rides, climbing 148082 metres in 1373 hours! WoW, all the numbers are up…
Leaderboard: Overall
Top of the charts this week was once again Balraj Singh Chauhan from Punjab clocking a whopping 667 km.
In second place is Ringkhang Narzary from Assam who rode 635 km in the week. Not far behind top spot.
Third spot is taken by Rahul Nalawade from Maharashtra. This week he rode 616 km.
Goal posts have moved, you need to be clocking a whopping 600 km or more to be at the front!
*Only outdoor rides and 'smart indoor trainer' rides considered.
Leaderboard: Women
This week saw the women's leaderboard dominated by the ladies from Pune, who have done a clean sweep of the top three positions.
Among the women in the club, Neha Tikam from Maharashtra was top and in 14th place overall riding over 376 km. This is the second straight week she has topped the women's leaderboard.
In second place is Rajlaxmi Teli from Maharashtra, with 311 km under her belt for the week. She is 20th overall as well.
Third was taken by Pradnya Ajagar from Maharashtra having ridden 268 km this week. She is 25th overall.
There are a total of 6 women in the top 100 this week, doubled from the 3 last week.
Leaderboard: Longest Ride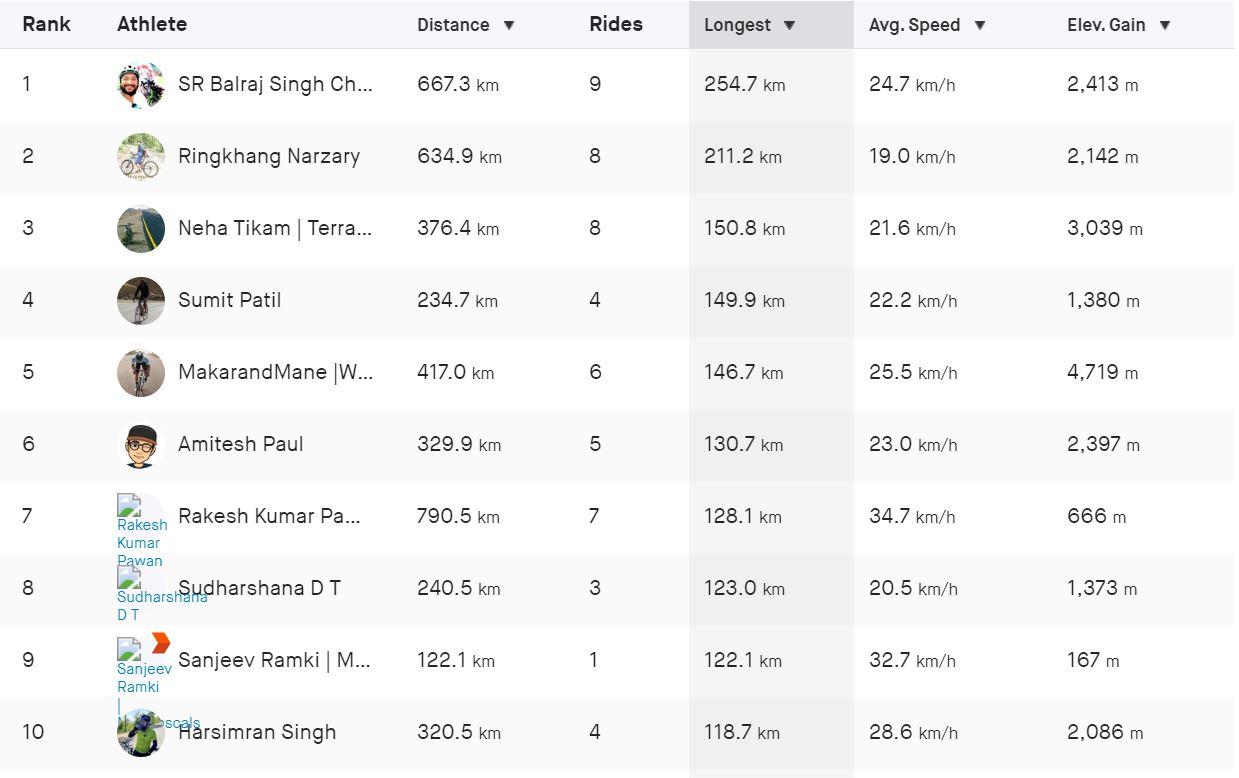 Top spot goes to Balraj Singh Chauhan from Punjab for the longest ride, doing a 255 km ride on father's day!
Next up is Ringkhang Narzary from Assam having done a 211 km long ride.
Third is Neha Tikam from Maharashtra, who did a 151 km long ride.
Leaderboard: Fastest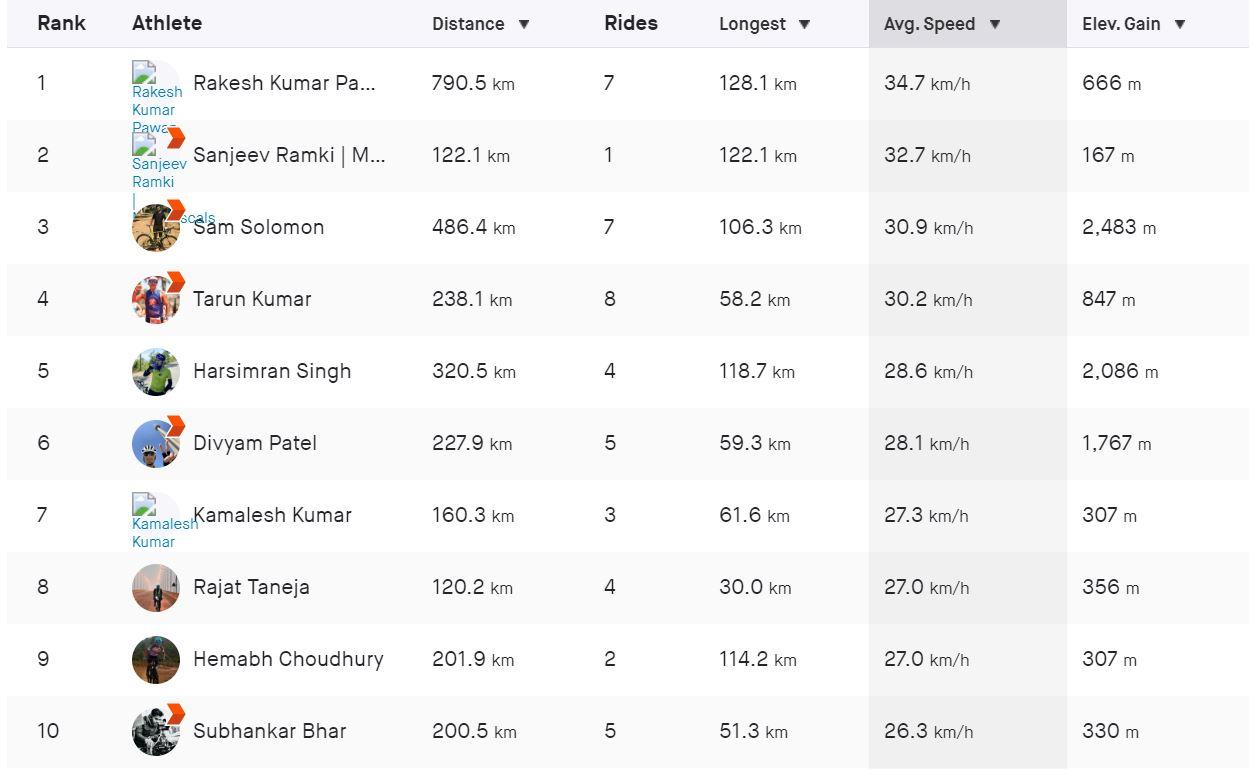 Fastest of the lot is Sanjeev Ramki, from Tamil Nadu as he rode in Chennai at an average speed of 32.7 kmph.
Second fastest is Sam Solomon from Karnataka whose weekly average is 30.9 kmph.
Third is Tarun Kumar from Maharashtra averaging 30.2 kmph over the week.
*Only outdoor rides and 'smart indoor trainer' rides considered.
Leaderboard: King/ Queen of the Mountain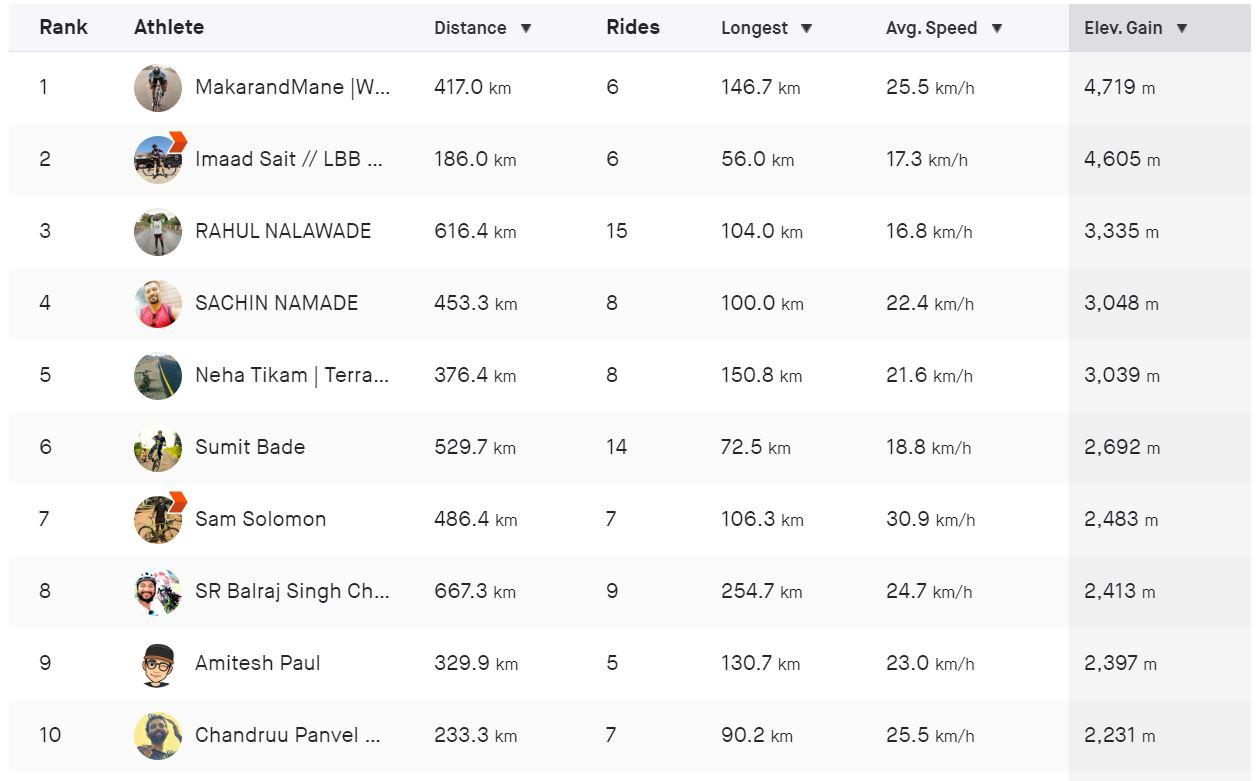 Climber of the week is once again Makarand Mane from Maharashtra.
The Western Ghats are where the climbers live, with second spot taken by Imaad Sait from Tamil Nadu.
Third is again from the ghats of Pune, Neha Tikam.
*In this category, only rides recorded on devices with barometers are eligible. Phone Strava is known to give wildly inaccurate altitude gain readings and therefore cannot be taken into account!
Join the Strava Club today!