29/06/2020 at 17:31
#3837
admin
Week 4 Update of the Cycling Monks Strava Group. Week ending 28th June 2020.
Club Stats. 216 members collectively rode 30756 km in 809 rides, climbing 179732 metres in 1525 hours! Collective numbers for the group are constantly increasing…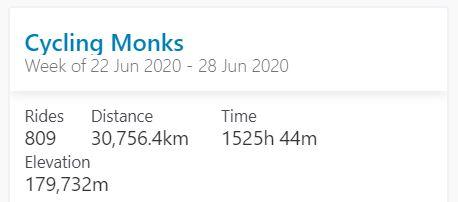 Leaderboard: Overall
Top of the charts this week was Rahul Nalawade from Maharashtra clocking a mammoth 733.7 km.
In second place is Sumith MK from Karnataka who rode 526.7 km in the week.
Third spot is taken by Zeeshan M from Karnataka. This week he rode 490.4 km.
The monsoons have ensured that a lot of wet weather riding is taking place. And those who don't like to ride in the rain are hiding indoors!
*Only outdoor rides and 'smart indoor trainer' rides considered.
Leaderboard: Women
This week once again saw the women's leaderboard dominated by the ladies from Pune, who have done a clean sweep of the top three positions.
Among the women in the club, Pradnya Ajagar from Maharashtra was top and in 5th place overall riding over 483 km.
In second place is Neha Tikam from Maharashtra, with 379 km under her belt for the week. She is 14th overall as well.
Third was taken by Rajlaxmi Teli from Maharashtra having ridden 268 km this week. She is 23th overall.
There are a total of 5 women in the top 100 this week, down by 1 in comparison to last week.
Leaderboard: Longest Ride
Top spot goes to Divyam Patel currently in Canada for the longest ride, doing a 249 km ride!
Next up is Hemant Dhupkar from Madhya Pradesh having done a 202 km ride. This is the first entrant from MP in top spot.
Third is Neha Tikam from Maharashtra, who did a 161.5 km long ride. 10 km longer than last week and 100 metres more than 4th placed Vaibhav!
Leaderboard: Fastest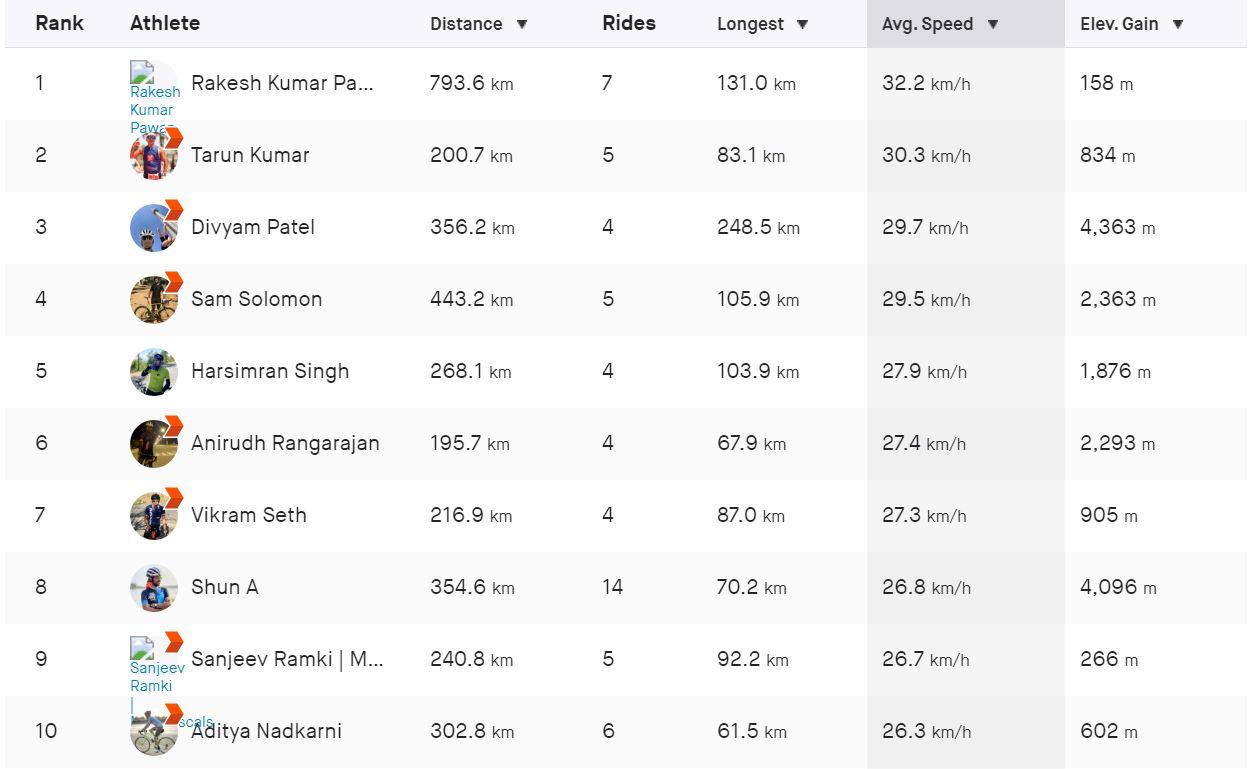 Fastest of the lot is Tarun Kumar from Maharashtra who has constantly been at the sharp end of things with an average speed of 30.3 kmph.
Second fastest is Divyam Patel from Canada whose weekly average is 29.7 kmph.
Third is Sam Solomon from Karnataka averaging 29.5 kmph over the week.
*Only outdoor rides and 'smart indoor trainer' rides considered.
Leaderboard: King/ Queen of the Mountain
Climber of the week is Imaad Sait from Tamil Nadu with a whopping 5398 metres to his name. Living in Ooty surely helps his climbing appetite.
*In this category, only rides recorded on devices with barometers are eligible. Phone Strava is known to give wildly inaccurate altitude gain readings and therefore cannot be taken into account!
Join the Strava Club today!