13/07/2020 at 18:34
#3914
admin
Week 6 Update of the Cycling Monks Strava Group. Week ending 12th July 2020.
Club Stats. 249 members collectively rode 27518 km in 780 rides, climbing 165196 metres in 1352 hours!
The number of members are up compared to last week, but due to lockdowns being enforced in many parts of the country, riding is down. As compared to last week, total kilometres, rides, climbing and number of hours on the saddle are marginally up.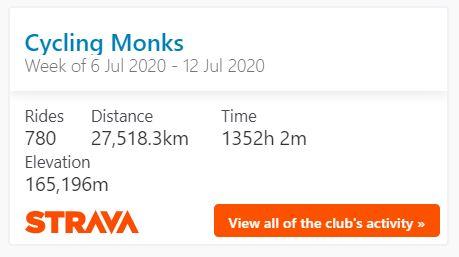 Leaderboard: Overall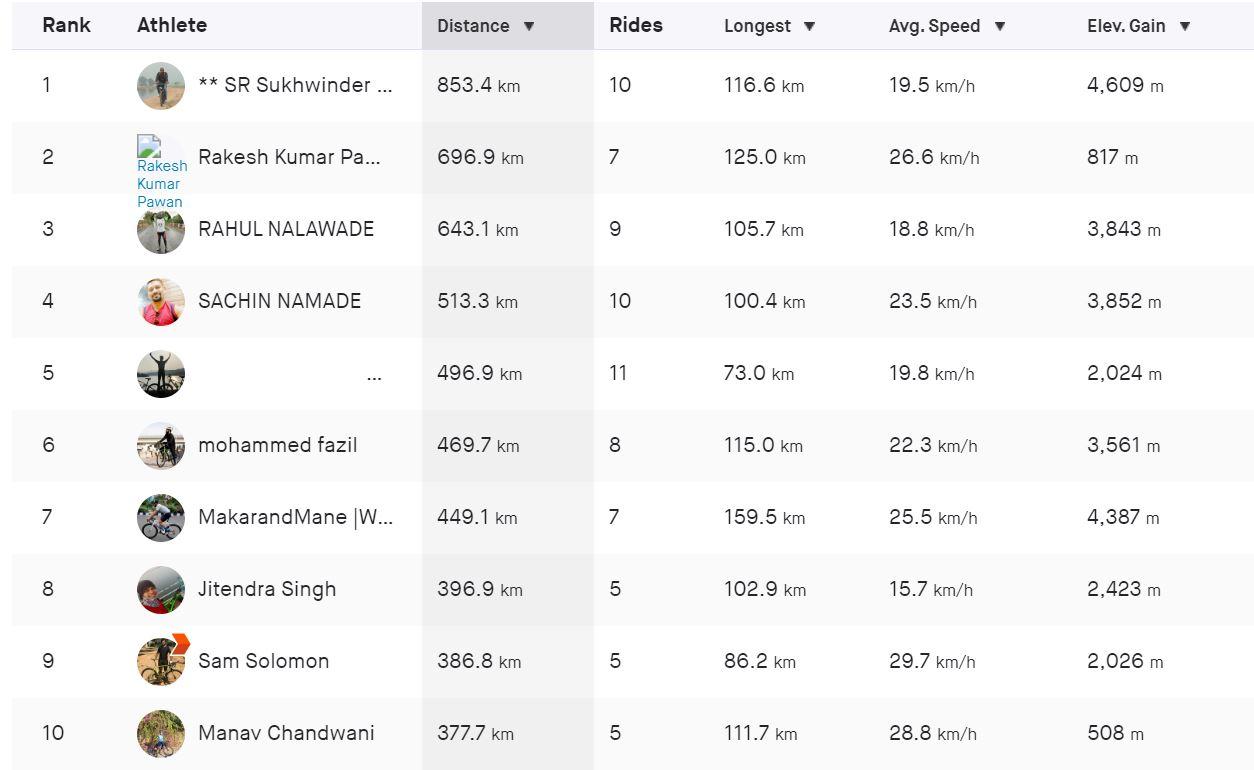 Top of the charts is once again Super Randonneur Sukhwinder Singh from Punjab clocking a 853 km. The second successive week that he has ridden more than 800 km.
In second place once again is Rahul Nalawade from Maharashtra who rode 643 km in the week. Another consistent rider at the top of the charts.
Third spot is taken by Sachin Namade from Maharashtra. He rode 513 km.
*Only outdoor rides and 'smart indoor trainer' rides considered.
Leaderboard: Women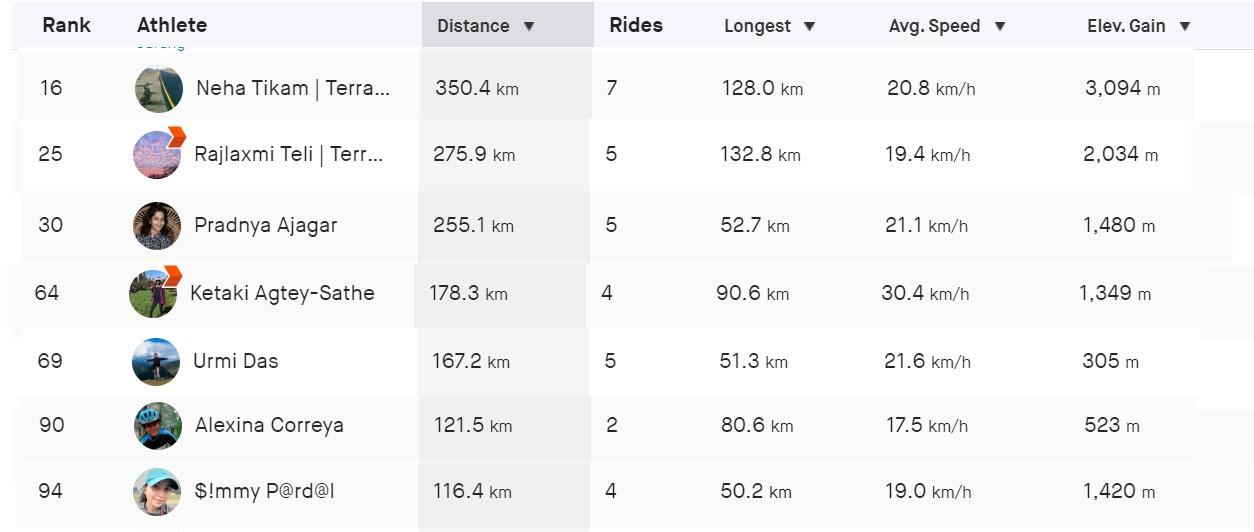 This week once again saw the women's leaderboard dominated by the ladies from Maharashtra, with the top 4 from the state!
Among the women in the club, Neha Tikam from Maharashtra was back at the top and in 16th place overall riding over 350 km. After a recovery week, she is back at the top.
In second place is her teammate Rajlaxmi Teli from Maharashtra, with 276 km under her belt for the week. She is 25th overall.
Third was taken by Pradnya Ajagar also from Maharashtra having ridden 255 km this week. She is 30th overall.
There are a total of 7 women in the top 100 this week, up by 3 in comparison to last week.
Leaderboard: Longest Ride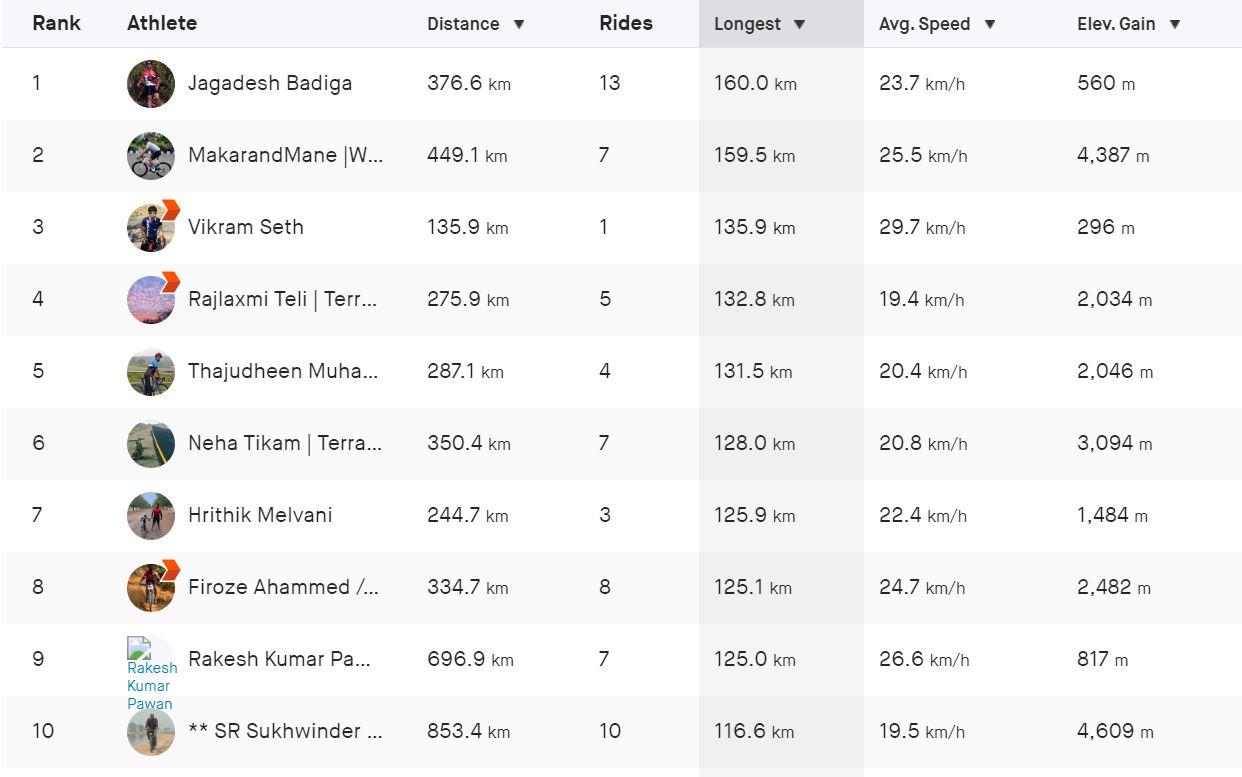 Top spot goes to Jagadesh Badiga from Tamil Nadu for the longest ride, doing a 160 km long ride!
Next up is Makarand Mane from Maharashtra having done a 159.5 km ride, just half a kilometre less that top spot.
Third is Vikram Seth from Chandigarh, who did a 136 km long ride.
Leaderboard: Fastest
The fastest riders are from Maharashtra…
Fastest of the lot is Anirudh Rangarajan from Maharashtra who has been riding fast paced rides on Zwift with an average speed of 31.3 kmph.
Second fastest is Ketaki Agtey-Sathe from Maharashtra also on Zwift whose weekly average is 30.4 kmph. She was averaging fast rides last week as well.
Third is Tarun Kumar from Maharashtra averaging 29.8 kmph over the week.
*Only outdoor rides and 'smart indoor trainer' rides considered.
Leaderboard: King/ Queen of the Mountain
Tamil Nadu takes top spot in the climbing category this week, with two riders from Ooty and one from Maharashtra taking top honours.
Climber of the week is Joel Sundaram from Tamil Nadu with a whopping 7267 metres to his name. Living in Ooty surely helps as he tops this category for a second week in a row. He climbed 800 metres more than last week.
Second is another Ooty boy, Imaad Sait, second last week as well, with 5972 metres of climbing under his belt.
Third is Chandruu from Maharashtra, climbing 5907 metres. 4432 of these metres was in a single ride, a virtual half-Everesting attempt.
*In this category, only rides recorded on devices with barometers are eligible. Phone Strava is known to give wildly inaccurate altitude gain readings and therefore are not taken into account!
Join the Strava Club today!