20/07/2020 at 22:10
#3938
admin
Week 7 Update of the Cycling Monks Strava Group. Week ending 19th July 2020.
Club Stats. 280 members collectively rode 31442 km in 866 rides, climbing 166911 metres in 1522 hours!
The number of members are up compared to last week. As compared to last week, total kilometres, rides, climbing and number of hours on the saddle are all up. The group this week just about climbed more than they did last week!
Leaderboard: Overall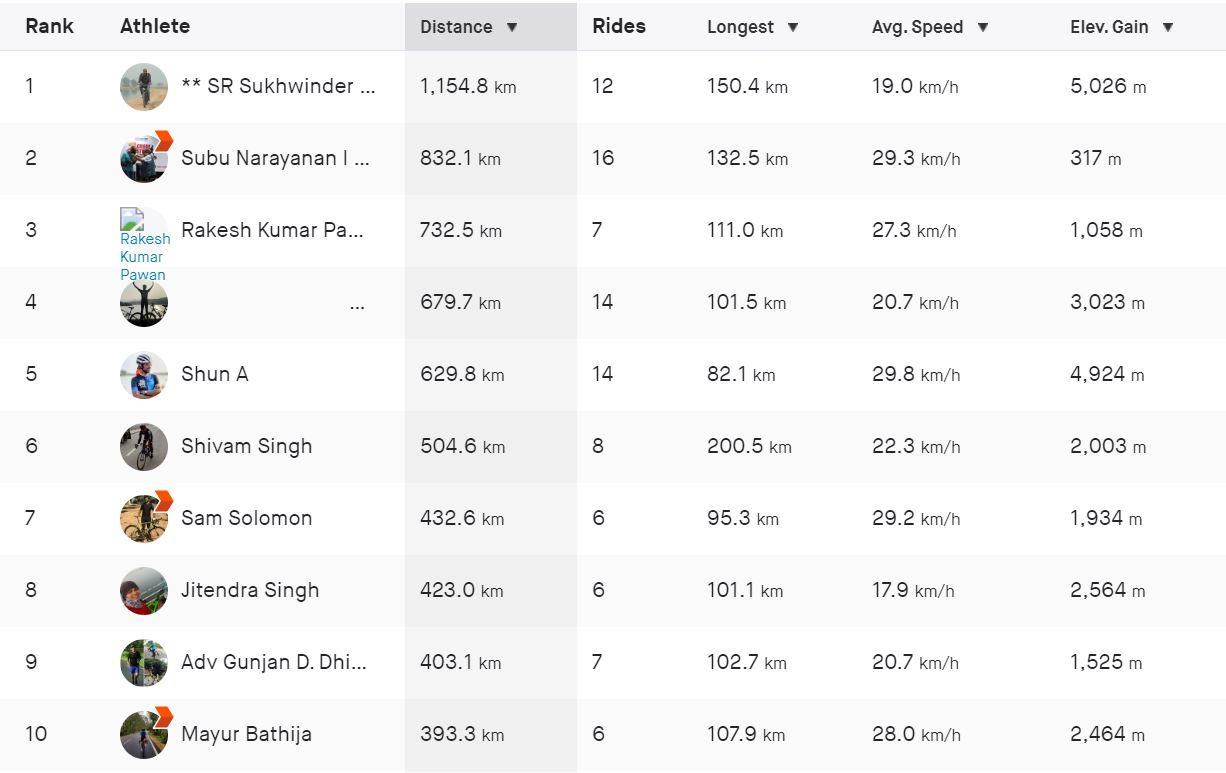 Top of the charts is once again Super Randonneur Sukhwinder Singh from Punjab clocking a 1155 km. This is the third successive week that he has topped the distance charts. This week he rode an incredible mileage, which didn't allow anyone to come even close!
In second place once again is Subu Narayanan from Tamil Nadu who rode 832 km in the week. A new entrant to the group and he is off to a flyer!
Third spot is taken by Rakesh Kumar Pawan from Bihar. He rode 733 km. He is back in the top 3 with a century a day!
*Only outdoor rides and 'smart indoor trainer' rides considered.
Leaderboard: Women

This week didn't have the big hitters from Maharashtra dominate the leaderboard, since there has been a lockdown imposed in most parts of the state!
Among the women in the club, Urmi Das from West Bengal was back at the top and in 70th place overall riding 179 km this week.
In second place is Simmy Pardal from Uttarakhand, with 166 km under her belt for the week. She is 79th overall.
Third is Rajlaxmi Teli from Maharashtra having ridden 159 km this week. She is 83rd overall.
There are a total of 4 women in the top 100 this week, down by 3 in comparison to last week.
Leaderboard: Longest Ride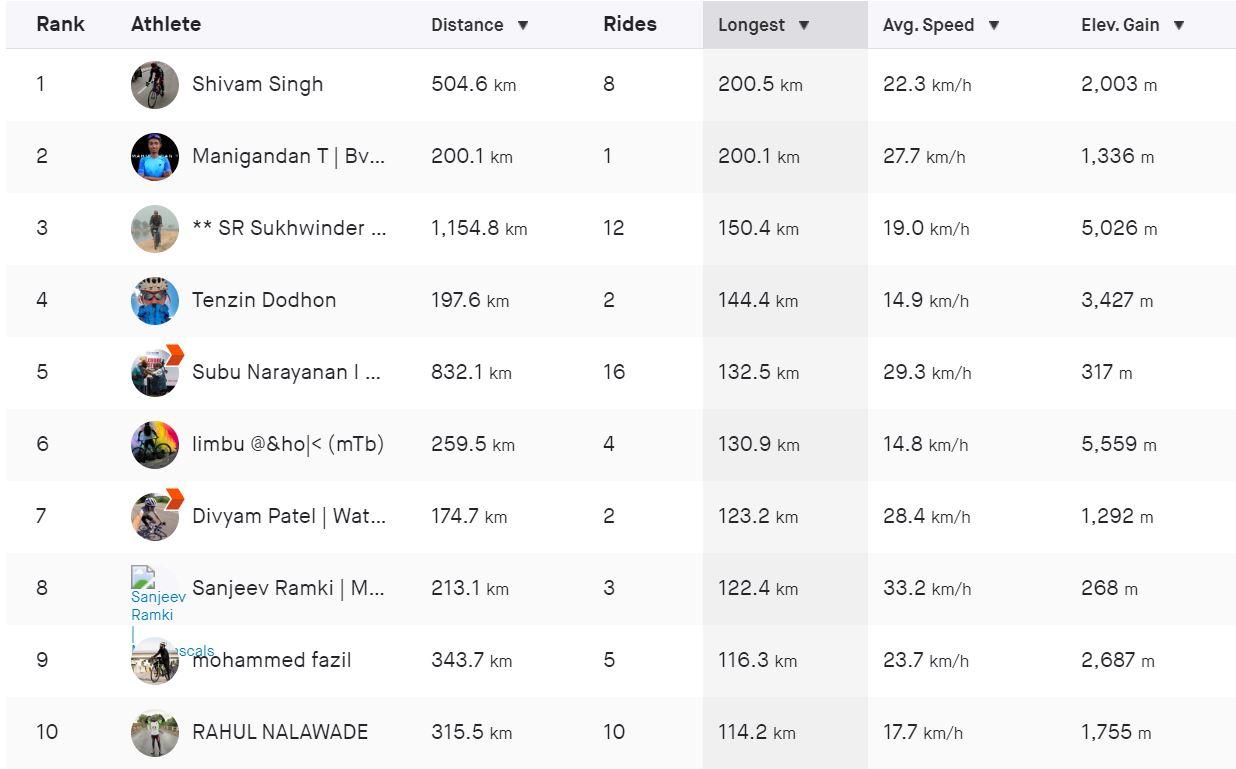 Top spot goes to Shivam Singh from Haryana for the longest ride, doing a 200.5 km long ride!
Next up is Manigandan T from Karnataka having done a 200.1 km ride, just 400 metres less than the top spot. Almost exactly like how last week played out.
Third is Sukhwinder Singh from Punjab, who did a 150.4 km long ride.
Leaderboard: Fastest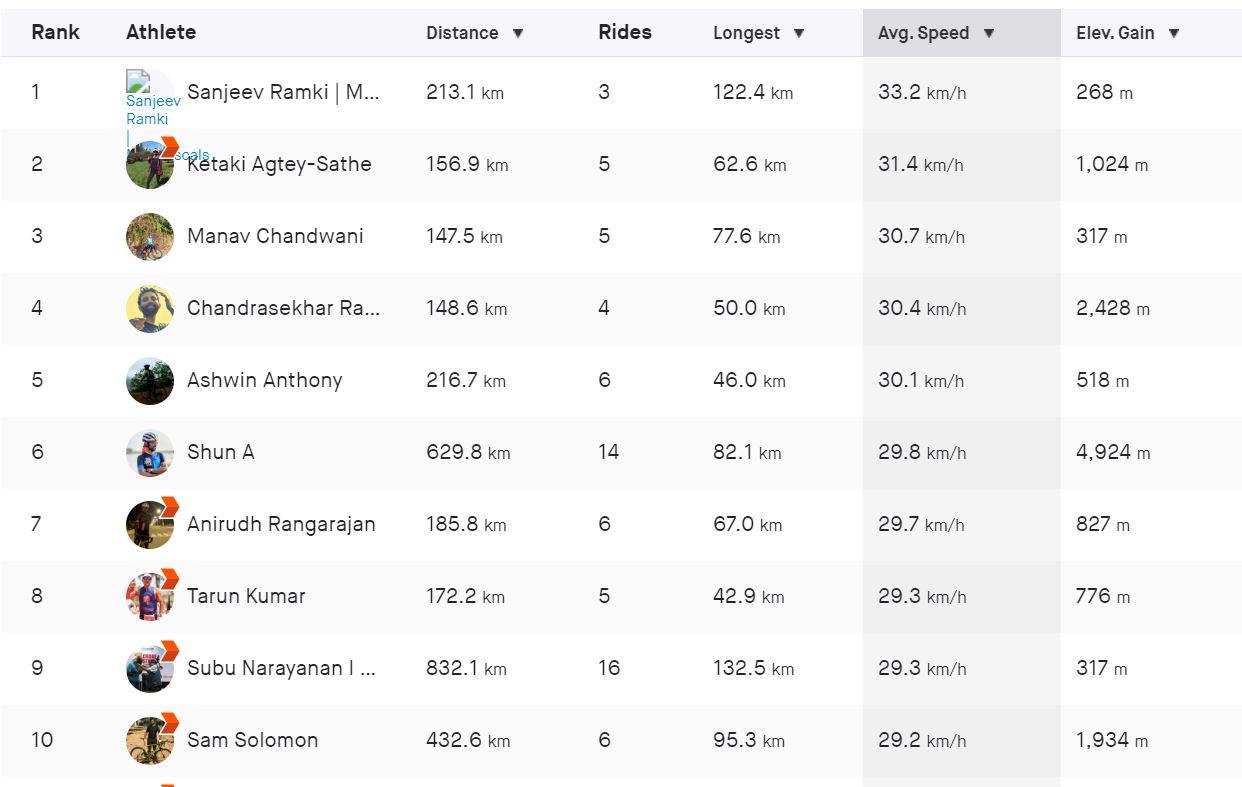 Fastest of the lot is Sanjeev Ramki from Tamil Nadu who has been riding fast paced rides including a group century, averaging 33.2 kmph.
Second fastest for the second consecutive week is Ketaki Agtey-Sathe from Maharashtra also on Zwift whose weekly average is 31.4 kmph.
Third is new entrant Manav Chandwani from Gujarat averaging 30.7 kmph over the week. This is the entrant from Gujarat.
*Only outdoor rides and 'smart indoor trainer' rides considered.
Leaderboard: King/ Queen of the Mountain
Tamil Nadu takes top spot in the climbing category again this week.
Climber of the week is Shun A from Tamil Nadu having climbed 4924 metres to his name. All this climbing was done no Zwift!
*In this category, only rides recorded on devices with barometers are eligible. Phone Strava is known to give wildly inaccurate altitude gain readings and therefore are not taken into account!
Join the Strava Club today!