28/07/2020 at 18:02
#4079
Avinash
Prologue 6 After checking in to the hostel we headed to the bike store, where we had pre-booked our rides and had to go collect them. But before that we had more pressing issues. That of lunch! And this was the start of my gastronomic adventures and Prakash's misadventures. He being vegetarian, had a tough time explaining that he wanted food without any meat, something that the Mongols had clearly never heard of! After lengthy explanations we found a Vegan restaurant where Prakash had something which he called food, to me it just looked like boiled orange and green stuff thrown on a plate. There was no way in the world, i could consume that poison! With relative ease we found food for me, the food is rather interesting. On your plate you will find 70% protein and 30% Carbs. Vitamins are of course for sissies! Massive mounds of meat with a small scoop of rice is the normal sized serving there. The cost of a meal is around 150 INR, though the portions are massive and even for someone with a large appetite like me, it was a struggle to finish it all in one go.
We went to the bike store, checked out our bikes, saw that they were to our satisfaction and returned to the hostel, since we couldn't store the bikes in the hostel we had to leave it in the bike shop. We were already behind schedule and were still in UB as our plans had gone haywire. The late flight from Delhi to Beijing was due to a 48 hour storm, 70 odd flights had got cancelled, so we were lucky that our flight didn't get cancelled as well. In UB we took our racks and panniers and bells and whistles and loaded up our bikes, rode them a bit and were satisfied that it would get us across our planned journey. We had taken a couple of Lime Green Trek 3700s for this journey and the bikes were nicely tuned and were ready to roll. But we weren't , as we had got delayed our plans had been thrown into disarray and we had to sit down with Joel and a mechanic of his from the bike store and reroute and replan our entire trip. Since we had to get back on schedule to catch our return flight. We ended up spending half the day sitting there planning and discussing the route to be taken it turned out to be 530pm. We figured out the best plan was to catch the 830pm train from UB to Erdenet and then cycle from there towards Khuvsgul. Since the train was at 830pm and it was already 6 in the evening, we decided to not rush things and catch the train the next day. There was no chance that we could take the train the same day. So we went to the railway station and booked tickets for the train the next day, which cost around 500INR and then we went to the luggage van to get some information about transporting our bikes by train. After all that running around we went back and had a lovely meal, we had some rather different food as well, bread with rice and cream and jam thrown together. It doesn't sound very appetising but it was absolutely delicious. We also found a Dilli Darbar, where Prakash had vegetarian biryani and i had a bout of nausea seeing Delhi food following me all the way to Mongolia!
It was a Sunday, but since we were on holiday, every day was a Sunday for us. We had to checkout of our hostel before noon. But we couldn't carry all our bags with us, so we once again walked 4.5 km across UB from the hostel to the cycle shop where we picked up our bikes and rode them back into the city. A little disconcerting in the beginning having to ride on the right side of the road, which for us Indians is the wrong side of the road. From there we rode back to the hostel where we loaded our bags/ panniers on to our cycles and rode back to the cycle shop. The number of times we had visited the cycle shop was not funny. Those guys knew us by name by then. We hung around in the cycle shop putting together a few last minute things like batteries etc. and from there we picked up our bikes and headed to the railway station. Heavily laden bikes with each of us carrying around 20 kg of luggage. Our first goal was to find vegetarian food for Prakash and we googled for vegetarian restaurants and we found just 3 in the entire city! Two were too far and one was close to the railway station and we headed there. We searched and searched but couldn't find it, finally we gave up and headed to the railway station and waited. But hunger calls so we went again to look for this elusive restaurant and this time we successfully found the restaurant. And we found that the restaurant was closed! So we went and bought some fruit for Prakash. His suffering with vegetarianism continued. The fruit was something like a plum overpriced, a little tart but edible. We then went and sat at the railways station, waiting for our train which was to come in at 830 PM, which was a bit confusing as the sun sets around 930-10PM! So even at 830 the sun is out and shining bright. In fact you can even miss the train, if you are looking for the sun to set before you catch your train! At the railway station we had our tickets already so we carried our bikes into the luggage van where we checked them in. We paid some 500 INR for the cycles and we got into the train for a lovely train journey from UB to Erdenet. The rake I assume was a Russian design and everything had been put together very thoughtfully. The luggage was secure below the seat, blankets, and pillows and towels was provided along with coffee and this was in the economy budget class that we had booked. I wonder what the first class must have had. As we exited UB, we realized how much of Mongolia we missed by staying those extra days in the city. As soon as we moved out, the land was beautiful, with the setting sun and the sky was a lovely purple. Everything was just pulling us towards getting back on the bikes and riding.
This is the end of the Prologues or so we hope!
UB. The city is far more developed than i had expected!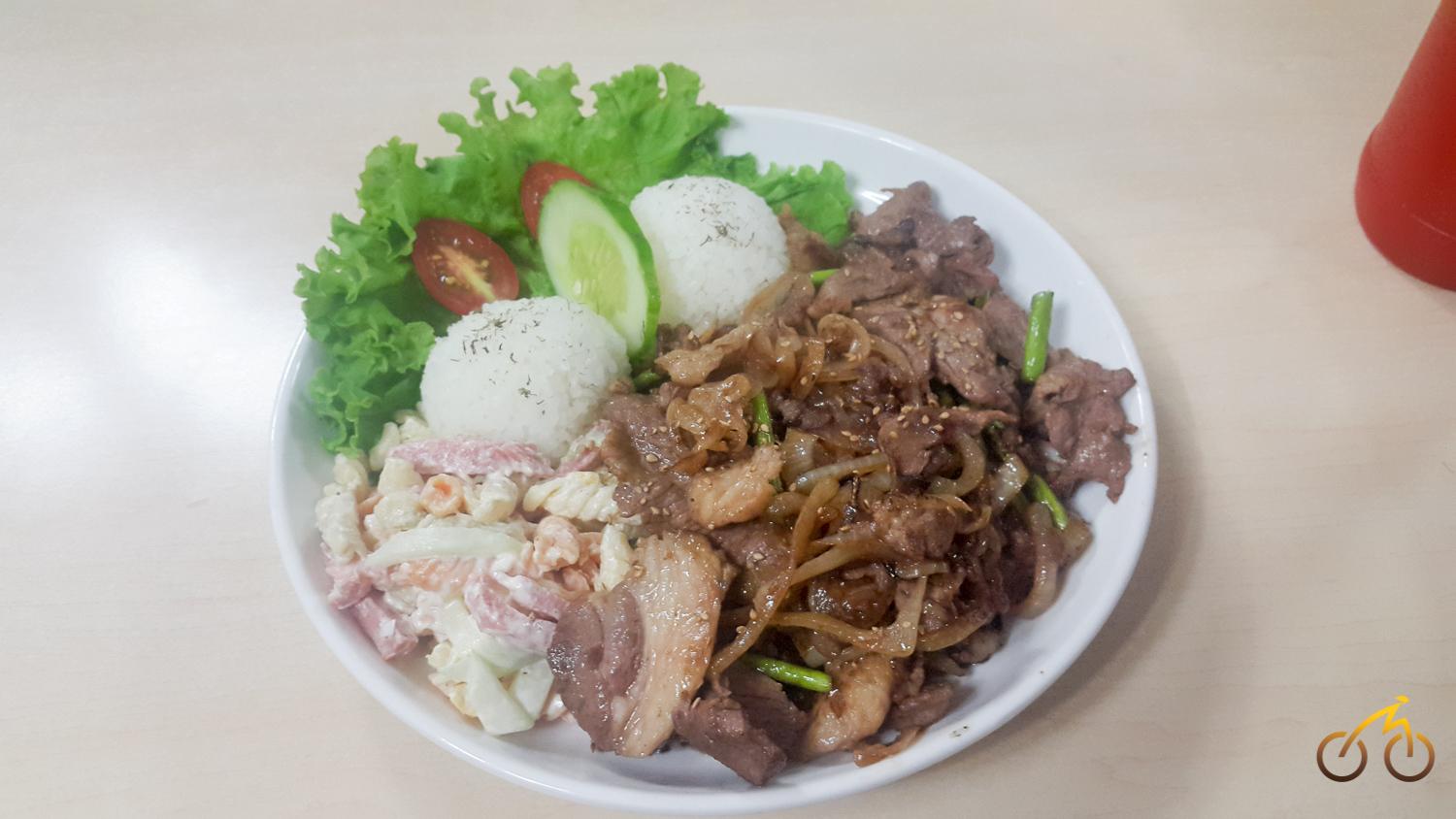 The awesome food on the right, rice in the middle and some random vegetation for cattle on the right!
Prakash posing in front of the Chinggis Khan Museum in UB.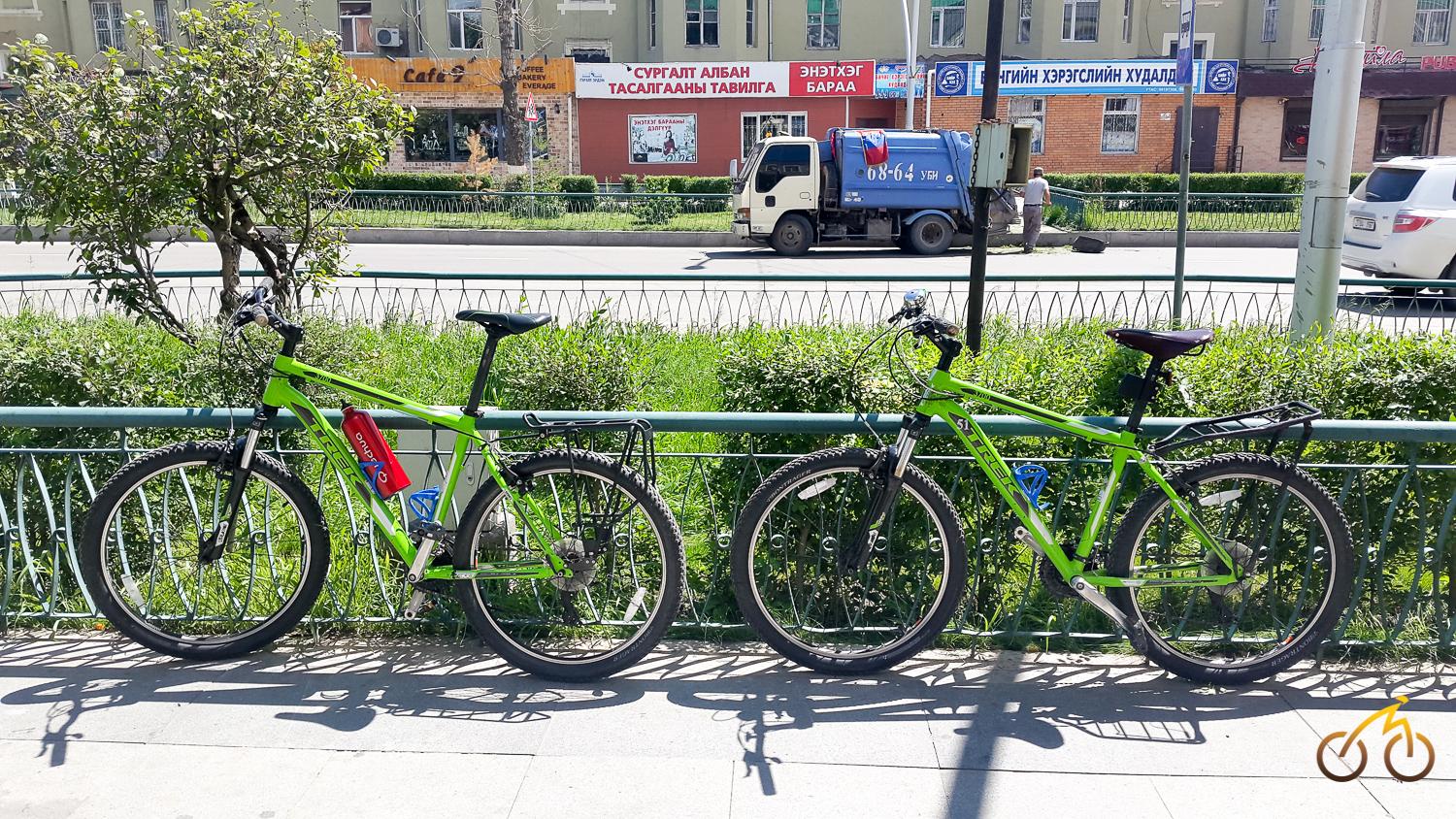 Our bikes
Bon Bon Bakery had some awesome stuff to eat. Far better quality than the fancy bakeries that Delhi is filled with.
At the cycle shop, loading up our luggage and ready to roll to the railway station!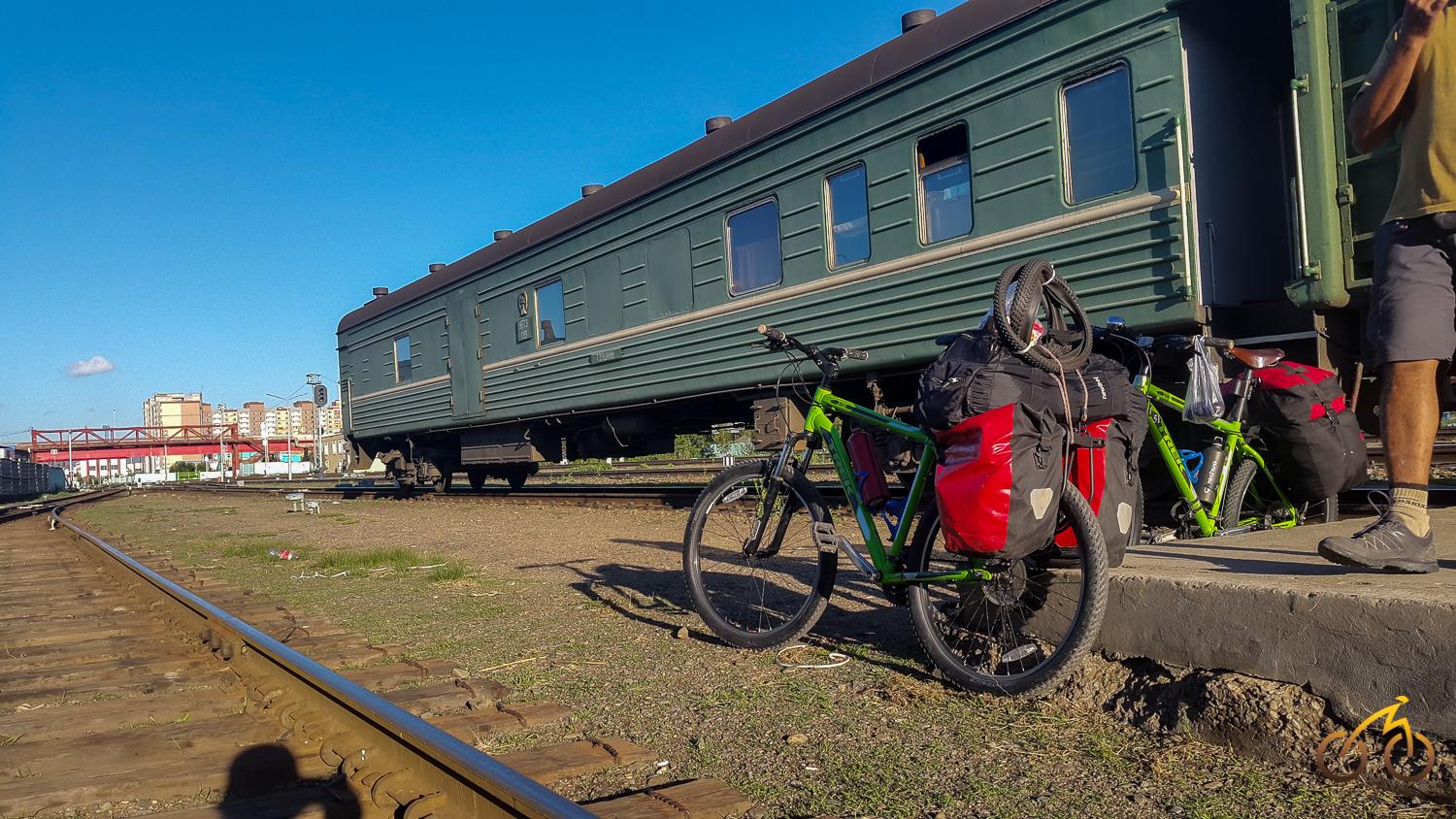 Loading our cycles onto the train to Erdenet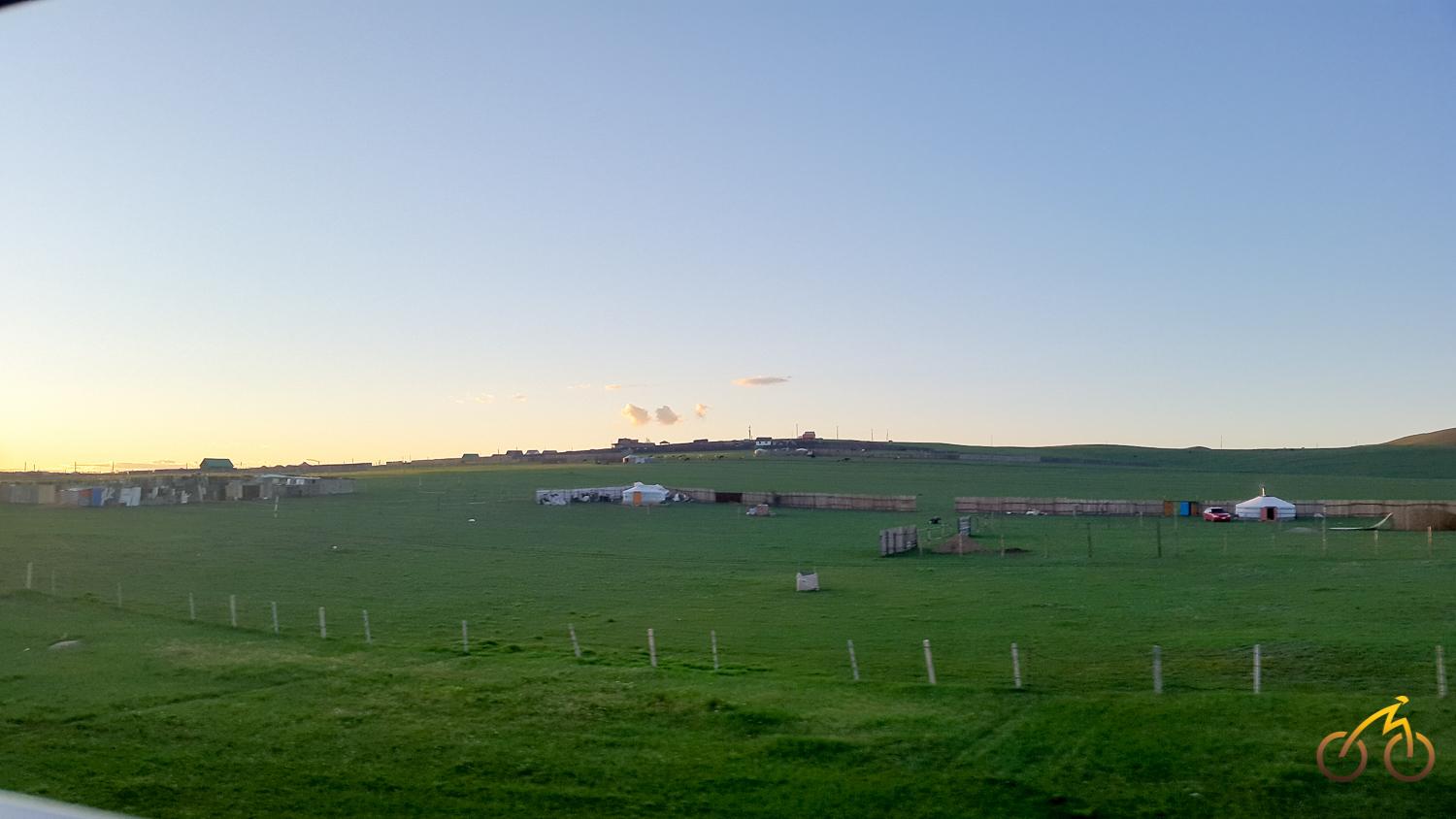 The countryside from the train window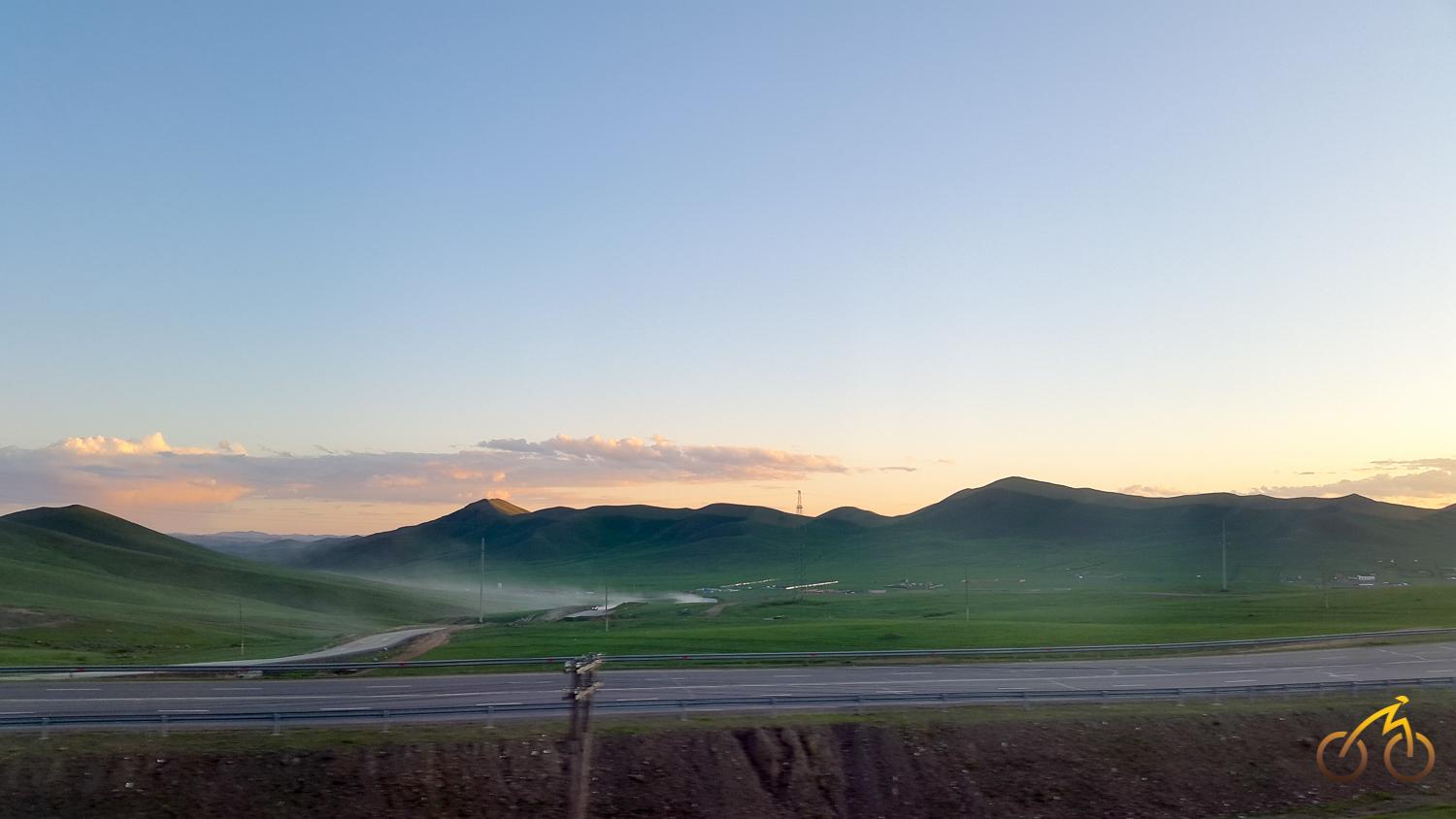 The countryside from the train window