29/07/2020 at 17:33
#4098
Avinash
The next day we got another break as we hitched a ride from Khuvsgul Lake to Murun. Since we had already ridden that route, it made little sense to ride down the same road we had already climbed. We looked to hitch a ride from the camp. Jaga (the cook and the helpful person running the camp) was helped arrange transportation for us and our bikes. He first went and asked a few commercial vehicles which carry supplies to the lake. But that didn't work, so he then went and changed into clean clothes and walked down to the main road to hail a passing car. It was a family of three in a small SUV, they were kind enough not just to stop and hear us out but helped us load our bikes on the carrier on the SUV and then drove us down from the lake to Murun.
It was a small Mitsubishi Pajero, a very rugged vehicle and comfortable as well. A heart in the mouth ride for us as we were worried about damage to the bikes as we drove through the dirt trails with our bikes bouncing around on the roof on top! Fortunately we reached Murun, without a scratch on the bikes. We had an interesting journey with the family who had come for a vacation to the lake. It was fun communicating with them, since they didn't speak English and we were mostly communicating with hand gestures and eventually resorted to explaining what we did through our facebook profiles!
On this occasion we were not willing to stay in the same guesthouse in Murun. So we went into the centre of town and checked out the guesthouses there, but we didn't get a room so we crossed the road and checked into a hotel which was marginally more expensive. As far as we were concerned we were in the lap of luxury, since we got running water and a hot shower! After a quick wash we went to town looking for a bite to eat, and as we walked around the town, we realized how small the place actually was! Some of the colonies of the metros of India would be bigger than this town!
As we were strolling through the city we met a biker from South Korea who was riding from his country all the way to Portugal. A mammoth ride indeed. The best part was that he was riding a relatively small capacity motorcycle- a Honda CBR 250. His ride would have taken about 6 months. He was relatively young and inexperienced, a college student. It does take a lot of guts to do a ride like that. Hats off to him! A bit foolhardy as well, since he didn't seem to know much about motorcycles, he didn't know what grade of oil was required for his bike, and he had a couple of small crashes while riding off tarmac. He also didn't look very adept at handling his motorcycle, though that could have just been plain fatigue of having ridden the entire day. It was good to meet him though.
We didn't find a place to eat, but we did find tons of supermarkets, hypermarkets and beauty salons! Cheap food was hard to find, so we went to the supermarket and bought bread and tinned meat for a healthy meal!
The next day we were scheduled to leave from Murun, but due to incessant rains we were stuck in the town. As predicted by Mountain-forecast.com, it rained heavily for the entire day, as such we couldn't ride out of Murun and were stuck in our hotel room for an extra day. It was quite depressing to be cooped up in a small room for 36 hours, immediately after enjoying the wild expanse of the countryside of Mongolia. The change in fortunes was too dramatic to be digested easily! The incessant rain throughout the day wouldn't allow us to ride in such inclement weather. So we stayed put. I was introduced to Japanese animated movies by Prakash, since we had absolutely nothing else to do. I ended up watching four movies, with each movie being around 2 hours long. So 8 hours I was lying on my bed watching movies on the tiny screen of my phone. After all that lolling about, in the evening we got some physical activity in which we attempted to play Table Tennis, I say attempted, because I mostly missed the table and was mostly playing tennis! The highlight of our day was visiting the supermarket thrice! That's how interesting our day was 😀
The bikes loaded on the car
The family who helped us out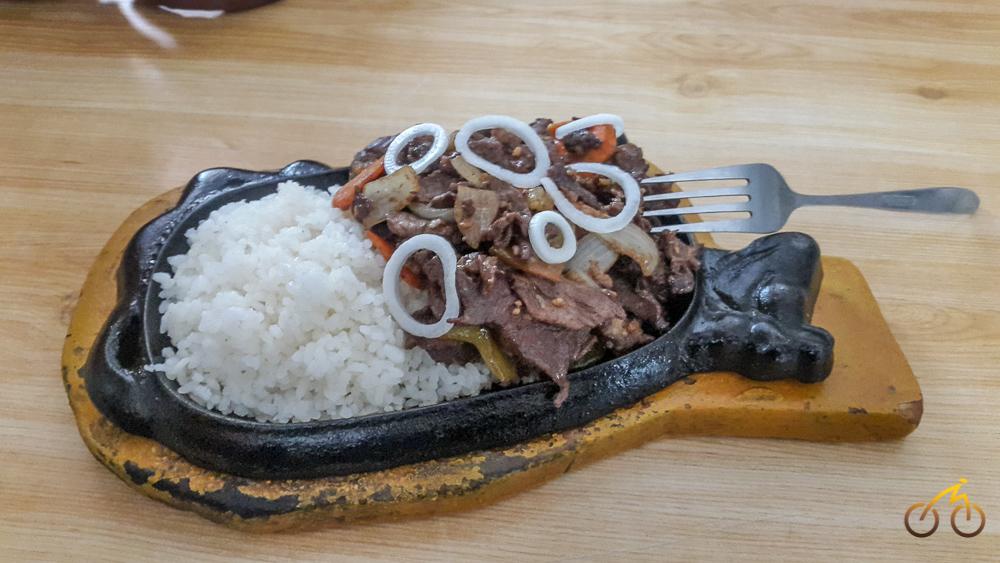 Food was good everywhere!