18/08/2020 at 11:40
#4262
admin
Week 11 Update of the Cycling Monks Strava Group. Week ending 16th August 2020.
Club Stats. 358 members collectively rode 41334 km in 1010 rides, climbing 207015 metres in 2004 hours!
The number of members are up by 22 as compared to last week. All the stats are up from last week as everyone rode their heart out on Independence Day! This is the first time that the CyclingMonks group crossed 1000 rides in a week and 2000 hours of riding.
Kudos to all these fantastic people…
Leaderboard: Overall
Sukhwinder Singh from Punjab was once again top of the charts. He has been in the first couple of positions for the last 7 weeks! He rode a mind boggling 1268 km, just 20 km less than last week.
In second place is once again Subu Narayanan from Tamil Nadu who rode 912 km in the week. Once again he impressively clocked this mileage at an average speed of 30 kmph!
Third spot is taken by Shun Athi from Tamil Nadu. He rode 830 km. He did a whopping 400 km ride in 12 hours as part of the Irregulars Independence Day race.
*Only outdoor rides and 'smart indoor trainer' rides considered.
Leaderboard: Women

Among the women in the club, Pradnya Ajagar from Maharashtra was once again at the top and in 19th place overall, riding a massive 349 km this week.
In second place is Simmy Pardal from Uttarakhand, with 244 km under her belt for the week. She is 52nd overall.
In third place is Ketaki Agtey Sathe from Maharashtra,  with 174 km to her name. She is 100th overall.
There are 3 women in the top 100 this week, up by 1 as compared to last week.
Leaderboard: Longest Ride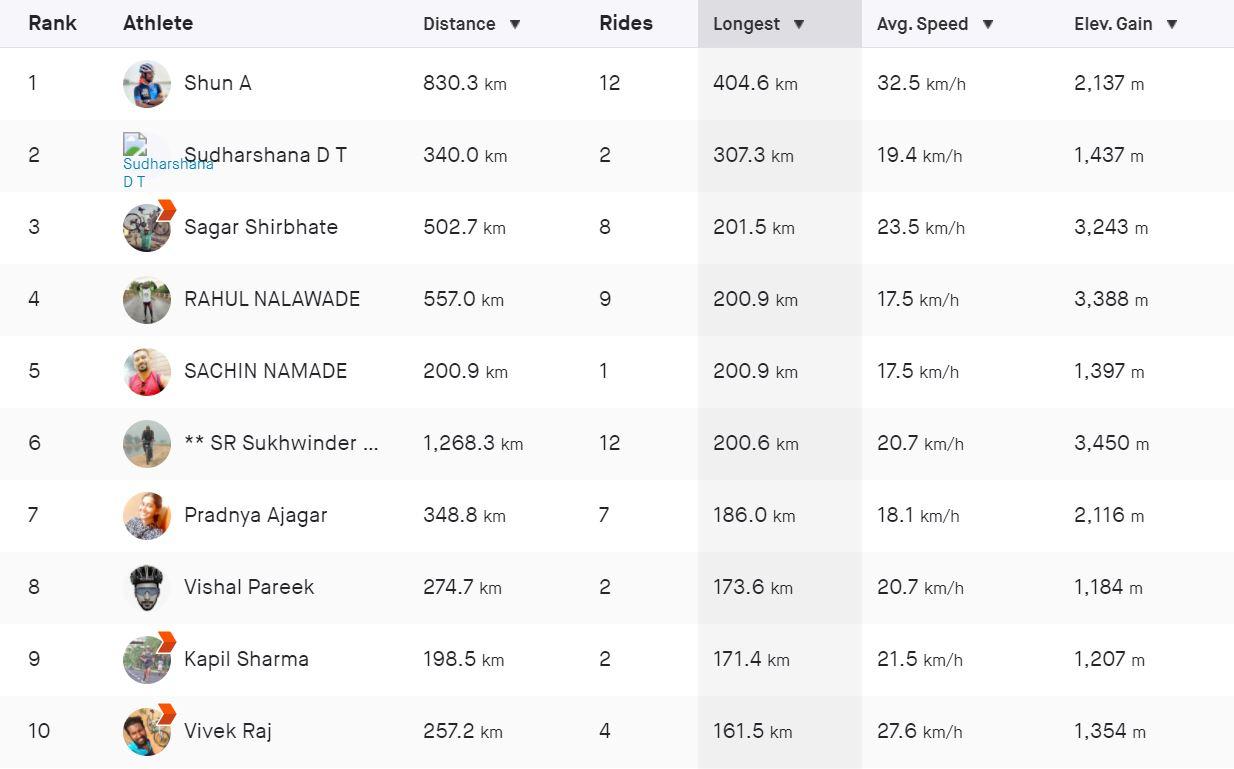 This section of the leaderboard is the only one which sees a major shakeup every week. With the other's more or less set in stone!
Top spot goes to Shun Athi from Tamil Nadu for the longest ride. He did an incredible 405 km long ride!
Next up is Sudharshana DT from Karnataka having done a mammoth 307 km ride.
Third is Sagar Shirbhate from Maharashtra, who did a 201.5 km long ride. Just 600 metres more than the cyclist in 4th!
Leaderboard: Fastest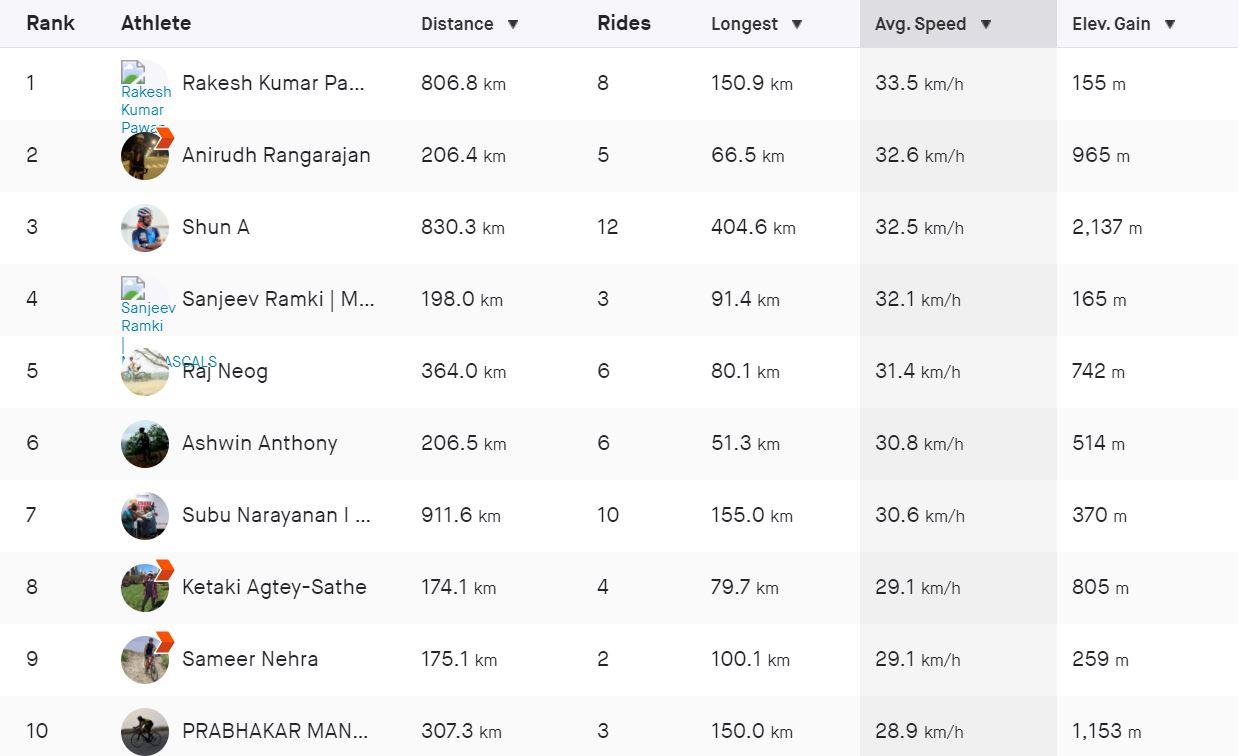 The top 3 have been riding at some serious pace…
Fastest of the lot is Rakesh Kumar Pawan from Bihar who averaged an incredible 35.5 kmph.
Second fastest for the week is Anirudh Rangarajan from Maharashtra whose weekly average is 32.6 kmph.
Third is Shun Athi from Tamil Nadu averaging 32.5 kmph over the week. Impressive considering his overall mileage.
*Only outdoor rides and 'smart indoor trainer' rides considered.
Leaderboard: King/ Queen of the Mountain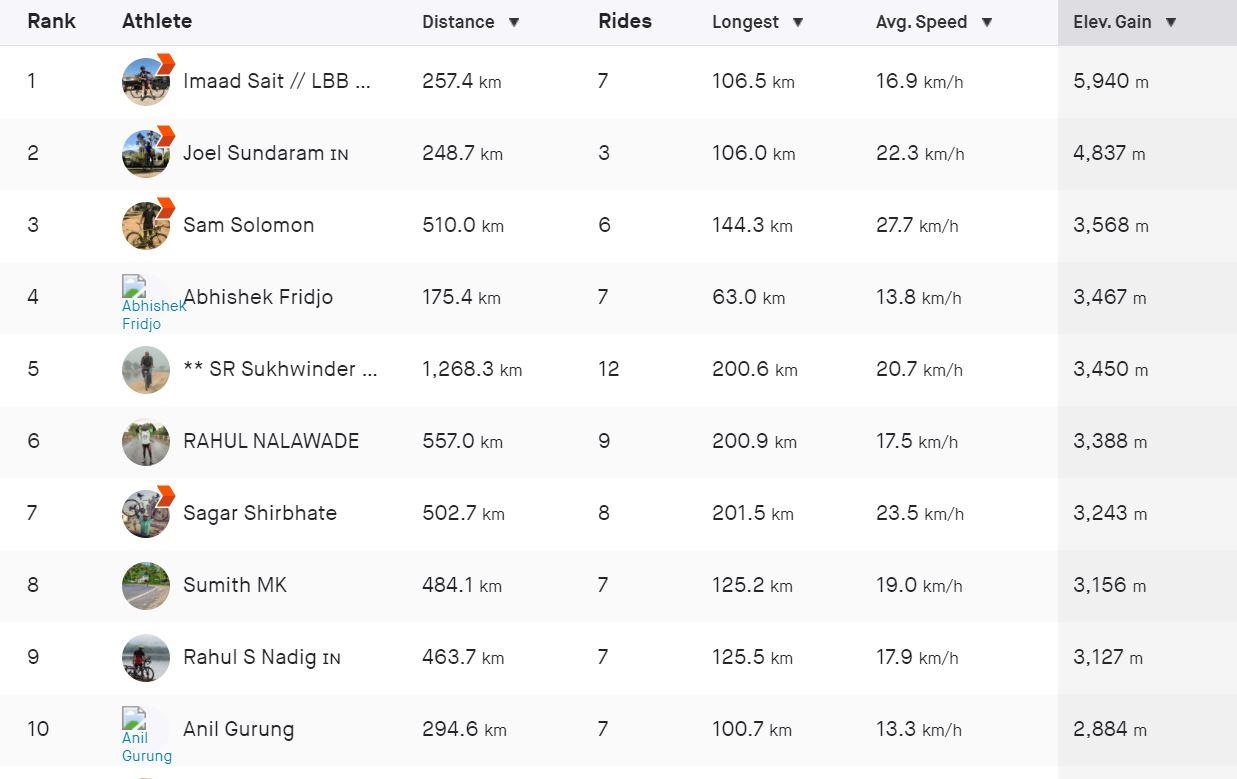 Tamil Nadu once again almost clean sweeps the top spots in the climbing category this week.
Climber of the week is Imaad Sait from Tamil Nadu having climbed 5940 metres. An incredible amount. He is back at the top of the leaderboard.
Second is Joel Sundaram from Tamil Nadu. He climbed 4837 metres this week. He has been KOM on many weeks.
Third is Sam Solomon from Karnataka, he climbed 3568 metres during the week.
*In this category, only rides recorded on devices with barometers are eligible. Phone Strava is known to give wildly inaccurate altitude gain readings and therefore are not taken into account!
Join the Strava Club today!