02/12/2020 at 22:27
#4499
Avinash
Day 6: Alibag
At the Alibag jetty…
Rest Day. At last.
After climbing through the ghats for 5 days, it was nice to take a break. More importantly it was Holi, and I didn't want to get caught up in somebody's colour war on the roadside.
The morning was spent studying the difference in mango, betel and coconut trees. Unfortunately I still find it difficult to differentiate between the betel and coconut trees from a distance.
Rest days means hogging on food. And there was incredible mutton to be had. Mutton which had been prepared for a village wedding a couple of days prior. With time for the curry to permeate through the meat, it was a feast fit for a king.
I also tried out Kalwa for the first time. A sort of rock oysters found in this part of the world. Cooked of course in the Konkan style. It was mouth-watering.
All this delicious food was prepared by Sumit's mom, at whose house I was staying.
The evening was spent with a bevy of cyclists from Alibag Cycling Club as they discussed their upcoming community everesting ride.
Every time I begin to think that the ride I am doing is something special or cool, reality hits. On this occasion in the form of an older lady. This South African cyclist had been cycling for the past 13 years! Anything I had ever done, pales into insignificance…
Day 7: Alibag to Bombay
After taking a break for a day, it was time to hit the road again. Or more like hit the sea. Since the riding part of it was just a handful of kilometres, the majority of it was spent in the ferry.
It was Sumit's mother's birthday and we celebrated with superlative jumbo prawns and mutton for lunch!
After which I sleepily pedalled away from Alibag on a full stomach to catch the ferry.
On the Catamaran I had my good friend, Tanvi, for company. She provided me with all the masala stories that were needed for the ride.
But even more masaledar was the Kurkure being fed to seagulls by people in the ferry. The birds had gotten so well trained, that they would swoop down and pick one wafer from the human hand. The humans were so well trained, that they would dutifully go and buy many packets of Kurkure from the Catamaran guy, just so that they could see the seagulls performing those antics.
An unhealthy performance, quite literally. I can't imagine what would be happening inside the seagull after eating Kurkure!
If the view of the jetty while departing Alibag was great, the one approaching Gateway of India in Bombay was fantastic.
It was already dark and the city was lit up as it always is. And through the dark sea, you crept up suddenly onto a mass of humanity.
In Bombay I met up with another cyclist friend, Hitisha, grabbed dinner at her place before heading out to the Cyclist's Crib for the night. My break was still far from over…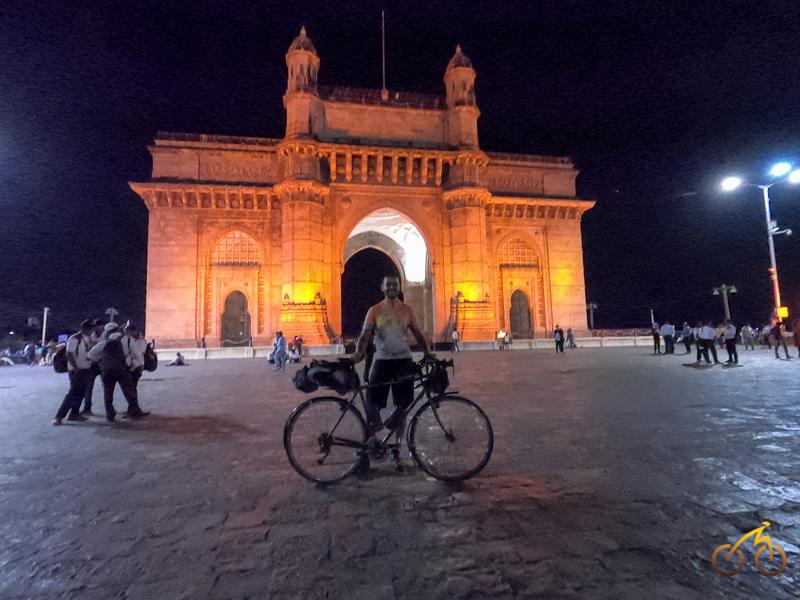 On the other side of the Alibag-Bombay ferry: Gateway of India
Day 8: Bombay
Bombay was rest and relaxation for me and a service time for the bike. I had bought this pre-owned bike a long time back and it hadn't been serviced since then. Post Bombay, there was no chance that I would get another opportunity for repair.
The Fuji Touring got some love at Keny's in Prabhadevi, with the chain and bottom bracket being replaced.
The bike was like fantastic to ride with a new BB. No longer a creaking sound with every pedal stroke.
The day in Bombay was without any highlight, barring dinner.
Dinner was excellent fish thali at a tiny restaurant. Well, to be honest. Everything in Bombay is a tiny cramped up space. Matchbox city it is. Even though the city is expensive, the fish thali was cheaper than what I got along the Konkan Coast. Ironically!
You can check out the ride details on Strava.