24/01/2022 at 22:39
#6470
admin
Week 86 update of the Cycling Monks Strava Group. Week ending 23rd January 2022.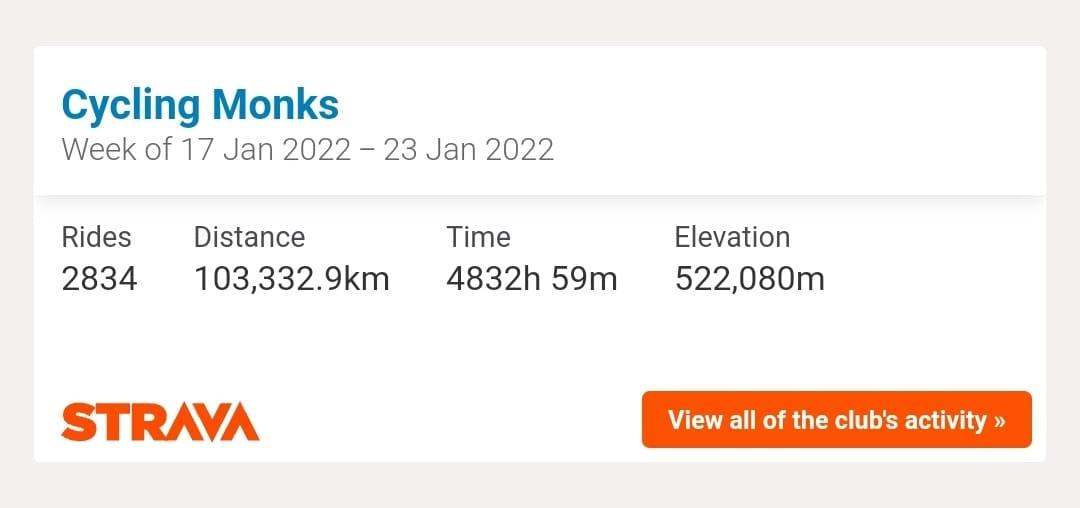 Club Stats. 1712 members collectively rode 10333 km in 2834 rides, climbing 522080 metres in 4833 hours!
The number of members are up by 22 as compared to last week. The week saw everyone collectively ride more or less the same. With total distance, elevation gained, number of rides and time spent on the saddle were all constant.
To be in the top 100, you needed to ride minimum 266 km during the week!
There were 5 who averaged more than 100 km a day!
1 rode a 500, 12 rode at least a 200.
37 averaged above 30 kmph for the week. 11 climbed more than 4000 metres… Incredible riding by everyone.
Kudos to all the riders who have been working hard on their saddles…
Leaderboard: Overall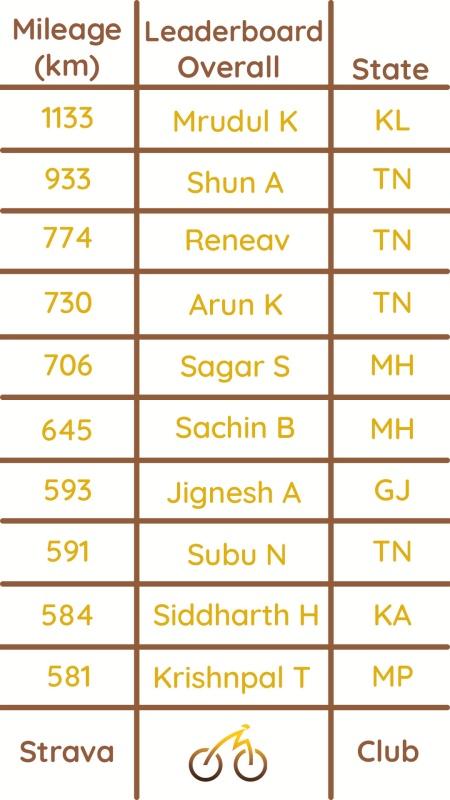 5 riders averaged more than 100 km a day. The top 2 remained unchanged.
Mrudul K from Kerala was top of the charts. He rode an incredible 1133 km. He was top of the charts last week as well.
In second place is Shun A from Tamil Nadu who rode 933 km in the week.
Third spot is taken by Reneav from Tamil Nadu. He rode 774 km.
Leaderboard: Women
The women's leaderboard has gotten even more competitive. To be in the top 10, you needed to ride 178+ km…
Rajikrishna Nair from Telangana was top of the charts this week. Riding an incredible 304 km. She is 73rd overall.
Next up is Vandana Bhapkar Chaudhari from Maharashtra. Who rode an impressive 294 km. She is 79th overall.
Third is Neha Tikam from Maharashtra who rode 290 km. She is 84th overall.
There are 3 women in the top 100 this week, 4 less than last week.
Leaderboard: Longest Ride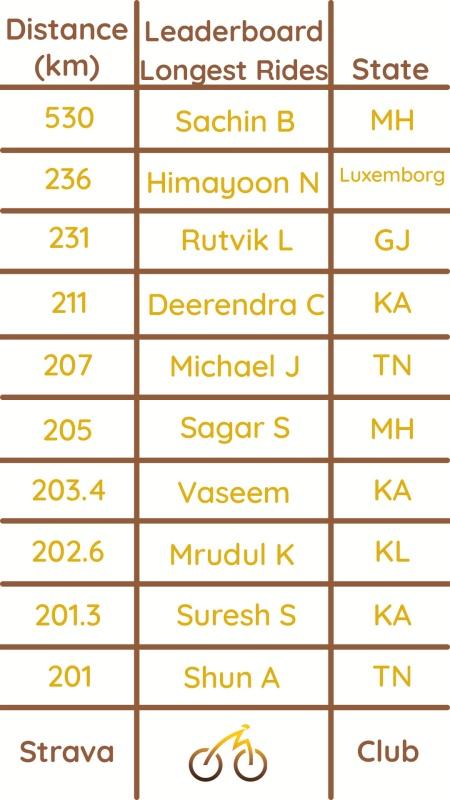 Some solid 600 km brevets from around the country…
Top spot goes to Sachin Bandagar from Maharashtra for the longest ride. He did a 530 km long ride!
Next up is Himayoon N from Luxemborg having done a 236 km long ride.
Third is Rutvik Lashkari from Gujarat, who did a 231 km long ride.
Leaderboard: Fastest
The top 39 have been riding at a seriously impressive pace.
Fastest of the lot is Mayank Tripathi from Canada who averaged an incredible 39.3 kmph over the week! He was top last week as well.
Second fastest for the week is Vivek Chadha from Delhi whose weekly average is a fantastic 35.2 kmph.
Third is Sanjeev Ramki from Tamil Nadu averaging 34.8 kmph over the week.
Leaderboard: Queen/ King of the Mountain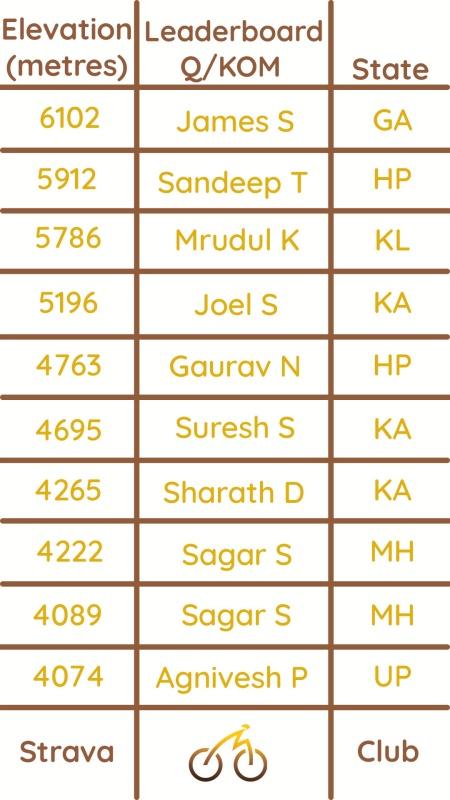 The climbing leaderboard went to the Nilgiris! Second week in a row…
Climber of the week is James Stevenson from Goa having climbed 6102 metres.
Second is Sandeep Thapa from Himachal Pradesh who climbed 5912 metres.
Third is Mrudul K from Kerala, who climbed 5786 metres during the week. He was second last week.
Join the Strava Club Today!