03/05/2022 at 12:32
#6853
admin
To celebrate the 100th week of the CyclingMonks Strava Leaderboard. We are Giving Away a Prize to the KOM of this grand 100th week. Biswadip Nag won the coveted CyclingMonks Jersey. Woohoooo!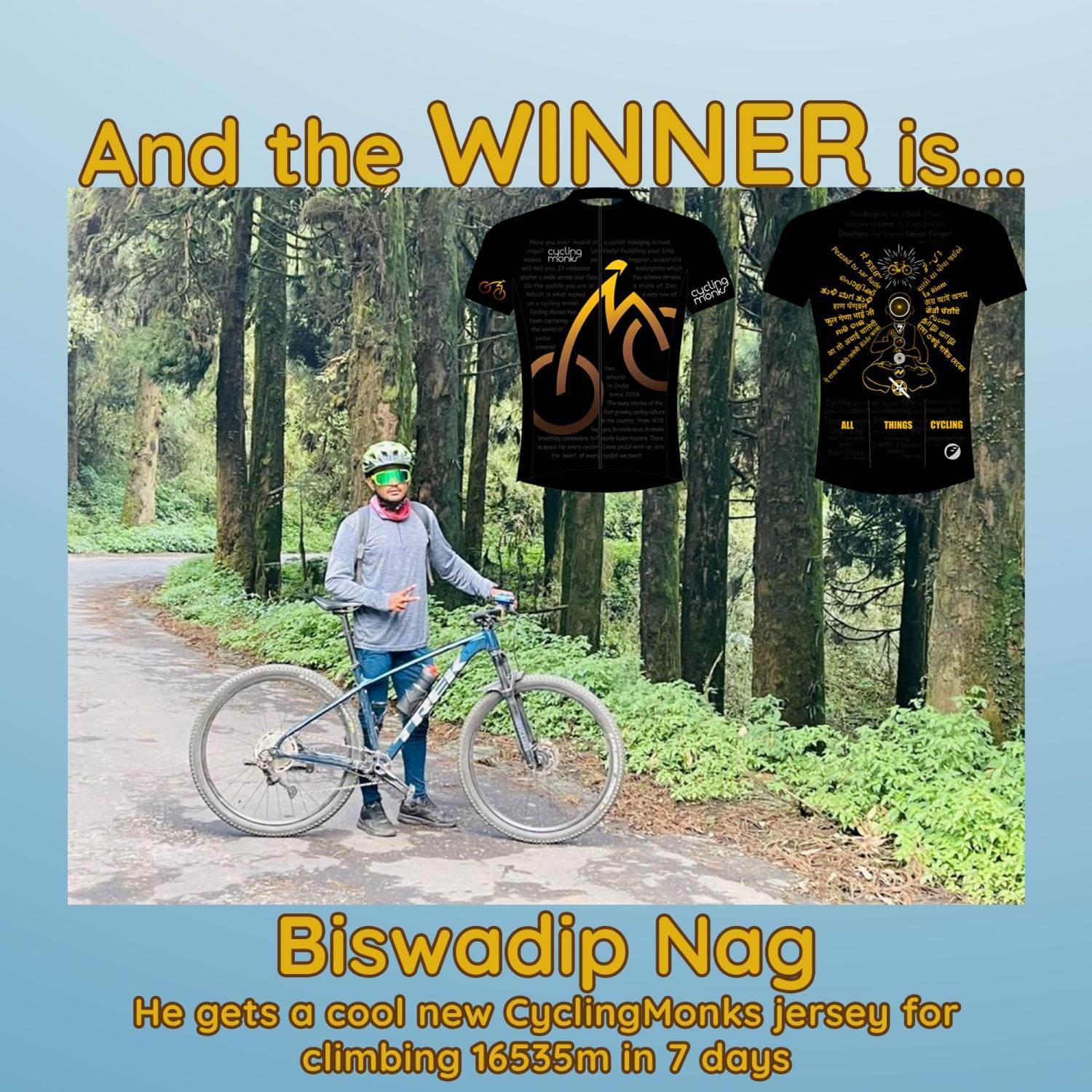 Week 100 update of the Cycling Monks Strava Group. Week ending 1st May 2022.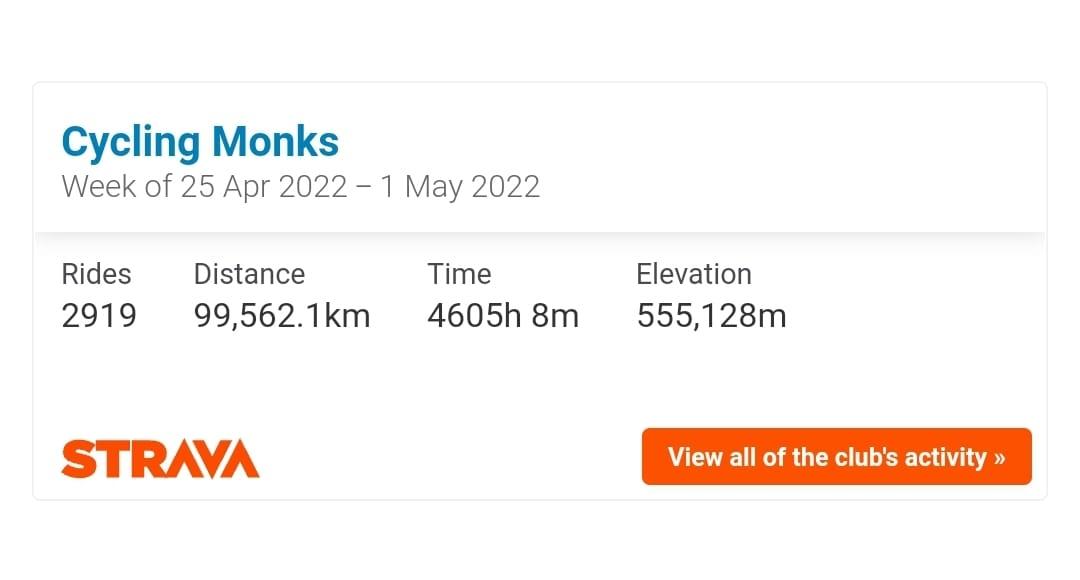 Club Stats. 2020 members collectively rode 99562 km in 2919 rides, climbing 555128 metres in 4605 hours!
The number of members are up by 34 as compared to last week. The week saw everyone collectively ride more. With total distance, elevation gained, number of rides and time spent on the saddle were all up.
To be in the top 100, you needed to ride minimum 248 km during the week!
There were 7 who averaged more than 100 km a day!
1 rode a 700, 1 rode a 500, 7 rode 300s, and 20 rode at least a 200.
46 averaged above 30 kmph for the week. 19 climbed more than 4000 metres… Incredible riding by everyone.
Kudos to all the riders who have been working hard on their saddles…
Leaderboard: Overall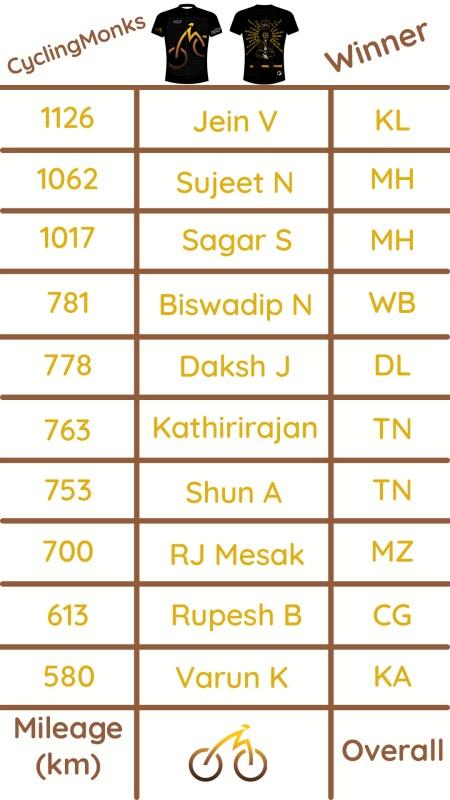 7 riders averaged more than 100 km a day.
Jein Varghese from Kerala was top of the charts. He rode an incredible 1126 km. He was second last week.
In second place is Sujeet Naik from Maharashtra who rode 1062 km in the week.
Third spot is taken by Sagar Shirbhate from Maharashtra. He rode 1017 km.
Leaderboard: Women
The women's leaderboard has gotten more competitive this week. To be in the top 10, you needed to ride 211+ km…
Damanpreet Kaur Romana from Punjab was top of the charts this week. Riding an incredible 291 km. She is 64th overall.
Next up is Devmitra P from Kerala. Who rode an impressive 288 km. She is 66th overall.
Third is Anandhi Muthu from Tamil Nadu who rode 261 km. She is 84th overall.
There are 14 women in the top 100 this week, one less than last week.
Leaderboard: Longest Ride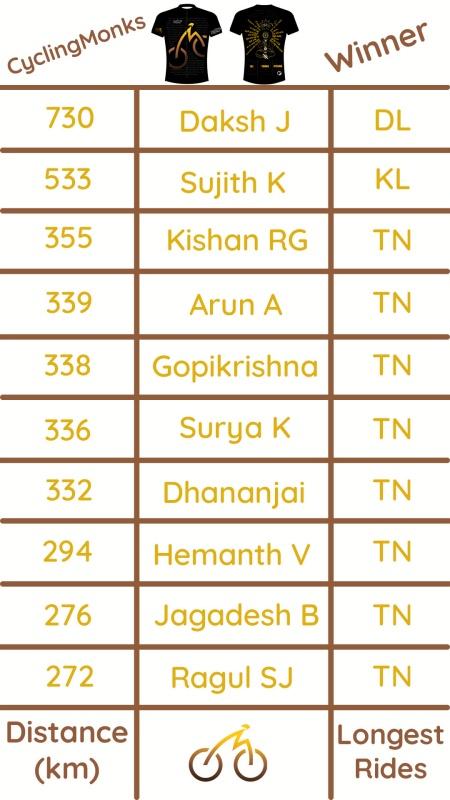 A lot of double centurions from Tamil Nadu this week.
Top spot goes to Daksh Jadhav from Delhi for the longest ride. He did a 730 km long ride!
Next up is Sujith K from Kerala having done a 533 km long ride.
Third is Kishan Raj Gunasekar from Tamil Nadu, who did a 355 km long ride.
Leaderboard: Fastest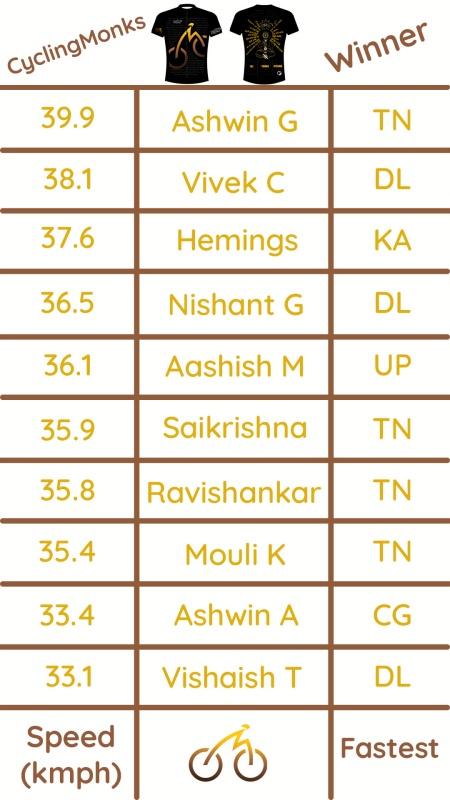 The top 46 have been riding at a seriously impressive pace.
Fastest of the lot is Ashwin Govindasamy from Tamil Nadu who averaged an incredible 39.9 kmph over the week! He was second last week.
Second fastest for the week is Vivek Chadha from Delhi whose weekly average is a fantastic 38.1 kmph.
Third is Hemings from Karnataka averaging 37.6 kmph over the week.
Leaderboard: Queen/ King of the Mountain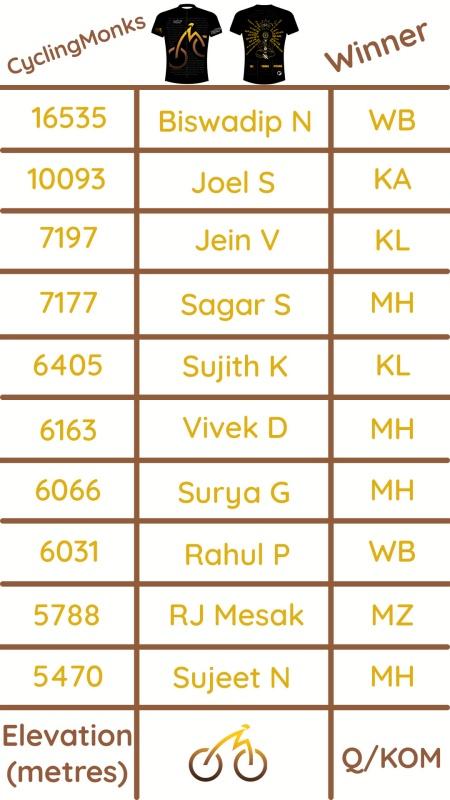 The climbing leaderboard went to West Bengal! Biswadip Nag took the KOM and a CyclingMonks Jersey…
Climber of the week is Biswadip Nag from West Bengal having climbed 16535 metres. He was first last week as well.
Second is Joel Sundaram from Karnataka who climbed 10093 metres. He was third last week.
Third is Jein Varghese from Kerala, who climbed 7197 metres during the week.
Join the Strava Club Today!