As COVID-19 has the world in its deathly grip, we are constantly bombarded by news which is soul sucking.
It is difficult to stay positive in the midst of these prophets of gloom. Even more so as the country is under a lock down and you are stuck at home with nothing to do.
Cyclists and similar like minded souls who are habituated to the outdoors are hit particularly hard. The urge to get out and ride is super strong, the pain of sitting at home is visceral.
Happy Holidays!
To help cast away the negativity, we bring to you this cool art from Mumbai based Pritesh Gada.
An avid cyclist himself, Pritesh was getting bored cooped inside his house. He is used to clocking 250 km weekly and targets riding at least 7000 km annually.
He tried his hand (or actually legs!) at pedalling an indoor trainer, but that wasn't quite his cup of tea.
Which made him turn to his childhood. After a gap of 20 years he picked up pencil and paper to whip out his thoughts.
Even the arty stationery he had to borrow from his children!
Hope…
The first piece he sketched out was born out the deep set desire to ride. It is a cyclist waiting in anticipation and hope to get back on the saddle at the earliest.
The fatigue of not riding is a million times worse than his heart pounding daily rides.
The rider will be able to raise his head again on the 15th of this month…hopefully…
You Are Always On My Mind
The one thing which is forever on the mind of a cyclist. Whilst working, eating, sleeping and possibly more!
The grey matter in our skulls is replaced by that two-wheeled thingy!
Which is what the second sketch captures. The constant whirring of our brains like the tyre on asphalt.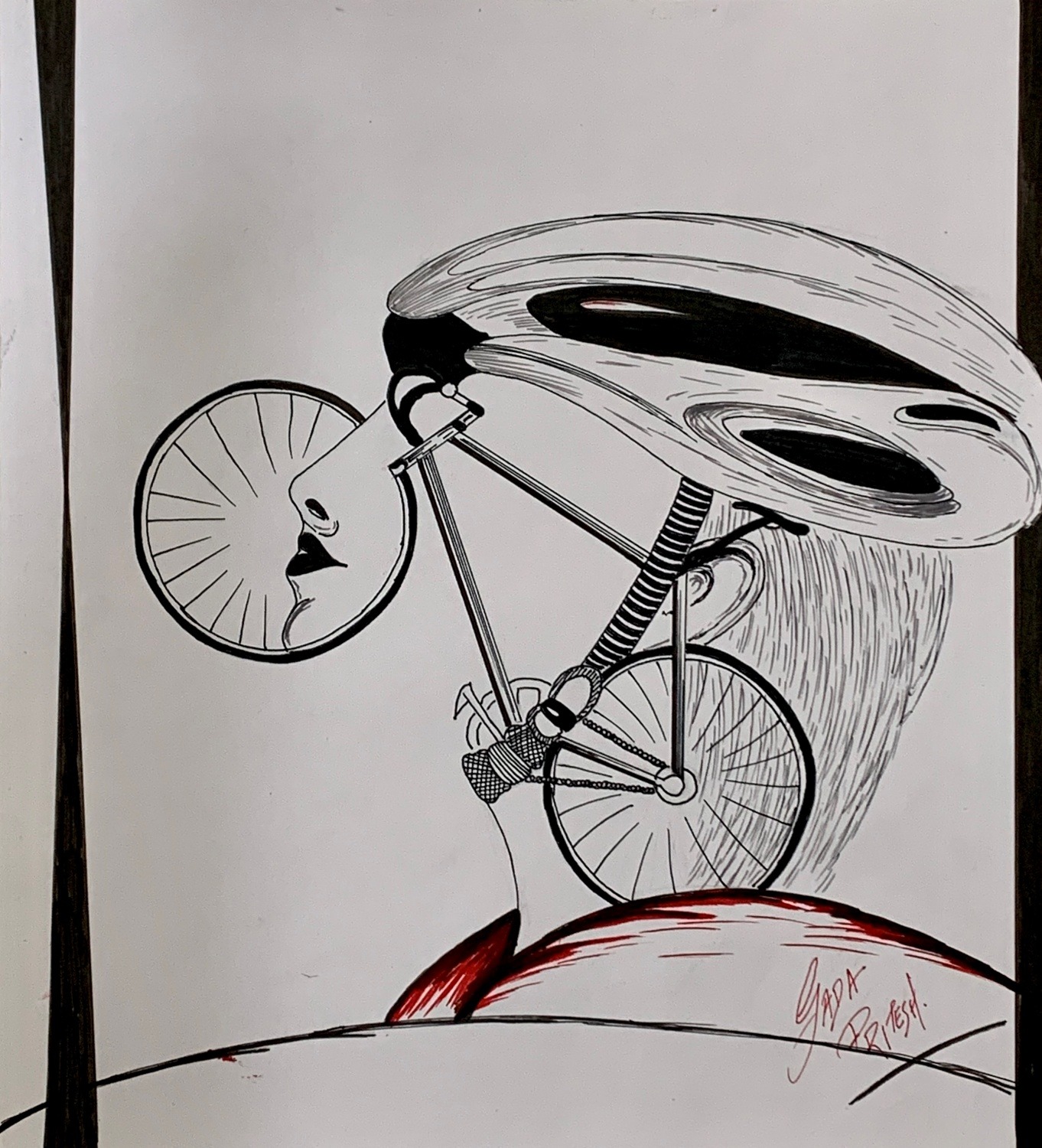 Grit & Focus
By the time Pritesh got down to his third sketch, he had managed to source some art material from a friend. He was a rich man with canvas to his name.
He had only ever drawn on canvas once before and was keen to try his hand again on this fabric. Sketching on canvas is far more difficult than paper, because you have less margin for error.
So he went about sketching for his fellow cyclist, friend and inspiration, Hitisha. The plan was to sketch a portrait of Hitisha, but that was a little too difficult. So he sketched a portrait for her!
The sketch is oozing with grit and focus, as the rider he was attempting to capture. Look at those eyes. So incredibly cool.
Notice how the '5' on the jersey has been replaced with 'EX'. The EX denotes the club which Hitisha and Pritesh are part of. Espresso Express.
Jalaad
Jalaad, the man who can think up many ways of torture.
That as per Pritesh is what Anurag is. Though his favourite form of torture is making them climb hills, fast!
As a tribute to his favourite torture friend, he made the second canvas sketch.
Family Business!
Pritesh is a businessman. He has a store in Bandra by the name of Trios.
But during the lockdown he has been running a family business of art! Getting everyone in the house involved in creating something nice. And this is the cool stuff they came up with:
On the saddle or canvas Pritesh knows that he only manages to achieve his goals is by the help and support of his family…
---
Loved the way that Pritesh has been spending his lockdown constructively. How about you, what cool stuff did you manage to conjure up?