In conversation with Grinshina Kartik about endurance cycling in India and abroad and the challenges that women face in this sport…
---
In our ongoing Freewheeling series of Instagram Live Conversations, we chatted with Grinshina Kartik. She is an endurance cyclist based in Bangalore, who has ridden around large swathes of the country. She has also ridden in France and Thailand. Grinshina has done two virtual Everestings and raced an endurance race as well. There are not a lot of people in India who have so many different arrows in their quiver.
In Conversation with Grinshina Kartik
This conversation is in two parts, the first part is where she talks about her various rides and the second part she is answering questions posed by the community.
Here's the first part:
How did you get into endurance cycling?
Curiosity. Just to know how much farther I could go from where I was. It was like an internal journey.
I heard about BRMs, which are long distance events held by Bangalore Randonneurs. That was my first exposure back in 2018. I am quite new to endurance riding. It has been exciting, it is totally my thing.
It allows me to go above and beyond daily life, of escaping the mundane.
Soon after your first endurance ride, you went for Paris-Brest-Paris ride. How did that happen?
That was quite interesting. Because I had never heard of PBP. I did my first SR in one month. I started with the 600 BRM in November 2018 and drove to every city where I could find a ride happening. So I went to Madurai, Chennai, Hyderabad and finished my 200, 300 and 400 km brevets. Finishing my SR (Super Randonneur title) by December.
Then I kept looking for more rides. Sometime in April I got to know about PBP, which is a 1200 km event and I had never done 1200 km. It would be utterly foolish to even attempt or think of it. So I just parked it in the side of my brain.
People said you should try it. One SR is the qualification for PBP and I had completed 2 SRs by then.
I thought maybe I should try it. And as you grow older, you realise that opportunities don't come easy. When you are in that moment and something shows up. At least attempt. Put in your effort and see how much you can do.
It was going to be my first 1200 and directly PBP.
In April I heard of it, May I registered for it and applied for the visa and finally everything got approved in July, and August was the ride. That is the back story for PBP.
READ: Sayi's London-Edinburgh-London brevet
The Breakdown
I am used to cold, but I had not planned out the ride. I didn't have that experience and had taken inputs and listened to a lot of people who had done it before. But that is something that you have to experience on your own. Even then I went for it and went up to Brest and on the way back, after 600 km, I came back almost to the 800 km mark. That is where I had a breakdown. My crank broke into two pieces.
It was such a strange thing. The brake cable rubbed against the bottom bracket and tore the BB into two. I tried hard to continue and finish it. It was going to be a late finish. I had accepted that, but I wanted to try and complete it.
I went to the shops looking for a mechanic. But everything had closed down because it was evening. I couldn't get the spare parts to repair the bike and continue. I even asked people who were DNFing if I could borrow their bike!
Eventually I had to give up and catch the train back to Paris. But it was an amazing experience. Because France is like the mecca for cycling. And randonneuring is celebrated like the Olympics. It's like once in 4 years that the PBP happens and they really celebrate. Every village puts out all these boards and people sit outside. Serving food, water and its like a festival.
PBP is special because you meet people coming from across the world.
ISAN. Another big and tough ride you did. Tell us about that?
ISAN is the northeast part of Thailand which consists of around 20 districts. That entire region is called ISAN in Thailand. It is on the border of Cambodia and Laos. This happened in 2020, just before the lockdown in February.
We were going for this ride and people were masking up in the airport and we were like, why are you doing this. In India there is nothing. We were just amused by all of that. Nothing happened during the ride, Covid was not really that bad. People there were more cautious though.
This started in February on the 8th. It was a 2020 km long ride. It was nicely organised by Audax ISAN. Thai people are exceptional. It was a pleasure to ride in Thailand. There are very kind, gentle, open and welcoming. They are such nice people.
I loved the food. I have lived in various parts of the world, so I am used to eating different kinds of food and I loved the food there. It was nourishing. Quick carbs, and you don't need any supplements.
But it was hot. And heat is something I struggle with. I had a tough time.
In Madurai I had a heat stroke. I came back with fever and rashes all over my body. I was forcing myself to acclimatise to summer. So I would pick out rides to do during the summer to get used to the heat. Initially I would carry an ointment and would put it all over my body as soon as I would start getting rashes.
Later I found you can pour water and that naturally helps cool down the body. Various mechanisms I figured that way.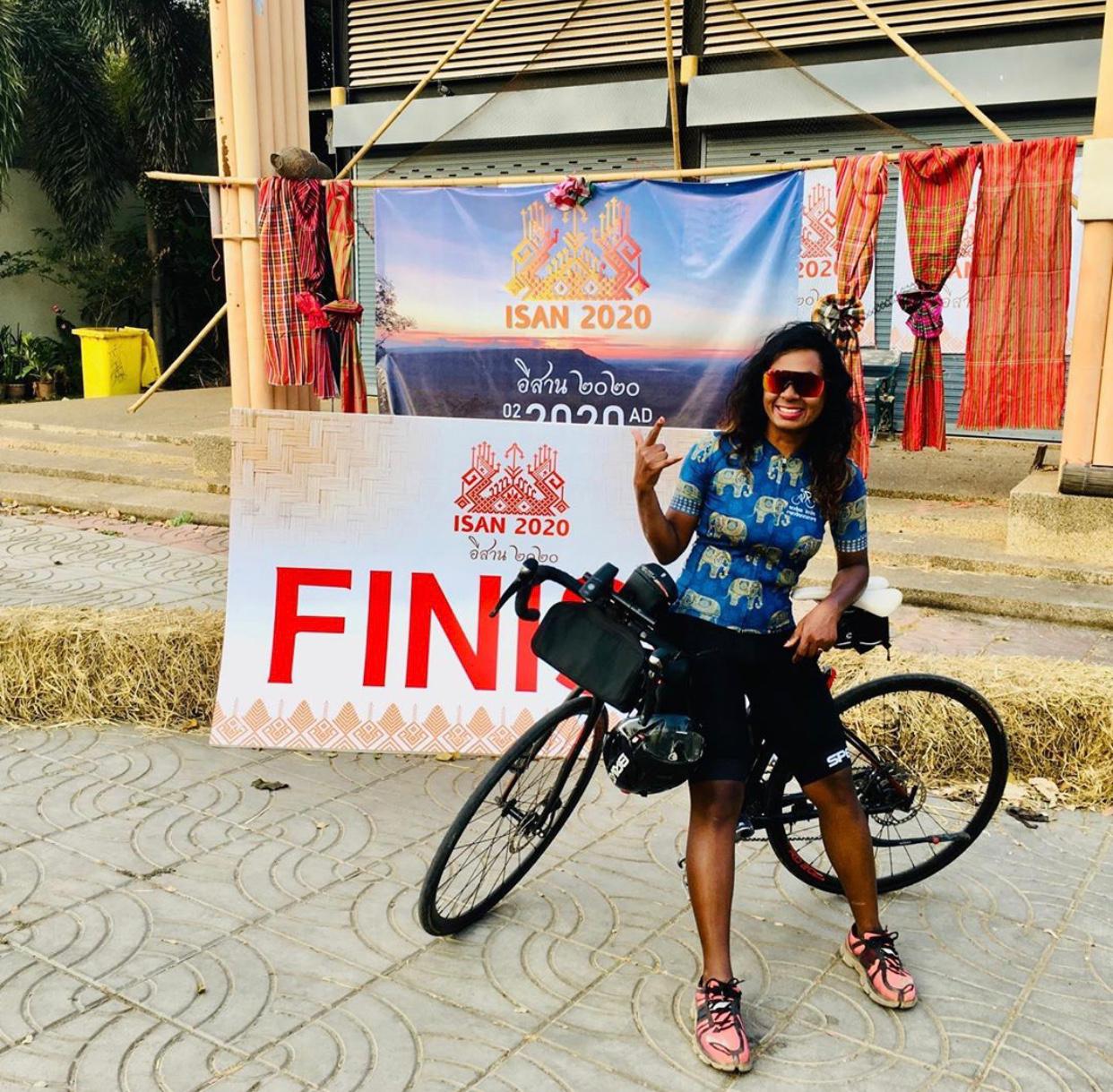 A very different ride you did was the Tandem ride. How was that?
This tandem ride happened towards the end of 2020, in December.
One of the top randonneurs of India is Mr Kanwar Gill and he called me up one fine day saying that there is this event happening, called G2G. From Gateway of India to India Gate. He invited me to do it on a tandem with him. I had never ridden a tandem before and had no clue what happens. That is what adventures are made of.
I had never met Kanwar, never ridden a tandem, didn't know how he is as a rider. I didn't even know how we would sync up and ride together. But it all clicked.
Our first ride was directly the event ride itself. Sometimes you have to take a leap of faith. Like I said, opportunities don't come up like this. It was a unique experience.
It took us 7 days. We used to sleep every night and it was quite rested. Although the distances were quite intense. We did over 200 km every day. That route is flat, so it is easy to do those distances. It was nice and it was winters, so no heat issues for me.
You might think that sitting in the back of a tandem is an easy thing. But you have to do equal amount of work. You have to be in sync. You have to be absolutely in the same cadence. It is like a 30 kg bike, one person cannot take that bike up a climb. So both have to put equal effort.
READ: Sameera Auluck's Cycle Ride from India Gate to Gateway of India
What about the Ultra Spice race?
That was my first ever race. I had never raced, not even 20 km. From a racing perspective, I had zero experience. But it was intriguing. Ultra Spice from Goa to Coorg has nice places. But the way I did it was mixed up.
Racing is a different mentality compared to brevets and randonneuring. Getting into that race mode is something else. I wanted to explore an unsupported race. and was riding solo from beginning to the end. I wanted to experience that in India, because I had plans to do something similar in Europe in July this year.
It was to understand how I work in a race setup, which is a different ballgame compared to brevets. It had 13000 metres of elevation gain for 1200 km. Some intense climbs, like Coorg and Chikmagalur. Doing it solo was an interesting challenge.
READ: Endurance Bicycle Races in India
Talking about climbing, you have done two virtual Everestings. How different was that from everything else you have done?
Virtual Everesting was planned thoroughly. Because it was indoors. The first on Alpe de Zwift and the second on RGT.
For the first I practiced a lot. The reason I wanted to do an Everesting, was because I considered my climbing not very strong.
I wanted to work on my climbing and improve my skills. One thing that I did before doing that in Zwift itself. There is something called the Everesting challenge, where you log 50000 metres of climbs over a few months. And you unlock this Tron bike. So I practiced and got the bike and built a solid base. I unlocked that bike and did a virtual half-Everesting first on ADZ. You can do it on smaller hills, but it is not as much fun.
The virtual half-Everesting went off well and I felt I was ready to go for the full one. In a couple of weeks I went for the full-Everesting.
Planning is critical, because you have to plan for saddle time of about 20 hours. I managed to finish it in 16 hours. 8848 metres would have been in 15 and a half or so. But you do a little more just to be sure.
Leading up to that event I did a lot of other endurance rides, so that I am comfortable sitting on the saddle. I also took a shower in the middle. When you are climbing, you have to continuously climb. But when you are coming down, you can get off the saddle. You get like a 10-12 minute break, where you can eat, shower and other things. In my Everesting attempts, after the 4th lap, I take a shower and cool down. Then it feels like another new half-Everesting!
READ: 24-hour Indoor Bicycle Ride
How different is it to ride in India versus abroad?
In India, we don't have that much cycling culture. At least pre-covid. But recently it has changed a lot. Thailand has cycling specific bike routes along the river, it is such a pleasure to ride. France of course has their own cycling routes. For over 100 years, cycling is part of their culture.
In the south of India, I am comfortable riding alone and through the night. I have not faced any issues, but I know other women who have had problems. But so far it has not stopped me. It is more of putting yourself out there. You need to be out there and show yourself and keep riding. Make it commonplace. People should not bat an eyelid that there is a lone women riding at night. We should not be afraid of someone attacking us.
You have to take that step, go outside. Just like every guy. Some amount of effort from us women to be fearless and chase your passion and go for your things. Be cautious, carry pepper spray, learn survival skills.
Ultimately how a man or woman deals with the challenges on the road will be similar.
How is it to ride behind on a tandem bike?
After the first 50 km I tried to go in front. But Kanwar thought that the bike was going up, he thought he was heavier and I was too light or something. So he said lets not try this right now, we have to do 1500 km!
The person in the front is called the captain. That person has to have bike handling skills. Apart from that the person at the back can do a lot of other activities. Like when a climb comes I would have my Wahoo and know the gradient, so I could decide on the effort required for that etc. We used to coordinate our skills and put it together.
I could plan much more clearly than what I do on a solo ride. We would hit 27-28 kmph for a 200 km ride. Single person carrying a 30 kg bike would not be possible.
I had a lot of fun. I carry a Bluetooth speaker on solo rides. In tandem I had fun because we are next to each other. And I was putting all these Punjabi numbers. It was quite a breeze, there was no saddle soreness because of winter. It was a supported ride.
We also made a world record. WUCA is World Ultra Cycling Association, this G2G ride is registered at WUCA. Kanwar wanted to attempt riding the fastest tandem between Delhi and Mumbai. We breezed through it.
Did it ever get boring to look at the Captain's back?
You can't get bored, because you have to keep pedalling. You have to match the cadence. It is quite intense. It is not easy even on a tandem.
Companionship is there. You can complain together and have fun together, but otherwise it is quite intense.
It is like riding an MTB, because it was a hybrid tandem with thick MTB tyres.
Tell us more about the differences between racing and brevets?
In racing there is a lot of things you need to take care of. In brevets I really didn't plan too much. I would just go with the flow. In racing you have to plan, where you are going to stop, what are you going to eat, what is your hydration. Those finer points become more critical. It also becomes more important where you sleep.
I made a few mistakes about where you sleep. Sleeping is important during an ultra race. Quick short naps are important. I am still not good at it.
In ultra racing you can't waste time. In brevets you can sit and have lunch, dinner with your friends. It is more of a camaraderie kind of thing. Racing you have to be much more focussed. Your timelines are very close.
In racing, if you find a group, then you can form a peloton, take turns at the front. In a lot of events you can do that.
READ: Transitioning from Randonneuring to Racing
How different is it to go virtual riding vs real world riding?
Indoor riding is mentally challenging in comparison. Outdoors you are moving, there is a visual stimulation. Indoor you don't have that. It is difficult to find the motivation to do that. Short hours, do a workout, finish and get done with it.
For longer hours it is more of mental fortitude. You have to develop that like a muscle/ skill. That part is challenging.
Indoor allows you to plan for things. You can test out your nutrition indoors for say a 300 km ride. You need to see when you eat, salts etc.
I prefer outdoor riding for sure. I am a vagabond soul. First thing in the morning I am getting outdoors for a ride. Finish my workout and then come back. Indoors is difficult.
Are you planning an Everesting outdoors as well?
I had planned in February this year, but it clashed with Ultra Spice and the 5 day SR event came up. Then the whole world shut down.
I had shortlisted a couple of locations. One is in Bangalore, close by, within 50 km is Nandi Hills. But it has lots of repetitions. It is challenging for me to do so many loops.
The other one is Yercaud, it is cooler and within shorter number of loops you can finish your Everesting.
You mentioned the 5 day SR, what was that?
Immediately after the Ultra Spice in February, I did this 5 day SR on a tandem with Kanwar. It was organised by Jalandhar Randonneurs. It was a fantastic experience. We had Punjab darshan on the first 600. The other 3 rides were in Himachal with intense climbs. On a tandem climbing is tough.
Descending is tougher, because you are going very fast on a tandem. We had Dharamshala and other places to climb.
One of the reasons I love randonneuring is because you get to see these amazing places. Where normally I don't think we would go there or get the opportunity to take a holiday there.
When you are riding you are on the ground, eating the local food and continuously moving. It was really amazing.
What are the things you carry for an endurance ride?
I carry my saddle bag which has a puncture kit, Allen key, spoke tool. I carry a spare hanger as well. If I have space I might carry an extra tyre. 2-3 tubes I carry. Tail lights, one on the bike and two spare. Front lights also I take at least two in front and one extra. In the new bike I have a dynamo for the front light. So little reduced carrying for the lights.
I have a handlebar bag which is like a catchall. Sometimes I don't know what all I put in! I have power banks which I carry for my phone and Wahoo charger. All these devices which need to be charged, for them I carry 2-3 powerbanks. Which is a little bulky, but it is important to have that and I don't want to be stranded somewhere and unable to call anyone.
Up to 300 km I run on bananas or other fruit. Beyond that I stop and eat at the CP points whatever is provided. I try to eat regular meals. I am not a big fan of processed foods, so I don't take anything in a plastic packet. Even gels and stuff like that I don't use.
I used to run long distance before. When in the US, I used to take those GU gels. It never sat well with me. After trial and error I realised that this is not for me.
I carry salt, regular salt. Your body needs sodium, when you are sweating a lot, you need to replenish sodium and potassium. Himalayan pink salt is what I use for my hydration. I take regular sugar or some quick sugar for fuel. And slow sugars like fruits give fructose which breaks down slowly.
I have trained myself to get used to whatever is available. Randonneuring teaches you to do that. It also gives you the opportunity to experience new foods.
Tell us about the new bike you got?
The Indian market is definitely not made for women riders. It is difficult to get something specific to your size. Brands like Cannondale and Giant have women's bikes. But in the market you won't find those. You do not get the correct size or geometry. I had no clue when I was buying my first bike. It was a Cannondale Synapse alloy bike. It was good but big for me. I used to be in perpetual pain. My arms and shoulders were always numb.
Endurance riding causes these pains. But you don't have to suffer through these pains. Those pains are avoidable if you have the right geometry and right fit. I wish bike retailers and bike companies spend some effort and bring in women specific products.
It is difficult from the saddle, to the bike to the jerseys and shorts. You are expected to use what men are using. But we are different.
How different is it to ride in the north and south of India?
In the north I would not ride solo. I would definitely be part of a group. Except in Kerala, the other three states I have ridden solo multiple times at night. And always been comfortable.
In the north I don't know how it is. People have told me that it is scary. And I have that in my mind. But I actually haven't ventured out solo. People say Delhi is very unsafe.
When I did this 3000 km ride, I rode through Bihar where people have guns on the road. It is quite unsafe to ride solo for a woman.
But I think things should change down the line.
What are the challenges a female endurance cyclist faces?
One of the things people want to know is where I am going. They are just curious. They will ask you where you are going and where you are coming from. In a 600, you are riding for two nights and are repeating this story to everyone! Sometimes it is curiosity, at other times they follow you.
They keep following you for a couple of kilometres and try to spook you. But so far it has been harmless.
Near Chennai once when I was riding, one biker came riding to me and said, I saw some friends of yours ahead. I will tell them to wait, why are you riding alone. I was like noooo, let them ride they ride, I will do it alone. Sometimes it is genuine concern. People are generally nice.
Listen to people and tell them and keep moving.
There was this one instance where a car came and stopped right in front. I wasn't alone, but three of us. Then that person came out and wanted to stop and talk to us. He came, said something and went back. I do carry pepper spray for such instances.
I try to use the local language wherever I am going. Except for Telegu, I speak the remaining three. I am a Malayali and was brought up in Karnataka, so know Kannada well and also know Tamil. When riding through villages I speak their language.
Community Questions for Grinshina Kartik
The second part of the conversation with Grinshina Kartik was with members of the community asking her questions.
Yasiistories: Endurance racing vs road racing. What is the difference in terms of growth prospects in India?
I am not the right person to tell you about growth prospects. But road races are short and sweet. You can finish the race, go back and have a nice time with your family. Endurance you have to push through. Anything above 200-300 km is an endurance race.
Completely different these two are.
In India, short road races are popular. I have never done one on the road. Virtual races I have done a few. It is quite fun. But not an expert on road racing.
Niyasbava: What was your motivation to start cycling?
I have cycled as a child. I have always had a thing to go out and explore places. As a kid I would take my bike during the summer vacations and go out with friends. When I did my engineering 250 km from Bangalore I took my bike there and I cycled to college. And on weekends I would explore places on my bicycle. Even in the US, when I was working, I bought a bicycle. Not a fancy bike but just to commute and explore.
I have always had that curious nature and wanted to explore on my bike.
Actual Endurance riding only happened for the past 2.5 years. Before that I would do weekend rides. 50 km at the most.
Danny Nazsu: What is the average gradient on a virtual Everesting ride?
Around 8-9%.
TWAAH: Climbing on a tandem vs riding solo?
Climbs on tandem is much tougher. A tandem bike is double the weight. And two people have to take it up the hill. Climbing is much more intense.
Yasii: What are the costs for the Ultra Spice race?
For a solo unsupported race, there is the race fee. The food during the ride, the transportation to go up and down. The Ultra Spice was around 25-30 k all in all. That is for a solo. For a supported race, the economics would be much more.
This conversation with Grinshina Kartik was our 4th Freewheeling episode. After a short break, we will be back with more Freewheeling sessions with more cool cyclists.
Photos Courtesy: Grinshina Kartik (Follow her on Instagram)
---
Also read the Freewheeling conversations with Shiven Aerohawk, MTB National Champion and Mohit Raj Kapoor, Ace Tourer! And another incredibly talented endurance female Indian racer, Neha Tikam.