Mumbai's first dirt pump track championship was held at GHV Endeavor Trail on 9th of June. The first iteration saw top Indian talent participating in the event.
---
Mumbai's First Dirt Pump Track Championship at GHV Endeavor Trail
A pump track is just like a hand pump, which requires a ridiculous amount of pumping with your arms. Unlike a hand pump, you don't end up with a bucket of water. Instead you get bucketloads of fun on the day and an aching body the next day!
Jokes apart, cyclists aren't quite imaginative when naming things and a pump track is exactly what it sounds like.
A purpose built track with technical features which requires the rider to pump the bike from start to end. The idea is that you use the momentum of the track and go as fast as possible without the need of pedalling.
Why Ride a Pump Track?
Pump tracks have berms, rollers, tabletops and jumps, which packed together are perfect for mountain bikers to improve their skills to replicate on trails. Each track element helps you with a specific skill and since you aren't pedalling, you learn the art of using momentum and not pedalling energy.
Because it is built as a closed circuit, it doesn't have rocks and trees which usually do a good job of breaking rider's bones! It is a safe place to push your limits and skillset. It is as useful for a seasoned campaigner as it is for a novice out on a bike for the first time.
Pump Track Championship
2018 saw the first global pump track championship being organised by Velosolutions and Red Bull.
There was a qualifier held in Hyderabad, India as well at the WallRide Park last year.
This form of the sport has caught the fancy of cyclists globally, as a pump track is relatively cheaper to build and requires less space. A boon in forever shrinking urban spaces.
GHV Endeavor Trail latched onto this growing format and built a track and hosted their inaugural championship on the 9th of June.
GHV Endeavor Trail
Located some 80 km from South Mumbai, within the vicinity of Barvi Lake Murbad in Thane District. It is an ideal weekend getaway for adventure lovers of the city.
The pump track itself consists of 8 lanes with berms, tabletops, rollers, dirt jumps, a bowl and kicks off with an elevated launcher.
GHV (Green Home Villas) also have a number of things in the pipeline for other adventure enthusiasts. There are plans afoot to build an XC course, a DH course, skate park, and stuff like wall climbing and zip lining.
Accommodation & food is also available in the property itself, so you need to just land up there and enjoy without the hassle of making other arrangements!
In Conversation
We chat to Mohammad Mursalin Memon, Managing Director, GHV Endeavor Trail about the track and the championship held there!
What was the idea behind constructing a pump track?
MMM: We have a property called Green Home Villas and were looking to develop it as weekend homes. We wanted to add some stuff like a golf course or something. An eye-catcher, which would be both interesting and currently unavailable in the area. After some research and meeting with quite a few cyclists, visiting resorts and golf courses, we came to a conclusion that a pump track is something the country needs.
There are people who are crazy about it and from there we went down the path of building a pump track.
It took us 3 months to build the track and we completed it this May.
Constructing a pump track depends on how you want to do it. A track can be built for 8 lakh rupees, 10 lakh rupees or more, plus 3 to 4 acres of land. It also depends on whether you build it yourself or get someone from outside to do it for you.
You need lots and lots of manpower, machinery and someone to oversee it. Eventually it takes quite a bit of money.
It also depends on the layout of the track. For example, if you are planning to build 10 berms you require around 50 trucks. We got 300 trucks to build our track.
Are you a rider yourself?
MMM: I am not a cyclist.
I met a lot of cyclists and used to see a lot of cyclists travelling to different places in the vicinity. After speaking to many of them I got this idea.
There was no infrastructure for cyclists to experience something like this. That is why we came up with this.
How far from Mumbai is the track?
MMM: It is approximately 80 km from CST, Mumbai. From Pune it is 150 km.
Where did the idea come from for having this Pump Track Championship?
MMM: The idea was to organise something which would let people know about our facility, so that they can come and use it.
So we planned a competition to get the word out. Getting so many people to congregate here wasn't possible without an event. So it was necessary to organise something.
Was there any group of cyclists or individuals who helped?
MMM: There were some good people who supported me in this.
Vinay Menon, from Freerider Magazine and a top talent of the country, helped me a lot. People from Sharptune, a group of MTB/ BMX riders, helped me.
Another person who helped a lot was Satish Diwedi. He is a cyclist and was physically present when we built the track. We were three who built this. Me, Kamran Shaykh and Satish.
How many people participated in this championship, in elite and amateur?
MMM: There were more than 100 people present. 50 riders participated, 25 in the elite and 25 in the amateur category.
There were national riders present like Gautam Taode, Slade, Rahul, Nilay etc.
Did you have participants from Mumbai/ Pune area only or were they people from further away?
MMM: We had participants from both cities and more.
We provided accommodation for the outsiders to stay. People from Pune came the previous evening and stayed.
There were people from Amravati and Hyderabad as well. Hamza Khan from WallRide Park was also present.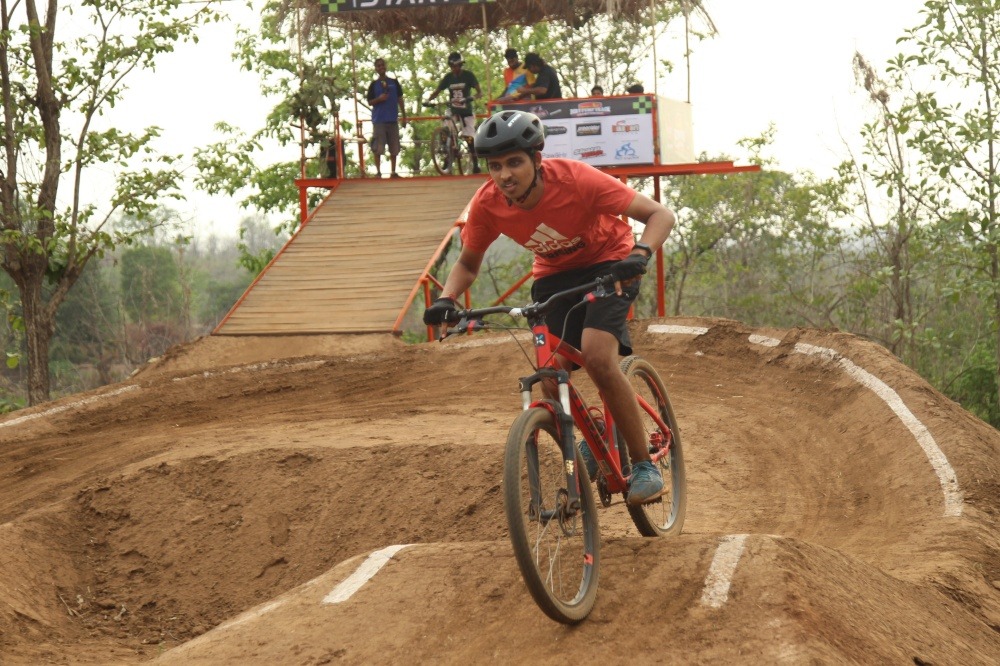 Did you get a lot of support from cycling groups?
MMM: The initial idea was to tap groups. But we saw a lot of clashes between groups. There was a lot of internal rivalry. We didn't want to get caught up with that, instead we approached individuals.
How often will these pump track championships be conducted?
MMM: We are planning to take it to a different level altogether. We got good response and support which motivates us to do it in a much better way.
It will be held on a quarterly basis at different levels.
Since this was the first event, it was a lot of learning for us. The unique aspect of this event was we didn't get any politician or celebrity to hand out the prizes. We had senior riders like Vinay Menon, Gautam Taode, Rahul Mulani, Slade Gomes, Deepak Panchal, Bharat Mangrekar, Varun Dutt, Hamza Khan and Kartik to distribute the prizes to the amateur category.
It was all about cyclists only. Except me and Kamran Shaykh who aren't cyclists!
Have you tied up with bike parks/ pump tracks in other parts of the country?
MMM: We haven't done that yet.
But if someone wants to build a track, we will be more than happy to give advice, guidance and support on how to go about it. Because we need these kind of tracks around the country. Then the value and sport will grow and demand will grow as well.
If you go to Europe, there are a lot of championships which happen amongst the countries. If we can replicate that if every state or big city has one pump track then we can have a championship of tracks.
We are already talking to Spirit of Mowgli to come up with something like this in Pune.
What was the format of the championship?
MMM: We categorised the riders as elite and amateur. We then allowed the two groups separately to have two practice runs each.
Then we had a final run, timings of which were used to declare the winner.
The practice runs were done in the first half of the day and the final runs in the second half.
What did the riders have to say after the track runs, did they like it?
MMM: They loved it.
It was technical. There is room for improvement, yes. And that is always the case.
The event they liked a lot. Because it was first breakfast, then the practice runs, then lunch, then the final runs. After which it was time for snacks and the award presentation.
We started around 830 in the morning and finished at 730 in the evening.
It was super hot. But since the runs were short it wasn't too much of a problem for the participants.
The mood of the place was more like a cycling festival than a championship!
If someone wants to ride the track, how do they book a slot?
MMM: We haven't yet started it off commercially. But if someone wants to ride, we charge them 300 rupees, which includes breakfast and access to the track for as long as they want in the day!
If someone wants, they can visit our website and give us a call and come ride!
What sort of a bike is required for riding this track?
MMM: There were riders on BMX and MTBs. It doesn't make a difference, you can choose either.
Championship Results
The winners were given cash prizes, trophies and FREE entry to the pump track for the year!
Elite Category Winners:
1st Slade Gomes
2nd Gautam Taode
3rd Varun Dutt
Amateur Category Winners:
1st Jaspal Malhi
2nd Mehul Charaniya
3rd Saurabh Kajale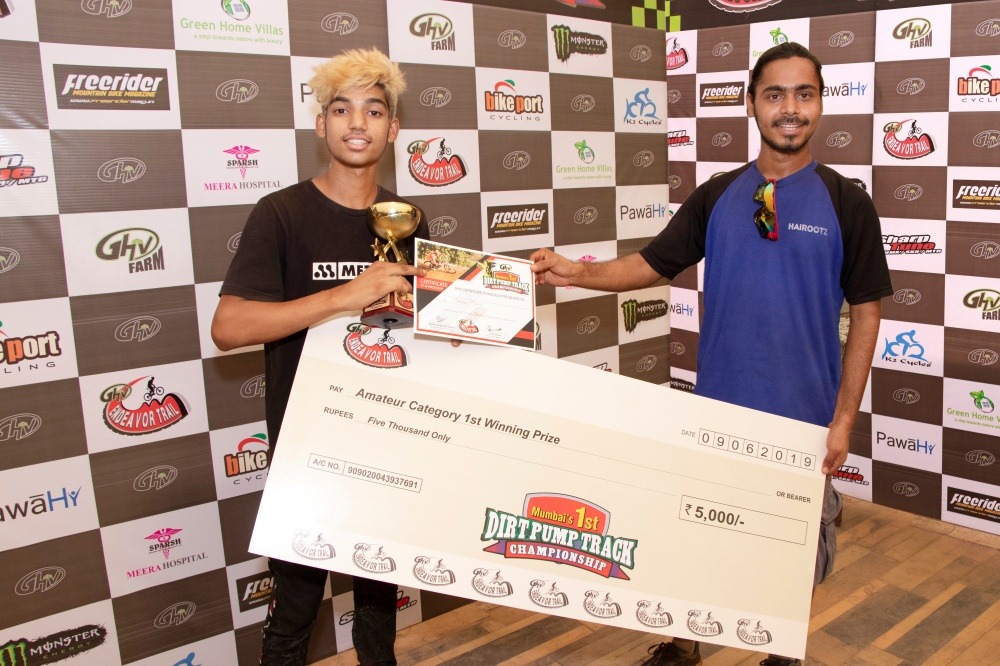 You can contact the GHV Endeavor Trail team through their website for riding on the pump track.
Photos Courtesy: GHV Endeavor Trail
---
Also read about an upcoming bike park in a distant, exotic corner of India: Mountain Biking In Ladakh. Read the 2018 Downhill National Champion, Slade Gomes journey to winning and representing India at the Asian Stage.