In Conversation with Rahul Garg, the man behind Mad Over Biking. A cycling community which has been regularly organising road races in Delhi! He talks us through the challenges, joy and excitement of organising such races.
---
What do you do once you have bought an ultra-cool carbon roadbike, fitted it with top quality wheels, bought shoes and pedals which helped you shave off a measly 50 grams?
Race!
Plugging the Gaps
Cyclists in Delhi have been splurging on top quality road bikes. Once they acquire such prized possessions, they look to utilise these purpose built machines.
For a long time there was a void on the streets of Delhi. Sunday morning breakfast rides are fun, but do not present a challenge. Brevets are wonderful, but are non-competitive. There were cyclists raring to go, with nowhere to go.
Enter Mad Over Biking, a bunch of madcap enthusiasts who decided to cater to that void and organise road races in NCR.
2019 is their second season of hosting races and they are on a steep learning curve as they strive to improve with every race. Rahul tells us 'how it is' at MOB:
Cycling Monks: Tell us a bit about MOB. When did you start organising races?
Rahul Garg: Mad Over Biking started out in May 2018. Some of us thought of creating a community driven performance platform. We thought, so many people buy expensive bikes and kit, but there wasn't a platform to race for the community. Primarily for road racing.
A week before the first race, we put up a few posters contacted a few people. Since I have been a part of the community for a long time here, I know a lot of cyclists.
In the first race we got a good response. Around 30 people landed up to race. It was a decent number. After that we conducted races regularly. Trying to host at least one race every month. We would only skip racing in the monsoons for safety reasons.
LevelUp
We also started something this year called LevelUp rides. This isn't a racing thing, but a community driven ride. The idea is to get people on their bikes and out for a ride. Basically building a connect with the community so that we could channel those interested into racing. The idea of these rides was just to have fun. We had these rides in Faridabad, Noida etc. We spoke to groups and individuals, inviting them for these rides.
Thanks to this, a lot of leisure cyclists also came to race. Those who wanted to improve themselves.
EndureIt
In the second season, we added another dimension: longer rides. We call it EndureIt. Unlike brevets which are more leisurely, we wanted to have performance driven endurance rides. To initiate people, we did a couple of 100 km rides, in a gap of a month. This gave participants an idea of gauging their fitness on the first ride and the improvement a month later.
Instead of going the old pen-paper way. We used technology and went digital. We give the participants a barcode and this is scanned at the control points. Leading to less chances of errors and faster processing of riders through these control points. Right now with the hot summer, we aren't pushing EndureIt. But once the weather improves we will be back to it.
CM: How difficult is it to organise races in NCR?
RG: It is very difficult. First of all, I am not a company. I am just a cyclist who is a part of the community. Getting people in terms of participants, volunteers and even sponsors is very difficult.
But somehow we manage. We have 3-4 people in the team and together we pull it off.
The culture of racing is still nascent and in the process of being built. So getting people to show up at the start line itself is a challenge.
A big disadvantage we have is that we cannot have the races in the middle of the city, since getting permissions is difficult. So we have to hold the races on the outskirts, which makes it difficult for many people to reach the place.
Last year, people didn't know about Mad Over Biking. Now they do. This season we are averaging 50 racers at every race. One race we had in the hills as well, 7 racers showed up for that.
The next race is a Time Trial. Since it is a new format we are using, we have fewer registrations, but I am sure that number will also inch towards 40 as we get closer to the race date. The TT will be 30 km at KMP.
CM: Is the cycling community supportive?
RG: We aren't a group but a community platform. MOB supports everybody and gets support from groups. In our Noida race, a group from Greater Noida came forward to help us.
CM: What about support from cycle manufacturers and government organisations?
RG: No no, none. Cycling stores of NCR support us. This year, since we are having races in different areas, we have a different plan. Wherever the race is being held, we coordinate with the shop in that location. The good thing is that everyone wants to support the community. We want to treat everyone equally and that everyone should join us and support the racing.
Up until now we haven't had any support come in from cycle manufacturers. Maybe I have as yet not been able to reach them.
From the government there is zero support. The process for getting permissions is long, that it is near impossible.
CM: How do you'll fund the races?
RG: The expenses come from the registration fee paid by the racers, even though we try to keep it as low as possible.
Sponsors don't pay cash, but they provide in kind. So that is more like a value add for the racers.
We somehow manage.
CM: How often are the races held?
RG: We try to conduct a race every month, excluding the monsoon. The next race is on the 30th of June.
We also have virtual races on Zwift. We tell people to join in on a race and mention Mad Over Biking, we can then add those people to the points table.
CM: What is the response of cyclists to racing on public roads with traffic?
RG: We inform everyone in advance, that we will be racing in traffic. Because it is important to be completely transparent with everyone in the community.
We make sure we take care of the racers. The support vehicles act like a moving barricade for the racers. There is also an ambulance which accompanies the racers. With 6-7 vehicles we do a reasonably good job of cordoning off the riders from the traffic.
We manage the traffic even though we can't shut down traffic. With the limited resources we do the best we can. This is only possible thanks to our volunteers who work tirelessly to ensure the safety of racers.
CM: Have you coordinated with any race clubs in other parts of India?
RG: Yes, I reached out to WSSM in Pune and BBCH in Bangalore. We discussed about creating a pan-India platform. But the major concern is cost and logistics.
We have some common sponsors, so maybe we would rope them in and figure out a way. But the economics of it doesn't work out eventually.
Maybe once the market gets more matured then we can go ahead with these plans.
CM: Tell us about your community building initiative on World Cycling Day?
RG: With Hero, we had an understanding that we would get cyclists together since we are a community platform. We managed to get 16-17 groups together.
We invited these groups for World Cycling Day and we appreciated and mentioned these groups on the platform. All together we had about 700 entries. We had 500 giveaways for the participants and we distributed all that we had!
We pulled this off in a week. In fact the Tuesday before the event, so just 5 days actually.
CM: Who are the people behind MOB, the team which puts together these races?
RG: Along with me, there are 3 more guys who organise things. Jagdeep Shekhawat, who sees to the volunteer management. Siddharth Mohan, he sees to the event operations. And Ashutosh Tyagi, who is our official photographer.
We hope more people will join in to help organise these races in the future.
Everyone is doing it for passion and not paisa!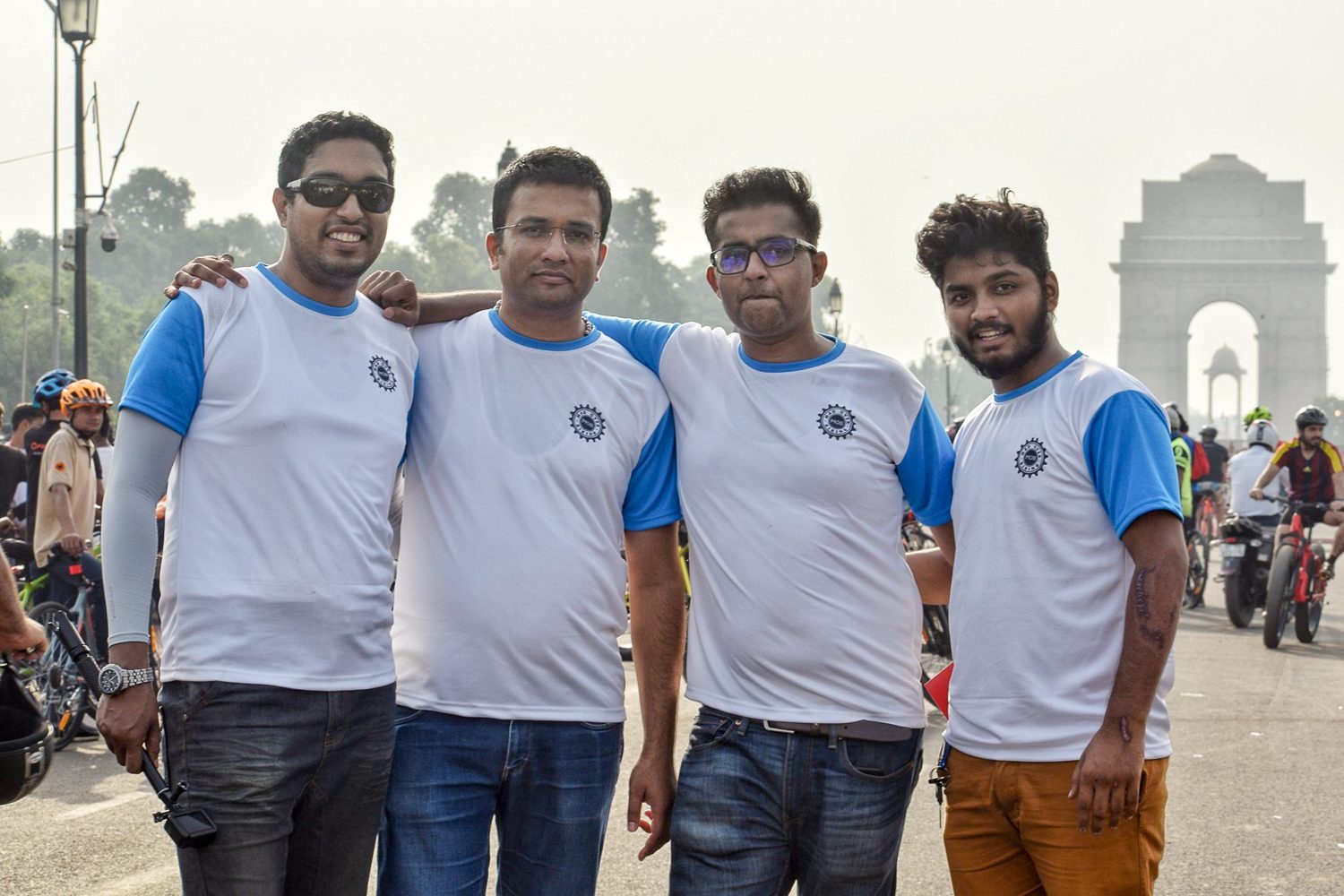 CM: When is the next race or event planned and how does one go about registering for it?
RG: We have a form online which you need to fill once for registering. This year we started one season, one bib. So you needn't register separately for every race.
We announce the races on our Facebook page and Instagram page. We are also building a website for Mad Over Biking, which should go live soon. The website will have all the information about the races, past, present and future.
The racers get these cool looking medals!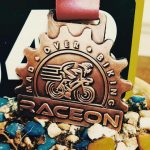 Photos: Ashutosh Tyagi/ Mad Over Biking
---
Interested in Mountain Biking? Read about the MTB XC races that Aravalli Trailhunters organises in NCR. See the list of some cool cycle races in India being held currently, road, MTB and Endurance.