We sit down with AP from ATH to understand gravel bikes, what they are good for or not and why you should buy yet another bike! And why gravel biking in India makes sense…
---
The most alluring part of cycling is the yearning for discovery. Discovering new places, our limits and exceeding them. While there are two main disciplines, Road and Mountain Biking each have their own limiting factors.
While your traditional road bike might be a limiting factor when it comes to actually pursuing the road less taken. Or the 'no road so it cannot be taken'!, MTBs may not be an effective tool to ride fast and long.
This is where the riders who wanted to experience both worlds started putting drop bars to their MTB hardtails and switching to less knobbly tires (for speed of course!) and thus, the Gravel bike was born.
Go Wherever…
The essence of gravel biking is to be able to ride wherever you want. You can enjoy being reasonably fast on the road, while having the capability of exploring places even after the road ends. And thanks to events like the "Unbound Gravel" (formerly knows as Dirty Kanza), "Belgian Waffle Ride", gravel bikes came to prominence and major bike brands took the leap. Now, Gravel is a category of its own.
The best analogy to help explain this category is to borrow a term from the automobile world, the gravel bike is something like the 'Crossover/ Compact SUV'. A vehicle designed to handle some amount of rough stuff, but nothing too technical. While at the same time maintaining all the requisite road manners.
It is therefore no surprise that both compact SUVs and gravel bikes are getting popular by the day. Gravel bikes are an attempt to take you back to the roots of cycling, one bike to tackle everything the journey has to offer. A bike which steps away from exceling on either trail or road, yet promising a world full of possibilities. The gravel bike is built for fun…
Why Go Gravel Biking in India?
As AP shares his experience from trail hunting in the Aravallis: "ATH has always been a MTB community where XC and exploration forms the core principal. However, in recent years we have witnessed acute degradation of trails on account of increasing commercial activities. The trails are becoming more mellow and technical bits remain few and far between. This led to our usual routes getting somehow mundane and bereft of challenges it used to pose."
"Plus the whole preparation of putting the bike in the car to reach the trail head. In most cases the driving distance would exceed the distance ridden! Gravel bikes presented a whole new way of looking at the trails. The trails which seems mellow and mundane on a MTB (most folks in ATH ride full-suspension bikes) became fun and challenging. The lack of any suspension means that one has to focus on the lines to take; plus the gravel bikes are faster in flat sections."
With drop bars gravel bikes are more aerodynamic than MTB leading to better speed on trails and on roads. This is exactly where gravel bikes are a perfect fit in the Indian context. You can comfortably ride a gravel bike from your home to the trail, enjoy the trail and be back. All at a significantly faster pace than what you could manage on your MTB. And forget about your road bike even going to the trails…
You end up exploring a lot more on the gravel because of its versatility.
Real World Reason
Case in example AP's usual gravel loop of 48 km joins country roads, trail section and a bit of road. This loop usually takes about 1hr 45 mins of riding to complete – which would not be possible with an MTB.
Most trails around are simple enough to be easily ridden on a gravel bike. For short technical bits, you can always get off and walk. And if you have extensive technical sections, then you are probably better off on an MTB.
Another important factor is that roads are getting busier. It is no joy to ride amidst dense traffic, drunk/ sleepy drivers and pollution. Gravel bikes allow you to head in the opposite direction of city centres and good roads. You can ride backroads with far more confidence than you would on your road bike.
That being said, a gravel bike is not a replacement for either a Road Bike or MTB.
Gravel vs MTB
Advantages
More aero, since it is road bike inspired geometry
Higher gearing, so you are less likely to spin out when riding on asphalt
Lighter. No suspension front or rear, makes gravel much lighter than your MTB
Tyres. Gravel tyres score over MTB tyres on asphalt, but are not as capable on the loose stuff
Versatile. The area where the gravel scores the highest.
Disadvantages
Nowhere as capable as an MTB on technical trails
Doesn't provide the wide handlebar control which MTBs do
No suspension, front or rear, to help in trails
The brakes setup and usage on trails is more natural on a flat bar MTB rather than a drop bar gravel
Gravel vs Road
Advantages
Otherworldly capability on dirt in comparison
Wider tyres add to the comfort on bad roads
Comfortable geometry. More upright position
Lower gearing, more suited to tackle steep loose climbs
Disc brakes. Road bikes may or may not have this
Wider handlebars (or flared drops) for improved control
Lots of tyre clearance means you can mount mudguards in the monsoons
Disadvantages
Not as aero
Heavier than road bikes
Slower than road bikes on good road
Gravel gearing will spin out on descents or fast group road rides
Technical Differences between Gravel and Road/ MTB
Gearing:
| | | | | |
| --- | --- | --- | --- | --- |
| | Setup | Chainring | Cassette | Gear range in % |
| MTB | 2 x 11 | 36/26 | 11T-42T | 529 |
| MTB | 1 x 12 | 32 | 10T-50T | 500 |
| Road | 2 x 11 | 52/36 | 11T-28T | 368 |
| Road | 2 x 11 | 53/39 | 11T-25T | 309 |
| Gravel | 2 x 11 | 48/31 | 11T-34T | 479 |
| Gravel | 1 x 11 | 40 | 11T-42T | 382 |
| Gravel | 1 x 12 | 40 | 10T-50T | 500 |
For a more detailed discussion on Gravel gearing refer to this useful article by CyclingWeekly.
Geometry:
While its obvious that Gravel is the result of Road mixed with MTB. The geometry is inspired by both, for bikes focused towards technical riding have more slack geometry whereas the racier ones have aggressive numbers. Albeit the common theme is more relaxed than an out-and-out road race machine.
Go Tubeless
Riding a gravel bike in India? Go tubeless!
Tubeless has innumerable benefits over a tube system. Mountain bikers have long since dispensed with the tube and have been riding tubeless for more than a decade now in India. The downside of tubeless for road cyclists was finding a matching tyre/ wheel combo which would be easy to fit. Narrow width road wheels make tubeless a nightmare during installation.
On your gravel bike, that isn't a problem. You are already using wide tyres and rims. Seating the tubeless tyre to the wheel is not as much of a hassle.
The benefits of tubeless?
Puncture Proof. Tubeless tyres are much less prone to punctures than tubes. And even if do suffer a puncture midride, the tyre sealant almost always seals the puncture. You end up wasting zero time and energy on repairing a flat.
Bye bye pinch flats. Pinch flats happen when the tube gets pinched between a rock and a hard place! No tubes means, no pinch flats.
Better grip. Without tubes, you can run much lower air pressure in your tyres. This translates into improved grip and control in the dirt.
Lose weight. Where it matters the most. Tubes are part of the rotating mass in your bicycle. No tubes is lower weight which means reduced rolling resistance.
Downsides
The downside of tubeless is that it requires maintenance and a bit expensive to begin with. However, the bike industry is moving towards disc brake setup for all formats and as such bikes these days are equipped with tubeless ready rims.
On the maintenance part, it requires frequent top up of sealant as the sealant dries out quickly because of heat. Unclogging of valves, cleaning the tyre of sealant residue as it adds weight. This maybe a big deterrent for many.
If you want to enjoy tubeless tyres on the cheap, you can check out this video by GCN of converting standard tyres and tubes to tubeless. But do so at your own risk!
That being said. Can I use my existing bike to ride gravel?
Yes, you can. The fundamental things to check are:
Whether the wheels on your bike can be made tubeless?
Whether there is enough clearance for a bigger volume tyre? 32 mm being the minimum required to reap the benefits of lower air pressure.
AP says:
"I had a Canyon Endurace; the reason I bought the bike is because I wanted to ride longer and farther with confidence that my bike can tackle rural roads. The first major change which I made was to switch over to a pair of 32 mm tubeless tyres (Specialized Roubaix). Immediately the bike felt different. With lower pressure, chatter from rough roads was muted, ride felt more comfortable, and I was able to ride for longer. Of course, speed was sacrificed a bit."
Gravel Biking in India: What Features to Expect?
Below 50000
A basic bike with entry level components. Aluminium frame and fork is what you can expect.
50000-100000
Your range expands exponentially in this price range. You will find aluminium or chromoly frames mostly with carbon forks. Significantly better wheels and hydraulic brakes at the upper end of this range.
Components used will be substantially better than the previous bikes, but still mostly entry level.
100000-200000
In this price category you are looking at bikes which are proper fast. Many of these gravel bikes will be faster on asphalt, then cheap road bikes!
Components you find on these bikes will be mid to upper range. Forks will surely be carbon, frame will still most probably be alloy or chromoly. Hydraulic discs are to be expected. Wheels will be lighter, stiffer and smoother, which translates into more speed.
200000+
You are looking at full carbon gravel bikes. Lots of bling. Top of the line gravel specific drivetrains and components.
On the downside, these gravel bikes cannot be used with gay abandon like their cheaper counterparts. You will likely be more careful parking these bikes in public spaces. You will most likely not use these bikes for commuting, something which is easy enough to do on cheaper gravel bikes…
Gravel Bikes Sold in India
In no particular order…
Veloce Gravel Pro
Veloce is a Bangladeshi brand, which has been selling bikes in India from 2020 in some of the bigger cities of the country.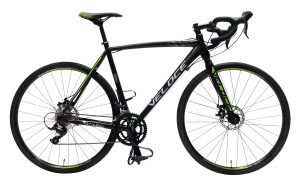 The Gravel Pro 1.0, 2.0 & 3.0 are their three gravel models currently being sold in the country.
These aluminium alloy bikes are available in 3 frame sizes.
The components are the same on all three, barring the drivetrain, which is Tourney, Claris and Sora respectively. Brakes are from Tektro.
These are sold at Rs 34990/-, 41990/- and 51990/- respectively. You can see the full specs on the Veloce Website.
Bergamont Grandurance
The Grandurance range from Bergamont has a wide and popular variety of gravel bikes.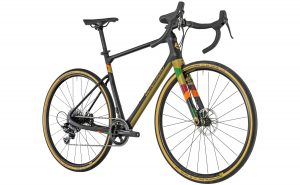 The bikes start from alloy frame and fork at the bottom, to alloy frame and carbon fork for the mid-level, to full carbon at the top. Drivetrain also progresses from Claris to Tiagra to GRX. The entry level models get mechanical discs, while the top gets hydraulic discs. The cheaper bikes even come with fenders, rack and lights, making it great for commuting as well!
Bergamont bikes are sold through the Scott Network and the models sold in India are in the range of Rs 85000 to Rs 175000/-. The top models are currently not sold in India.
You can check out the Grandurance range on the Sportnetwork Website.
Marin Gestalt
The Gestalt is the gravel series of bikes from Marin. Models start off as the Gestalt, Gestalt 1 and Gestalt 2.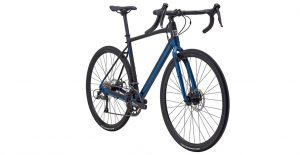 The bikes use aluminium frames, with the bottom end using an aluminium fork, while the others using carbon forks. Drivetrain employed starts from Claris and goes up to Sora and Tiagra.
Price range is roughly from Rs 75000/- to a Rs 100000/-. Unfortunately, there is no India specific website for the brand or the distributor!
You can check out the full specs of the range on the Marin Website.
Read the Marin Gestalt 1 Owner Review by Soujaatyaa Roy on CyclingMonks.
Scott Speedster Gravel
Speedster Gravel is as the name suggests the gravel line of bikes from Scott.
This series of cycles use an aluminium frame with a carbon fork. The bikes are available as Speedster 10, 20, 30 & 40. With 10 being the highest in the range, while 40 being entry level.
The range is almost identical, with the difference lying the drivetrain and brakes. The lowest model gets mechanical discs, while the rest get hydraulic discs. The drivetrain starts from Tiagra and moves up the ladder in the Shimano GRX family.
The bikes start at a lakh and go up all the way to 2 lakh rupees.
You can check out the full specifications of the Speedster Gravel range on the Sportnetwork Website.
Read the Review of the Scott Speedster Gravel 10 on CyclingMonks.com
Fuji Jari
Fuji Jari is the gravel range from Fuji and is available as 5 different models. The Jari models are 2.5, 2.3, 2.1, 1.3, 1.1, with prices working in ascending order.
All the models are available as aluminium frames, with the lower end bikes getting chromoly forks, while the top end get carbon forks. Only the top model gets hydraulic disc brakes, while the rest have to make do with mechanical disc brakes.
The drivetrain used on the Jari models are all over the place. The entry-level models get a mixture of Claris & Altus or could even have microSHIFT. The next one gets Sora & Alivio or microSHIFT. The third is simple, it gets Tiagra. The fourth gets SRAM Apex. While the top end gets Shimano GRX. Phew!
The bikes are priced in a wide range from Rs 75000/- and go up all the way to Rs 180000/-. The Indian distributor sells the Jari 1.3 for Rs 125000/-.
You can check out the full specifications of the Jari models on the Fuji Website.
Triban RC 520
The offering from Decathlon, Triban RC 520, is a value for money proposition, as are most products from the French sports giant.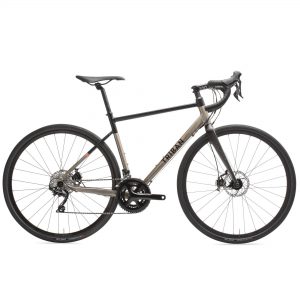 Triban RC 520 has an aluminium frame mated to a carbon fork. It is also the cheapest bike you can buy which has Shimano 105 components.
Brakes on this bike are semi-hydraulic, which basically means, cable actuated with hydraulic pistons.
The bike comes stock with 28 mm tyres, since they know most users will be riding on road, but you can fit a maximum of 36 mm tyres. Something you would want to do on the Tubeless ready wheels.
At Rs 85000/-, it is a steal!
You can see the full specifications of Triban RC 520 on the Decathlon Website.
3T Exploro Pro
Italian firm 3T's gravel bike is Exploro Pro.
This bike is available with a full carbon frame and is claimed to be one of the most aero gravel bikes in the world. Aero is everything eh!
As one would expect at this price point, the bike uses Shimano GRX drivetrain and hydraulic brakes from the same series. The bike comes fitted with 37 mm tyres, but it can fit up to 54 mm tyres!
In India, the bike retails at Rs 349000/-.
You can check out the full specifications of the bike on the Mastermind India Website.
Trek Checkpoint
Checkpoint is American brand Trek's gravel options in India.
The model is sold as Checkpoint ALR 4 and SL5. The former using an aluminium frame, while the latter uses a carbon frame.
Trek has kept the bikes almost identical with components and finishing parts. Other than the obvious frame difference, the two bikes have different models of Shimano GRX for the derailleurs and shifters, along with different BBs, cassette and chain.
Both models have carbon forks, hydraulic disc brakes and tubeless ready wheels with a maximum of 45 mm tyres.
The ALR 4 retails for Rs 156099/- and SL 5 for Rs 239399/- in India.
You can check out the full specifications on the Trek Bikes India Website.
Kona Rove
Kona makes some interesting bikes for gravel use. The bikes have a regular fan following globally and is known to provide affordable bikes with great spec.
Kona Rove has 6 variants, starting with aluminium frame bikes with aluminium forks, moving to chromoly frames with same forks and progressing to chromoly frame with carbon fork.
You also get wheel sizes of both 700c and 650b. Drivetrain components change with every model and are too varied to be listed here.
Brakes on the entry level models are mechanical discs, while the top end gets hydraulic disc brakes.
The price range of Kona Rove starts from approximately 90000 and goes up to 1.8 lakh rupees.
You can see the full specifications of Kona Rove on the Kona Website.
Read the Kona Rove Owner Review on CyclingMonks!
Polygon Bend R2
Polygon has quite a few options amongst gravel bikes in India. Check out this owner review by Nilanjan of the Polygon Bend R2.
Custom
If you are in the mood, then you can also get a Custom Gravel Bike built for yourself. The bike will be as per your specifications. It can't get any better than that!
In India, there are 3 custom frame builders who can put together a gravel rig for you: Psynyde, Aurovelo and Scolarian.
Is the gravel bike, a 'One Ring to Rule them All' bike?
The short answer is, yes!
It comes with a caveat – know your aspirations from it. It will take you places; places which are not overly technical/ gnarly and where you are not in an absolute hurry to reach.
Concept: Abhishek Purohit @ Aravalli Trailhunters (NCR folks, get in touch with AP to join the gravel scene!)
Photos: Saurabh Singh
---
Also read, the best road bike in India under 35k and a Guide to Indoor Training in India.