On this 74th Independence Day of our country, it is with great pleasure we bring to you cycling clubs from around the country. Clubs which are representing the cycling scene in the lesser known parts of India.
As the Father of Nation, Mahatma Gandhi said, "The future of India lies in its villages."
To draw a parallel from this. The future of Indian cycling lies in the smaller cities and towns. We have seen an explosion of the cycling scene in the Indian metros. It is now time for the rest of the country to shine.
This is our humble attempt to put the spotlight on these fantastic folks who are growing the sport in places where it never existed.
We are ever grateful to them for helping others experience of the freedom on a cycle…
Here's a quick video of the Cycling Clubs wishing you all a Happy Independence Day!
Kalyan Cyclist Foundation
From the satellite city adjoining Mumbai, KCF has been doing incredible work to grow cycling. From youngsters to women, to road and mountain bike enthusiasts.
Kiran from KCF speaks about the club:
"It started in 2015 by Dr. Adwait Jadhav. It is a registered group. We have four segments, i.e., road cycling, off-road, juniors (family ride) and women riders group. Off-road is on the trails. It is lead by Satish Diwedi.
Every year in June, we conduct a race for off-road cycling. Junior Cycling or Family Ride segments are for the kids from 8 years to 15 years of age along with their parents. It is lead by a senior member of the foundation.
Fourth is the women's group for those who are not comfortable to ride with the general group. It is lead by Varsha Yevle. They ride every Saturday around 15-20 km. All the rides start early in the morning at 6 am.
We organise many campaigns and seminars so that we can share our knowledge with everybody. There are 5-6 who form the core members of the group. Dr. Adwait Jadhav, Roy, Kiran, Sudhanshu, Krishnan, Swami, Varsha and Satish.
Twice in a year we conduct night campings for off-road team members.
We have around a 1000 members. Four different WhatsApp groups and keep adding new members to the group."
You can get in touch with them on KCF's Facebook page.
LBB Ooty Community
When you think Ooty, you think beautiful vistas in the Nilgiris. You might not automatically think cyclists. And surely not a thriving community there. But it does exist and is growing by the day.
Imaad says, "The community rides in Ooty was started by Sreenath and myself on behalf of LBB Bangalore. The main reason we are doing this is to promote cycling in small towns like Ooty."
Sangeeta says, "I love cycling because it is pollution free and healthy for the environment and for ourselves. I love riding with the community, because kids add a special energy to the ride.
Puchika says, "I love this community ride, because it is a nice way to explore the town and I love the company.
Steve says, "I joined the community rides a couple of weeks ago. A lot of small children join us. It is a lot of fun, you get to know new people and meet new people along the way. And now it has grown to 13-14 people, we started off with 5. We love cycling, the passion is there for all of us."
Cawnpore Riders
Cawnpore Riders is a cycling club based in Kanpur, Uttar Pradesh. In the last couple of years it has seen an explosion of cyclists in the city. Many of whom are seasoned randonneurs.
Amit from Cawnpore Riders tells us about the club, "The club started off with 5 cyclists now has 150 members. More than 65 regular cyclists are on Strava, who share a healthy competition.
The club has members from every walk of life. People from the defence forces, professionals, chefs, media persons and teachers are all part of the club.
Known as the Manchester of the East, the city used to earlier start every morning with the ringing of the cycle bell. Today to make cycling a healthy lifestyle choice, in 2017, Cawnpore Riders was formed.
Our main route goes along Ganga from the Ganga Barrage to historical Bithoor.
On one hand it gives people a reason to be healthy and eco-friendly and on the other hand in villages it tells people that, cycling is not a necessity. It is our passion."
You can get in touch with them on their Facebook page.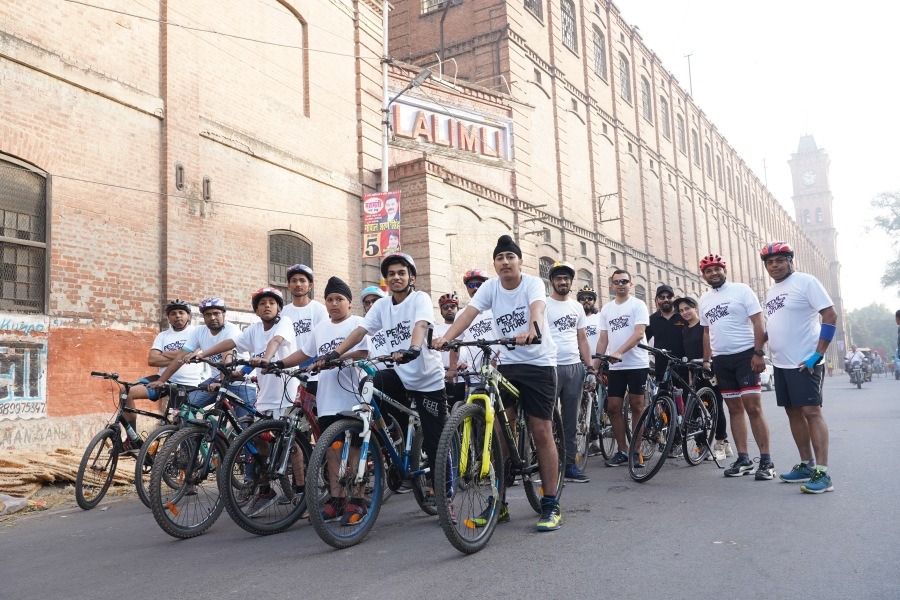 Tilinga Sports Club
Tilinga Sports club is a registered club based in the North Eastern state of Assam. They ride in and around Guwahati.
They are not just involved in promoting cycling. But also believe in getting youngsters into any kind of physical activity. Be it cycling, swimming or running.
Fit youngsters make a fit India!
Messages from various members of the Tilinga Sports Club on this Independence Day, "I offer my heartfelt greetings to the citizens of India on behalf of Tilinga Sports Club, on the occasion of 74th Independence Day.
"My bicycle, my freedom"
"Ride a cycle and build a pollution free society."
"For me cycling is an inspiration."
"Ride a bicycle and stay healthy."
"Cycling gives me endless joy."
"Cycle for a strong and healthy world."
"When in stress just ride and forget all your pains."
You can get in touch with the club on their Facebook page.
Calicut Bikers Club
Based in the southern state of Kerala, Calicut Bikers Club has been promoting cycling in the city for some time now.
The club believes in taking everyone along for the ride, nobody gets left behind. Safety is of paramount importance in the club. Even now, most club activities have been discontinued because of the COVID pandemic.
As Riyas, vice-president of CBC says, "Our club riders ride with corona protocols, everyone knows how beneficial cycling is. So, calling everyone to come forward with cycling. Happy Independence Day."
You can get in touch with them on their Facebook page.
Cycling Freaks Indore
Nestled in the central state of the country, Madhya Pradesh, Cycling Freaks Indore has been steadily growing the cycling community in their city.
Kinchit tells us more about CFI, "Our group was formed in 2018, it is now one of the prominent cycling groups of the city. We don't just cycle, we participate in all fitness related activities. Running, trekking and even swimming. Cycling means independence, something which you probably cannot experience on any other vehicle. The biggest joy for cyclists, especially people from Indore is 'Poha'!"
Nikhil says, "Cycling helps me stay fit and concentrate on my studies and upcoming exams."
Vijay says, "Cycling has set me free from laziness."
Apoorv says, "I am preparing for armed forces and cycling helps me to maintain stamina and increase endurance levels."
You can connect with them on their Facebook page.
Sunrise Cycling Group
Based in Siliguri, West Bengal, Sunrise Cycling Group was formed and is run by young fit people, who have been building the community in this town at the base of the hills.
Anirban from SCG says, "Happy Independence Day everyone. Cycling gives you the freedom to explore and visit places where no car or motorbike can take you. Cycles also gives me freedom from being reliant on fossil fuel. Fossil fuel is a big problem in the world and is the biggest factor in creating environment pollution. That's why I suggest everyone to participate in cleaner sports, like cycling or running.
Other than that, cycling also gives us freedom from mental pressure and depression. I encourage everyone to engage in cycling and influence others also to take up cycling. Because this is the purest form of freedom.
The more people in this sport, the better for the future of our nation."
Vikramjeet says, "SCG is one of the biggest cycling groups in Siliguri. On this occasion, I would like to pay my respects to all the freedom fighters who allowed our country to be what it is today. I would also like to see our country reach even greater heights. Cycling is an activity which keeps us fit and allows us to go anywhere. It also helps us meet more people."
You can catch the SCG folks on their Facebook Page.
Rajkot Cyclists
Based in Gujarat, Rajkot has many cyclists of varying cycling capabilities. From seasoned endurance riders to people just getting into the sport. There is place for all.
Tushar tell us more, "Rajkot has been chosen as part of the 'India Cycle for Change' challenge. We do morning rides around 40 km daily.
Cycling gives me freedom from my regular life which is surrounded by work and responsibilities. The morning rides give us so much energy that the entire day, we stay super fresh. There are around 6 cycle clubs in Rajkot.
Rajkot Cycle Club started in 2015, then Rajkot Randonneurs started in 2017 and we recently started Enthusiasts Cyclists Group in 2020. In total we are around 500 riders and most do daily morning rides.
I request all of you, if you want to enjoy your life, you should cycle every morning. You will get so much energy, that your day will go off really well."
You can get in touch with Rajkot Cycle Club on their Facebook Page.
Shivamogga Cycle Club
In the southern state of Karnataka, Shivamogga has seen a spurt of cycling in the city. Shivamogga Cycle Club has been at the forefront of promoting cycling their.
The clubs representative tells us, "Shivamogga Cycling Club was started in Shivamogga, a district in Karnataka. It started off with 25 members in the club but there were 3 members from the club who actively rode every day and encouraged others to cycle.
We conduct welfare camps to spread the message of cycling and its benefits. One such camp is the blood donation camps which we organise twice in a year.
We also organise cycle rides to the tourist places in and around Shivamogga and rides to other states as well.
Jai Hind. Jai Karnataka."
You can follow SCC on their Facebook Page.
Pedals and Wheels of Sindhudurg
PAWS is a cycling group in the Sindhudurg region of Maharashtra and have been getting together cyclists from a number of towns in the area.
Dr. Subodan from the group tells us more, "In Sindhudurg, we have a cycling group named Pedals and Wheels of Sindhudurg, P.A.W.S. We started this group on 10 March 2017. We were only 5-6 members in the group.
Now, we are of 300 members in the group who cycle quite regularly. When we started the group, we used to ride around 50 km and even now we continue to ride the same in a week. There are many who goes for a 100 km ride as well. There are few new members in the group who needs a push and encouragement.
Now the group has grown with school-going kids to professionals office-goers.
The result of cycling what I have seen is, it improves self-confidence in people. Another point is, it also fills in some courage for people to ride alone and travel instead of lazing around at home. It improves their fitness levels and stamina. For school children, it improves their concentration.
In our group, there are cyclists who have participated in 500 km,600 km BRMs. We are thinking of registering this club so that it encourages everybody in the group.
There is no discrimination between us by age or anything of that sort. We encourage each other and cycle together which helps in building confidence in people."
You can get in touch with them on their Facebook Page.
Duliajan Cycling Club
Based in Upper Assam, Duliajan Cycling Club has been growing strongly. Popularising the sport in a town which isn't on the cycling map.
Arindam from the club tells us, "Duliajan is in upper Assam, which is up north near Arunachal. In our club we have 40 members and around 8 female members. We have 2 super randonneurs, apart from them we have more randonneurs as well.
We usually go for touring events. Many places nearby which are beautiful and worth cycling to.
We have also ridden to Guwahati which is 550 km away! That was a ride for a cause, initiated by Oil India Limited. It was for 'Swachta hi Sewa'. 13 cyclists participated in it. We also delivered a message of non-usage of plastic in different school.
Our club was established on 26th January 2017. Its growing now, we have been focusing on promoting cycling with cycling events on public holidays."
"During this pandemic, staying at home and not doing anything is bad. You need to come out and engage in some sort of physical activity to increase your immunity. Cycling is the best option because that machine will give you the joy of riding and a wonderful community.
Cycling gives you a sense of achievement, the joy of completion motivates you and influences others."
You can follow DCC on their Facebook page.
Kanchipuram Cyclists
Kanchipuram a stone's throw from Chennai in Tamil Nadu is the newest club which has been featured here today. The club was conceived during the lockdown, as people of the city experienced the joys of cycling.
Ganbose from Kanchipuram tell us more about this club in their infancy, "After the lockdown, which started in March, we used to ride only 4 days a week. It used to be very difficult to ride during that time. The difficulties were our parents restricted us from going out for a cycle ride, roads were closed, etc.
We thought that it's good exercising in the morning and hence most of our rides were in the morning and we also maintained social distancing. Riding every day helps us to improve immensely!
People know only about the temple and silk sarees of Kanchipuram. But there are more beautiful trails here to cycle. There are many villages, farmlands, and pretty lakes to go cycling. It is amazing to ride here.
All I say is, to please visit this place and ride your cycle here and enjoy it!
Happy Independence Day! Jai Hind."
Cycloshot Tribe
Cycloshot Tribe is based in Jaipur, Rajasthan. The club has been formed and organised for riders who enjoy road rides and also the hidden trails in the Aravallis. It is one of the most popular clubs of the city.
The group also is made up of runners and trekkers as well. Weekends are always spent exploring new trails, be it on bike or foot!
They have regular rides where they go exploring new trails. This is what some of their members have to say…
"I have had a wonderful experience riding with these guys. I met these guys while climbing Nargarh and have been having a wonderful time with them."
"Exploring the unexplored places."
"Riding on this amazing part of the city near Amer, just gives me a thrill."
You can connect with these cool folks on their Instagram Page.
Erode District Cycling Association
Last, but surely not the least is Erode District Cycling Association from Tamil Nadu.
Shivashankar tells us more about EDCA, "I'm 62 years old and a cyclist who used to compete for southern railway since 1982. Cycle career started from 1978. Still also I am practising.
We run EDCA to motivate young children to take up cycling. We conducted two kids races last year and also going to improve the sport of cycling in Erode district.
On this Independence Day I congratulate all. This Corona Virus has taught us that being healthy is the only way to fight it. We should cycle and keep ourselves fit."
---
We thank all these cycling clubs and those not mentioned here, for helping grow and popularising cycling as a sport and lifestyle. It is the need of the hour for the country and the world at large.
What is impossible as an individual is within grasp for a community. In this case, the cycling community of India is doing a stellar job.
Together with all the cycling clubs and cyclists around the country, we wish you a very Happy Independence Day and many more miles on your bike…