24/11/2020 at 12:24
#4480
admin
Week 25 Update of the Cycling Monks Strava Group. Week ending 22nd November 2020.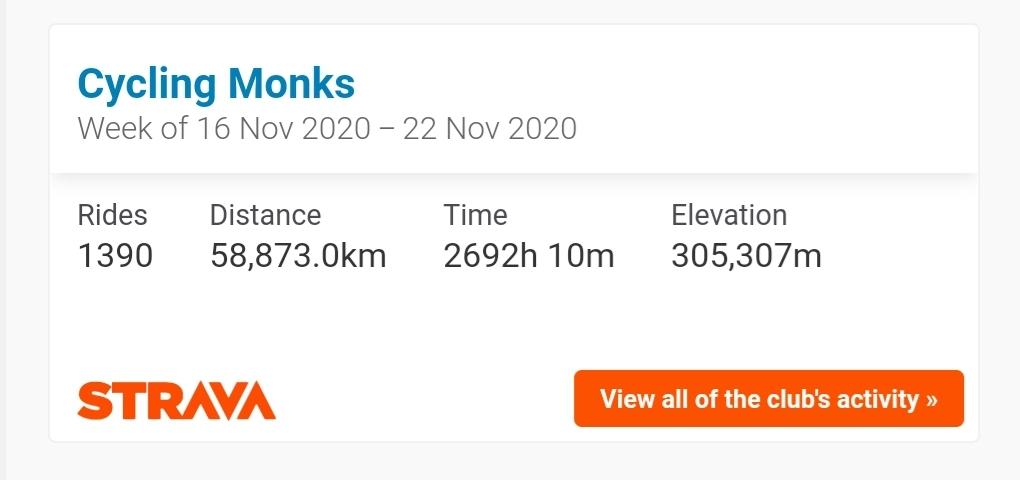 Club Stats. 597 members collectively rode 58873 km in 1390 rides, climbing 305307 metres in 2692 hours!
The number of members are up by 21 as compared to last week. The week saw everyone collectively ride significantly more, with number of rides, total distance, elevation gained and time spent on the saddle up.
After eating too many Diwali mithai, this week, everyone went all guns blazing to ride hard…
To be in the top 100, you needed to ride minimum 203 km during the week!
There were 3 riders who rode more than 1000 km in the week and 6 who rode more than 100 a day!
8 people did 400 km rides. 26 people did at least 200 km rides. 73 riders rode at least a century!
11 who averaged above 30 kmph for the week. 6 who climbed more than 4000 metres… Incredible riding by everyone.
Kudos to all the riders who have been working hard on their saddles…
Leaderboard: Overall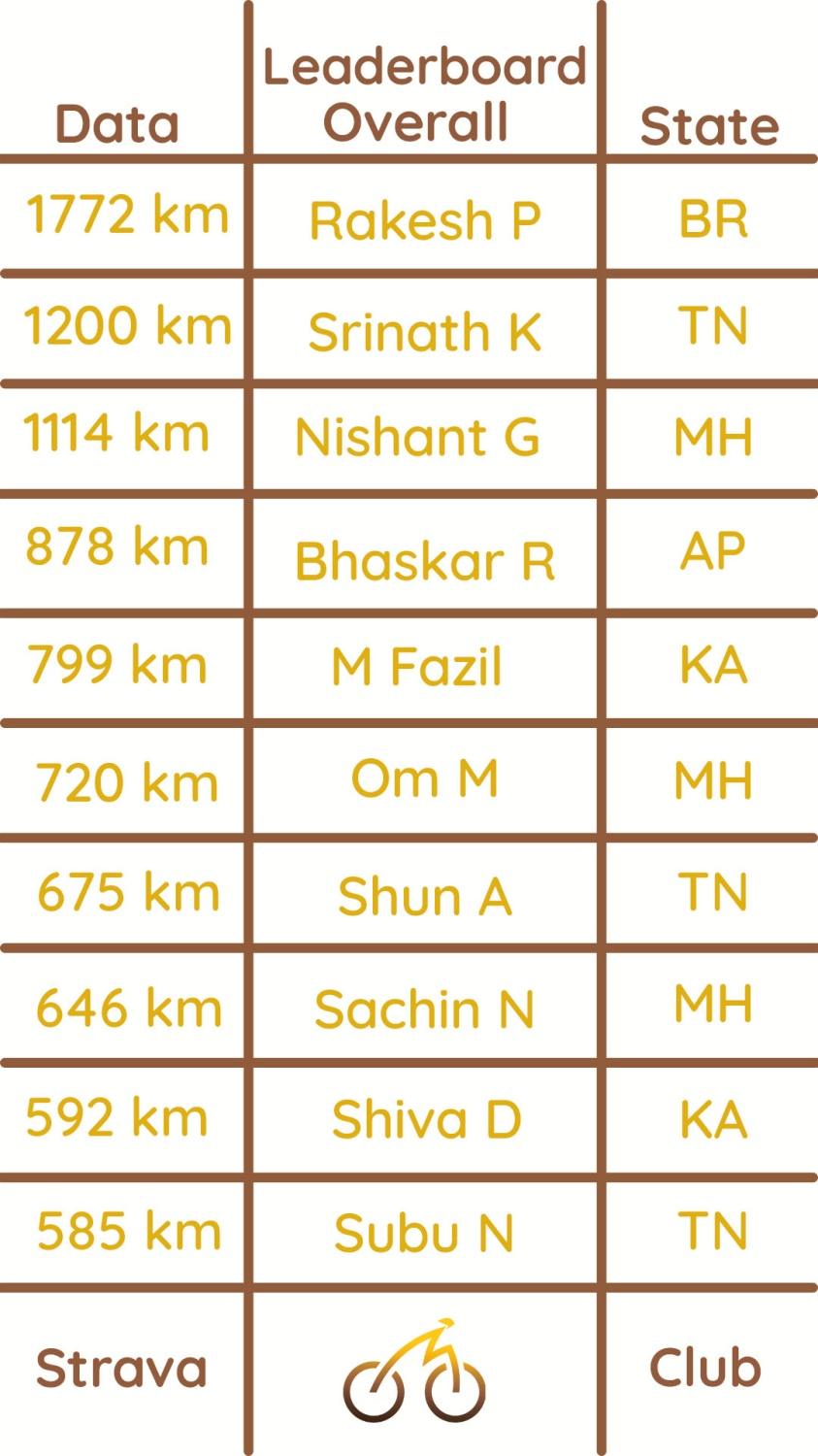 The top 3 rode more than 1000 km in the week. Crazy! The top three remain same as last week, only the order has gotten shaken up.
Rakesh Kumar Pawan from Bihar was top of the charts. He rode a mind boggling 1772 km. He was first last week as well.
In second place is Srinath Kareti from Tamil Nadu who rode 1200 km in the week. He was third last week.
Third spot is taken by Nishant Gupta from Maharashtra. He rode 1114 km. He was second last week.
Leaderboard: Women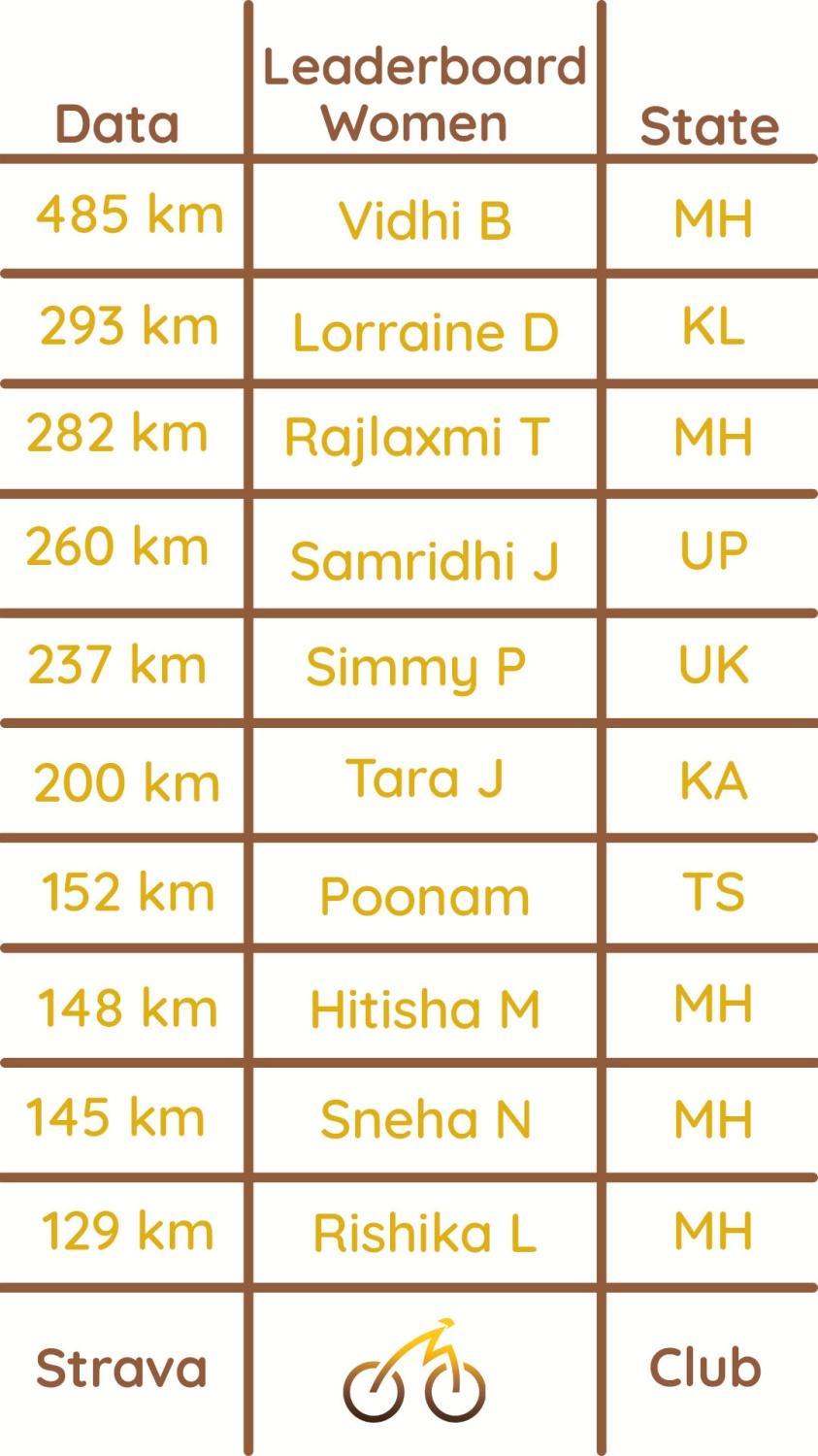 The women's leaderboard is getting more competitive every week. Women from Maharashtra are the strongest in the country it seems.
Vidhi Bhanushali from Maharashtra was top of the charts this week. Riding a massive 485 km. She is 17th overall. This included a 400 km ride…
Next up is Lorraine D'Costa from Kerala. Who rode an impressive 293 km. She is 56th overall. She was second last week as well.
Third is Rajlaxmi Teli from Maharashtra who rode 282 km. She is 61st overall.
There are 5 women in the top 100 this week, 3 less than last week.
Leaderboard: Longest Ride
The top 10 all did 300+ km rides!
Top spot goes to Navin Sridhar from Maharashtra for the longest ride. He did a 403 km long ride!
Next up is Mohammed Fazil from Karnakata having done a 402 km long ride. Just 1 km short of top spot…
Third is Shubham Vala from Maharashtra, who did a 401 km long ride, just a couple of kilometres shy of top spot!
Leaderboard: Fastest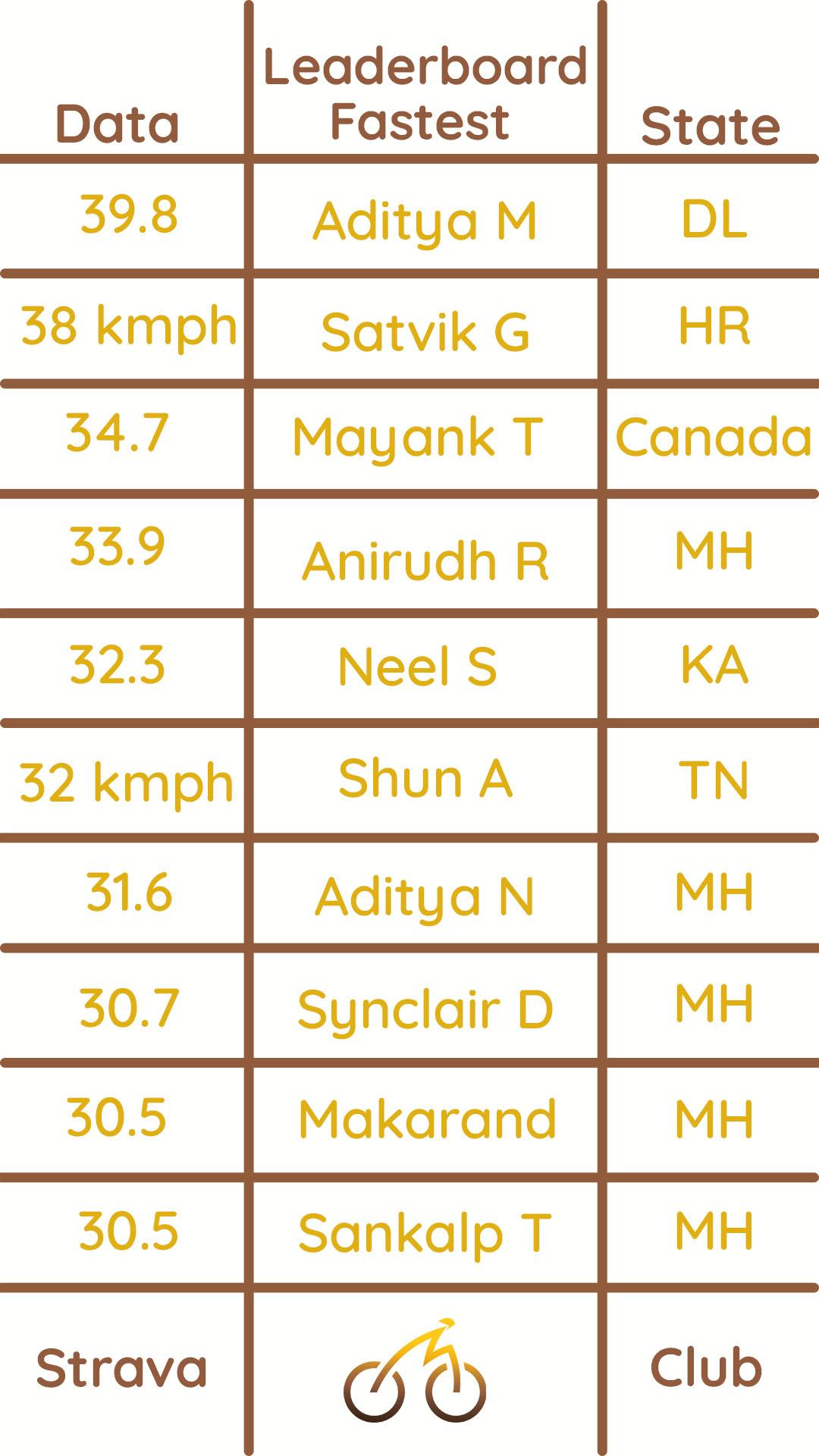 The top 3 have been riding at a seriously impressive pace while clocking incredible mileage.
Fastest of the lot is Aditya Malhotra from Delhi who averaged an incredible 39.8 kmph over the week! That is FAST considering he rode 305 km as well. He was 1st last week as well.
Second fastest for the week is Satvik Gupta from Haryana whose weekly average is an incredible 38 kmph.
Third is Mayank Tripathi from Canada averaging 34.7 kmph over the week. Incredible considering he climbed 4400 metres as well.
Leaderboard: King/ Queen of the Mountain
The Nilgiris and the Himalayas have been dethroned in the climbing category by Assam for the second week running!
Climber of the week is Hemabh Choudhury from Assam having climbed 8497 metres. That is an incredible amount of climbing.
Second is Mohammed Fazil from Karnataka who climbed 5925 metres.
Third is Chaitanya Salunke from Maharashtra, who climbed 5120 metres during the week.
Join the Strava Club today!
This reply was modified 3 years ago by

admin

.