20/04/2021 at 07:42
#5354
admin
Week 46 update of the Cycling Monks Strava Group. Week ending 18th April 2021.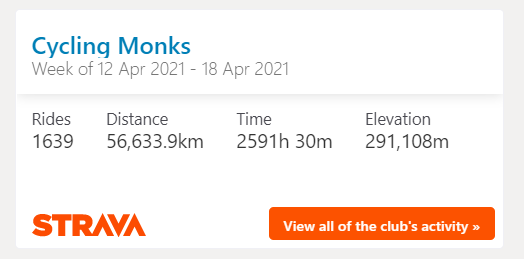 Club Stats. 901 members collectively rode 56634 km in 1639 rides, climbing 291108 metres in 2592 hours!
The number of members are up by 23 as compared to last week. The week saw everyone collectively ride more or less the same with total distance, elevation gained and time spent on the saddle were all unchanged. An achievement considering the lockdowns around the country due to the pandemic.
To be in the top 100, you needed to ride minimum 194 km during the week!
There were 5 who rode more than 100 a day!
5 who rode at least a double century. 56 riders rode at least a century!
9 averaged above 30 kmph for the week. 5 climbed more than 4000 metres… Incredible riding by everyone.
Kudos to all the riders who have been working hard on their saddles…
Leaderboard: Overall
This leaderboard sees Sukhwinder Singh at the top for the second consecutive week. The top 2 were unchanged.
Sukhwinder Singh from Punjab was top of the charts. He rode an incredible 1345 km. He was first last week as well.
In second place is Nishant Gupta from Maharashtra who rode 1030 km in the week. He was second last week as well.
Third spot is taken by Ankit Kamdar from Gujarat. He rode 760 km.
Leaderboard: Women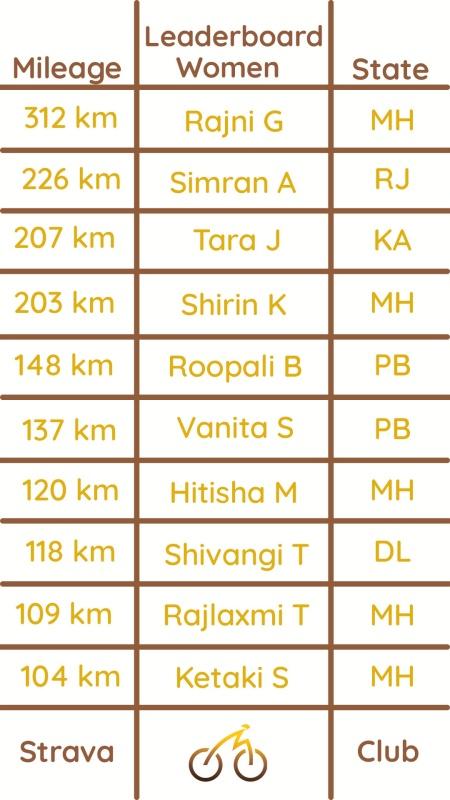 The women's leaderboard lacked depth in the field again this week. The lockdown and pandemic regulations seems to have hit female riders harder.
Ragni Gedam from Maharashtra was top of the charts this week. Riding 312 km. She is 37th overall. A new entrant on the leaderboard.
Next up is Simran Agarwal from Rajasthan. Who rode an impressive 226 km. She is 72nd overall. She has been riding consistently week after week. She was third last week.
Third is Tara Jayaraman from Karnataka who rode 207 km. She is 84th overall.
There are 4 women in the top 100 this week, same as last week.
Leaderboard: Longest Ride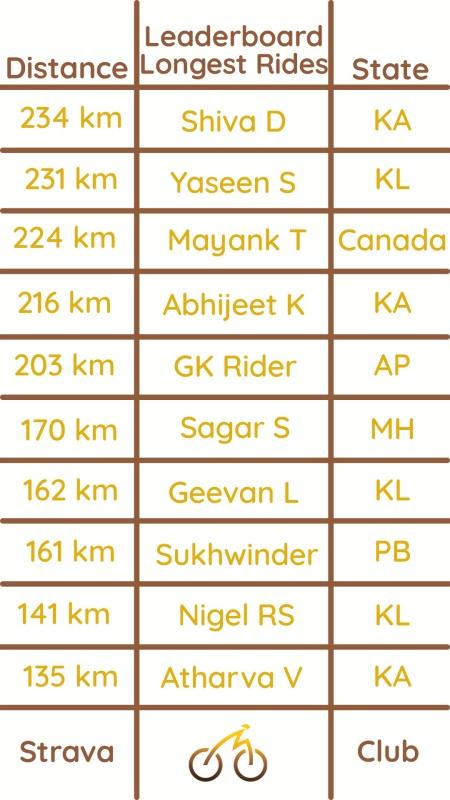 The summer heat ensured that no one did long rides this week!
Top spot goes to Shiva Kumar Devan from Karnataka for the longest ride. He did a 234 km long ride!
Next up is Yaseen Shareef from Kerala having done a 231 km long ride.
Third is Mayank Tripathi from Canada, who did a 224 km long ride.
Leaderboard: Fastest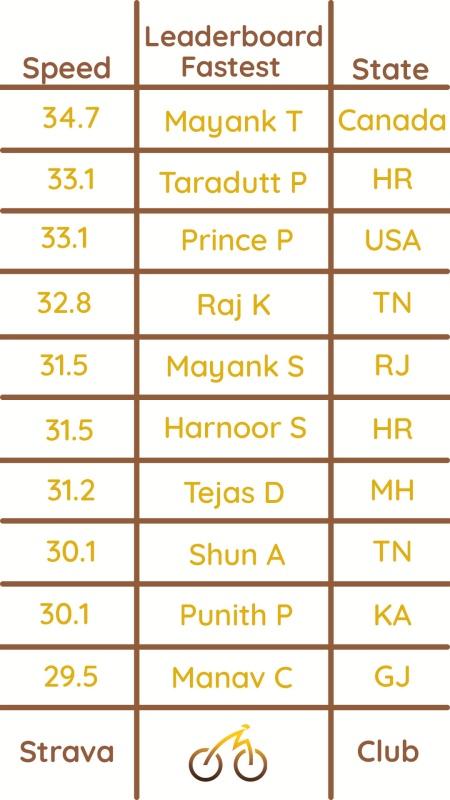 The top 9 have been riding at a seriously impressive pace.
Fastest of the lot is Mayank Tripathi from Canada who averaged an incredible 34.7 kmph over the week! He was fastest last couple of weeks.
Second fastest for the week is Taradutt Pathak from Haryana whose weekly average is an incredible 33.1 kmph.
Third is Prince Patel from USA averaging 33.1 kmph over the week.
Leaderboard: King/ Queen of the Mountain
The Himalayas help seal the KOM and then some more! Top spots being secured by HP, directly or indirectly…
Climber of the week is Gaurav Negi from Himachal Pradesh having climbed 6312 metres.
Second is Sagar Shirbhate from Maharashtra who climbed 6029 metres.
Third is Ashley Moras from Gujarat, who climbed 5667 metres during the week.
Join the Strava Club today!