18/05/2021 at 12:24
#5521
admin
Week 50 update of the Cycling Monks Strava Group. Week ending 16th May 2021.
Club Stats. 980 members collectively rode 47586 km in 1489 rides, climbing 267529 metres in 2353 hours!
The number of members are up by 23 as compared to last week. The week saw everyone collectively ride more or less the same, with total distance, elevation gained and time spent on the saddle were all unchanged. Excepted, considering the lockdown and pandemic raging across the country.
To be in the top 100, you needed to ride minimum 174 km during the week!
There were 4 who rode more than 100 a day!
28 riders rode at least a century!
25 averaged above 30 kmph for the week. 4 climbed more than 4000 metres… Incredible riding by everyone.
Kudos to all the riders who have been working hard on their saddles…
Leaderboard: Overall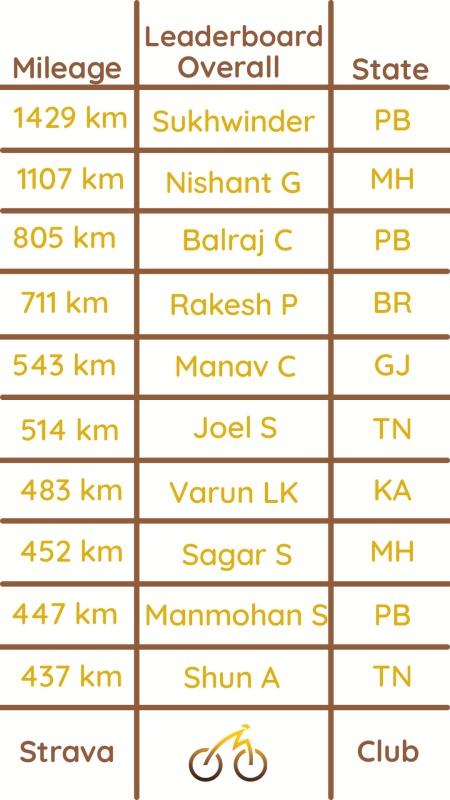 This leaderboard sees Sukhwinder Singh regain the top place after being away for a week. The top 2 switched places.
Sukhwinder Singh from Punjab was top of the charts. He rode an incredible 1429 km. He was second last week.
In second place is Nishant Gupta from Maharashtra who rode 1107 km in the week. He was first last week.
Third spot is taken by Balraj Singh Chauhan from Punjab. He rode 805 km. He is back at the front after a long time.
Leaderboard: Women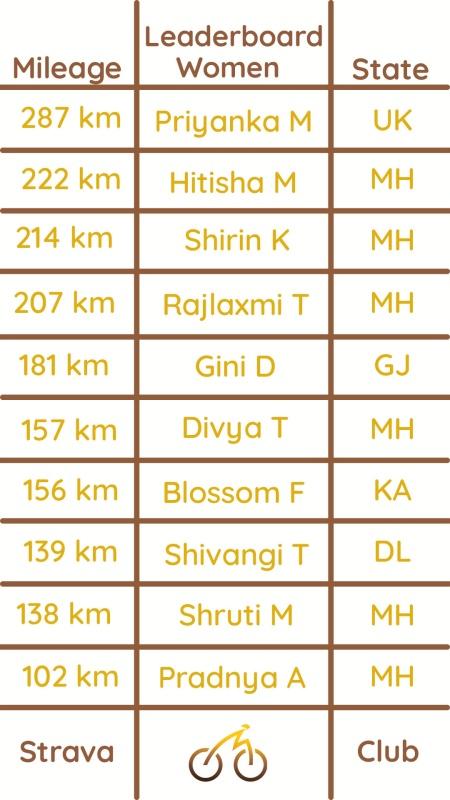 The women's leaderboard dominated by Mehtas again this week! And the state of Maharashtra…
Priyanka Mehta from Uttarakhand was top of the charts this week. Riding 287 km. She is 37th overall. She does most of her riding in the mountains and was first last week.
Next up is Hitisha Mehta from Maharashtra. Who rode an impressive 222 km. She is 66th overall. She was second last week as well.
Third is Shirik Kekre from Maharashtra who rode 214 km. She is 71st overall.
There are 5 women in the top 100 this week, same as last week.
Leaderboard: Longest Ride
The summer heat and lockdowns ensured that no one did long rides this week!
Top spot goes to Mayank Tripathi from Canada for the longest ride. He did a 191 km long ride!
Next up is Ajit Singh from Tamil Nadu having done a 166 km long ride.
Third is Manav Chandwani from Gujarat, who did a 165 km long ride.
Leaderboard: Fastest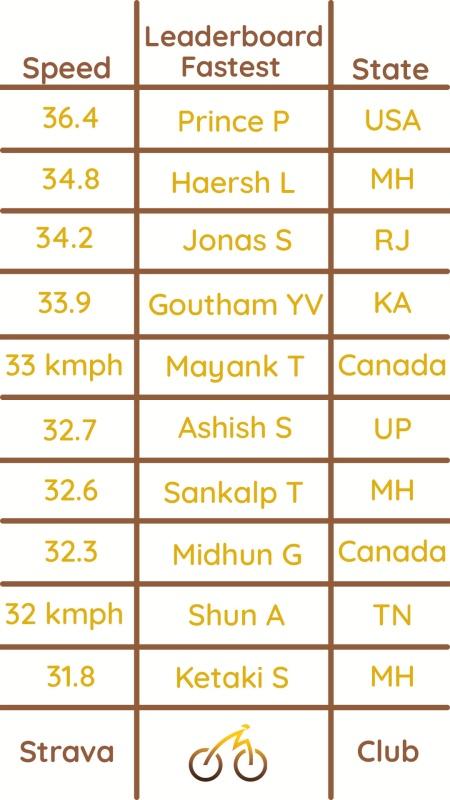 The top 25 have been riding at a seriously impressive pace.
Fastest of the lot is Prince Patel from USA who averaged an incredible 36.4 kmph over the week!
Second fastest for the week is Haersh Laungani from Maharashtra whose weekly average is a fantastic 34.8 kmph.
Third is Jonas Spinoy from Rajasthan averaging 34.2 kmph over the week.
Leaderboard: King/ Queen of the Mountain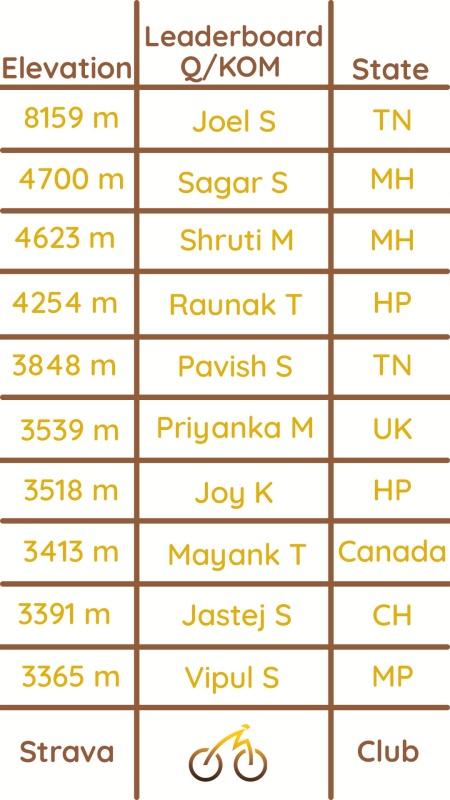 The Western Ghats took precedence over the Himalayas this week!
Climber of the week is Joel Sundaram from Tamil Nadu having climbed 8159 metres.
Second is Sagar Shirbhate from Maharashtra who climbed 4700 metres.
Third is Shruti Marathe from Maharashtra, who climbed 4623 metres during the week. She was doing a virtual half-everesting.
Join the Strava Club today!