We ride the Scott Speedster Gravel 10 and see how good (or not!) is it for cycling in all-round Indian conditions. Does it fit the bill of a 'one bike to do it all'?
---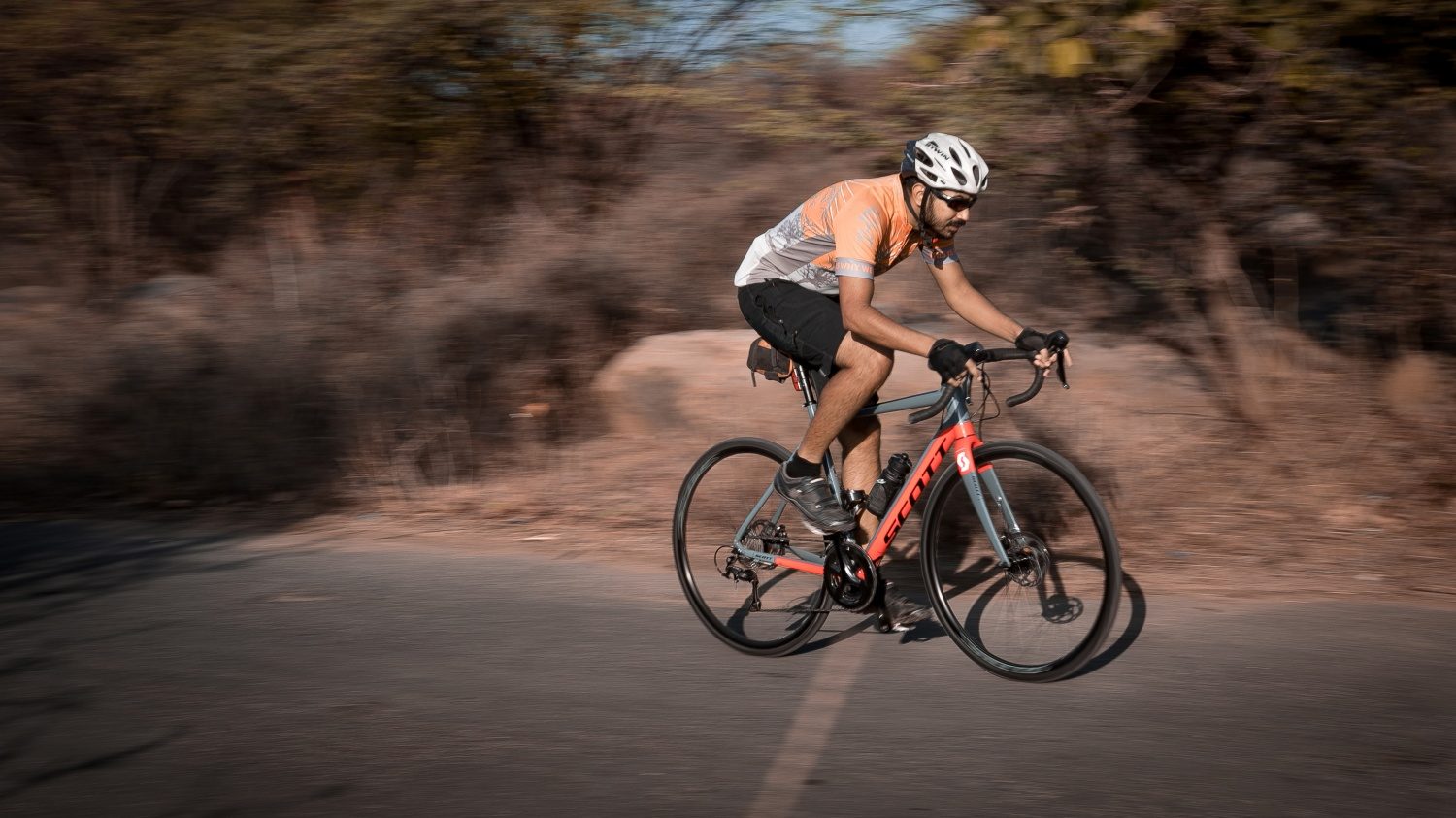 For far too long, Indians getting into cycling have been led astray at the time of purchase of their first bike!
Store owners and friendly cyclists would advise newbies to buy a hybrid. It will give you the best of both worlds, they say. Buy this, until you figure out what sort of cycle you really want!
Now there is absolutely nothing wrong with a hybrid, except that it is arguably the most boring bike around. The nicest thing one can say about a hybrid is, that it is practical!
The Tata Nano was practical for urban warfare, but look what happened.
If only we could add a dash of panache to the practical hybrid…
…and there lies the gravel bike.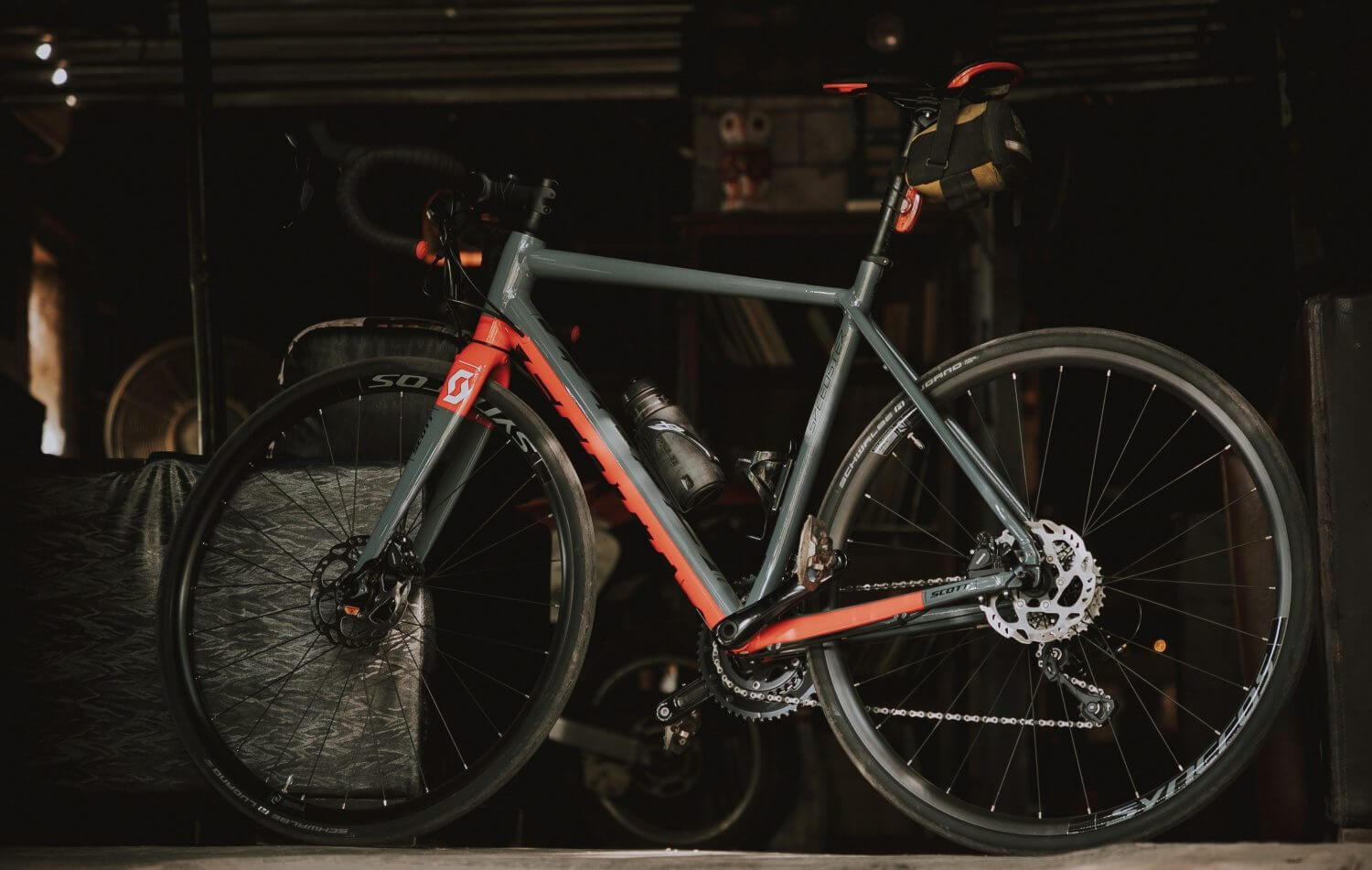 The Scott Speedster Gravel 10
To put this hypothesis to the test, I grabbed the bull by the horns and the Gravel 10 by the bars!
Would a gravel, such as this Scott satisfy the requirements of a new cyclist?
A reasonably fast bike on the road to go for morning rides with friends, comfort for a slow century ride, capable of handling dirt and broken roads, good for commuting and most importantly, should look like the bees knees!
Fast Morning Friends!
You want a bike which is fast enough to keep up with your friends on their road bikes. This Speedster has been named as such for a reason. It is fast!
At approx. 10 kg, this bike isn't the lightest around when compared to roadies. But it is light years ahead of the average hybrid in the market.
The Gravel 10 has proper road biking kit. A Shimano 105 groupset gets the job done on this bike. Giving you slick shifts during your rides. The carbon fork absorbs all the road buzz thrown at it, especially when you are riding the stock 35 mm tyres!
There is only one thing which will slow you down on your road rides, the 35 mm tyres!
The good news is that the bike is fast enough to keep up with your roadie buddies. The bad news is that you cannot blame your bike when you get dropped!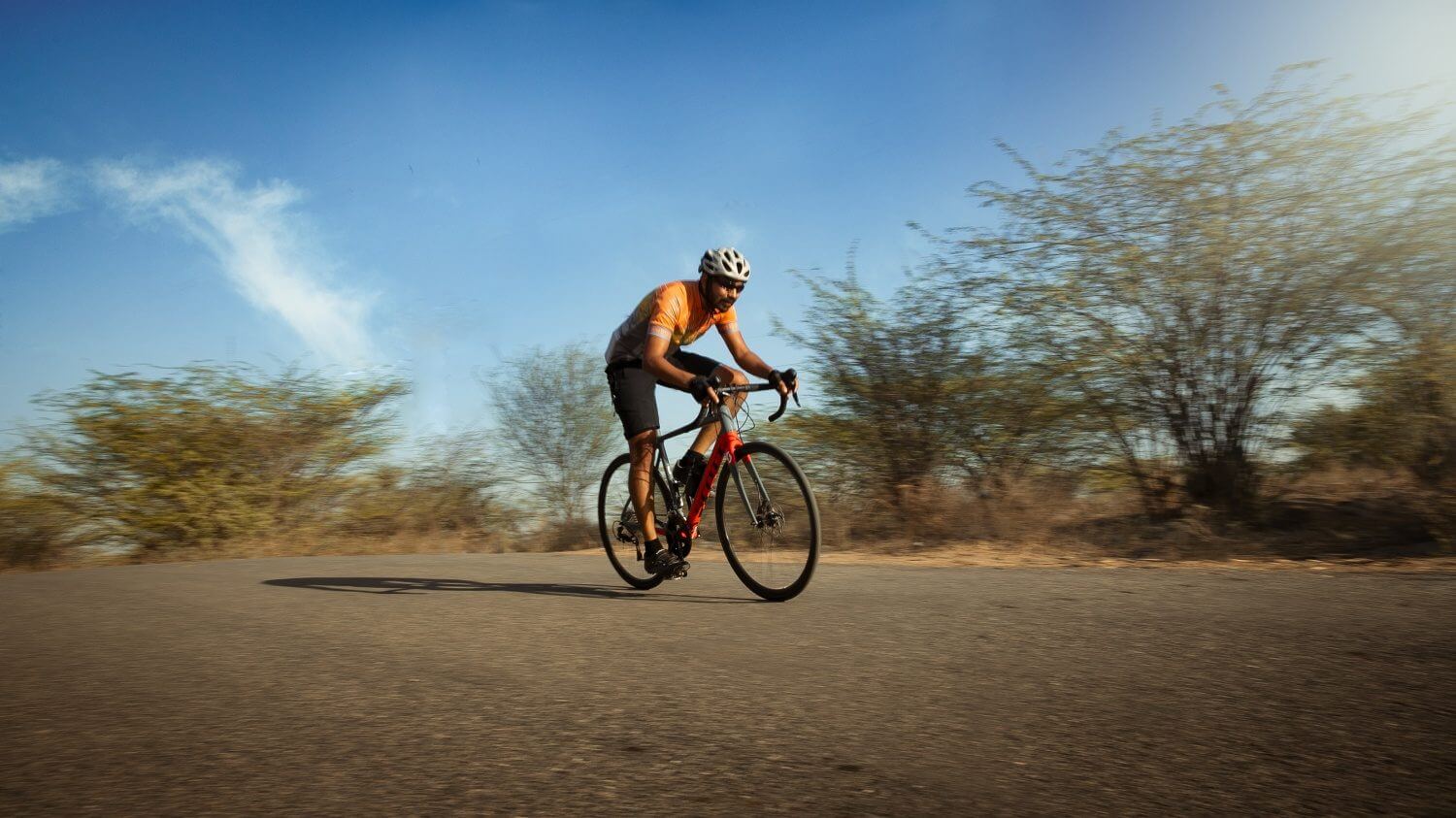 Mile Muncher
With an endurance geometry, the Scott Speedster Gravel 10 is near perfect for randonneuring and even for light touring.
The gearing that the bike runs is enough to climb the biggest of hills! Ergonomics are spot on to devour those kilometres. Spending a few hours in the saddle will make you happier as you progress.
The position is significantly more aerodynamic than what any hybrid can provide, yet it is comfortable enough even for someone new to cycling.
With the advent of bikepacking, you can tour considerable distances with absolute ease on the Gravel 10.
It is near 'made to order' for a self-supported ultra-distance cycle race like the recently conducted La La Land Ultra.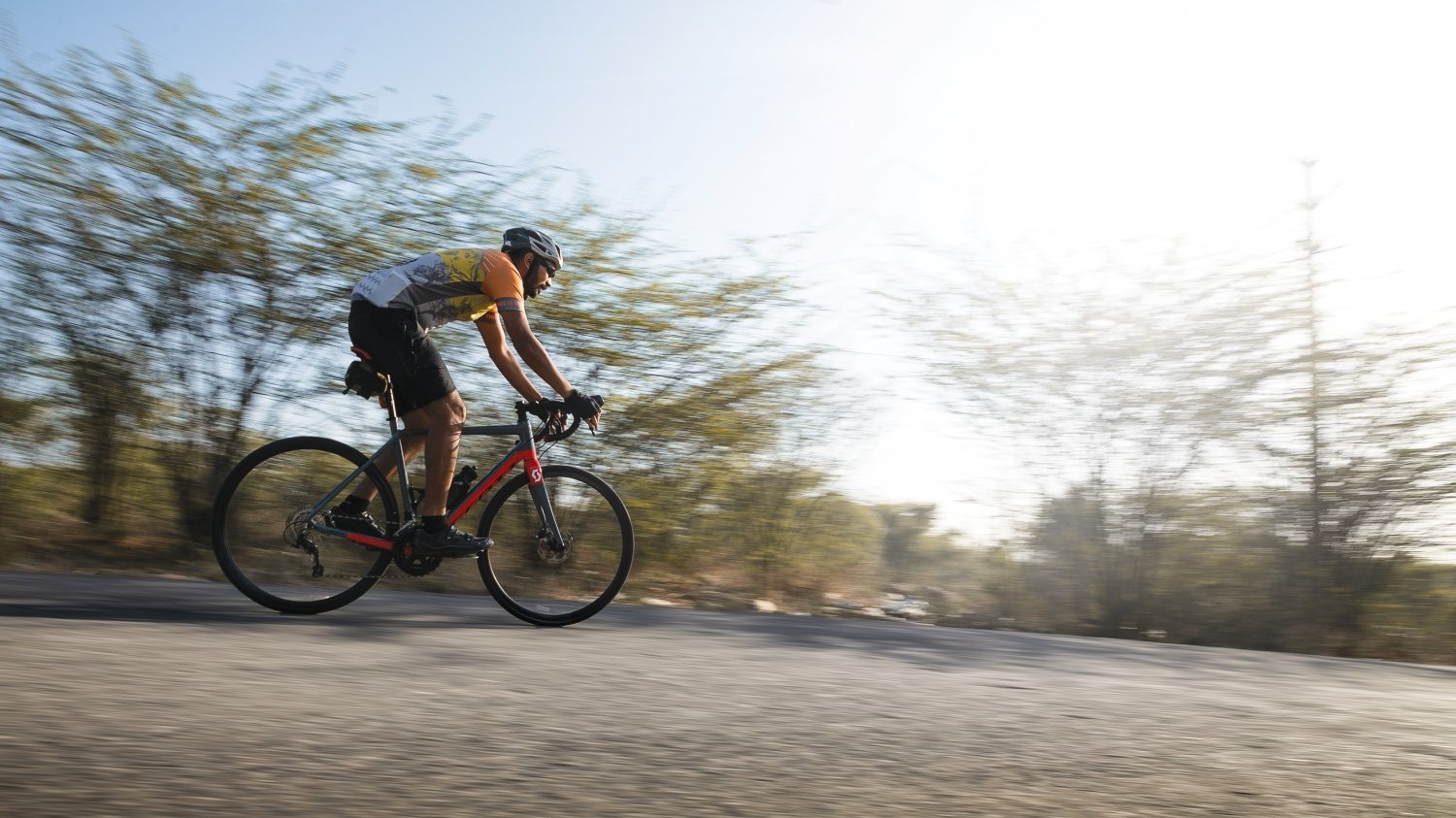 Dirt and Broken Roads
What about getting off the asphalt? Well, the word gravel is there in the name. That is a hint!
The first and foremost are those tyres. You can go up a couple of sizes from the stock rubber and fit them in easily on your bike. Having wider tyres helps a lot when riding dirt, especially when you aren't too comfortable on it.
The eye candy on this Scott is the hydraulic 105 disc brake. 160 mm rotors front and rear give you superb braking power. The confidence this instils in a rider is hard to ignore. Both on asphalt and gravel. Getting this level of braking confidence on a typical hybrid is rather unlikely!
Gearing is perfect for climbing. Be it short steep sections in dirt or big climbs in the mountains. With a 50-34 compact crankset and 11-32 cassette, chances are high that you will never run out of gears on a climb!
Flared drop bars might take a bit of time getting used to, but the wider grip it provides helps a lot to steer.
A hybrid in contrast is like the sinking Titanic once it hits dirt!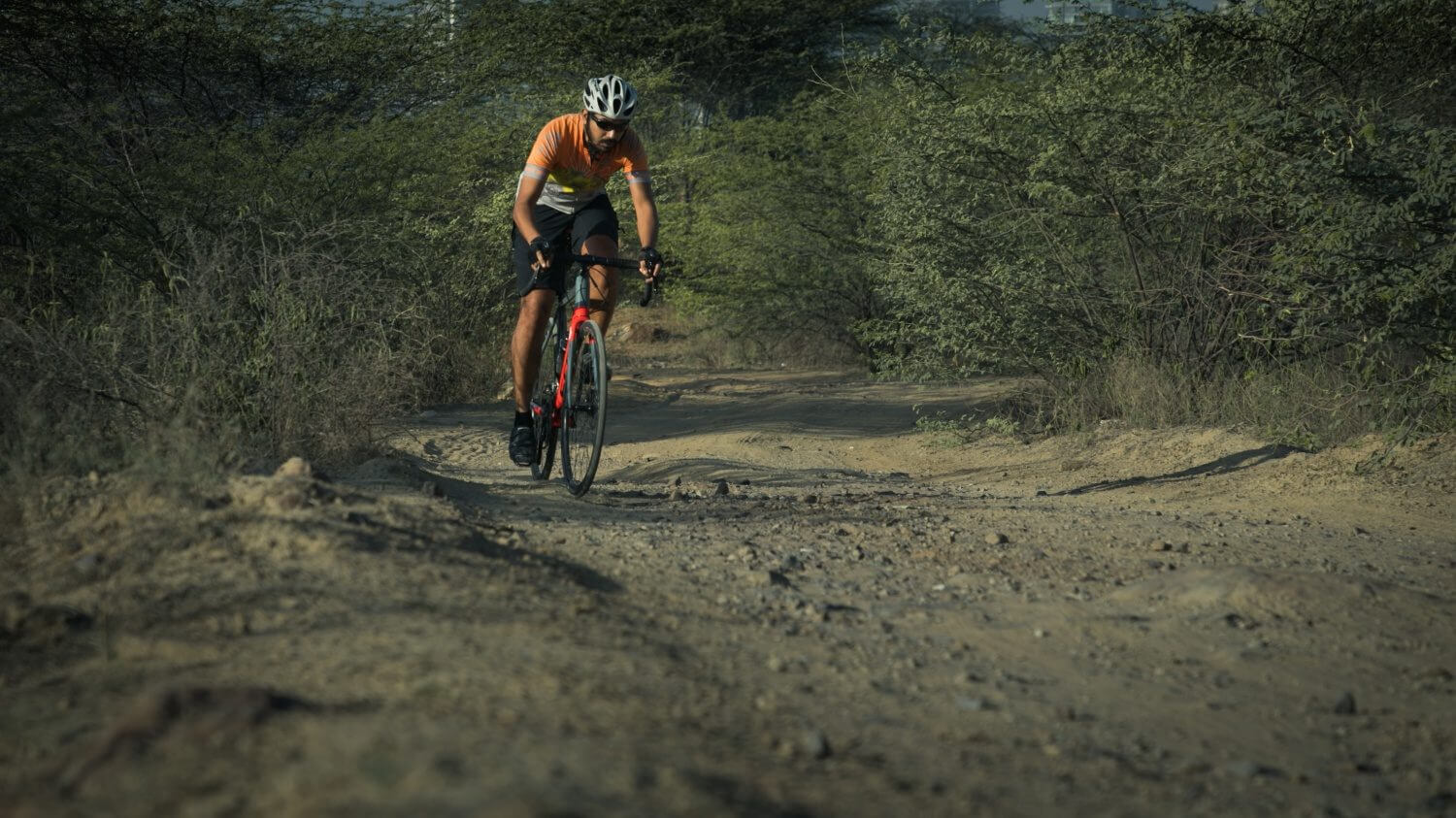 Commuting Duties
Commuting on a cycle with drop bars is daunting for new cyclists. Just the thought of doing it is disconcerting.
Nonetheless, once you get habituated to the posture, commuting is a breeze.
You can accelerate fast, maintain decent speeds and are comfortable enough to carry a light work backpack to work.
Commutes are the only place where a hybrid outscores this Gravel for a new cyclist. The more upright stance and the ability to mount racks and fenders gives hybrids the edge.
Out of the Crate
The bike is ready to roll as shipped on the factory. You can do practically anything you want with this gravel bike. Limited only by your imagination!
There are a couple of things you can do to make the long term ownership more enjoyable.
Either buy a spare set of wheels or just tyres.
The 35 mm Schwalbe tyres provided are good for dirt, but plod along a bit on asphalt.
Getting good 28 mm tyres for your road ride adds immensely to the versatility of this bike. And if you switch between riding dirt and asphalt often, then investing in separate wheels for each will make your life easier!
Barring these additions, your ownership experience should be all smooth sailing.
Newbies Only?
After riding the Scott Speedster Gravel 10 for a few days, did it return a positive on the hypothesis?
In one word, yes.
Well, almost.
The foreseeable challenge for a new cyclist is getting used to drop bars. For someone who has never ridden them before, it seems extremely uncomfortable. That myth is busted after you have spent a few hours on the saddle.
Most people tire off their hybrid bikes and 'upgrade' to something sleeker and faster or chunkier and muscular rather too soon. The hybrid either gathers dust at home or is sold off for a song on an online platform like Cyclop!
Is this bike good only for someone looking to get into cycling?
Not really. A gravel bike is a welcome addition to your stable as a secondary cycle if you are a roadie or a mountain biker. It provides you with ample versatility which your primary bike probably doesn't! And the quality of this Scott is enough to serve you for many years without the need of upgrading.
The only downside for a new cyclist, is the price. With an MRP, just over a lakh, this bike isn't cheap! But you needn't worry. The Indian market has got a range of gravel bikes from various manufacturers. Prices which start in the hybrid bike range.
Components will surely be lesser on a cheaper bike, but then, you get what you pay for!
Here's the specs for Gravel 10, so that you can get a decent idea of what to expect in a gravel bike costing a lakh.
2018 Scott Speedster Gravel 10: Tech Specs
FRAME Speedster Gravel Disc/ D. Butted 6061 Alloy Endurance geometry/ Integrated Headtube
FORK Speedster Gravel Carbon Disc 1 1/8″-1 1/4″ Carbon steerer
HEADSET Integrated Steel Cup tapered
REAR DERAILLEUR Shimano 105 Black RD-5800-GS 22 Speed
FRONT DERAILLEUR Shimano 105 Black FD-5801
SHIFTERS Shimano ST-RS505 Disc. Dual control 22 Speed
BRAKES Shimano BR-RS505 Hyd Disc160/F and 160/R mm SM-RT70 Rotor
CRANKSET Shimano FC-RS510 Black Hyperdrive 50×34 T
BB-SET Shimano BB-RS500
HANDLEBAR Syncros Creston 2.0 Flare Alloy 31.8mm
H'STEM Syncros RR2.0 1 1/8″ / four Bolt 31.8mm
SEATPOST Syncros RR2.5 27.2/300mm
SEAT Syncros FL2.5
HUB (FRONT) Formula Team CL Disc 28 H
HUB (REAR) Formula Team CL Disc 28 H
CHAIN KMC X11
CASSETTE Shimano 105 CS-5800 11 Speed 11-32 T
SPOKES SHA-DAR Black 2mm
RIMS Syncros Race 24 Disc 28 Front / 28 Rear
TYRES Schwalbe G-One Allround 700x35C
APPROX WEIGHT IN KG 10.10
Specs in pics!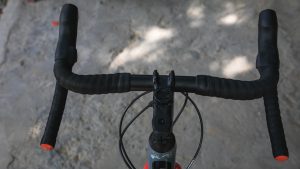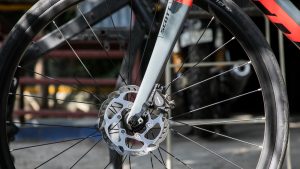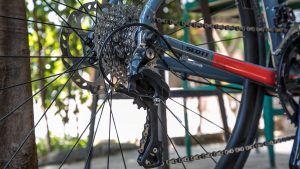 Photos shot and edited by the supremely talented Mohit Gena.
Thanks to Himanshu Gupta for generously allowing me to ride this fantastic machine!
---
You might also like the difference between road, MTB and hybrid bikes and how gravel bikes are blurring these lines!
If you are just getting into cycling, read the 10 essentials for new cyclists, on road repairs that every cyclist should know, avoiding cycling injuries and commuting to work in India safely on your cycle!
Also read our review of the Bryton Rider 450 and Respro Cinqro pollution mask.