On the 53rd day of our ride, we continued along the Shyok River from Agam to Tangtse. This was part of our 90 day ride in the Himalayas covering Spiti, Zanskar, Batalik, Ladakh, Nubra, Shyok, Pangong, Hanle, Tso Moriri, Garhwal and Kumaon!
Day 53: Agam to Tangtse
The day after turning 31 was no different from the previous day when we travelled from Turtuk to Agam!
We were late to wake. Regular readers of this blog would have caught on by now that this is a near daily affair and wouldn't be surprised at it anymore! Well, neither was I.
Since we spent the night in a military camp, breakfast had already been served and consumed by the time we awoke. We could have gobbled down a Maggi at the refreshment point, but you cannot ride much on a plate of noodles.
The camp cook was a kindhearted soul who saved four rotis for us. With sufficient food in the belly we left Agam.
The camp was empty since everyone was out working their respective sectors. Only Balbir was still there and we thanked him for their hospitality and left.
Spanish Armada of One!
While we were packing, Xavi, the Spanish (or Catalan as he would prefer!) cyclist passed us as he was headed in the same direction. We had seen him previously on the Khardung La climb and met him at Diskit and Hundar.
In a matter of kilometres we caught him, since he was riding a much heavier bike with substantially more luggage. After that we more or less rode along as we all stopped frequently for photographs.
The route for the day was gorgeous. Some of the prettiest landscapes I had encountered on this trip.
We had been warned about the climb to Shyok and it didn't disappoint! I was once again happy to finish the climb without taking a break. It does give a keen sense of satisfaction to the hidden masochist within every cyclist!
Lunch at Shyok
At Shyok we stopped for lunch at the first dhaba we saw. Other travellers had the same idea and within minutes the place was filled with tourists from Delhi who were in a cab and Europeans on rented Enfields.
The beauty of cycling is that strangers are automatically attracted to you and bombard you with questions.
Questions flow one way, because honestly, a cyclist has no interest in the relatively boring journey of car and motorcycle passengers.
With so many Enfields around, the conversation was sooner or later going to turn to breakdowns! Unsurprisingly one gentleman was harried because his bike wouldn't go faster than 20 kmph. The others nodded in sympathy, gave useless advice and rode on. So much for brotherhood!
We had ample time in hand to reach our destination for the day and took a two hour break for lunch.
Ups and Downs
Even after the dhaba, the climb continued for another 3 km and it wasn't something I looked forward to on a full stomach. From the top of Shyok it was a steep descent. So steep that I actually thought my brakes weren't working.
I missed my braking point at a hairpin and had to use every iota of skill, luck and bravery to manoeuvre the bike around the turn. I was properly scared after that!
Chasing the motor
There were a few sections of bad roads and in the descents it was fun charging behind the motorcycles and overtaking them. They literally had no idea what to do. It was even more fun to overtake them on short climbs, as it was leg power vs horse power.
There was a section of road under water, with lots of rocks underfoot. The motorcyclists tiptoed through it, while I blasted past faster than normal. In an effort of showboating!
After crossing the tiny stream I turned around to watch the hapless bikers wrestle their steeds. Instead I saw a GREF tractor accidentally break the concrete slab on which it was precariously perched. They were trying to repair the slab which they broke!
We joined the main highway soon after at Durbuk. People cross Chang La coming from Leh and descend to Durbuk. From there it is a more or less flat road to Tangtse.
Tangtse
There is a police checkpost at the Tangtse bridge. We duly stopped to show our permits, while Xavi who was looking for us missed the post entirely. Presumably the Spanish are better at seeing the goalpost on a football field!
The cops saw him fly past and didn't bother reeling him in. What mischief could a lone cyclist get up to after all!
At the checkpost the policeman told me that in September the number of vehicles dropped to 200 a day compared to 600 in peak season. His statistic was borne out by the fact that many of the dhabas had been locked up for the season.
Both at Durbuk and at the checkpost in Tangtse food was absurdly expensive. The locals making hay while the sun shone. Once you enter the village prices return to normal. Because tourists do not enter the village!
At Tangtse we searched for a place to stay and one hotelier saw Xavi and quoted 1500 rupees for a room. It is ridiculous how prices change by looking at the colour of one's skin. He haggled with me but I was in no mood to talk to a crook.
Further in the village we found a small guesthouse run by a friendly lady.
The ugliness of Bollywood runs rampant on this entire stretch. A beautiful place murdered by idiotic movies.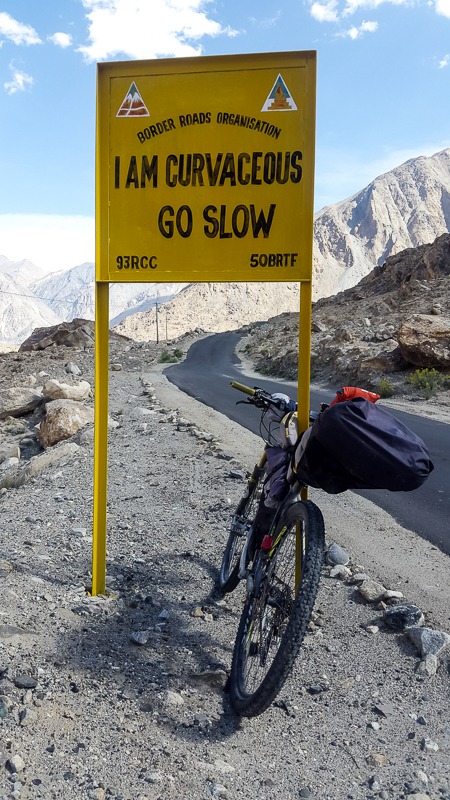 Route Profile: Agam to Tangtse
This route has one small climb to Shyok village and beyond. The climb starts a little before the village and ends a couple of kilometres after the village at a small pass.
The road descends steeply to the river on the other side.
Food and accommodation is available in Shyok Village, Durbuk and Tangtse.
From Durbuk onwards you are back on the main road frequented by tourists going from Leh to Pangong Tso.

Expenses: Agam to Tangtse
Food for two 350
---
READ THE 54TH DAYS BLOG FROM TANGTSE TO PANGONG TSO