The days that we visited the Thikse Monastery, Leh Palace and Tsemo Gompa in Ladakh on a cycle. This was part of our 90 day ride in the Himalayas covering Spiti, Zanskar, Batalik, Ladakh, Nubra, Shyok, Pangong, Hanle, Tso Moriri, Garhwal and Kumaon!
---
Day 38-40: Leh
After spending Independence Day in Leh, it was time to do a lot more of 'nothing at all'!
Day 38
The 16th of August saw Akshay and me ride to Thikse Monastery. A lazy plan it was as we breakfasted late, started late and reached the monastery on time! A short 21 km ride after a couple of days of rest was just what the doctor ordered.
Thikse Monastery was an enjoyable experience. The ride to it was superb, the monastery itself was nice, and like all other monasteries in this area, there wasn't an iota of serenity.
It was buzzing with sounds of camera shutters, phones beeping, voices yelling and other tourist trash. There was a lot to see and shoot there, we ended up spending a few hours taking in the place, the bevy of humanity aside.
Tourists and Food
One rather surprising thing was the number of Maharashtrian tourists present. I could hear Marathi being spoken left, right and centre. What were they doing there in such large numbers is anyone's guess!
On the way back we stopped at a Punjabi dhaba for lunch, which turned out to be a ridiculously expensive vegetarian affair. I felt cheated paying 180 rupees for paneer bhurji. Never again will I be go to anything Punjabi in the mountains!
We were supposed to visit the war memorial in Leh and the Shanti Stupa. But after riding 40 km we were in no mood to ride anymore and turned tail and rushed back to Zaltak.
Day 39
The next morning we tried our level best to ensure that the Swiss didn't move like clockwork. We were partially successful, as we delayed Thomas, making him leave by 10 am, rather than the 5 that he had hoped for! The Swiss clock had been set to Indian Standard Time!
As Thomas left, two new characters entered the Zaltak story. Bart and Max, two teenage Dutch boys, roaming around the mountains for the first time. Enthusiastic as hell about the world without the pessimism which comes with age and experience. The two boys were studying law, with the righteous fire of youth to change the world.
After spending the morning listening to Dutch rap, learning Dutch slang and abuses, it was time to get productive!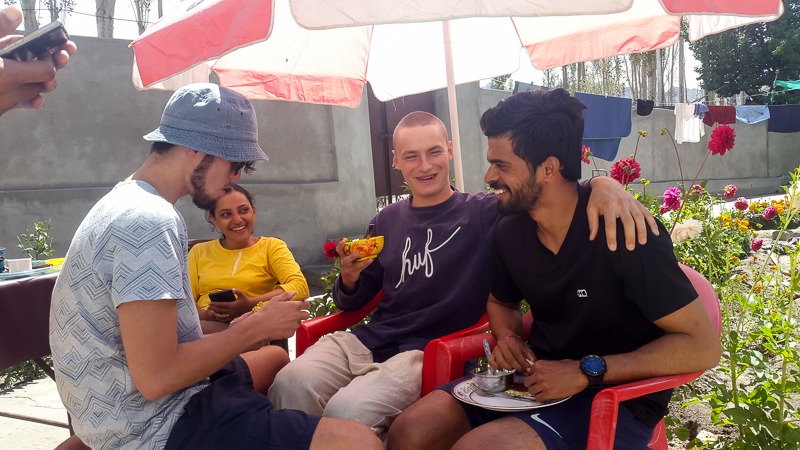 Couriers and Posts
I made another attempt at searching for a courier shop. After teaming up resources from Leh to Chennai and back to Leh, I finally found the darned mythical place which did not exist in the conscious of the average Ladakhi! So if you do want to send a courier from Leh, head to the DTDC office on Fort Road in front of Hotel Namgyal Palace (issued in public interest!).
At the courier shop I was told that they had run out of booking slips and I should come back the next day! Ah, the joys of mountain standard time.
From there I headed to the post office and bought a few postcards and stamps. I wanted to write and send them off immediately, but didn't have a pen, since Driftjockey had stolen mine! I asked the lady at the post office for a pen, but she politely told me that they didn't have a single pen in the entire office. God save government departments!
Leh Palace and Monastery
After lunch I went to the Leh Palace, only to be sorely disappointed. There wasn't anything to be seen or done there, neither was there anything of particular beauty. Not a place I would care to visit again or even recommend. I was in and out of the palace in 15 minutes.
From the palace there is a nice hike up to the Tsemo Gompa, which is a monastery perched on the top of a cliff which gives an incredible view of the city. From the monastery, I started walking downhill fast as the sun disappeared in the sky. As the sun lowered my footsteps quickened, by the time I passed the palace I was literally running, much to the bemusement of struggling onlookers and barking dogs. As I closed in on the marketplace, a bunch of dogs gave chase which only helped me reach the bottom faster than Kevin Spacey.
At night we finally convinced ourselves to climb Shanti Stupa, only to have humongous drops of rain fall on our heads. That might be a bit of an exaggeration, but the rain was heavy enough to dampen our spirits. Just another unsuccessful attempt at reaching Shanti Stupa!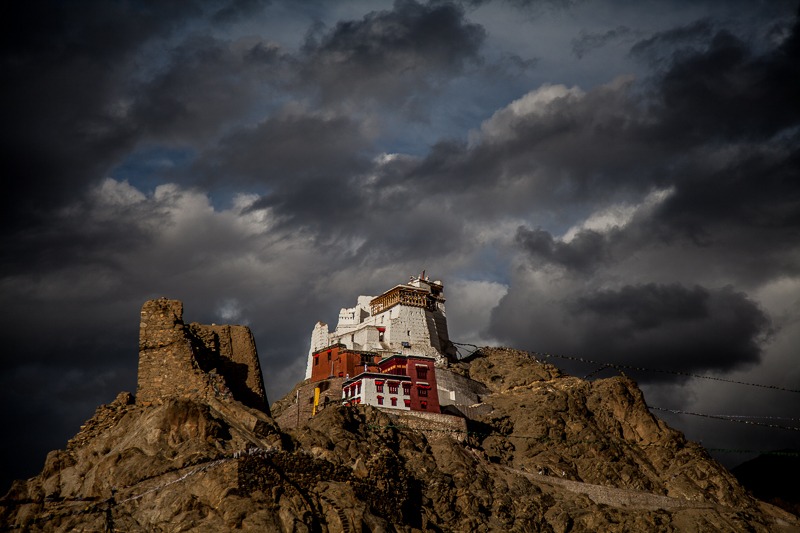 History of the Tsemo Gonpa

Leh Palace Information

The monastery as visible from the palace

Straight out of a videogame. Shoot the enemy in the back as he walks up those steps!

Contemplative bench

Balcony on which a Ladakhi Romeo and Juliet can play out!

The city of Leh as visible from the Leh Palace

Leh tiny below, when viewed from the monastery

The Leh Monastery

You have to walk up this, or cheat, and take a car up the main road!

The monastery building
Jitendra
Jitendra. This blog is being interrupted by a special bulletin about a special person. The young man who saw to the running of Zaltak, a chef, waiter, singer, philosopher, comedian, all rolled into one. When he wasn't present, the place was eerily quiet, if he was there, you could hear him from a mile away. Spinning yarns about how awesome his home state of Bihar is, in comparison to Ladakh! He had a solution to every problem, including finding a fly in your coffee. And if he made coffee, you better drink it, at the fear of death.
Day 40
It was a day of success. At long last I managed to buy the flasks and courier it to Chennai. I had tears of joy dripping down the mountainside at finally dispatching the contraband!
Since Driftjockey had stolen my pen, I decided to return the favour by taking one from another south Indian in our dorm, Shubha. Stolen pen in hand I returned to the post office, flipped the pen to the postal officers present and sent my postcards. Mission accomplished!
The day was going fantastic. I managed to locate a tyre for my rear wheel. Zanskar had taken its toll, the tyre was all but spent. It wouldn't have lasted the distance of the remaining part of the trip. I got a good quality Schwalbe tyre for cheap and it was a pleasant surprise. They sold it to me at the correct price. Being fleeced is the norm in tourist destinations like Manali and Goa. The honesty of the Ladakhi people makes for a pleasant holiday experience.
Metta Café was becoming a regular hangout place, where one could meet all the lunatics on two wheels. On that day I met a madman on two legs from Jaipur, Dharmesh. He had come to Ladakh to run the La Ultra. A 111 km foot race which had to be completed in 20 hours. This included climbing the mighty Khardung La at night! If you don't call him mad, what would you call him…
Shanti Stupa
The day finally saw us walking our way up the Shanti Stupa at night. What a colourful sight it was!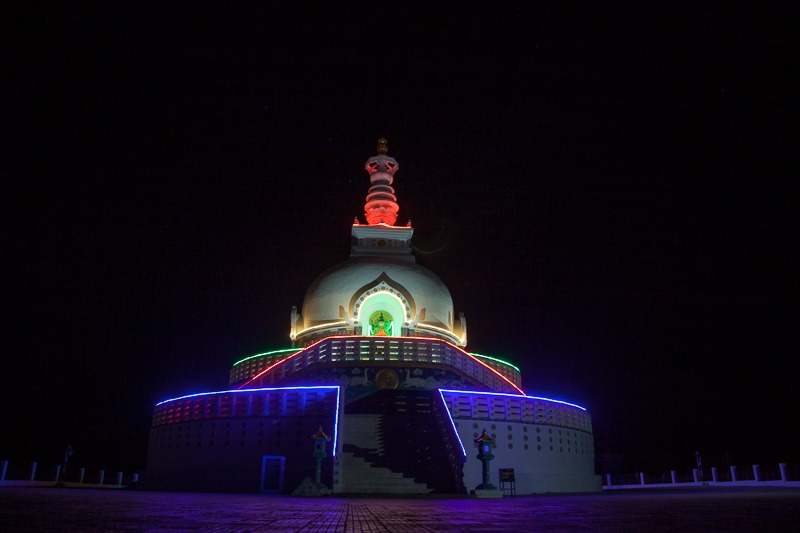 Route Profile: Leh to Thikse and back!
Expenses
Food on Day 38 590
Cycle Tyre 1500
Food for two on Day 39 610
Food for two on Day 40 1200