We ended up staying in Leh for more than a week, taking in the local sights and sounds! This is from the first couple of days in the Ladakhi town. This was part of our 90 day cycle ride in the Himalayas covering Spiti, Zanskar, Batalik, Ladakh, Nubra, Shyok, Pangong, Hanle, Tso Moriri, Garhwal and Kumaon!
---
Day 36 & 37: Leh
Leh. A city that holds onto you till kingdom comes. In the midst of it is Zaltak which pulls you like the centre of the earth.
No matter how hard one tries to leave Zaltak, it pulls you back with an unimaginable force. The plan was to stay and rest for a couple of days. That 'couple' extended to a dozen days!
Day 36
The first lazy morning in Zaltak started off with a bang.
Mithun left early morning and while Akshay and I gobbled breakfast, Sumit charged in looking for Mithun.
Tanvi's phone was missing and Mithun was the usual suspect. He is a serial prankster and a cloud of suspicion hung over his head. Unfortunately he was nowhere to be found.
Mountain Standard Time applies in Leh, instead of running around like headless chickens searching for the phone, we all sat down for a nice cup of namkeen chai! Lost phone be damned.
The mystery of the lost phone and Mithun continued through the day. The only good thing that came off it was that I got to see a road bike in Leh. It was ridden down from Manali! Terribly amusing, considering most cyclists ride the asphalt route on their heavy duty mountain bikes. Some even going so far as to ride full suspension bikes!
Tibetan Flasks
The day consisted of searching Leh for the ubiquitous Tibetan flasks. You see them everywhere in the valley. Amusingly the flasks are manufactured in China!
My dear friend Prakash had purchased these flasks on his previous ride and loved them. So much so, that he wanted four more!
The mission was to find the flasks and courier it to Chennai. Easy enough you say, ha! No one in Leh knew where the bloody hell was the courier shop in the city. Some even went ahead and suggested that no courier company existed there.
Challenge accepted. I walked the length and breadth of the marketplace in search of the elusive courier company. The Internet yielded nothing, neither did on ground research. The only thing I succeeded in was logging up miles on my walking legs.
Lunch with Bradley Cooper
Exhausted, I returned unsuccessfully, met up with Akshay and went for a very late lunch at Dogra restaurant. The lassi was so thin that I sipped the entire glass through a straw in under 30 seconds. Akshay sat aghast, not knowing whether I loved or hated the drink!
At the table next to us sat a Bradley Cooper replica, though a tad bit overweight. His chest puffed up to 56 inches when he was told that he resembled a Hollywood star. He boasted that a lot of American women were interested in him!
After lunch we went to Metta Café. Though the place was closed, a cyclist was present and looked ridiculously familiar. It was Thomas, Si and I had bumped into him at Chandra Tal. He was making plans for riding the interiors of Ladakh, on mostly trekking routes. The adventurous spirit of cyclists like him is truly inspiring.
Spare Repair!
A spare tube was irreparable. The puncture had happened on a short downhill in Zanskar. A previous puncture repaired with a tubeless plug was protruding and smashed the tube. And thus I found myself walking the streets of Leh in search of a 29er tube. My search ended with Ladakh Cycles, a store which had most things one could require in such a remote part of the world. It had almost as much stock as any Delhi shop. The only difference was that they had nothing for road bikes.
Zanskar had given our bikes a hammering and by the time we reached Batalik, two screws from my pedal had fallen off, my humble peace offering to the Zanskar Gods, two loose screws! 'Himalayan Bikes' on Upper Changspa Road is the best place to get your screws tightened. Amongst other sundry MTB jobs. The person running the show is both knowledgeable and helpful. At the shop I realised 4 out of 8 screws had fallen off and I was lucky that no serious crash happened because of it.
The day ended with dinner at Ladakhi Kitchen, getting to know Sumit, Tanvi, Thomas and Akshay. All of us cyclists with appetites big enough to clean up the kitchen!
Day 37
An ordinary breakfast later on Independence Day, Mithun promised me awesome lassi in Leh. We went to the main market and enjoyed a big glass of thick lassi with a fat layer of cream at the top. Icing on the cake for my parched north Indian throat.
It was the 15th of August. School children thronged the marketplace. All of them returning from their celebrations. The festivities continuing as they munched on sweets and ice creams. We ended up spending a couple of hours there as we soaked in the revelry.
A lazy afternoon later, Akshay and I walked up to the Leh Palace in the evening. It had closed by the time we reached. So we took pictures in the fading light of the magnificent building. Luck favours the lazy! The building was lit up. A dark cloudy sky overhead was a perfect setting for photographs.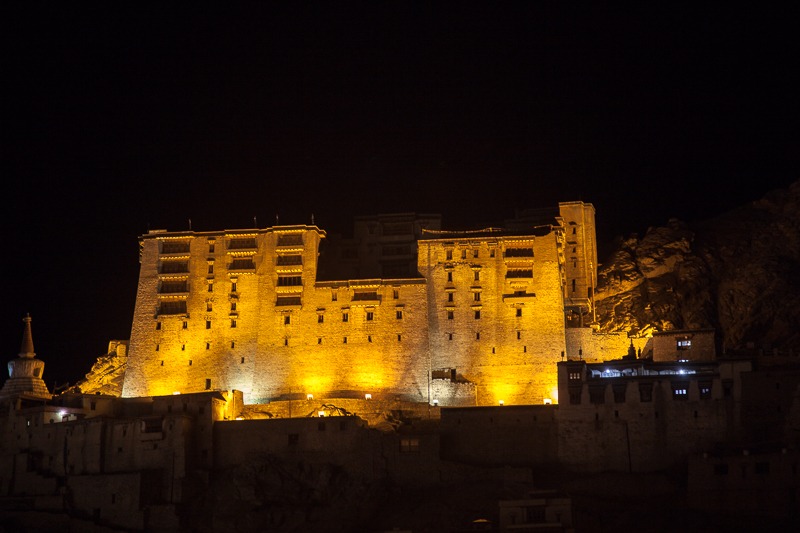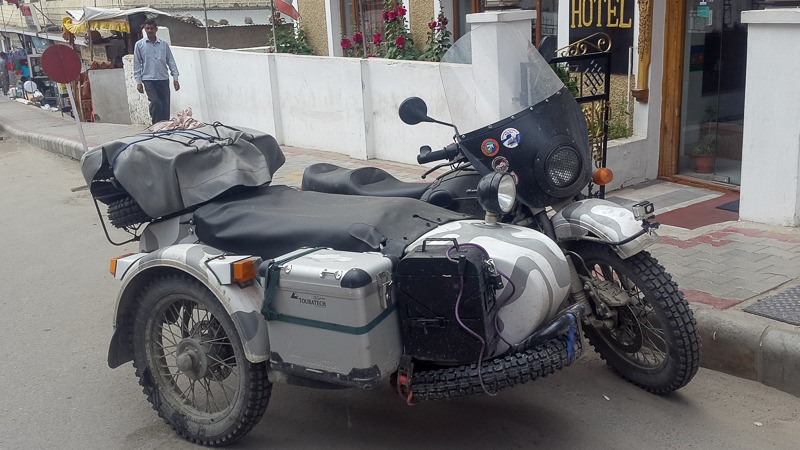 Expenses
Food on Day 36 350
Cycle Repair on Day 36 610

---