On the 50th day of our 90 day cycle ride in the Himalayas we rode from Hundar to Turtuk, a village on the Indo-Pak border. This was part of our ride covering Spiti, Zanskar, Batalik, Ladakh, Nubra, Pangong, Hanle, Tso Moriri, Garhwal and Kumaon.
---
Day 50 Hundar to Turtuk
Officer like qualities in the B.R.O. officer's mess in Hundar meant we got our toast with the crust cut off. Terrible for us cyclists who would otherwise eat every stale crumb without complaint!
After breakfast we were slapped with a whopping bill which was even more difficult to swallow than the crustless toast! But being gentlemanly we smiled and paid, hiding our pain behind that smile.
As we left, we met the Spanish cyclist from the previous day. He was the same guy who we had followed while climbing Khardung La, and whose bike Sumit had repaired in Leh. We had also seen him at the Diskit Monastery. This two wheeled world is rather small in Ladakh.
He wanted to continue to Turtuk, but due to the paucity of time he had to turn back. We were lucky to be blessed with time and headed to Turtuk.
Road to Turtuk
The road is peppered with various military institutions, from shooting ranges, to airstrips, to signboards which stated 'trespassers will be shot', to canteens with piping hot food. We stopped at the canteen for a second breakfast, the crustless toast still undigested!
As we sat waiting for breakfast, a bunch of soldiers entered with big bags. They had returned from somewhere, and the backslapping and hand shaking which ensued was heart warming to see. The hardships which these soldiers endure together builds bonds which is difficult to otherwise imagine.
'An idle mind is the devil's workshop', is a idiom taken to heart by the army brass. The soldiers are forever kept busy, cooking, cutting vegetables, fitting window panes, carpentry, digging ditches and then filling them up. Anything which won't allow them to over think their existence.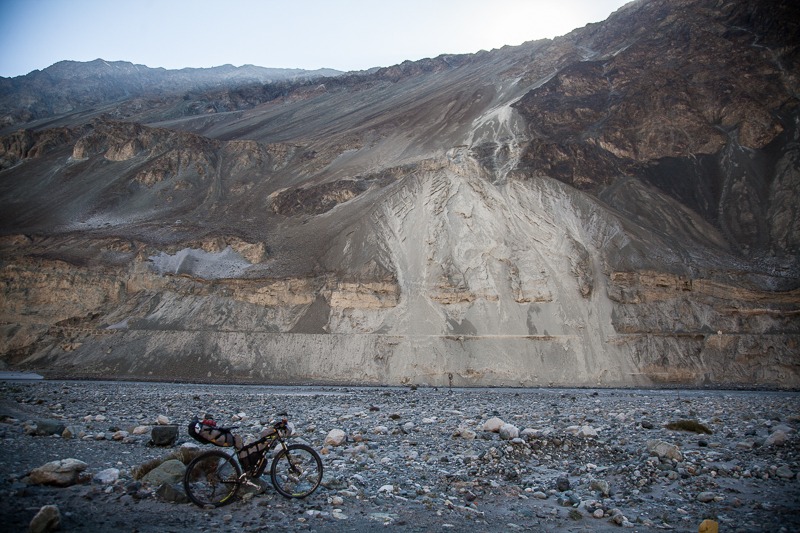 Board Games
In this sector there seems to be a board game at play. Not the board games we are habituated to, but a board game between the Siachen Warriors and B.R.O. Who can come up with the funniest and wittiest sign boards. The B.R.O boards generally had a safety slant and promoted the same, while the Siachen Warriors were more about saving the ecosystem, the world etc.
In my humble opinion the latter were victorious as they had a couple of boards which stated bikers have more fun than cars!
Changma
After the army canteen there wasn't a morsel of food available anywhere along the way. We were told about the existence of a dhaba at Changma, but there wasn't. I was hungry and as a desperate man I went about asking everyone for food.
Finally I bumped into Ahmed Shah, who runs a guesthouse in the village. Though there wasn't any food available since it was well past lunch hour, he did promise us milk which could be had with the muesli we were carrying.
He then also gave us dosa made with buckwheat flour, which had an interesting flavour. That coupled with apples from his garden made for a near perfect lunch under the circumstances.
The two German economists from the Khardung hotel also joined us for tea at Ahmed's guesthouse. I was happy to see that they were alive and well, the bikes notwithstanding.
Ahmed was a mine of information and I wished to spend more time there. The language they spoke was Balti in the region and he was a part of the snow rescue team which worked with the Indian Army. The rescue team mainly comprised of Nepalese, with Ahmed being the only local.
He had recently been stuck in an avalanche with 16 others in which only 7 survived. During which he picked up a wrist injury which was the reason he was at home.
He told us about the bus from Turtuk to Diskit which we could take. A bus service run by his brother-in-law. Information worth its weight in gold.
Biagdangdo
After Changma we crossed the village of Biagdangdo. The singularly interesting fact about it being the number of children. It was teeming with kids, so much so that I dared not stop and wait for Akshay to catch up.
As I crossed the village, a handful of kids formed a human chain to stop me from passing. Then one stupid child pulled off the dirt cover from my tail bag. Fortunately a smarter kid stopped me and told me to fix it back on.
Scared of the kids, I stopped for Akshay on the far side of the village. A nightmare I wouldn't want to go through again!
Turtuk
Turtuk appeared after dark and finding a place to stay was even more difficult, with most things exorbitantly priced.
Since the sun had set most places were either full or closed. We were fortunate to find an economical place run by a tailor, who was well read, spoken and articulate. Once again it was a pleasure interacting with our host.
The dinner served was simple, since we arrived late, but delicious. The conversation that flowed with the dinner was priceless.
Turtuk and four other villages in the vicinity were captured by the Indian Army from Pakistan in the 1971 battle. The Balti region was divided with families getting spread out on either side of the border.
We had been informed by misinformed people that this was a soft border, which seemed unrealistic considering the border was shared with Pakistan.
On enquiring, my doubts were cleared. There was no border crossing allowed for locals and if someone wanted to meet their relatives, they needed a visa and had to cross the border at Wagah.
As the tailor master told us the history of the place, there was a tinge of regret and remorse in his voice.
Route Profile: Hundar to Turtuk
The road from Hundar to Turtuk is mostly downhill with two tiny climbs. Post noon there is high chance of strong winds which make pedalling difficult.
There is no food or accommodation available along the way. It is prudent to carry sufficient food from Hundar itself.
Turtuk has a number of homestay options. Prices vary crazily. The places generally offer dinner and breakfast in the price of the room. As such, room rates are not per room but per person.
Since it is a border area, there are a lot of places where photography is restricted. Take note! The roads are in fantastic condition because the army requires it.
Expenses: Hundar to Turtuk
Food and Stay for two Rs 1050
Food for two Rs 50
---