The 21st day of our ride, saw us cycling from Ramja to Karjyak over Shinku La, a 5000 metre plus pass! This was part of our 90 day cycle ride in the Himalayas covering, Spiti, Zanskar, Batalik, Ladakh, Nubra, Shyok, Pangong, Hanle, Tso Moriri, Garhwal and Kumaon!
Day 21 Ramja to Karjyak
We planned an early morning start from Ramja to climb the difficult Shinku La pass at 5000 metres plus!
Plans as they generally do, fail. We woke late, grabbed a heavy breakfast, packed a couple of omelettes apiece and headed for the most difficult climb I have done till date.
From the first turn of the pedal, we climbed. The road never dipping, our morale on the other hand was on a southern trajectory! We climbed a decent amount, till we bumped into a wonderful gent who pointed out that we were riding slower than people walk. He also told us that the top of the pass was 'just' another 3 km away.
We were ecstatic.
Then we climbed those 3 km. It took us more than an hour. In the midst I managed to lose my slippers to a fast flowing stream. Driftjockey valiantly tried rescuing my floating slipper, but it wasn't meant to be. It was my offering to the gods of Shinku La!
At a point just before the summit, the road peters out and it is flat. There is a small pond there, which is freezing cold and has some snow on the sides as well.
We bumped into one of the military men from the previous day who was happy to see that we had made it relatively unscathed. He cheered us on and promised us that we wouldn't need to turn a pedal for many kilometres on the other side of the pass.
Passing the Pass(isle)
Crossing the pass was another tale in itself. We had another fast flowing stream to cross and soon we had soaked shoes and wind which went right through our bones. We pushed our bikes on ice, reached the board which proclaimed we were on top of the world and then realised it was a dead end! The main path was going the other way and we had to haul our bikes across the top of the pass from one end to another.
Only then did Driftjockey notice why we were so cold. We were literally standing on a block of ice!
Shinku La is essentially sat next to a glacier melting on either side forming a stream which later grows to become a river. We were two human sized beer cans kept on ice to chill!
Meter Down!
True to the mountain word, we didn't to pedal an inch after the pass. What we did need to do was hang onto the handlebars for dear life. It was extremely steep, rocky and had a crazy drop at each hairpin. It required a mix of skill and bravery. Driftjockey flew down, I lacking in both departments descended meekly!
We were not done with the water and had to cross many more freezing streams. After a point I lost count of the streams we had crossed. Before our shoes could dry, it would once again get soaked.
A couple of horseback locals were headed in the same direction as us. Driftjockey took it upon himself to keep the velo world one up over the equestrian one. The horses took every shortcut possible, going straight down rather than using the hairpins. But our brave knight on two wheels, skidded, drifted and slid his way to the bottom, to take victory!
At the bottom the horse jockeys told the driftjockey that the next village was 15 km away and it would take us four hours.
Sore losers or bad maths. Either ways we expected to reach faster than what they predicted.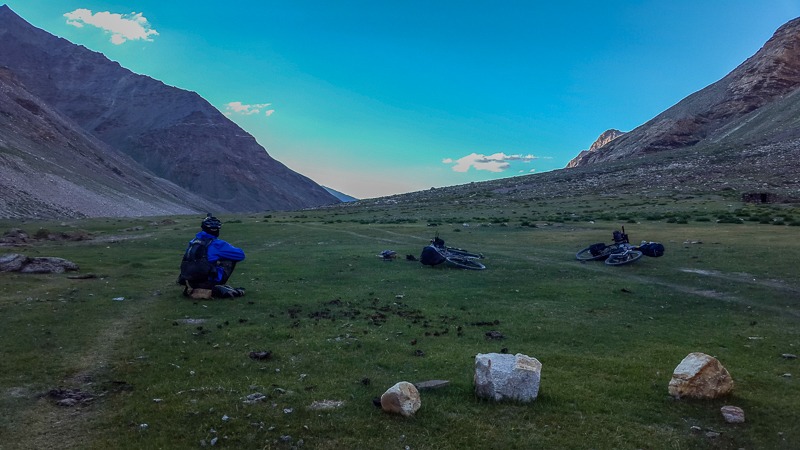 They were right!
It took us four hours of riding through more rivers, pushing our bikes, clambering over big boulders, lifting our bikes one at a time and other general hardship a touring cyclist faces!
The climb to Shinku La had left us spent and this was more than what we bargained for. As we stood contemplating setting up camp and riding the rest of the distance the next day, the same horsemen sauntered past us. It helped pump us up with adrenaline and we tried keeping pace with them.
We quickened our step and put body and soul into keeping the hooves in sight. But a dozen streams were in our way. The horses would splash through the streams, we cursed through them. Finally relenting and letting them out of sight as we stopped to dry our shoes. My fingers froze just squeezing out my socks, I didn't even want to ask my feet, 'what's up'!
We were lucky to spot the Himalayan Marmot on multiple occasions along with many other unidentified animals and birds. The place sees so little human activity that one can spot a lot of wildlife from the main trail itself.
Night Skies…
The sky darkened as we inched closer to the village. We met a guy taking his horse out to the open. Where was he headed so late in the evening, I asked. He was going to put his horse out to pasture. Wild dogs were the only predators there and horses were too big for them. The horses were safe in the open the entire night.
We reached the village at 8 pm, well after dark and exactly four hours from the descent of Shinku La.
We searched for a homestay in the village and lo and behold it was one of the two horsemen. He ran the homestay as well and gave us sweet hot tea, followed by steaming hot dinner, which did wonders to revive our drooping spirits. Though Driftjockey did need another half tab of Diamox to keep his food within and his head from falling off his shoulders!
The extent of our fatigue was apparent from the fact that we slept for 12 straight hours that night!
Route Profile: Ramja to Karjyak
The road from Darcha to Padum over Shinku La is being built by the Border Roads Organisation. Every year for the past 6 years, they say the road is to be completed by the next year! We were told the same, that by 2019, the road will be usable and people can go directly from Manali to Kargil via Zanskar and not having to touch Leh or Srinagar. Whether this will actually happen by 2019 is open to interpretation!
From Ramja it is a steep unrelenting 10 km climb all the way to the top of Shinku La. At the top there is a small pond which overflows onto the trail, making it one of the coldest water crossings along this route. There is snow present every day of the year on the top of the pass. Apparently a trekking route exists from the top of the pass to the peak above, but that is for even crazier mountaineers!
The descent from Shinku La is even steeper and treacherous. Caution is key. At the bottom of the pass is Lakhung, a one hut camp spot. There is a tea stall which offers 5 star cuisine like Maggi noodles.
There is absolutely nothing permanent between Chikka village on the Darcha side and Karjyak village on the Zanskar side of Shinku La. The other camps along the way are just that, and cannot be counted on, especially during the start and end of the season.
The trekking path will probably turn into a jeep track till Karjyak by 2019 and save on a lot of time and energy for cyclists. Until then…
Expenses from Ramja to Karjyak
Food for two 580
Stay for two Free camping in the wild!
---