We chat with India's rising MTB star, Adonis Tangpu, soon after winning a double Gold at the MTB Nationals and representing the country in Thailand…
---
Mysore's Gem: Adonis Tangpu
Every once in a while, along comes someone special. Someone who makes you drop whatever you are doing and take a second look. Meet Adonis Tangpu.
The name Adonis comes from Greek mythology, a young man who was famous for his good looks. Well this Adonis isn't turning heads just because of his looks, but mostly because of his incredible talent on a mountain bike.
Adonis is a mercurial talent doing a phenomenal job in the world of mountain biking. We spoke to him during his 12th board exams, hot after winning two Golds at the National Championship and a phenomenal 6th place in the Asian Championship in Thailand.
This 17-year-old, took time out from his 12th board exams to talk about his cycling life.
His dedication to cycling is apparent from the minimal importance he gives his studies and the maximum importance he gives to the sport! A major achievement considering his father is a professor in Mysore.
But Adonis Tangpu isn't originally from Karnataka, even though he has spent a decade of his life in the state. Originally from Manipur, he is studying in Mysore, because, well his father says so!
Serendipity…
That is how cycling started off for Adonis.
His cousin told him about a cycle race happening in Mysore. One of those races where you 'wrung what you brung'. You race on the road with whatever machine you bring, be it road, MTB or hybrid. It all goes.
He won that race.
That first taste of blood was enough to get this young Mysore boy longing for more. It wasn't so much the desire to win which drew him to the sport, but the desire to experiment with something he hadn't done before. He decided to give it his best shot and see where it took him.
Cycling Mysuru
Once he got into the sport, he was picked up by the local club, Cycling Mysuru. Where Adonis got an opportunity to train professionally.
The training helped him bag 4th place at the state MTB selections in 2017 itself. Since it was his first time competing at that level, he was happy enough with the result, while promising himself to come back stronger and harder.
Now he wishes he had pushed a little more and gotten onto the podium then itself!
At the next state selections, Adonis was on top of the world and the podium, as he finished first among the junior Karnataka boys.
Nagaraj coaches the Cycling Mysuru boys and girls of the city. And he has been instrumental in building up the talent from that pocket of the country.
The club is affiliated to a cycling store in the city, which has a dealership of Giant. All the lads are thus on Giant cycles, which they get at competitive prices.
Level Up!
After winning at the state level, Tangpu got selected to represent the state at the national races in 2018.
Keeping his expectations realistic, Adonis was hoping to get on the podium with a bronze finish.
The race was easier than expected and he went on to take 1st place at the nationals.
Seeing his results, the fraternity started taking notice of this young man.
His improvement in results, went hand in hand with improvement in machinery as he got himself a Giant XTC Advance. A carbon hardtail MTB, which allowed him to perform to his potential.
Though currently he is a self-supported athlete. Giant has shown interest in sponsoring Adonis to take his riding up another notch.
Karnataka vs Manipur
How weird is it to belong to one state and represent another, we asked him.
Adonis doesn't feel weird at all. He is comfortable representing Karnataka at the Indian nationals, where he races boys from Manipur. Some of whom are quite good.
In fact he has built a good bond with the riders from Manipur, with whom he has ridden in Manipur as well.
Whilst divided by states, we are actually united by the love of cycling!
Schoolwork
A common complication for athletes Adonis' age in India is balancing education and sport.
Typical Indian families expect more importance to be given to books than bikes. Even schools generally have such an outlook.
In Adonis' case, he got full support from his family. The school on the other hand has just given him attendance for the days he misses. Which is 'enough' as per him!
Yet it is astonishing, that a school would not be interested in throwing all their weight behind a student who is representing the country. It does show the priorities of our education system.
Of Coaches and Trains!
With a constant effort at improving, Tangpu's focus on training has only increased.
He spends a considerable amount of time on training. As he believes that you need to give your 100% during training, if you want to succeed in the races.
Training includes sessions in the morning and evening. Weekends see the group go for longer rides.
All of the training is overseen by their coach Nagaraj.
Adonis' current focus is more on power training and less on endurance.
As per the training plan, 3 months down the line he will also start focusing on endurance.
Happy Camper
In order to improve the level of the athletes, the CFI organises training camps, where they bring the best of the country to train together.
Adonis has trained in two such mountain biking camps.
Compared to his own training, Adonis found that they focus more on endurance rather than power training.
He had to 'cope' with their different form of training for the 10 days which he was with them.
The technical obstacles on the other hand are brilliant.
Riding those obstacles in the camps helps all the riders prepare for the significantly more technical courses at the international level. It gives them the confidence, a major ingredient required to succeed.
In Karnataka especially, Adonis finds the courses have few technical challenges. Which does not prepare riders for what lies in store at the international, or even the national level of racing.
Riding with the Experienced
The training camps also provided Adonis an opportunity to ride with the best in the country. To see them ride and learn from them as well.
Yet as he rode with them, he felt he had more skills than even the experienced riders.
He cites the example of racing in Thailand. Shiven bhaiya, as Adonis calls him, found the technical course more challenging than him, which reflected in the results as well.
Thailand Matters
Racing in Thailand at the Asian MTB Championship was the first experience of racing abroad for Adonis.
He finished a solid 6th there in his category. The best result amongst the Indian contingent present.
Adonis found the Asian riders had oodles of more experience than the Indian team. They had been riding and racing from a much younger age. The technical tracks were 'normal' for them.
The Asian riders have more power, they know when and where to use more energy and where to conserve. Experience which helps, not just those racing, but all the younger riders following in their tyre tracks.
Riding the technical sections after fatigue set in was one of the biggest challenges Tangpu faced.
Even after finishing 6th and best Indian, Adonis wasn't satisfied. He had a few technical glitches on his bike, which didn't allow him to shift to top gear.
At one point of time, he didn't believe he would be able to even complete the final lap. With a flawless bike, Adonis knows he could have improved his ranking by a couple of positions.
Racing in Thailand was 10 times the experience of racing in India is what Adonis says. In every respect, from the course to the competition, from the arrangement to the organising.
The Thailand course was mixed. It was 6, 200 metre climbs and then a drop. And the course was all rolling. It was a course designed for strength and skill rather than endurance.
MTB Nationals 2019
The MTB Nationals 2019 were held in February 2020!
A late monsoon last year, forced the organisers to postpone the racing. Eventually it was held in Haldwani, Uttarakhand, thanks to the support from the mountain state.
The race track was short at around 4 kilometres with not a lot of climbing.
Adonis went on to win a double gold in the men's junior races. One each in the individual time trial and the mass start event.
Yet there was a bigger prize he won, without actually winning!
He finished an astonishing 4th in the men's elite race. He was so close to the podium, yet oh so far…
He cherishes the 4th place more, because he had to work super hard against the much tougher competition.
It was made even more difficult considering he had to race the elite a few hours after finishing the junior's race.
The exhaustion of the first race snaking its way into his muscles by the second lap. He wasn't sure of completing the race, but his coach egged him on to finish.
To compound matters, he had a couple of chain drops during the race as well, which added to the gap to the podium!
The experience of racing with the elite boys will hold Adonis in good stead as he prepares to race with them full time in the future.
The Future!
On the academic front, Adonis will be finishing off his schooling this year.
The importance he is giving to the sport is reflected in the fact that he is planning to do his graduation as a correspondence course. So that he has more time to work on his riding.
He wants to focus completely on his cycling.
Road racing also beckons and Adonis is planning to try his hand in that format.
His main goal for 2020 is to win gold at elite men's nationals, which is due to be held in October.
The aim is simple, to be the best in the country.
To become an all-round better cyclist, Adonis will be looking to improve his endurance riding capabilities. To which end, he will race MTB Uttarakhand, which will be his first stage race. (POST EDIT: This might not happen because of Covid-19)
As Adonis says, "Overall there will be more of racing, since there will be NO MORE SCHOOL this year!"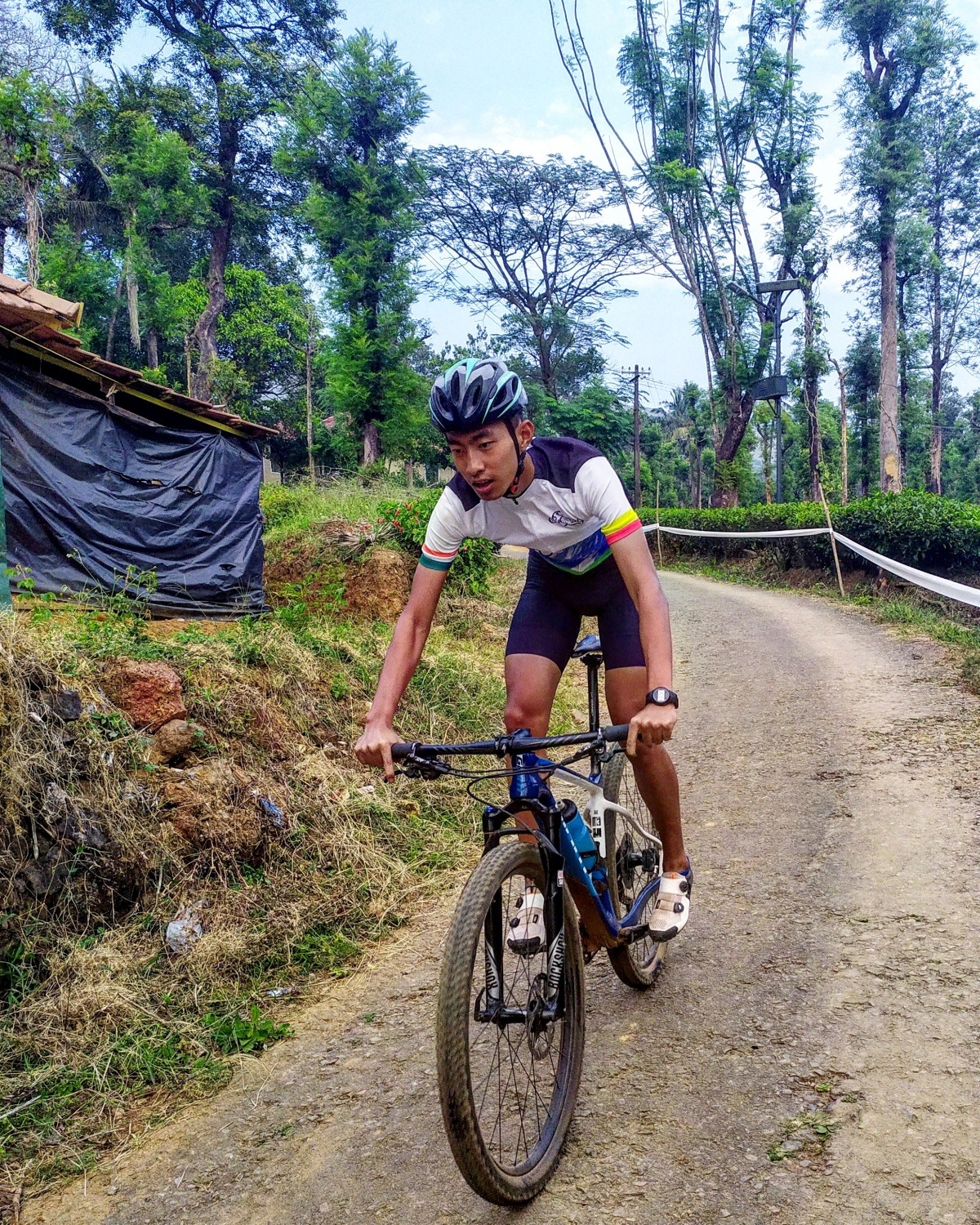 Images Courtesy: Adonis
---
Read about another incredible young Mountain Biking talent, Slade Gomes. And Neha Tikam's amazing entry into the world of endurance racing.