Looking to go mountain biking in Pune? Sahil from Pune, lists down the many cool trails you can check out to fulfil your dirt aspirations…
---
There is a reason that most boys who finish on the podium at the MTB National Championships in the downhill category are from Pune. That reason is the Western Ghats and that Pune sits pretty in a bowl at the bottom of these ghats.
These surrounding hills provide ample opportunity for those who are interested to head outdoors and practice their skills. Mountain biking like anything else in life requires practice.
Sahil Hakani, an ardent mountain biker from the city has put together this article to help out you mountain bikers from Pune and those visiting. Say thanks to him the next time you see him out on the trail!
Mountain Biking in Pune
As with any form of mountain biking, it is best to go ride trails with another rider. In the event of something unfortunate happening, you will have help at hand. And more importantly you need someone to shoot sick videos of you riding!
Note: Trail rating has been done in the order of Novice> Amateur> Medium> Hard> Pro-line
Vetal Tekdi
Situated in the heart of the city, one of the largest bio diverse regions around. It is a natural habitat to many species of birds. Vetal Tekdi is famous among the locals for a daily or a weekend getaway from the hustle of the city.
The hill has various entrances on all sides, which means no matter where you are in the city it should be easy to get to one of the entrances within 10km drive at the max. Less for most.
The Hill also consists of old "not so flashy" mandirs. So, if you run out of water while on a ride, you can refill from the groundwater reserve at the top at the Vetal mandir. Riding here gives you many trail types, from technical rocky DH trails (please wear a full face helmet on these); to long flat out mellow XC singletrack to just chill out and enjoy the city skyline. Yes, you can see the whole city from here and it looks beautiful.
If you go early enough and are adventurous enough to go into forest sections where nobody ever does. Or maybe if you are lucky, you might also witness in close proximity, a peacock/ peahen/ eagle/ hawk/ swans. I have seen a swan just once in 20 years at 4 AM during the cold winter months.
Route Info
Warning: Be wary of pedestrians and hikers, they use the same trails as mountain bikers. Sometimes we catch too much speed to scare or startle them and can also hit them. Be considerate to everyone that uses the area and not just us mountain bikers.
Riding Distance: 5-10 km based on type of riding (XC/DH)
Difficulty Level: Variety of trails ranging from novice to hard.
Bike Type: Hardtail or Full Suspension of any type.
Type of Trails: Technical natural DH, XC singletrack, mellow fire road.
Things to Look out for: Clean air and amazing city skylines during sunset and sunrise. If you are lucky then a bit of bird watching. Make sure you spend time by the old abandoned British Quarry, which is one of the most beautiful places on the hill.
Best Time to Ride: All year round. However if you visit in the afternoon I would suggest to carry extra water as it can get quite sunny.
Location: https://goo.gl/maps/iFG2pEGNLLv9NX5e6
Strava Route: https://strava.app.link/zoVXTtrFMeb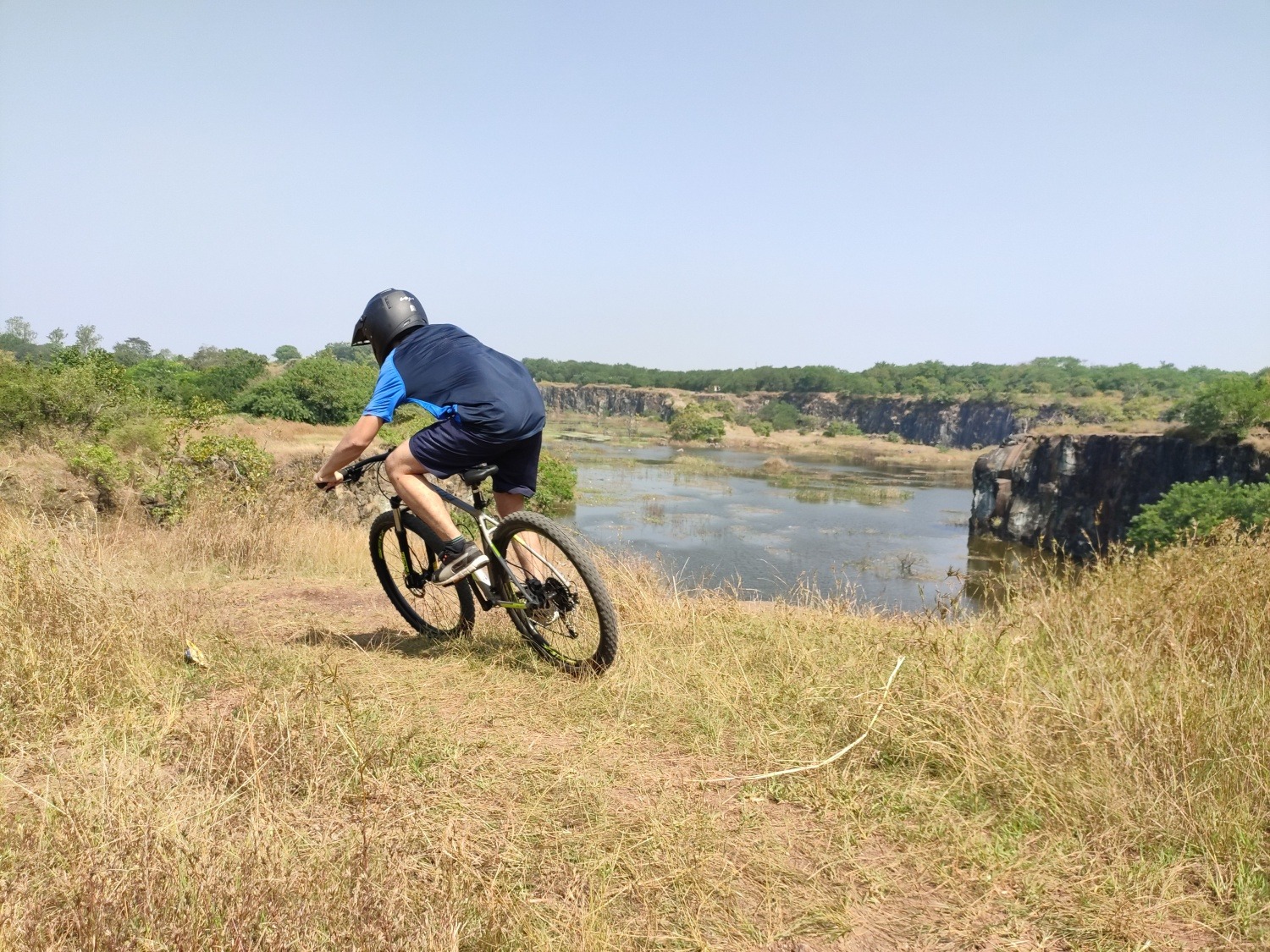 Pashan Hill/ Pashan Trailpark
A full face helmet is recommended.
Situated between Baner and Pashan Sus road, one can enter this hill from any side one wishes. However 2 entrances of Pashan are preferred due to ease of access.
At one side there seems to be a fun undulating singletrack littered with rocks. It appears to be the only trail. The hill seems less exciting for mountain bikers. As the biodiversity park for plants created at the top of the hill by the forest department means the authorities are not thrilled by mountain bikers riding in that area.
However if one were to approach the right people, with permission of the forest department as well as Lokseva e-School. A bunch of passionate DH racers (some of the fastest and most skilled riders in the country) famously known as The Pashan Boys, have built an entire trail network in the forest area. This is filled with really good DH trails. Good enough to give you skills to go and race nationals if ridden regularly.
Though there are trails here good enough for novices to ride. You would soon find yourself out of depth when you come across huge gap jumps. Some spanning approximately 40ft.
This might seem intimidating, yet it is the best place for riders of any skill level to come and progress their skills. Irrespective of the fact whether you just bought a mountain bike or are a seasoned pro.
There definitely is something for everybody here.
There is something for everyone here. Trails range from Jump Lines, Flowing Berm Lines, Sketchy Technical Steep Trails, Rollers to Practice your Pumping Skills, Off Camber Sections, Rock Gardens to even Steep Rock Rolls.
The annual Pashan MTB Fest is a time when mountain bikers from around the city and even the country come together for a weekend to ride. Have a good time and help each other progress in riding skills and technique.
After riding all morning or even all day, the riders have a ritual to visit Durga Café at the foot of the hill. It is right next to the lane you enter or exit from. You can enjoy good cold coffee and food to fill yourself up after the ride.
One of the best things is Misal Pav there.
At the end of the day you will be with a bunch of amazing people of literally all age groups. Full of smiles sipping cold coffee and exhausted from the amazing riding.
I suggest you reach out to Pashan Trail Park on Instagram before visiting as they are the best people to show you around.
Route Info
Riding Distance: There is no distance. This is pure DH. A solid day of riding.
Bike Type: Full suspension or aggressive hardtails.
Difficulty Level: Variety of trails ranging from amateur to pro-lines.
Type of Trails: Jump Lines, Flowing Berm Lines, Sketchy Technical Steep Trails, Rollers to Practice your Pumping Skills, Off Camber Sections, Rock Gardens to even Steep Rock Rolls.
Best Time to Ride: All year round. However if you wish to race and have the full experience. Contact pashantrailpark and visit during Pashan MTB Fest or During the DH and Enduro Races and participate.
Location: https://goo.gl/maps/FCyVxhQkJjsZAFNt6
Temghar Valley
Temghar Valley on the way to Lavasa, is situated next to the beautiful Temghar Lake. Many people go for weekend trips to Temghar Dam, few know of the existence of Rolling Academy Bikepark or Camp Hideout. Which is till today one of my favourite holiday destinations.
It is 53 km from Pune, about an hour and a half drive. I suggest taking an SUV as the last 5 km is proper off-roading.
Being far away from civilization and the hustle of city life, this is a good place for working professionals to go for the weekend to unwind and disconnect in the serene valley.
You can camp, sleep in tents, eat amazing home cooked food (provided by Camp Hideout) and even enjoy a little bit of adventure activities.
Oh and how can we forget, ride your bike as close to the lake as you can get. In the midst of nobody else but cattle and clean unpolluted air.
Temghar MTB Challenge
Every January, Camp Hideout hosts the "Temghar MTB Challenge" where people come from around the country for camping, hanging out for 3 days, enjoying nature, oh and of-course how can we forget, racing. You can race in any of the 3 categories being XCO, XCC or DH.
And even if you do not like racing, it is an amazing event to attend even as a spectator/ leisure rider.
More than words I think, what makes this place special is the people who maintain the campsite, and well, the atmosphere. So I shall just show you pictures to tempt you. Enjoy!
Route Info
Riding Distance: 53 km from the city
Bike Type: Anything from hardtail XC bike to enduro rig.
Difficulty Level: Novice
Type of Trails: Crisp, beautiful singletrack
Best Time to Ride: All year round. Early morning, you will be back before the sun starts troubling you.
Location: https://g.page/CampHideout?share
Sus Hill/ Symbiosis Hill
Situated in Sus at the edge of the Pune district, this is a simple place which promises nothing but a mellow singletrack to enjoy a morning of chilled out riding. The focus being more towards serenity and relaxing your mind while having a fun time with a close riding buddy and riding through the terrain where the soil shines gold due to the morning sunshine.
I recommend reaching the top, taking a seat and enjoying the view of the beautiful Sahyadri Ranges.
Route Info
Riding Distance: A tiny riding loop of about 6-7 km (or if you plan to ride all the way from the city it would be 28km)
Bike Type: XC mountain bike
Difficulty Level: Novice
Type of Trails: Crisp, beautiful singletrack
Best Time to Ride: All year round. Early morning, you will be back before the sun starts troubling you.
Strava Route: https://strava.app.link/XNcRt5iFMeb
Location: https://goo.gl/maps/5dUxjX8AfCjdz26U9
Sinhagad
Sinhagad needs little advertising. It is one of the most famous forts of the Maratha Empire, and also a very famous weekend getaway for a lot of Punekars.
Famous for the great architecture of the ancient times, it has militaristic importance. Sinhagad holds emotional value for the older families living in the area.
If you are feeling the urge to burn your legs and dig deep into the pain cave, the Ghat that leads up to the fort is steep and "kinda off-road" not letting you catch a rhythm, perfect for you XC racers and climbers.
Even if pain is not your style, the hiking route provides a lot of different options for single-track and trails to get you up to the fort and back DH for some rough fun.
The DH trail and Sinhagad is the longest and roughest trail anybody in the region has ever ridden. So take all the protective gear you can get. It is a good 8-10 mins long, so better be at peak fitness.
If you can, I would also suggest to park up and go explore the fort too, it is fun and interesting. And unlike many preserved forts is free anyway.
Route Info
Difficulty Level: Amateur, medium, hard to prolines.
Bike Type: Aggressive hardtail or full suspension
Type of Trails: Rocky and raw, single track and DH trails
Best Time to Ride: All year round. Early morning, you will be back before the sun starts troubling you.
Things to look out for: Clean air away from city life. Historic fort. At the top, there are many street vendors selling corn, bhajji, pakode, a lot of raw desi snacks and juices to enjoy.
Location: https://goo.gl/maps/YTND9r2TX2cQUPh18
Warning: Don't visit on a hot summer afternoon. As the sun can get brutal and risk sunstroke. But at the top you can find yourself delicious carbs and sugarcane juice if you wish to attempt anyways.
Ghoradeshwar Trails
Ghoradeshwar, located slightly further away from the city, near the Maharashtra Cricket Association Stadium (MCAS) means you have to drive there for a day of amazing riding.
One of the gnarliest and roughest DH destinations in the district. Famous for holding the selections for Team India DH Racing for the South Asia Games, it is a treat for mountain bikers who love steep-rough-rocky-technical descents. The longest DH lines in Pune, one of them lasting longer than 2-3 mins even at full race pace. If you are riding it section by section, along with track walk, an easy half a day spent on the trail.
And even if you are not a lover of rough DH trail. During the rainy season, the forest gets filled with many tiny streams and water crossings for you to ride through. Although being a slip and slide route, the atmosphere and tiny waterfalls makes it a beautiful experience.
Along with a relatively unexplored DH haven, mother nature provides us with a beautiful singletrack to ride through calmly and have chilled time lasting about 10-15 km in length.
No matter what your style, this place has you covered.
Route Info
Warning but not a Warning: Riding the main DH line will need a skilled rider in order to do the full run, enough to even challenge professional athletes.
Riding Distance: 10-15 km
Difficulty Level: Amateur, medium, hard to prolines.
Bike Type: Full Suspension for DH, for XC singletrack any decent MTB is fine.
Type of Trails: Rocky and raw, single track and DH trails
Best Time to Ride: All Year Round
Things to look out for: Quite undiscovered and raw. An MTB haven, with a lot of scope for trail building. A day after a heavy rain, the trails get multiple water crossings and deep inside the forest you can find some hidden gems in the form of waterfalls.
Location: https://goo.gl/maps/MC1qQ8py23h5iAVb9
Images Courtesy: Virendra Mali
Spirit Of Mogli Pump Track & Café
Located really close to the Ghoradeshwar trail system. One can have a nice day out visiting both the locations and having a blast.
Spirit Of Mogli is the best and probably the only properly hand built and maintained pump track in the state.
Consisting of 6 Berms, a double, and a bunch of rollers, it happens to be one of the best places for a mountain biker or even a dirt jumper/ BMX lover to come and work on their skills. Irrespective of your skill level.
And after a long day out on the bike, we all need a snack and coffee right?
The SOM Café at the Spirit Of Mogli Pump Track has you covered there too.
Do not have a bike? You can rent a BMX/ MTB from SOM and ride.
So you get smiles guaranteed without worry.
Route Info
Difficulty Level: Novice, amateur, medium, hard to prolines.
Type of Trails: Hand built clay pump track
Best Time to Ride: All year round. Except for a for a couple of months during the peak monsoon season where the track is covered up to protect it from weathering and getting washed out from the rain.
Things to look out for: 6 berms, a double and some pumps make up for a whole lot of fun and progression every session. Discover the fun of riding a BMX on dirt. Underrated as a training tool for mountain biking. Once you learn to pump efficiently on the pump-track you will approach trail riding with a new perspective!
Location: https://g.page/spiritofmogli?share
Acknowledgements for Mountain Biking in Pune article
Lastly I would like to thank Spirit of Mogli and Virendra Mali for the insight, information and pictures about some of these trails without whom this article would be incomplete.
Below are the Instagram and YouTube links to people you should follow around the region where you can see a lot more videos and photos from the above mentioned routes.
Virendra's Youtube Channel | Spirit of Mogli Instagram | Pashan Trailpark Instagram
Cheers!
Sahil Hakani/ Enduro Rider
About the Author
Sahil Hakani, better known as Hakster, which we presume is a sordid mixture of hacker and prankster, is a mountain biker. This 22-year-old is most famous for owning a Pink Bike. Well, not the mountain biking website, PinkBike.com. But he actually rode a pink coloured mountain bike. He claims that when he bought it, the bike was orange and by next morning it turned pink… which loosely translated means, that they were growing some strong stuff in his engineering college.
Engineering college is also where he met college senior, Slade Gomes, MTB National DH Champion. Slade invited him for a ride on a DH route. Slade took off like a rocket. Hakster was left to his own devices. He might not have seen much of DH on that ride, but that did instil in him the love of mountain biking. And he continues to regularly ride the mountain biking trails of Pune with the top talent of the city. Even though he rides as a non-competitive rider, he still enjoys every bit of dirt along the way… now on a new pink grey bike!
You can try following him on Instagram, but he won't accept your fraaand request. Because he doesn't want people to see pictures of his Pink Bike!
---
Also read: Mumbai's MTB and Road Weekend Routes | GHV Endeavor Trail: Pump Track near Mumbai