CyclingMonks.com was officially launched by the Chief Guest of the event, Padmashri Dr Giriraj Kishore, in the presence of friends and well-wishers.
The website is a platform to showcase quality content from every aspect of cycling in the Indian scene. Cycling is growing in popularity across the country in every genre. From mountain biking, to road riding, club racing, leisure group rides, travel, adventure and commuting. The aim is to provide the Indian cycling enthusiast information of interest in their cycling niche.
With this goal at heart, CM was unveiled on the 27th of October with Padmashri Dr Giriraj Kishore, gracing us with his presence, thoughts and wishes. The octogenarian litterateur stressed on the importance of fitness amongst the youth of today as he said: "Such great adventures should not be confined to Kanpur. This young man had all the potential of a future leader, because of his courage to go to far flung places where the common man would not have dreamt of going. Unfortunately, today's youth have become couch potatoes, stuck to their mobile phones or TV sets; and do not venture outside the security of their homes to experience the beauty of nature."
Diplomat Dr Arindam Bhattacharya IFS, spoke about the benefits of maintaining a healthy lifestyle and how a sport like cycling is accessible to everyone. He himself is a keen cyclist who used to travel by pedal power when he served as a diplomat in Beijing, as well as being a firm believer in improving cycling infrastructure in cities.
After the words of inspiration from the two dignitaries, we gave a presentation of our most recent cycle ride in the Himalayas, along with a select few pictures from that ride. The blog of which can be read here. The tales from the trails was greatly appreciated by all gathered subsequent to which the website CyclingMonks.com was made public and showcased.
We can now 'officially' bring to you superb cycling content from India!
The website launch covered in the Media:
Hindustan Times (Lucknow Edition)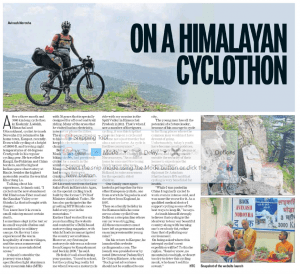 Hindustan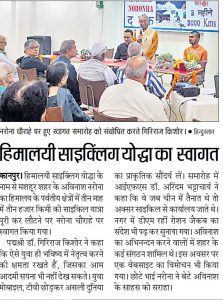 Amar Ujala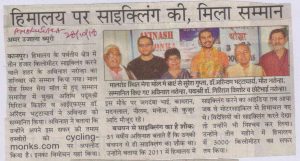 Pioneer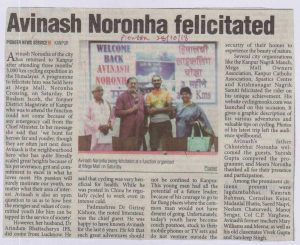 MattersIndia.com
Photos from the launch event