Blog from the 3rd day of the 90 days cycle ride in the Himalayas. This day saw the cycles going from Nankheri to Taklech along the Old Hindustan Tibet road.
---
Day 3 Nankhari to Taklech
It was a day of ups and downs. A big up and then down all the way!
The road from Nankhari to Tutupani is a 9 km forest dirt road. It is loose mud and rock which climbs 400 metres in the first 7 km. We died multiple times on that climb. Neither of us conditioned yet to climbing on loaded rigs.
It wasn't all bad though. There was a dog who befriended us. Si patted his head a couple of times and that was it. He stuck to us like glue, for the next 30 km!
I saw dung, lots of dung. I asked Si if it was a bear. It couldn't be one bear, he mused, but a hundred! The mystery of the excessive dung was solved by the sighting of buffaloes, lots of buffaloes!
A ridiculous sight seeing water buffaloes up in the mountains. At an altitude that buffaloes have no business being. On seeing them, it was obvious there were no bears or leopards around. Later villagers confirmed that the predatory animals move up the mountains in the summer.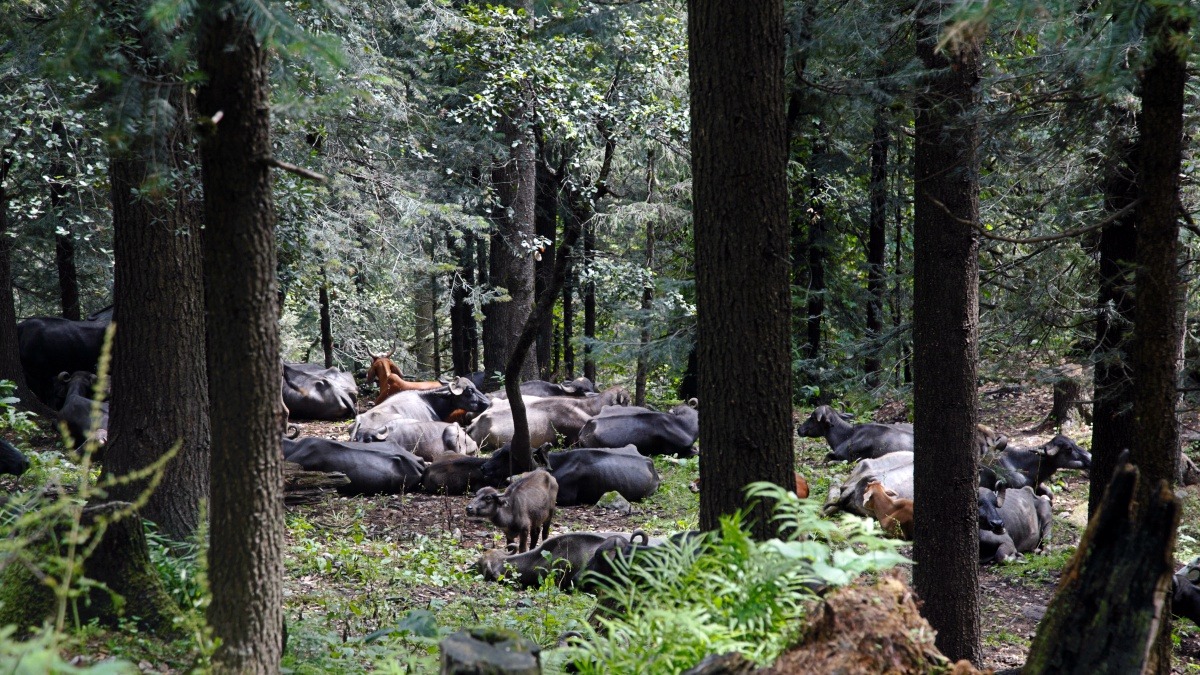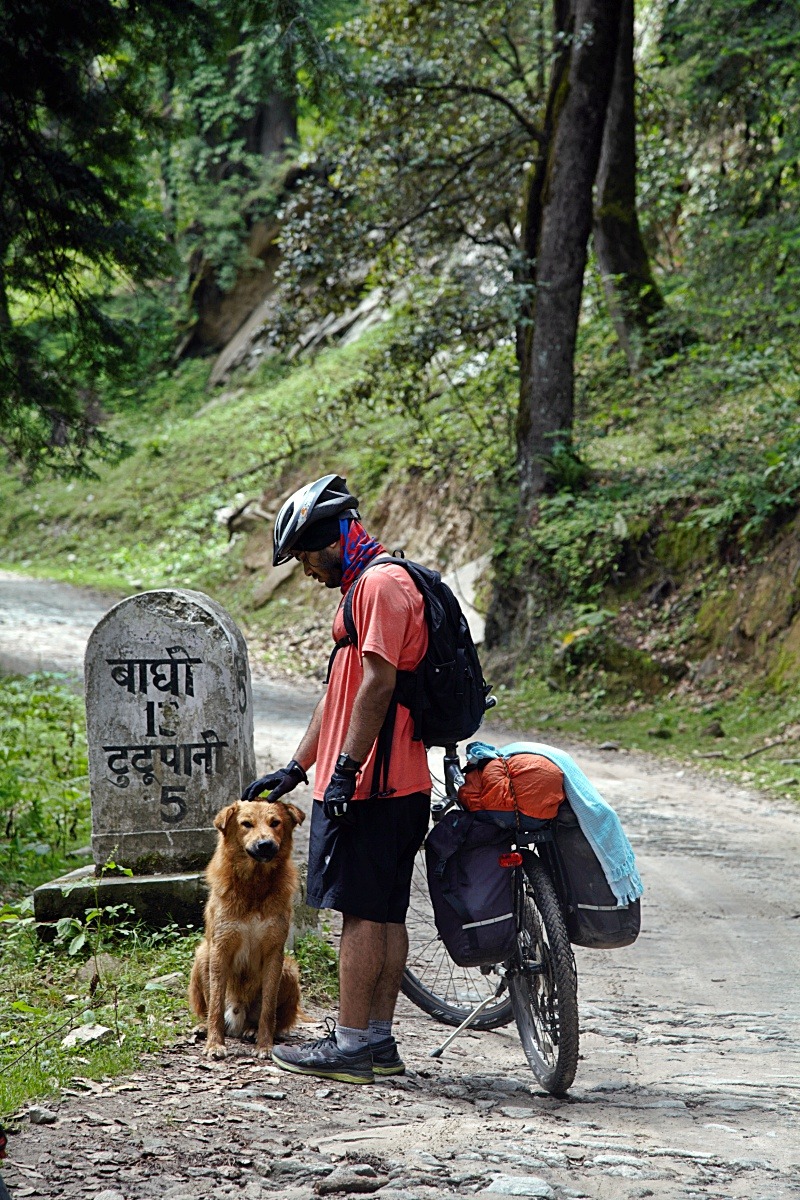 Tutupani
As we climbed to Tutupani, it rained intermittently. While we did the rain coat dance of wearing and removing it every five minutes, our new four legged friend stopped when we stopped and trotted along when we rolled. He could easily keep pace with us on the steep uphill. We panted and suffered up, he floated, constantly looking towards us prodding us on!
Tutupani turned out to be nothing but a small crossroad, and from there we rode down for the most part. The road was bad. We were getting thrown around on our bikes. Si's bike was running a rack and panniers setup, while I had the bikepacking setup. The difference on this stretch was telling. While I didn't bother about my luggage, Si kept having to tighten the bolts on the rack.
Unfortunately for him, there were two bolts he continuously missed tightening.
A couple of kilometres before the asphalt road started, the rack spat out those two bolts, it then swung in a wide arc and snapped the derailleur hanger in two.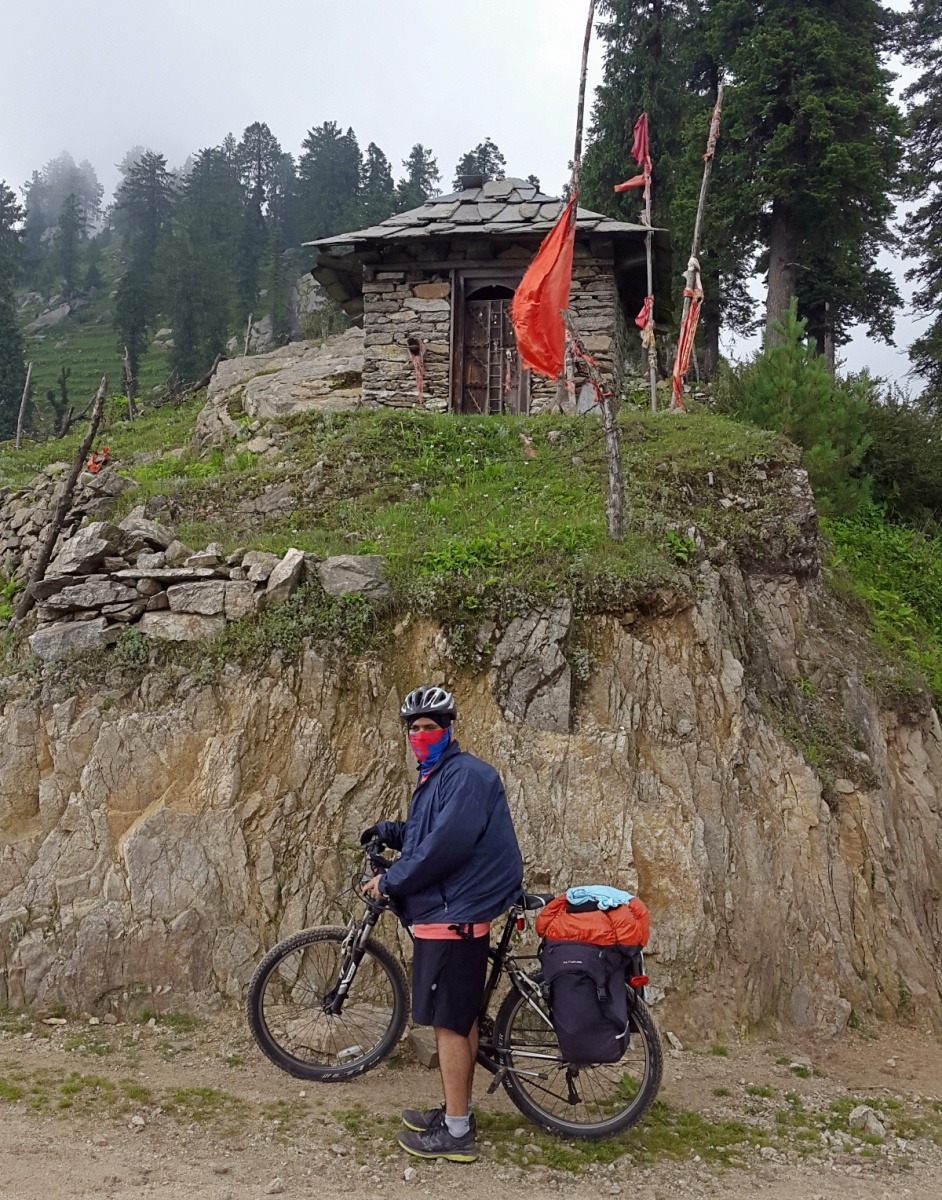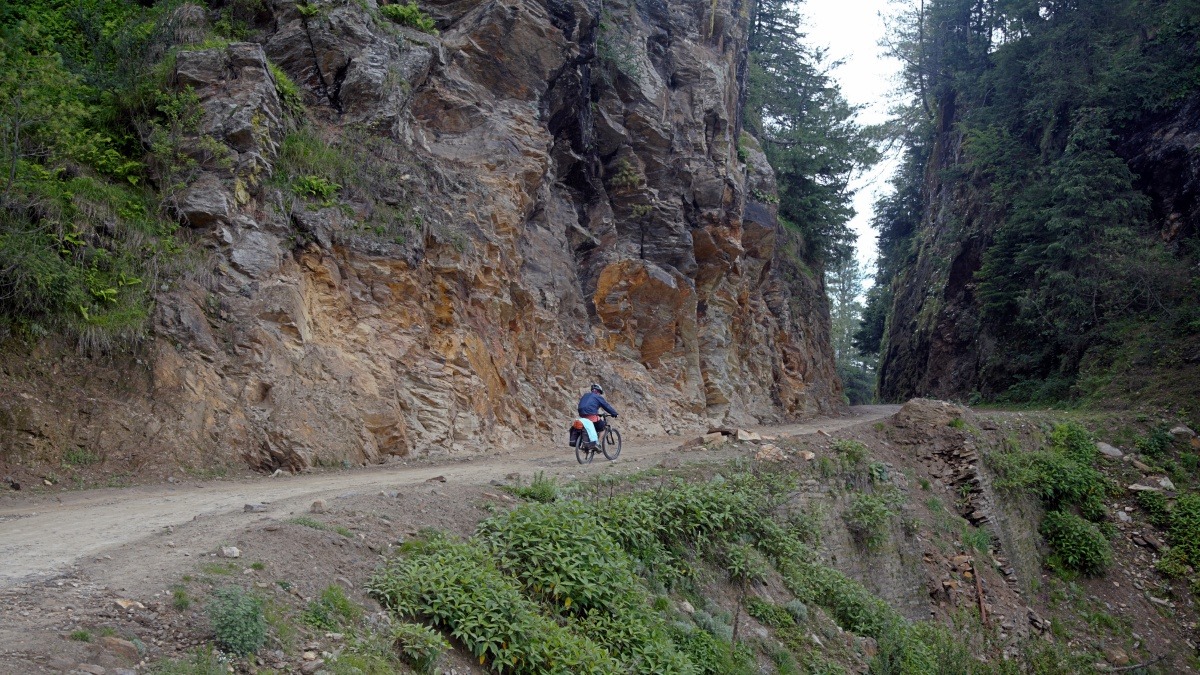 Shit!
His ride was over. His bike impossible to ride. I fixed the rack back on, put together his luggage as he sat in a storm water drain dejected.
Shoulders drooped, head fallen, every atom of his body screaming regret. He had been looking forward to the ride for months and in a moment it was all over. He pushed his bike a couple of kilometres to the nearest village, where we loaded it up on the roof of a roadways bus and off he was, homeward bound…
A solo ride it was going to be for me! Tough luck Si.
Man and Dog
Si might have left, but my dear doggy friend didn't. We ate lunch at the village and proceeded. The road continued down and I could see my four legged companion tiring. I stopped for him to drink at a stream, where he vigorously lapped it all up before continuing. The road again climbed and he was once again by my side.
A couple of times, village dogs attacked him and he scooted and sat between my front wheel and pedal, knowing fully well he was safe there. But the light in the sky was fading and I had a long way to go. Downhill. I let go of my dear friend, as he couldn't keep up with a descending cycle, and rode away into the sunset.
I felt like a shithead deserting him. In life there are times when we make terrible decisions. This was one such occasion.
My night halt was in a Forest Rest House in Taklech, where the caretaker was super helpful and friendly. His friendliness only reminded me again of my idiocy of letting go of doggie boy.
I slept off dreaming that my dear dog would find me and be sitting outside my doorstep by sunrise. A fairy-tale ending…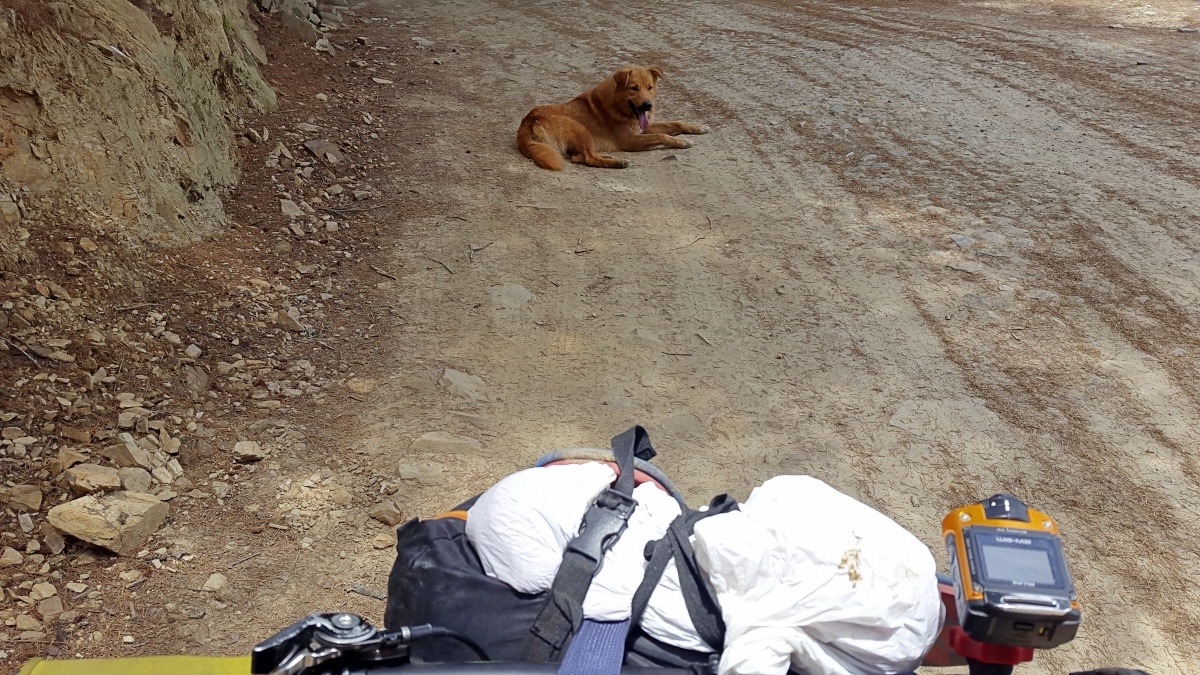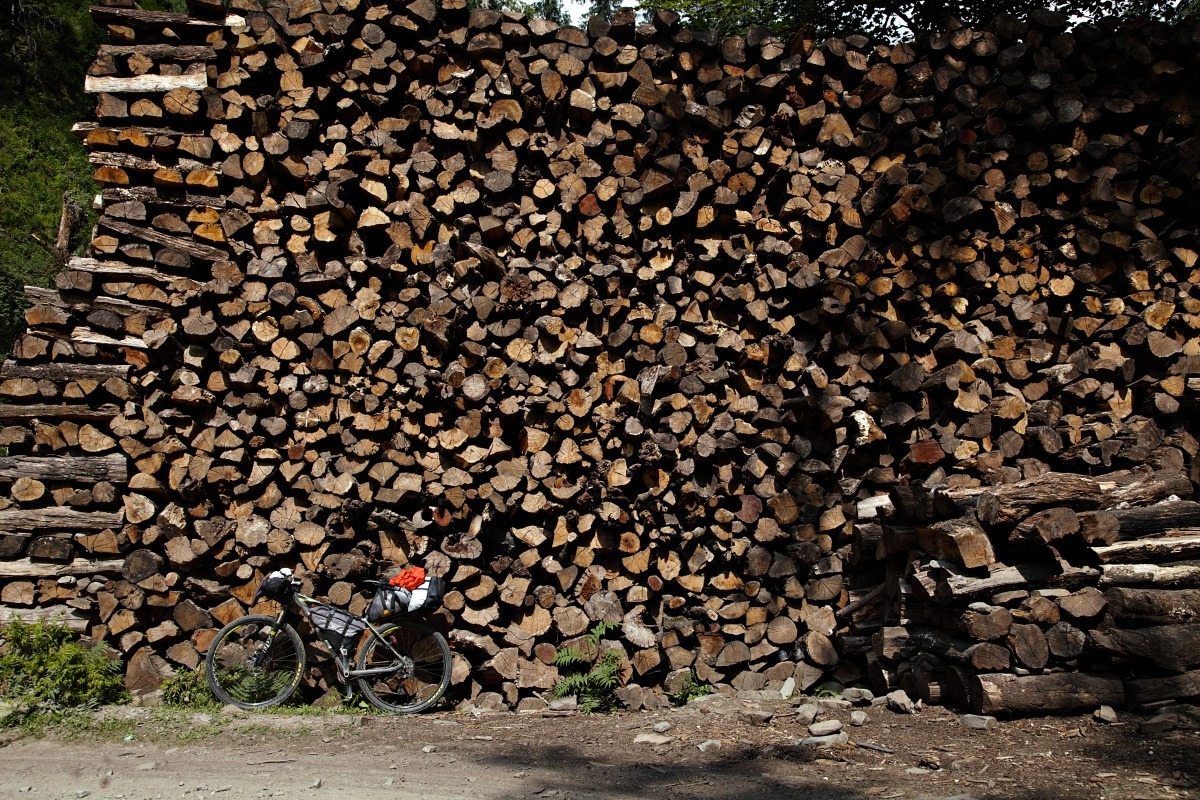 ---
ROUTE PROFILE
From Nankhari the road immediately climbs through a forest dirt road. It is advisable to cover this stretch well before twilight. There is nothing along the way, till the next village after Tutupani.
Once past Tutupani, villages have shops and dhabas, though no accommodation.
Taklech has a couple of small hotels, a PWD Rest House and a Forest Rest House. The PWD one is at the top of a hill and requires climbing on tired legs at the end of the day. The latter is lower down and easier to access.
Day Expenses
Food for one person 40
Stay for one person 540