#InConversation with elite mountain biker of India, Shiven Aerohawk, as he talks about his journey of being the best in the business and then some more…
---
If you ever go to the high mountains and look closely at the cliffs, you will spot bharal (mountain goats), navigating their way through near vertical rock faces seemingly defying all laws of gravity.
Watching Shiven dancing over the rocks on his mountain bike, gives you a similar dizzying feeling!
This mountain boy hails from the tiny village of Udaipur in Lahaul, Himachal.
Wait! What?
Surely, there's something wrong. Udaipur is in Rajasthan right. Or did someone flunk their geography lesson! For reasons, unbeknown to us, Lahaul has a few names common with the desert state. Bharatpur on the Leh-Manali highway is also found in Rajasthan. Folklore suggests that Rajasthani nomads escaped to the mountains and settled there.
But we digress…
This story is about 22-year-old, Shiven Aerohawk, who has been swooping down on the competition since 2013 and is poised to fly ever higher with the tricolour.
Shiven has always shown flashes of brilliance throughout his cycling career, but has truly come into his own since 2018, when he got done with his engineering degree. We trace his journey to find out what makes him tick and makes him one of the best mountain bikers currently in India.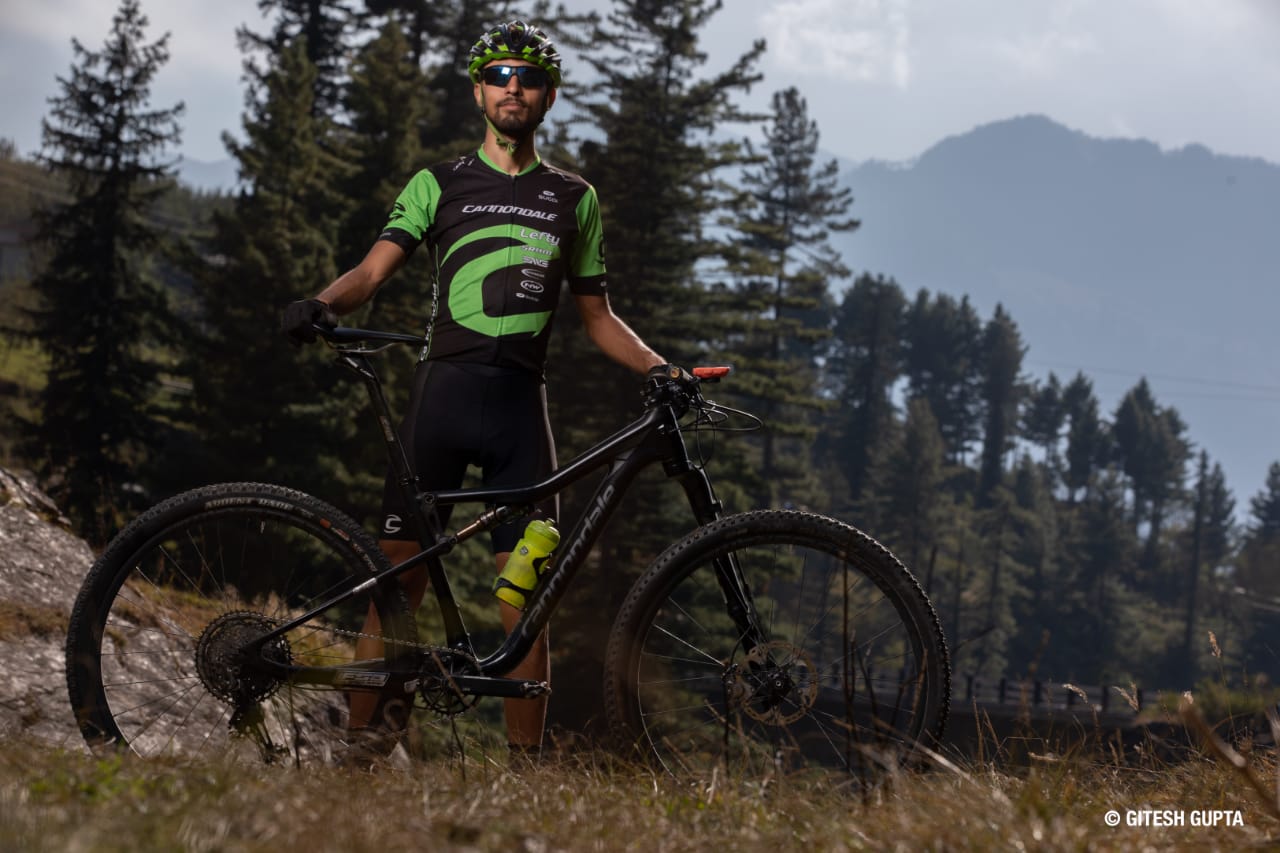 Shiven Aerohawk: The Seed was Sown…
Born and brought up in the plains of Karnal, Shiven was first exposed to the joy of mountain biking, when he visited his father, who was then posted in Pandoh, Himachal.
He would see kids going up and down the slopes and felt a natural affection for the mountains.
When his dad was posted to Panipat, his hill visits stopped. It was immediately replaced with visits to the internet, where after a bit of searching around he discovered the sport of mountain biking, the Red Bull way!
2012, saw him get in touch with Mohit Sood (founding organiser of MTB Himalaya/ Shimla) and race the inaugural edition of MTB Shimla.
Shiven's Hercules Rodeo was lashed onto his dad's Alto and the family headed to Shimla. He was all of 14 at that time and was participating in the student's category. He loved freewheeling downhill and struggled as he mostly walked uphill, yet he crossed the line in 3rd.
Except, he didn't. Paying scant attention the race rules when they were being announced, Shiven removed his helmet and walked up the last slope exhausted. Only to be disqualified for not wearing his helmet!
A lesson he will never forget.
That gave him a taste of mountain biking life. He met many seasoned bikers there, made tons of friends. And knew he had to return to do better.
The First Win is the Sweetest
Between the first and second MTB Shimla races, Shiven practiced. He would be out and about by 4 AM, so that he could reach his 6 AM tuition on time.
He practised for the Himalayan climbs on the flat roads of Haryana.
And he then went racing again. With a borrowed bike. On that occasion he kept a calm head and a secured helmet and won the Student's Category.
Little did he know that the boy who came second, Devender Thakur, would be one of his strongest competitors and friends over the next few years.
Present and racing there was Kiran Kumar Raju (KKR), who was also getting into mountain bike racing.
Over the years, this trio has been at the helm of elite Indian mountain bikers.
His hard work was rewarded by being selected in the Hero HASTPA team, along with Devender. A new life was set to kick off for the two.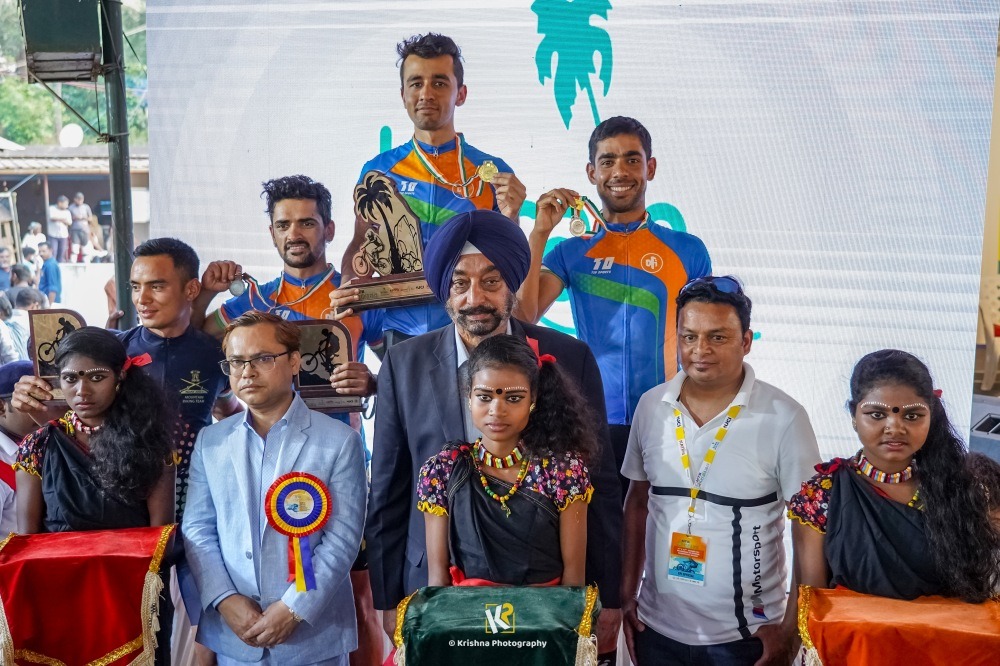 Choosing a Uniform
Shiven Aerohawk, wanted to join the armed forces. But life is all about choices, and he chose a cycling jersey over military green.
Shiven often races athletes from the Indian Army. When asked if in hindsight he would have preferred being an armed forces athlete. His response is negative.
He loves the liberty of choosing his race schedule and working towards the sport, without the need of taking orders.
The Mechanics of Engineering
Shiven chose mechanical engineering because it was the closest he felt to cycling. As he says, "the whole cycling industry is based on mechanical engineering".
Even while selecting his engineering college, he chose one in Kurukshetra, since that was the hotbed of the Haryana road cycling team. During his engineering days, Shiven would go on rides with these 40-50 cyclists, where he was the only one on an MTB!
His engineering didn't so much teach him about cycles, as it taught him about life. As it also added the passion of photography. He does click some stellar pictures when he goes riding in picturesque Manali.
Engineering also taught him about organisation and inventory management. Something which holds him in good stead while working on his race schedule and having ready stock of all bike parts.
Money Matters
Shiven is possibly one of the few Indian cyclists whose talent has shone through at an early enough age for sponsors to recognise it.
Whilst still in his teens, he was backed by Hero HASTPA. Since 2017 Track & Trail (T&T) have been supporting him.
Shiven's sponsorship was even more unique from T&T initially. He was one of the few to have comprehensive backing from the company. They would pay his travel, race fees, accommodation along with providing him the necessary machinery. T&T even gave him a monthly stipend of Rs 10000/-. Unheard of in the Indian cycling scene.
He's now a Cannondale Athlete, supported by Track and Trail.
But with no fixed monthly income, Shiven is left to fend for himself when it comes to finances. Prize money from big ticket races is what keeps the figurative and literal machinery oiled.
Shiven targets these big races, because it is a matter of survival (as an athlete) for him. The prize money is used for training, food, travel, accommodation and all other incidental expenditures.
Winning or not, has many more consequences than what meets the eye.
Besides T&T, Steadfast Nutrition has been taking care of Shiven's training and race nutrition.
Training With Shiven Aerohawk
Shiven gives us some interesting insights into the training regime of an elite athlete and what's required to be done to reach this level.
His week involves 6 days of training and 1 day of rest. Those 6 days include, 2 days of intervals, 3 days of endurance and 1 recovery ride.
The training is fine tuned as per the upcoming race. When he was training for MTB Uttarakhand, he was training 17-18 hours a week. Which as Shiven says, "is not a lot in terms of what some cyclists ride. But it is good enough for a mountain biker."
Now, thanks to the virus, no one knows when the next race will be held. So Shiven has reduced his training to a moderate 15 hours a week, which is a general preparatory stage, rather than focusing on any particular area.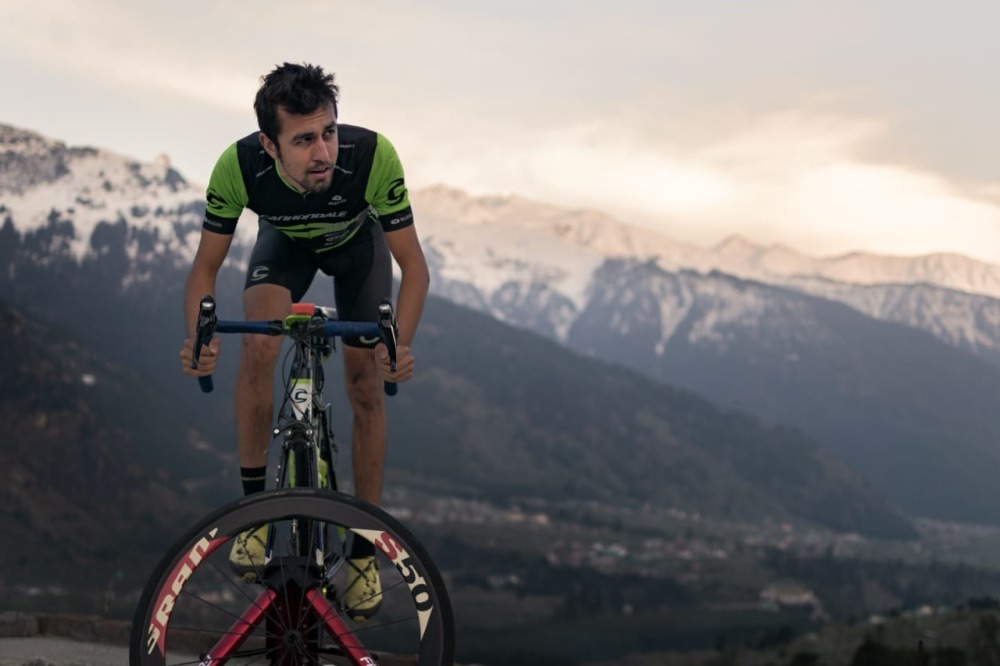 Strength Training
Athletes are prescribed strength training generally during the start of preparation, for example, 20 weeks prior to the main competition. So that the body is ready for the training ahead.
This involved high torque sessions. Basically grinding the gears at low RPM and high power. This anaerobic workout helps in strengthening the muscles.
Intervals and Endurance
As a mountain biker he does a lot of 10 minute intervals, while focusing on threshold intervals.
Most of his endurance rides are around 2 hours. On weekends these rides can even go up to 3-4 hours.
All these numbers of course vary depending on where he is on his training plan and what is he targeting.
When asked about his choice of training, whether outdoors or indoor. It was emphatically the former.
He does all his interval training outdoors and till the lockdown, he hadn't touched his trainer for over a year. Preferring to ride outside, even in inclement weather.
Off the bike and recovery
4 days a week are dedicated to core exercises. An exceptionally important aspect of training which is often overlooked.
Evenings are dedicated to yoga and foam rolling. Both essential to recovery.
As an elite athlete one is pushing the boundaries of training. And as Shiven says, "the harder you train, the more important it is to recover."
The other important aspect of recovering is, "I try at least minimum 8 hours of sleep, if more then even better."
Nutrition
Shiven isn't as serious about nutrition as he is about his training. But he does follow a few general pointers.
A carbohydrate rich breakfast is made up of oats or cornflakes with lots of dry fruits in water. This he consumes a couple of hours before a ride.
Post ride is a recovery shake with a scoop of protein, bananas and milk, which he consumes within an hour of finishing a ride.
The quantity of consumption is based on a simple formula, "1 gram of carbs for every kilo of body weight. And 0.3 grams of protein for every kilo of body weight".
Lunch is plain Jane, rice and dal, dinner is also a simple affair of roti, dal and sabzi.
Barring the scoop of protein, pretty much everything Shiven consumes is what most people eat in their natural diet. One needn't do anything drastic with their food intake.
Han Solo
Even though Shiven shares his apartment with his cycling buddies, Devender and Vijay Prakash, more often than not, he ends up riding solo.
Since each have their own training goals, their workouts differ. Which is why they end up riding their separate ways.
But once in while they do hit the trails together. Because cycling is after all about bonding and being a part of the community!
Hawk like Skills
The above training, recovery and nutrition is common between what a road biker and mountain biker would undertake. But a mountain biker must also work hard on his/ her technical skills. As Shiven said, this was a bit of a mixed bag in Indian conditions.
How much time he spends sharpening his bike skills depends entirely on the upcoming race. For the Asian Championships, which have some seriously technical tracks, Shiven works hard to hone his skills on man-made jumps.
While the trails around Manali afford some challenging riding opportunities, these lack the jumps and drops which a technical XCO course boasts.
Which is why the CFI holds training camps for the Indian team before sending them to the Asians.
For Indian races, Shiven doesn't need to work on technique. Since the races aren't technical at all.
Sometimes, situations arise which pulls you out of your comfort zone as Shiven reminisces, "We went to Iran last year and there were 6-8 feet drops. It was really big and scary when you saw it for the first time. And I never had done any jumping or drops like that. Eventually during the training sessions, I saw some of the other riders doing it on very basic bikes. I found the courage to do it and attempted it and started to enjoy. It's the situation which changes us."
Shiven admits, that he will only start focusing on his technical skills, once he starts racing more international races.
Elevate the Game
2018 was a landmark year for Shiven. He completed his engineering and could put all his energies and focus into cycling.
His resurgence was borne out by three distinct but interrelated elements. He got a coach, a powermeter and started structured training.
A German Sports Scientist based in South Africa, Jarred Salzwedel, coaches Shiven based in Manali, India. All thanks to the power of the internet which has been shrinking the globe!
The term 'structured training' has been oft repeated by road cycling champion, Naveen John (NJ). Shiven took it to heart and says, "Frankly, that has been the biggest change in my performance."
While everyone else was hunting for a job during his final year of engineering, Shiven was hunting for a coach who could help him ride down this path.
While racing in Aravalli Trailhunters community race up Kaladunghi, Shiven realised the benefits of a powermeter and knew he had to get himself one.
Another line from NJ also helped Shiven set up his long term plans, "You got to invest in yourself. You got to invest in your training before you invest in your equipment, bike and carbon wheels."
His improved training and investment in a coach has started paying dividends.
He now is the first Indian to find himself on the UCI podium in mountain biking. A testament to his hard work.
Even when race results don't go to plan because of illness, mechanical or something else. Shiven at least has the satisfaction of looking at his numbers and knowing that he has elevated his game to a whole new level.
In a couple of years, he hopes to significantly better his results at the Asian Championship.
Company in a Rarefied Field
The closer you move to the top, the fewer peeps you will have around you.
On being quizzed about his competition in India, Shiven thoughtfully stated, Kamlesh Rana. The only guy faster than him at the Nationals in February 2020. But he hopes for not much longer.
As Shiven states his goal, "The plan this year is to start dominating the national championships, the way that the top guys dominate the Asians… I want someone to look at the nationals and say this is a level that they would aspire to reach."
The competition is tough, and Shiven hopes to play to his strength. Which is climbing like a mountain goat (hey, we told you at the start of this article, that it best describes him!).
Climbing is his forte thanks to his incredibly lean lanky physique. He weighs in at just 60 kg, even though he is 181 cm tall!
The king of the climb is the King Of the Mountain as per Shiven, "The way I have always raced is that you win on the climbs. That's what I have always been taught. Its engraved in my mind."
Shiven rues the past. Kiran, Devender and he didn't have anyone to guide them towards the Asians and beyond. There was no one to tell them something as simple as, 'get a coach, get a powermeter'.
And even though Shiven is just 22-years-old himself, he is already helping nurture the next wave of talent. He says, "That is what we are trying to do for guys like Adonis. Who have really good potential and are at the right age. If they start going in the right direction now, by the time they reach our age, they will be much further ahead."
Favourites
Mountain bike races in India aren't quite technical and we asked Shiven if any of them stood out. The candid response was an eyeopener.
MTB Kerala is his favourite. Because, "It attracts every year a lot of international competition, there is a lot of prize money."
The organisation and support from the locals is also different from races held in the rest of the country. It is also India's only UCI race currently.
On the other hand he also enjoys all the community races in which there is no prize money. Races like those organised by Aravalli Trailhunters in NCR and Riders Of the Storm in Chandigarh. Because it gives him an opportunity to see the community grow. A community in which he belongs.
He prefers the XCO (Cross Country Olympic) format of racing over XCM (Cross Country Marathon). "I love the feeling of going all out for 1.5 hours", he says.
But he admits, he hasn't really raced a proper XCM race and might reevaluate his response once he has raced a few UCI XCMs.
Road vs MTB
Though primarily a mountain biker, Shiven believes that in India's nascent racing scene, there is scope for someone to race both road and MTB.
So he does!
The biggest difference in road and MTB racing in India, he feels, is the depth of the field.
Just 3 weeks after suffering from a bout of Chicken Pox, a severely weakened Shiven could still manage silver at the Nationals on a mountain bike.
While in road racing, there is a ton more competition. Its a more level playing field, with the competition closer. The road nationals are generally held on pancake flat roads, which isn't to Shiven's strength.
Yet he managed to finish 5th in Bikaner last year in the Under-23 category.
The next day he raced the men's elite mass start as well, even though he was exhausted from the previous day's exertion. He went in hoping to drain every ounce of energy left in him and learn a few tricks of the trade from the best. Experience which he hopes will hold him in good stead later in his racing career.
When the Pond becomes a Lake
"The biggest difference is that in India we aren't scared of making our move. We aren't scared of attacking. We know that the competition is such that, if you are suffering, then so is the other guy. But when you race abroad, they are in their Zone 3 and you have already maxed out. There you aren't racing to win, you are racing to just survive," quips Shiven about his experience of racing in Asia.
Shiven expects things to change as outside experience trickles down to India. 2020 saw the first time that the Nationals had a jump. He hopes that within the next couple of years they will be racing Asian level courses in India as well. Not having technical courses so far has kept Indian riders from performing at the Asian level.
In the Asian Championship course, there are 3-4 jumps each lap. And when you are racing at a heart rate of 180+ bpm, those jumps become an entirely different kettle of fish as compared to doing those same jumps whilst training.
As per Shiven, Indian riders should get used to technical courses before they can compete at the Asian level.
When wearing the Indian tricolour and racing, he feels, "I might not have a good day, but I should give it my 100% when I am wearing the Indian colours."
One of the biggest differences in racing in India and abroad is doing a course recce. While in India, Shiven would just land up at the start line and race. Which he actually did in MTB Kerala and won.
In races abroad, it is essential that you reach a few days in advance so that you can study the course, record it on an action camera and play it back in your mind a million times.
Nepal 2019
The South Asian Games held in Nepal 2019, was Shiven's biggest target for last year. He was aiming for a medal, as it would have been the first in Indian mountain biking history.
But circumstances made things pan out differently.
Shiven was informed that he hadn't made the cut, in the two man team to represent India. His buddies Devender and Kiran would be going to Nepal.
The next day he came to know that two more slots had opened up, for which trials would be held within 4 days.
In those 4 days, Shiven had a bad crash on his road bike and was struggling to hold onto the handlebars. Even with that handicap, he still managed to win the trials, followed by Rajat Pandey who also made it to the Indian team.
Things went horribly wrong for the team in Nepal, when Kiran, Devender and Rajat all damaged their front wheels while their bikes were being transported to the race track. Shiven got lucky, as his bike was unharmed.
The race track was 95% singletrack and Shiven managed to get about 6 hours of practice. The Nepalese riders had closer to 500 hours of practice on that track. They were saving a second on every corner.
Though the Indian lads were fitter and faster in general, they couldn't overturn the home advantage. The podium spots went to the Nepal boys, while Shiven finished 4th. So close to his goal, yet so far.
The XCO course in Shiven's words, "There were sections on that track where you were descending a 20% slope then immediately after a 25% climb. All this while on a singletrack. With a 20 ft deep gorge on one side."
Aerohawk Machines
What's a cyclist without a mean machine? A pedestrian!
Starting with his road bikes. First up is an endurance machine, the Cannondale Synapse. Then there is his road race bike a Cannondale Super Six Evo.
His mountain fleet is made up of the previous gen race bike the Cannondale Scalpel and his current race bike, the Cannondale Scalpel-Si Hi-Mod.
None of these gorgeous machines are stock. All of them have some upgrade or the other.
He has FSA powermeters on both his race bikes, road and MTB. FSA Carbon K-Force components in the cockpit and ESI Silicon grips.
His MTB, like his training, is completely setup for Indian racing conditions. But, "In the next couple of years I plan to slowly move towards the requirements for international races at the Asian level."
Racing the HASTPA boys
A prickly issue in the Indian mountain biking scene.
CFI accredited racers cannot race in HASTPA events, and HASTPA racers cannot race in CFI events. Which forms a parallel world of mountain biking and never the twain shall meet. Or do they? At community races with no prize money, they do get to race each other and we wanted to know what Shiven Aerohawk thinks of the parallel world.
Ironically, Shiven and Devender were the first couple of guys who were disallowed from racing in the parallel world.
Shiven was once a HASTPA athlete, and thought he was the best, only to be beaten by the army athletes at CFI events. It was then that reality hit.
He feels same is the case with the current crop. They only get to race in their closed circuit, without being exposed to the talent of the country. Two things they fall short on, a structured training schedule and a vibrant racing calendar, is what Shiven believes.
After racing and beating the best of Indian mountain bikers, he feels, "Now I can say I am probably the best in the country. But for them, it is a difficult thing to say."
Lockdown Tales
Being locked down and cooped up can have a devastating effect on athletes habituated to spending hours outdoors.
But Shiven surprises, when he says, "I think an absolutely wonderful way to train is having a lockdown in place!"
Having no races to attend, an empty travel calendar, means he can focus entirely on training. There is no hiding in the lockdown, if there is a workout, then do it he must.
It has given him an opportunity to prepare not just for Indian races, but representing the country at international races.
To take his racing pedigree up a notch…
Images Courtesy: Shiven Aerohawk
---
Also read about top Indian upcoming mountain biking talent, Adonis Tangpu and Downhill champ Slade Gomes.