Meet Shivraj Thorat, a 16-year-old from Nashik, Maharashtra. The state which has somewhat become the home of endurance cyclists in India.
On the 28th of June 2021, this young man, went about and did something incredible on a bicycle. He rode the maximum distance ever ridden in 24 hours by a teenager. The previously held record was a formidable 350 km, he smashed it and rode a whopping 455 km!
His record has already been ratified by the Asia Book of Records, and is in process at the World Level.
The Build Up
Such a mammoth achievement does not happen in a day, even though it literally happened in a day.
It started a few years prior. Shivraj like most Indian kids was pampered by his parents and society at large. While being pampered for some time might be enjoyable, it can also make you feel dull and not motivated.
Tired of being comfortable, he one day hopped onto his bicycle and went for a 10 km ride to his village, without telling anyone. That act of defiance and breaking the norm, was enough to rekindle the love of cycling which Shivraj had.
He convinced his friends to join him on bicycle rides at least twice a week. But that was in vain, as nobody was willing. He got a fancy 'gear cycle' to ride to school, which in his hometown was a rarity.
The biggest impediment to his riding was being slightly obese at that point of time.
Finding Motivation
Later he joined a local cycling club and started riding with them. Being young and slow in a group where everyone was twice his age, was not conducive. They asked him to not ride the longer routes with them because he wasn't quite capable.
Shivraj went home and cried. His dad agreed with what those cyclists had said, and that angered him even more!
Which was enough motivation to stop him from riding with the group. Slowly and steadily, he got stronger on the bike. Shivraj went riding with complete strangers of another city, he upped his game and managed to ride 260 km in a day.
His dedication did not go unnoticed and some of the cyclists from the same club, convinced him and his dad to go after a cycling record in his age category.
From thereon started his journey to break the 24-hour record. There were doubts in his mind and those of the people surrounding him. He remained glued to his path as he just kept reminding himself to NOT GIVE UP.
Along the way he had to not just train hard on his bike, but also give up things he liked. Shivraj could not eat just anything he wanted, he stopped eating fried food and going out in the evenings to meet friends and relatives. Early to bed and early to rise was the only way of life he knew.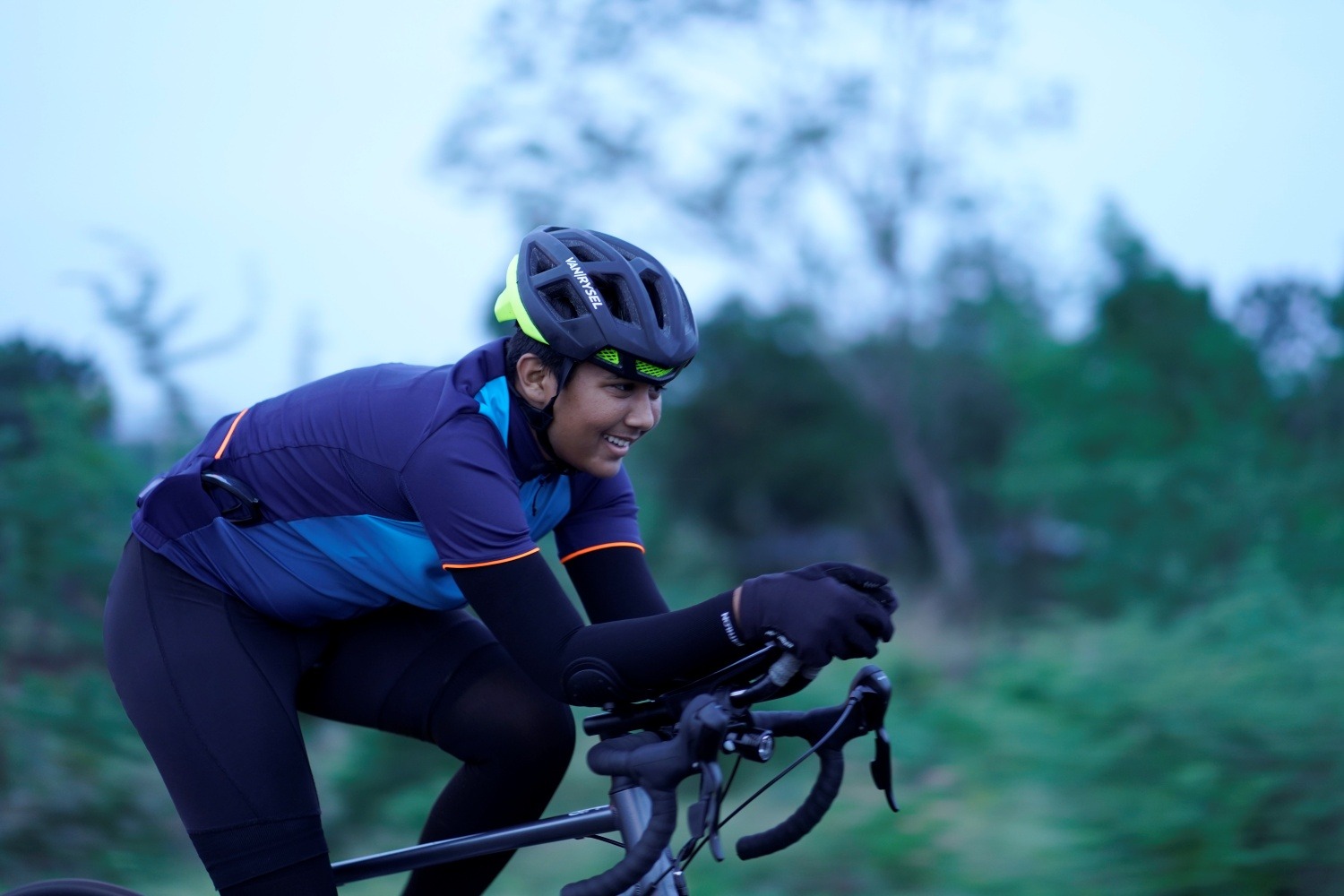 The Ride
The night before the big ride, Shivraj got no sleep because of anxiety. It was an early morning start and at the crack of dawn, the wheels turned. With 15 friends in his crew, he went after the record. The terrain for the ride was rolling through the Western Ghats.
Just 30 km into the ride, Shivraj suffered his first puncture. Not the best way to begin, but he didn't let that deter him and remained resolved to fight to the last minute.
In between he also suffered from fatigue as his arms, neck and back were hurting. The hardest section of the ride started post 250 km. The climbs seemed never ending and the gradients incredibly steep. He had to dig deep to keep going for the last 200 km.
And sweetly, the most memorable moment from those 24 hours, was when Shivraj's dad gave him a motivating hug. That is a memory which he will live with forever.
With this incredible launchpad, Shivraj hopes to go road and endurance racing in the future. And keep getting stronger and better on the bike. We wish him loads of love and luck in all his future endeavours…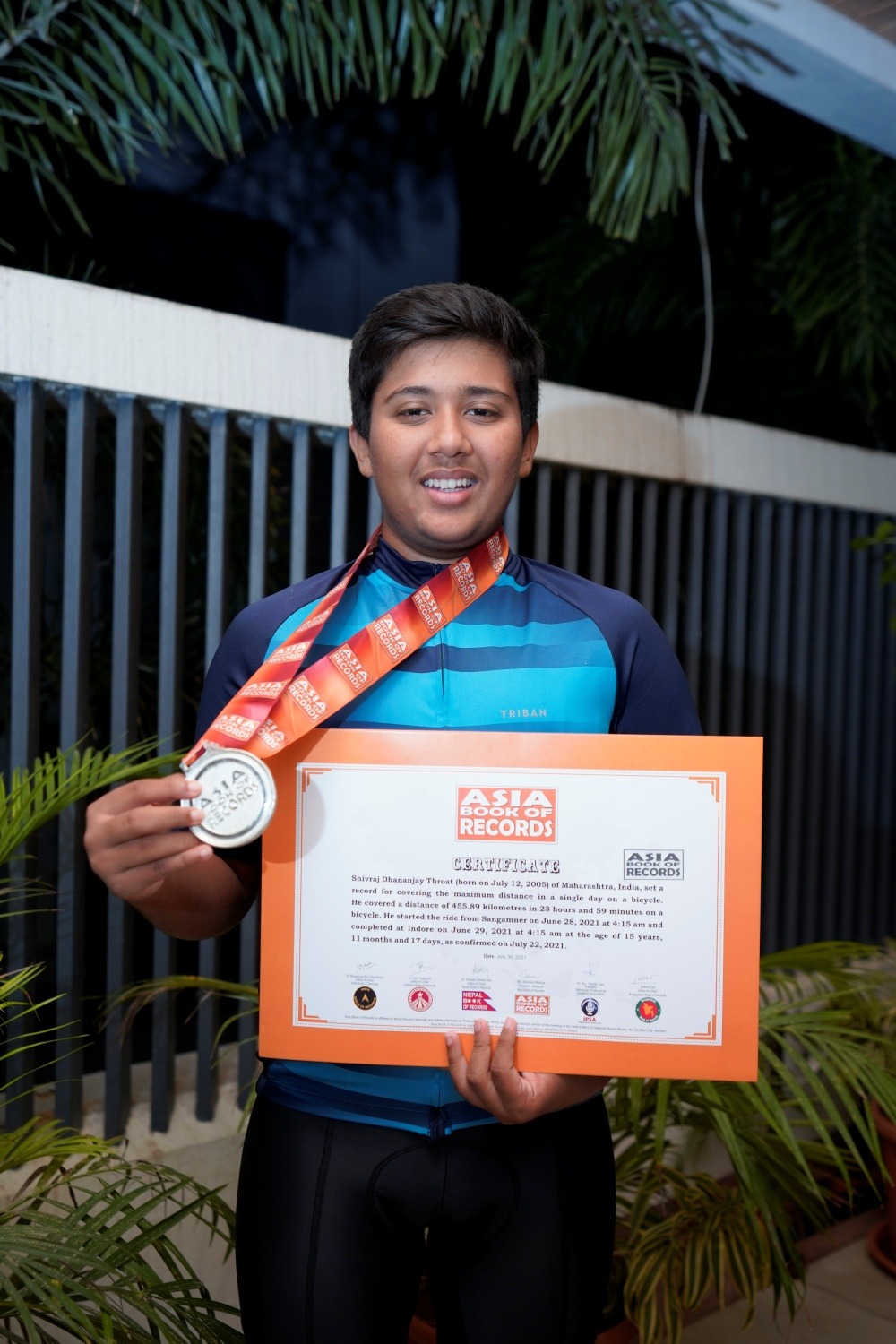 You can follow Shivraj Thorat on his Instagram Page.
Photos: Mayur Talla/ BTE Studio
---
Also read about the other cycling teens we featured… Karen Marshall after winning Gold at the MTB Nationals, pre-teen 11-year-old Agasthi Chandrasekhar and Adonis Tangpu, MTB National Champion.