Hyderabad boy, Prajwal Pingali, raced at Temghar MTB Challenge 2020 in Maharashtra, and also captured some stunning shots from the downhill race there. Captions and lucid explanations by ace downhill rider Slade Gomes!
---
2019 was the first edition of the mountain biking festival near Pune, Maharashtra. This year it got bigger and better and Prajwal from Hyderabad went there to race and shoot Temghar MTB Challenge 2020.
Temghar MTB Challenge 2020
In the above Instagram post, you can see Prajwal sliding it through the XC race at Temghar on the way to a podium!
Confucius says, "spend as much time on social media as you do on the saddle of your bike". Haters will say this quote is made up!
Ignoring the authenticity of the above quote, it is true that social media plays a vital role in our modern everyday life. Including for us cyclists. There are umpteen cyclists who have gained immense knowledge from the inter-web.
Social media also helps connect cyclists across geographies. You get to know the action happening in different corners of the country and even what's happening in your backyard!
Prajwal also found some cool racing action on Instagram. He heard about the Temghar race from his online cycling friends who were helping build the race track.
He made a beeline for the race from Hyderabad. And landed up for a weekend full of adrenaline packed fun at Temghar.
As Prajwal said, the place was brimming with excitement and everyone was stoked to be there. Ready to have a good time at the camp and the race.
Racing at Temghar MTB Challenge 2020
Prajwal was happy to find a high level of competition in his race category. With Vitthal Bhosale, Maharashtra state champion present, it was top level talent at the venue.
There isn't a lot of elevation change in the Temghar course, but it is technical, hard and fun, as described by Prajwal. He enjoyed it to the point where it is currently his favourite race course!
He Shoots, He Scores!
Prajwal didn't just score a podium on his bike, he also won gold with his camera. He was kind enough to share a handful of his captures for our viewing pleasure.
The Temghar circuit isn't just great for racing, it is also a photographer's paradise. There are a bunch of locations which allows an adept photographer to capture action filled 'postcard' shots.
Photos which you will be happy to print and send to all your cycling friends on Valentine's Day!
Photography also works as a break for Prajwal. It gives him something to think about rather than just going for a race with the intention of racing.
It gives him a chance to capture riders at their peak and showcase it to the world.
And we are extremely grateful, that Prajwal is intent on sharing quality content from the Indian cycling scene.
Downhill Vs. XC
Prajwal found a considerable difference between downhill and cross country mountain bikers.
While the XC lads are focused on their power, cadence and HR numbers to climb faster and better. The DH boys just don't care!
Saving weight of both the rider and bike is of paramount importance to a XC racer, every bit increases the chance of winning. The downhill gang only need skill and a massive pair of cojones to ride the course!
There are two questions which the downhillers have. "Can your bike ride DH?", "Can YOU ride DH?". That's pretty much it!
As Prajwal says, "to win a race they too will go stat crunching but more often than not it's just about riding your bike as fast as possible."
With that much inspiration around, Prajwal rode the DH track a couple of times. Even though the big jump scared the life out of him! Even riding parts of the trail at night to add to the fun.
The highlight of Temghar MTB Challenge 2020 was watching and capturing on camera Abhijeet Gharad's massive freeride drop after the race. It was a tense moment for all the onlookers as well. But as Prajwal says, "He is a true madman!"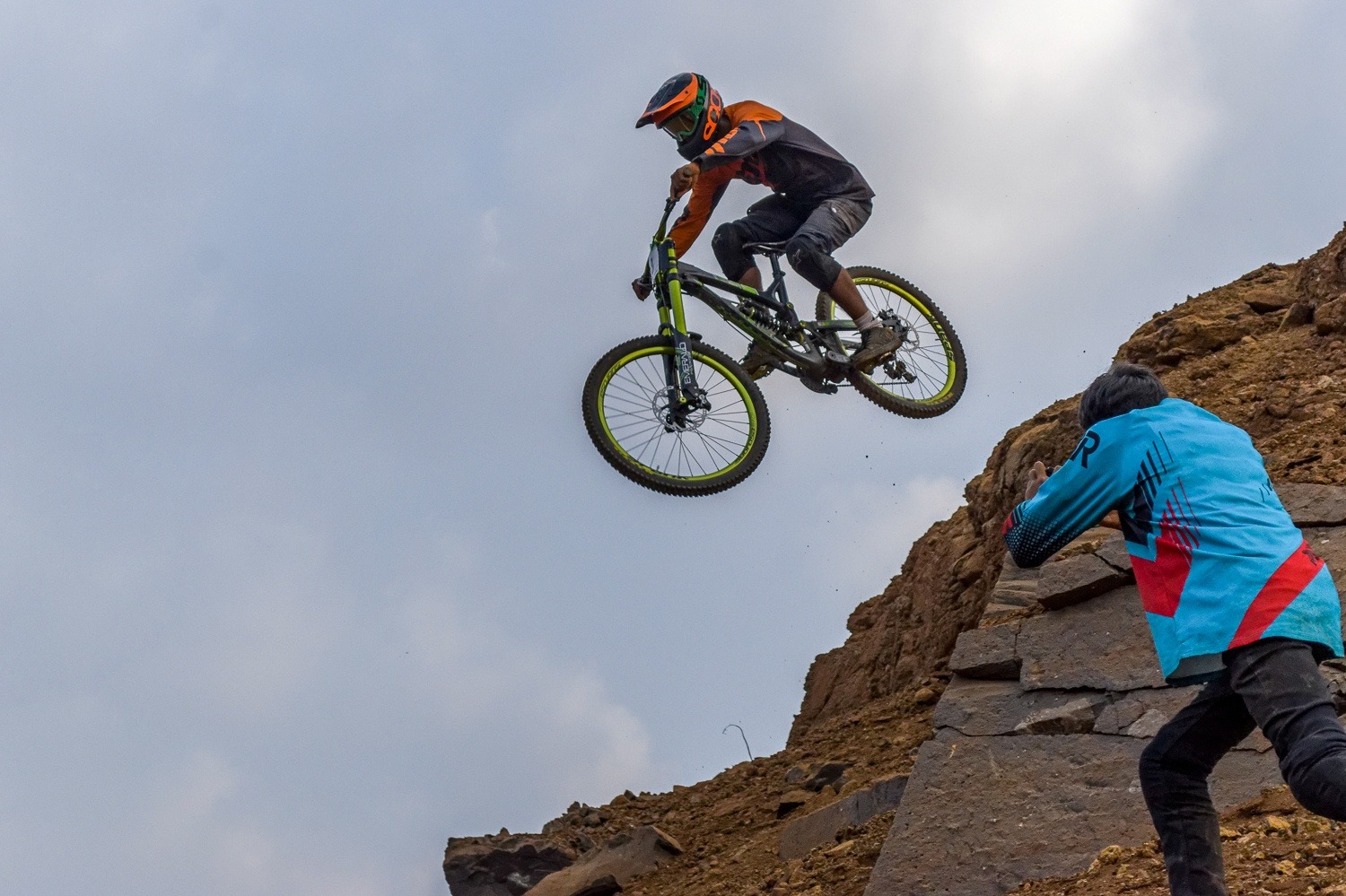 Downhill at Temghar MTB Challenge 2020
Below are a series of photos clicked by Prajwal at the big jump on the downhill track.
Commentary by Slade Gomes, Indian Downhill Champion, as he explains the finer nuances of DH riding for us mere mortals. The technique employed by riders of varied skill and experience to get through the jump safely and fast.
Thanks to Slade for taking time out to explain downhill riding to us from the other side of the globe!
Rider 1: Illyas Kapadia
He is relatively new to riding so this big drop is new to him. However his attempt is really good!
He has approached the drop well and has used the correct basic body position of taking off flat with both wheels almost at the same time. But his approach isn't perfect.
He has stayed low and avoided over speeding into the drop but in the bargain he has ended up losing a little front end speed and has not held the front end up.
Which is why you see him stooping down towards the second half. This is okay for this jump, but it can be taken smoother, without landing the front end so early.
Rider 2: Rishabh Gowda
He seems to be approaching the drop fast.
And to counter that, with his experience he is letting the bike go down and trying to make contact fast. And also keep his body up to maintain balance and not go too ahead of the safe landing or land front end down.
Rider 3: Gary Beelen
He has approached with confidence.
The bike is facing upwards at the start, which is great for holding the bike upright and balanced in the air. You can see that he is able to air the bike with great body position and is headed for the landing with both wheels level.
Great way to jump.
But since it's a drop it is not the fastest way around. It will give him stability and good control in the air but he may lose time by not making contact with the landing fast enough.
Rider 4: Abhijeet Gharad
Perfect demonstration of how it can be done.
A good start to the drop. Bike is facing up, but not too high. He airs the bike with both wheels at the same level and starts to point the bike downwards as soon as he takes off.
This gives him an equal landing on both wheels, plus he is facing the bike down so he can make contact fast enough.
It's a balance between control and speed.
Rider 5: Pranay Thorat
A demonstration of how to send it big.
It's a drop but he has hit it like a jump. Facing upwards and flying up and in front.
It's the best way to get airtime and style but it's the last thing to do in a race. Since he will lose a lot of time in the air and he will also land too far ahead. Causing his bike and suspension to take hard hits, making him unstable.
Rider 6: Virendra Mali
Virendra airs the bike with a perfect start to the jump.
He is tucked in and ready to land with both wheels.
He has also entered fast. But he could have been pointing the bike a bit down like Abhijeet to make it a perfect one with good entry speed.
Rider: Rishabh Gowda
A great way to save airtime is to scrub the bike like Rishabh is doing.
The best way an international rider would ride it is:
Enter really fast
Stay low and tucked
Scrub the bike really hard
And cut out all the extra air time on that scrub
Rishabh practising the scrub here is a great display of style and experience. But we Indians still have a long way to go before we can properly use the scrub technique in racing.
Rider: Abhijeet Gharad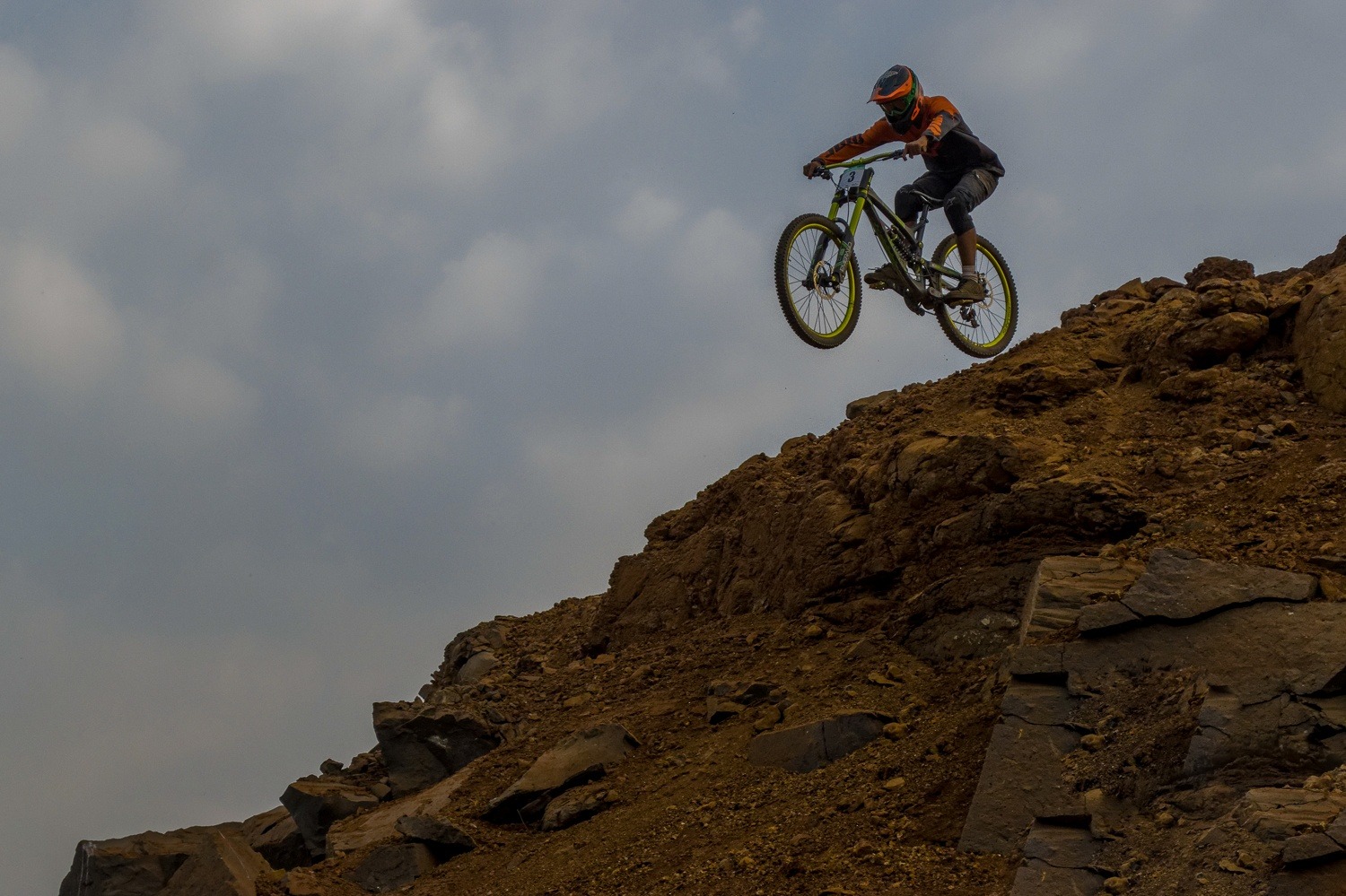 Abhijeet is going for a big time drop.
With a slow and cautious take off. Which is ideal for such steep drops.
This is a demonstration of freeride biking. Not downhill mountain bike racing.
It's a great way to test your skill and your fears! And have fun on your bike…
Viddy…
Check out this video by Saddlestories
---
Let us know if you enjoyed Prajwal's photos and Slade's descriptions in the comments or on social media!
Click here if you would like to read Downhill with Slade Gomes and here if you would like to read about the GHV Endeavor pump track championship near Mumbai-Pune.