The 5th Day from Dharanghati to Jeori on the 90 day ride through the Himalayas, covering Spiti, Zanskar, Batalik, Ladakh, Nubra, Shyok, Pangong, Hanle, Tso Moriri, Garhwal and Kumaon!
---
Day 5: Dharanghati to Jeori
The haunted rest house of Dharanghati wasn't filled with ghosts as much as it was filled with memories and stories of bygone eras.
From the premises the snow clad peaks of Shrikhand and a few others were visible. Unluckily the clouds covered the peaks, with a little snow peeping through every once in a while.
Being at the top of the world is sublime and seeing everything below is an experience which is both humbling and adrenaline pumping simultaneously.
To get phone network one needed to walk half a kilometre from the rest house and face the other mountain. The caretaker and I walked down together so that we could connect with the outside world!
The caretaker was from a village called, Kinoo, 19 km away. This was a massive distance in the mountain setting and he went home every couple of months because it took so long! 19 km for us city folk in the plains is nothing, people in metros commute that distance to work every day. Time, speed and distance are on a different plane in comparison to the plains.
Leopards and bears are known to dwell in the surrounding forest. And the caretaker didn't allow me to leave early in the morning. Only after a couple of jeeps had passed, then he waved the green flag for me! He had cooked me breakfast and didn't want me to become breakfast for a hungry cat.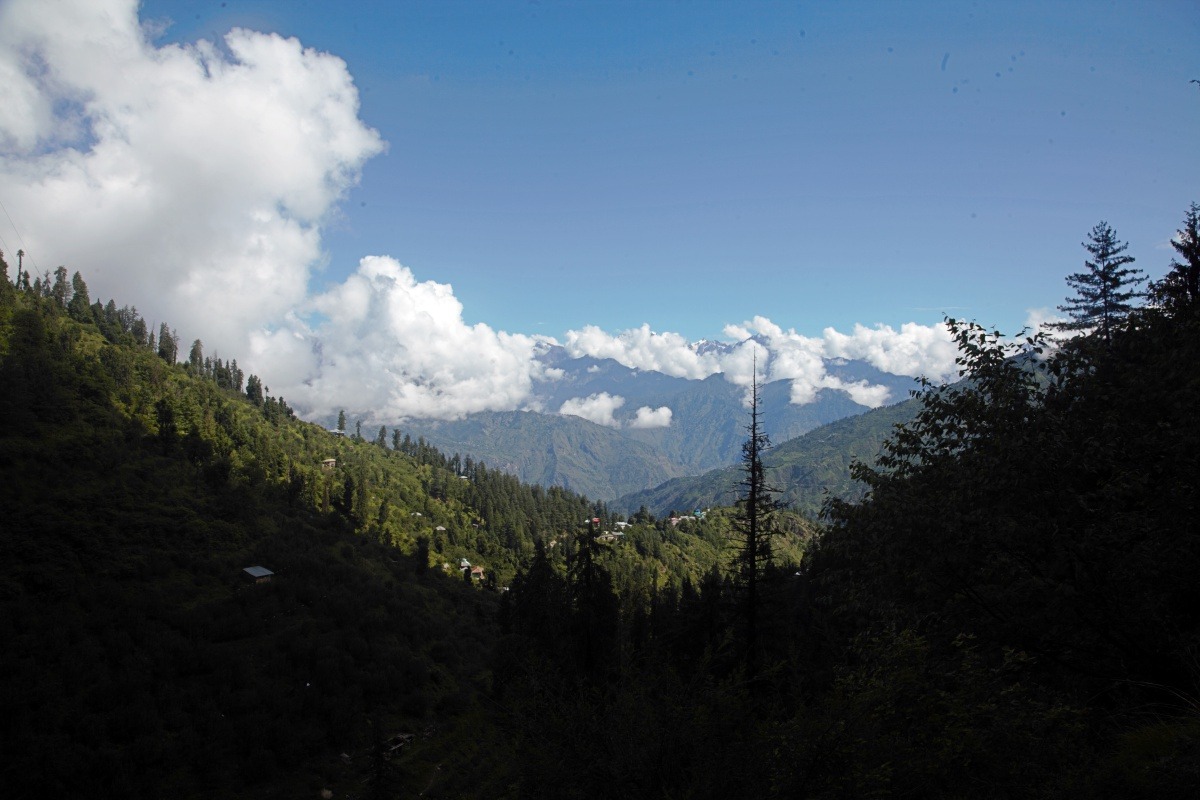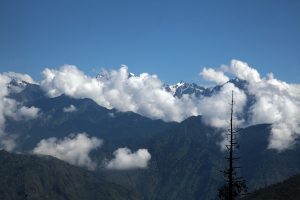 The Descent from Heaven!
The descent was even steeper than the ascent of the previous evening and I was riding downhill at 5 kmph! A mite faster than walking uphill!
The first 9 km to the village of Munshi was on steep mud and rock filled paths after a heavy rainfall. The slush filled roads, saw my wheels sliding more often than rolling. The hairpins were tight and needed a lot of pussyfooting to navigate. At such times, touring doesn't make you feel like a hero, it is a reminder, that you are a weak human in comparison to nature.
The speed (or lack of it!) I was descending at, ensured that if any animal attacked, I stood no chance.
On the way I met the owner of an apple orchard and he told me something rather interesting. The orchards on the west of the pass bear fruit two months after the east. Even though the two are separated by a few hundred metres as the crow flies. This is nature's way of ensuring that produce will not go to waste.
At Munshi I got onto an asphalt road going downhill and it was fun flying down at speed on practically empty roads. I literally descended from a pass at 17 degrees Celsius to a river bank at 35 degrees in the town of Jeori. Needless to say, Jeori for all practical purposes felt like hell!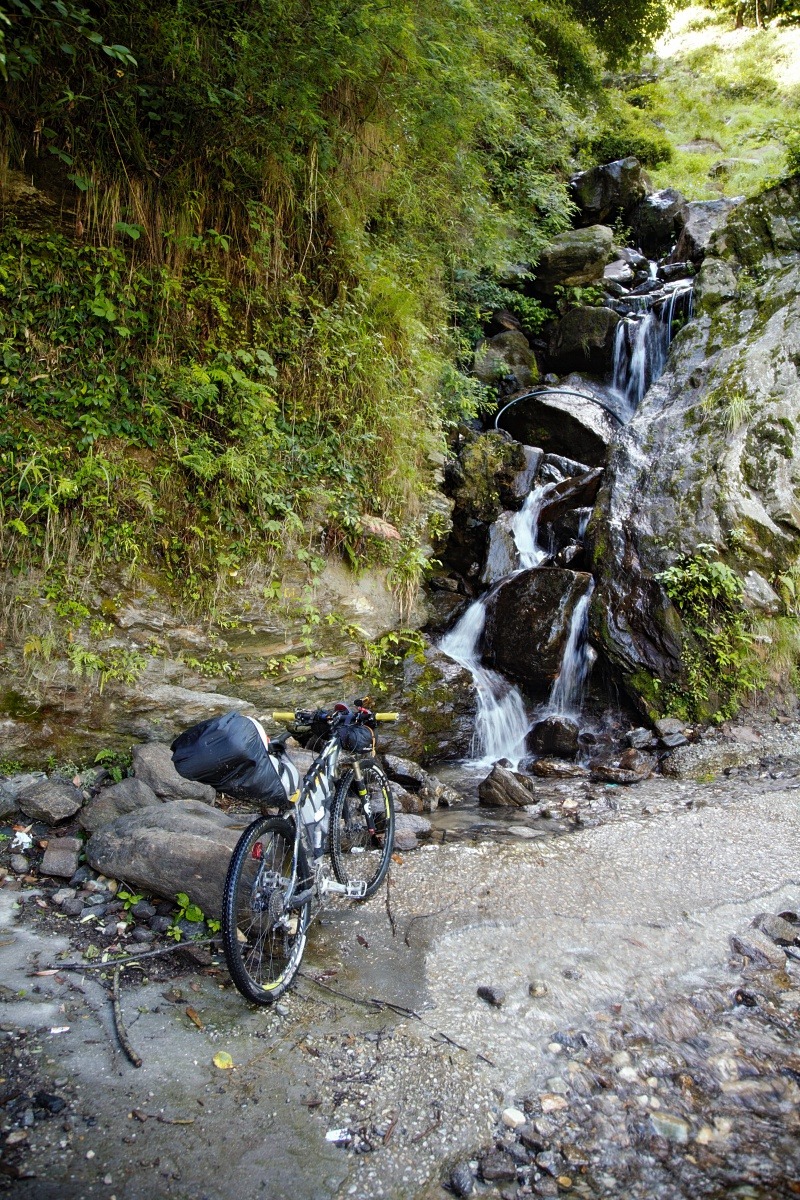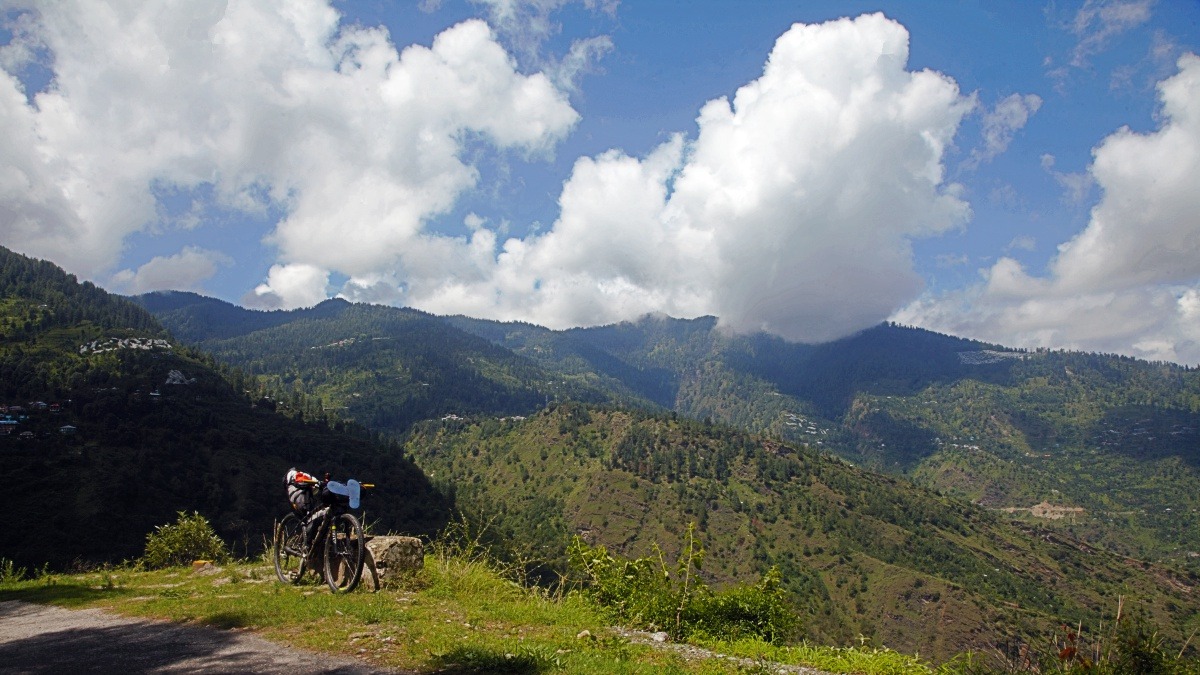 Jeori = Hell!
Jeori is a nondescript town on the banks of the Sutlej.
There I was to meet Si. Yes, he had managed to get his bike fixed, return by bus and ride the last 25 km to Jeori. He didn't account for the heat and ended up taking 5 hours to ride 25 km on relatively flat roads! He wasn't used to riding solo. As he realised, it is far more difficult than it appears.
I waited a couple of hours for him to catch up, but he took his own sweet time. Time which I put to good use by getting to know the trade routes of the town and surrounding area.
He was mentally finished when he finally reached. He could barely put together coherent sentences. In the condition that he was, progress was impossible. As an impromptu decision we found accommodation in Jeori itself. Not the prettiest of places to spend the night in, but one needs to compromise at times. Compromise is a necessity of travel, as it is in most things of life.
Our hotel was on top of a hill and we needed to carry our loaded bikes up three flights of staircases to get to our room! A game of chicken enthralled us as we sat in our ivory tower.
A military establishment across the road had the cook running around the place in hot pursuit of a chicken. Which we assumed was for dinner! If he didn't catch the chicken, the commanding officer would have had him plucked and roasted instead! What came first, the chicken or the egg? I don't know, but the soldier came last for sure!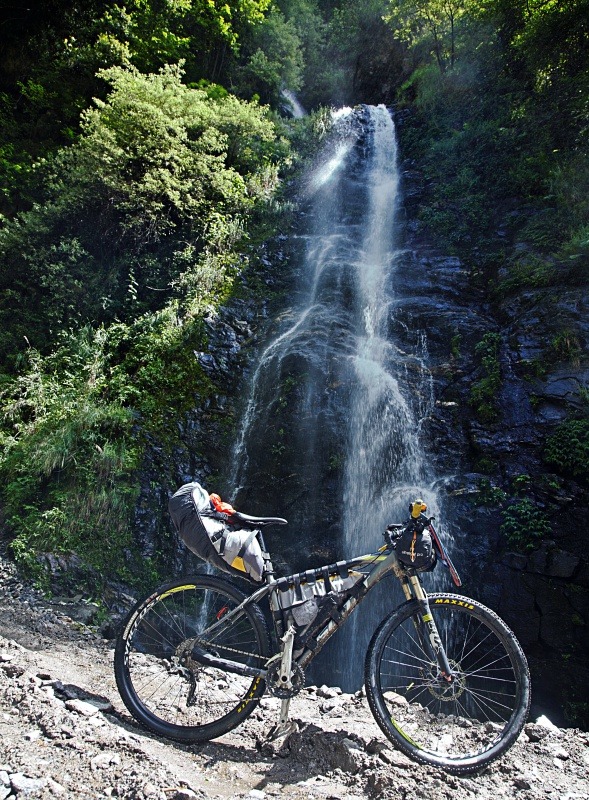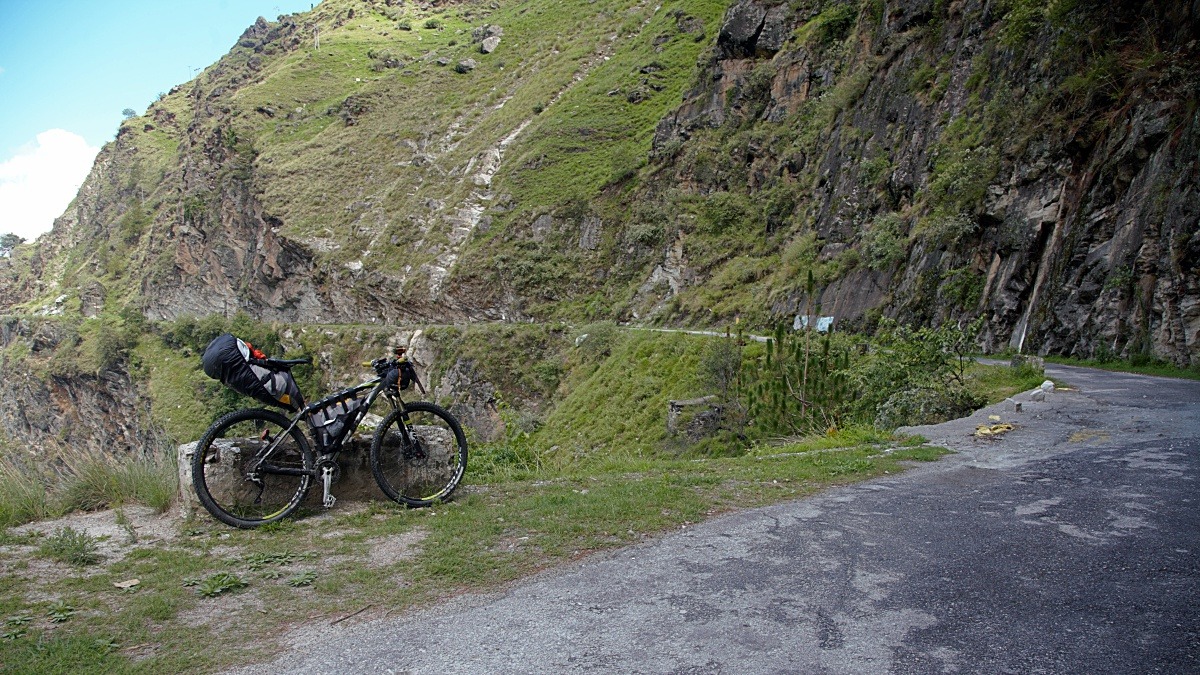 Route Profile
The road going down from Dharanghati Pass is through thick forest with known movement of animals. It is a dirt road, which requires caution for a loaded cyclists, especially in the monsoons, as the slush can be inches deep. On the second half of the descent, you pass Dharanghati village before finding tarmac at Mashnoo.
From Mashnoo it is downhill on tarmac till the turn off for Sarahan. At that point one goes straight to Sarahan and the Bhimkali Temple there, or left towards Jeori. A bridge on the main Jeori-Sarahan road collapsed a few years ago and is still under construction. As such one needs to take a diversion which is in terrible condition. This deviation hits the highway a couple of kilometres past Jeori and you need to turn back for Jeori or head straight for Tapri.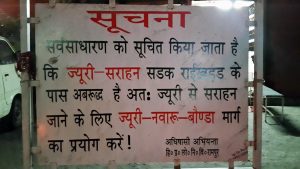 Expenses
Food for Two 450
Stay for Two 600
---