A week since the start, two exhausted cyclists took the easy path from Kalpa to Spillow on their 90 day ride in the Himalayas, covering Spiti, Zanskar, Batalik, Ladakh, Nubra, Shyok, Pangong, Hanle, Tso Moriri, Garhwal and Kumaon.
---
Day 8: Kalpa to Spillow
It had been a week of nonstop riding. Fatigue had crept in. The plan was to continue along the old HT route via Jangi, Akpa, Pangi, Rarang and finally descend to the National Highway 4 km before Spillow.
There are times for being gutsy and times when one must accept the law of nature.
Kalpa
In Kalpa it rained the entire night and wouldn't stop even when it was time to leave. The rain forced our hand and made us change our plan. Rain increased the risk of landslides along the dying old road. A risk which wasn't worth taking in the circumstances.
Thus our path was charted anew as we dropped down the hill from Kalpa to river level.
As we were about to leave, Si's front tyre had a puncture and we went about changing the tube, since the old one was completely slit.
Midway we stopped at Reckong Peo, Si was in search of a pair of gloves after his Jeori incident and found a cheap pair of Monster motorcycling gloves, which turned out to be more uncomfortable than no gloves!
Highway
Once back on the highway the temperatures increased along with traffic. Fortunately a lot of the traffic doesn't go beyond Kalpa, so we were luckier than our previous innings on the highway.
The asphalt condition deteriorated as we progressed, what with the mountain falling off a cliff every once in a while! There is constant construction on this stretch, as the road is being widened. Which makes for a dust filled journey!
The promised rain didn't come and I was kicking myself for not taking the high road. Akpa has a check post where Indians need to get their names entered in the register while foreigners need to show their Inner Line Permit (ILP), one can find services in Kalpa which gets the paperwork done for foreigners.
At the check post, they write down the vehicle numbers and the policeman on duty was in quite the conundrum as what to note down for our cycles!
The slow progress gave me ample time to stop and stare longingly at the high road. A bittersweet decision. I hedged my risks, but ended up with the short end of the stick.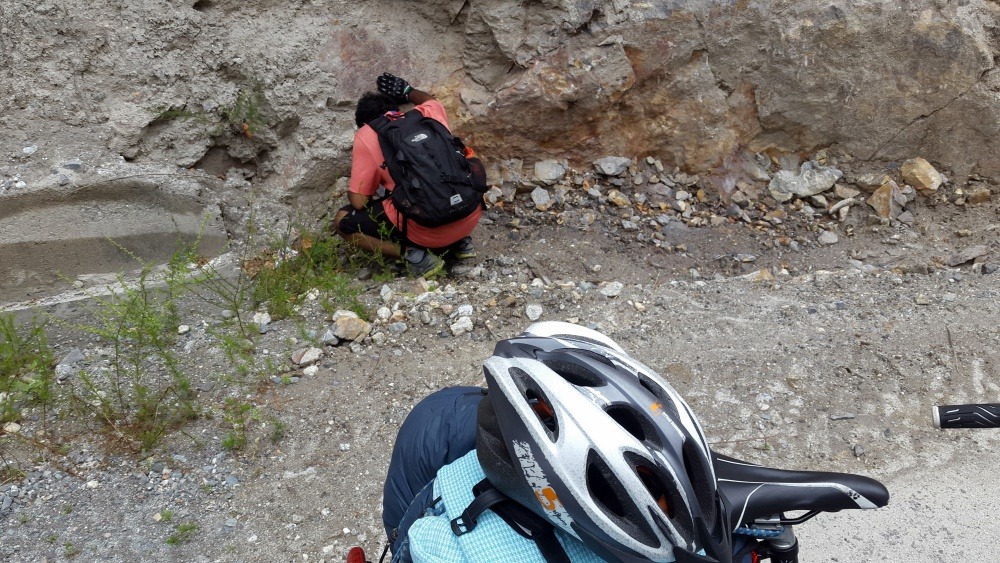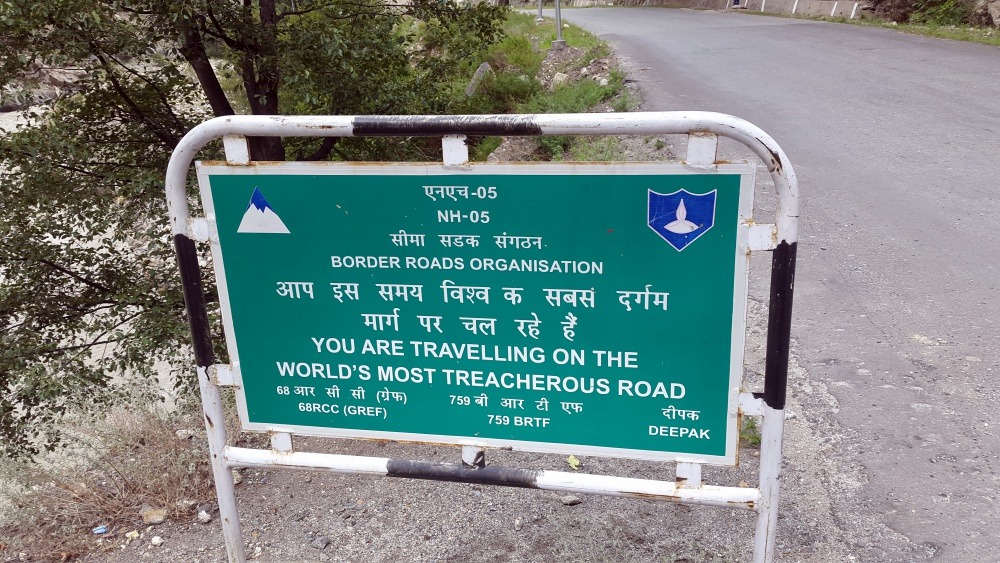 Spillow
Spillow is a tiny town on the highway with nothing much of note.
Yet the hotels offered us rooms with a view of the river. The very same river we had been riding alongside for the past week! A river which was so muddy in the monsoons that it wasn't worth looking at. And they charged three times the usual rate for such a view.
Clearly hoteliers of Spillow were smoking something strong!
In a weird coincidence, as we ate dinner, a live cricket match was being telecast on the television. India was playing somebody. 6 years ago when I had stopped in Spillow for lunch, a live cricket match was being telecast, with India playing somebody. Come to think of it, not much of a coincidence, considering the Indian cricket team is almost always playing a match. Big money it is!
Route Profile
The road from Kalpa to Reckong Peo and then to the river, does not require even a single pedal stroke. You go down down down, till you reach river level. Then the road is level.
Food and accommodation are available at Kalpa, Reckong Peo and Spillow. Peo has a small market, so if you require something, chances of finding it there are high. After which there is not much available all the way to Kaza. So stock up!
The road is flat'ish' till Spillow, since you are riding along the river constantly.

Expenses
Food for two 750
Stay for two 650
---