On the 48th day we cycled from Leh over Khardung La to reach Khardung Village on the other side after dark! This was part of our 90 day Himalayan ride covering Spiti, Zanskar, Batalik, Ladakh, Nubra, Shyok, Pangong, Hanle, Tso Moriri, Garhwal and Kumaon.
---
Day 48 Leh to Khardung
D-day. Time to hit escape velocity and climb one of the highest motorable passes in the world.
Preparation is Key
Mithun joined us for the climb up magic mountain.
We woke up on time, got ready on time and even breakfasted on time. A record of sorts. Then Akshay started packing his bike and it looked like another disaster waiting to happen. Nithin helped him pack, Sumit helped with breakfast, Shweta roasted peanuts for us and Ashish gave us advice for the route. The four of them practically threw us out, ensuring we left on time.
Once out of the gates, Akshay took off like a scalded cat, while Mithun and I chatted our way out of town. By the time we hit the highway, Akshay had disappeared from sight, backwards! After his initial sprint he trailed us by 10 minutes. It was a long climb, slow and steady was the order of the day.
Mithun and I soldiered on. Akshay would speed up and slow down at irregular intervals. We saw another loaded cyclist ahead of us who was slower and we gradually reeled him in. Then we stopped for multiple photo breaks and saw that cyclist disappear over the horizon.
As we neared South Pullu, a Japanese cyclist passed us. He had rented a bike in Leh and was riding up. The correct way to do things, unlike the idiots who go up in cars and roll down the mountain!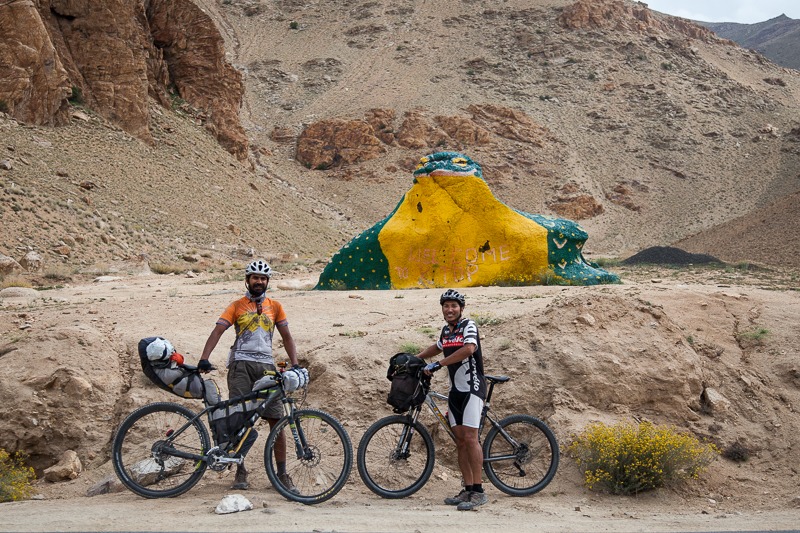 South Pullu
When Mithun and I reached South Pullu, Akshay hadn't been spotted for a long time. We waited at the dhaba for him and after half an hour we saw him pushing his bike to the checkpost. We didn't need to ask, we knew we were in trouble!
Akshay had cramped up while climbing to South Pullu and was in considerable pain. We ate, drank and rested there in the hope he would feel better. But that wasn't to be. He started looking for alternatives, return to Leh, ask for special military permission to spend the night there or hitch a ride to the top.
After an hour long wait he packed his bike onto a jeep. In the meantime we met a super fit cyclist from Bombay, Kabir, who was there to participate in the Himalayan Ultra 630 km race along with Sumit. Fortunately he was not on a cycle and we were left with our egos intact!
As we were leaving, one of the Maharashtrian boys from the previous evening reached. He gave us his extra weight to carry, basically all the dry fruit and chocolates he had. Luggage we had no problem carrying!
The Journey Starts Midway
After a two hour delay we left South Pullu for the second half of the climb. The tougher half, because you already have 900 metres of climbing in your legs with the same amount to go. The air is thinner with less oxygen and to top it off the tarmac turns to rubble for the last 10 km. Temperatures plummet.
After a point, Mithun and I were stopping frequently to hog on nuts, dates and chocolates. That took care of the physical exhaustion, for the mental we sang songs. Horrendously! We perverted every song we sang. The highlight being…
When we stopped for a pee and needed tweezers to pull out the shriveled with the cold little fellow down there, we sang in unison, "Nunni badnam hui, Khardung La tere liye".
Singing, dancing and eating we neared the top, where Mithun pointed out a block of rocks and said that is the top.
Being his third time climb Khardung La, I believed him and paced my climb accordingly.
We reached that point and it was still a kilometre and a half to go. I bonked instantly. Energy sapped completely, with nothing left within.
As a tourer, pushing my bike isn't something to be ashamed of, but Mithun didn't allow me and made sure I pedalled to the top. The last half kilometre took 25 minutes and I was famished.
A big mistake I had made was to eat only a Maggi at South Pullu, ideally I should have eaten a full lunch. The effect was telling as we neared the finish line.
Khardung La
The sun set as the temperature plummeted, ably supported by the gusting wind. We reached Khardung La shivering at 7 pm. There was not a touristy soul up there, everyone had already left. Only military presence.
Mithun and I clicked a couple of pictures, pulled on our windcheaters, bid adieu and rushed downhill in opposite directions. Mithun heading back to Leh, while I moved to Khardung Village, where Akshay was waiting for me.
What Goes Up…
The descent was insane in fading light on bad roads. The cold was harsh enough to not allow my brain to work properly and I went down with my red tinted shades on. Barely anything visible. I realised my mistake when the oncoming headlight of a jeep blinded me and I wondered why the headlight was red in colour!
I slowed down drastically, yet managed to whizz through the village of North Pullu fast enough to not see the checkpost and scare the living daylights out of some unsuspecting dogs.
As I struggled downhill, a cabbie caught up with me and tailed me for 15 km, showering me with the power of his car's headlights. He didn't overtake me, rather stayed a true guardian angel.
As a tourer I don't believe in pedalling downhill, it is against the laws of the Velo Gods. But with the cabbie hot on my tail, I pedalled hard, my heart bursting in my chest. Going as fast as I have ever gone on a cycle. The wonderful driver didn't overtake me till I saw Akshay at a dhaba and stopped.
A big thanks to that awesome man who saved my bacon from getting toasted!
Finally!
Along with Akshay was one Mr Gupta on a motorcycle. He was kind enough to escort us to the centre of the village in search of accommodation. The automobile was once again slower than the cycles. Sensibly, I removed my shades and switched on my headlight.
Another error for the day was not checking the headlight holder. It was loose. A bump later the light was pointed straight at my eyes rather than the road and blinded me for a second. Enough to send me inches close to the rock wall at 50 kmph. Luck saw me swerve and live to tell the tale.
At a village guesthouse we were accompanied for dinner by Mr Gupta and two German boys on motorcycles, who didn't know how to ride!
As I slept off I thought about the mighty Khardung La. Possibly one of the easiest passes I have climbed till date. Though I got lucky. Excellent weather, company and acclimatisation made a long and arduous climb feel like a walk in the park.
Route Profile: Leh to Khardung
The climb to Khardung La from Leh is a gradual but continuous climb. There is food available at South Pullu, where your permits will be checked as well. Tank up on food and water there, since a long climb remains even after that. Start as early as possible from Leh, to reach the top of the pass before dark.
The weather can change suddenly at these altitudes, so you want some spare time in hand. If there is slightly bad weather in Leh, it will be horrendous at the top.
After Leh, the first bit of accommodation you will get is at Khardung Village on the other side of the pass.

Expenses
Stay for two for three days 1390
Food for two 150