A holiday from the ongoing vacation! Our stay in Leh got extended, as we spent another week doing nothing in this mountain city. This was part of our 90 day ride in the Himalayas covering Spiti, Zanskar, Batalik, Ladakh, Nubra, Shyok, Pangong, Hanle, Tso Moriri, Garhwal and Kumaon.
---
The Week That Wasn't!
Day 41
Mithun had been threatening to leave for Batalik for three days; we successfully delayed him. Even our wonderful charm couldn't hold him back any longer. He left late afternoon after once again being distracted by Slovakian and French women!
The evening was spent chilling with Shubha and her friend Jeevan at the café. There we were joined by the orange team who were on a shopping rampage in preparation for their trek to Markah.
The excitable young boys went to town and bought everything they didn't require for the trek! Including pasta and poha, neither of which they knew how to cook.
Day 42
Early the next morning we saw off the flying Dutchmen, their bags bigger than them. Max and Bart had reached Leh after us and were leaving before us!
Jeevan and Shubha had finished their treks and were to return to Bangalore by flight. The two of them offloaded their baggage and handed us all the chocolates, dates and other goodies along with fantastic advice. Befriend trekkers who have finished their trek, you are liable to be blessed with lots of free food!
In the dormitory there was a French guy who had his laptop open and was busy taking down notes on a piece of paper. We wondered why would anyone work so hard on a vacation and asked him what he did for a living.
He was taking notes from the Internet on how to ride a motorcycle. He had never ridden a geared motorcycle before and was going on a ride from Leh to Nubra and Pangong. A considerable feat and something we only hoped he completed safely.
Bicycle Rental Business
Jeevan wanted to rent out a bicycle for a ride to Spituk and we went to Himalayan Bikes to pick one up for him. There I learnt something terrible.
There are people who rent out cycles from Leh. Drive to Khardung La and coast down on their bikes without working a single muscle. These people will surely feel the wrath of the Velo Gods when their collective butts hurt!
As I waited at the bike shop, I saw a cyclist pushing his bikepacking setup through the market. I ran up to him and got to know that he was Sudhanshu, Akshay's riding partner from Zanskar. Also the guy who had been feeding information to Driftjockey about the road conditions to Shinku La. A small cycling world it is.
He was in search of Zaltak and after helping him find the place, we did a quick ride to Spituk Monastery and the war memorial there.
Spituk Monastery
Akshay, Jeevan, Sudhanshu and I rode to Spituk together, enjoying the downhill. Little did Jeevan realise the climb that awaited him on the return leg!
The monastery was a nice ride amid pretty views, but the war memorial left me aghast. One has to pay to enter the memorial. It is ridiculous that people are being charged for paying their respects to the heroes of the country.
At Zaltak there was another surprise. Thomas was back with a bang and a stomach bug as well. He looked like shit, well that was also his problem! He had barely eaten in the previous couple of days and was laid up in bed. We offered him chocolates, of the non-swiss variety to cheer him up. It didn't quite work though!
Metta Café was once again the hot spot for all the mad hatters. I met another La Ultra participant from Bengal and Avik, a cyclist from Calcutta who was riding the perimeter of the country. If that wasn't enough, I met an MTB racer who was participating in an MTB Leh stage race. Unfortunately hardly anyone knew about the race. Having a race at this altitude is pure madness.
Which brings me to another mad race. The Himalayan Ultra. A 630 km race around Leh to be completed in 40 hours. Sumit was participating, in preparation for RAAM!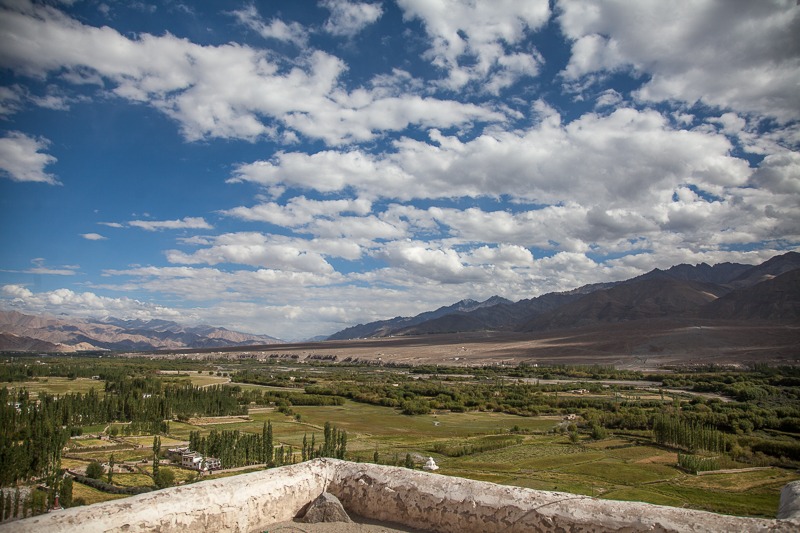 A City Cobbled Together!
I interrupt this blog with another weird fact about Leh. The city has the highest number of cobblers per citizen as per the unverified and inaccurate data gathered by me! Every corner has a cobbler and the only reason could be the number of trekkers which start and end in Leh. The mountains really give rubber a beating, as my tyres learnt as well. You could throw a shoe blindfolded and have a high chance of hitting a cobbler!
Flashback
This blog is once again interrupted, this time with a flashback. A dog followed Akshay and his friends from Manali to Darcha, before being adopted by Sumit and his cycling gang. They brought him all the way to Leh. This Manali dog was now chilling in Leh and Akshay was desperate to be reunited with his furry friend.
Day 43
So off we went the next morning to the YHAI camp. After a search and no rescue, man and dog were joined together in holy comradeship.
As we left the campsite, Sheru followed us. Akshay was excited about the dog, I was excited about riding a road bike after two months. Sumit was kind enough to let me ride his bike and I was over the moon with joy. Climbing on a roadie is so much fun after the struggles of an MTB.
I decided to climb to Shanti Stupa rather than return to the hotel, I was enjoying time on the saddle that much. It wasn't to be, as the rear tyre got punctured.
In the evening Akshay met a mountaineering idol of his, Kuntal Joisher, the first vegan mountaineer to summit Everest and Lhotse. It was an eye opening experience hearing tales from the highest peak in the world. When he used the word 'circus' to describe it, he wasn't joking. He described all the circus animals in that ring as well!
After spending the evening hearing the adventures of an accomplished mountaineer, I saw a bunch of adventure motorcyclists pottering around town on their 20 lakh motorcycles. Big bikes, big sound, but not big adventure. These amusing blokes were so terribly unadventurous in their choice of hangout place, that they were having a coffee in Barista! My heart bled for their boring adventure.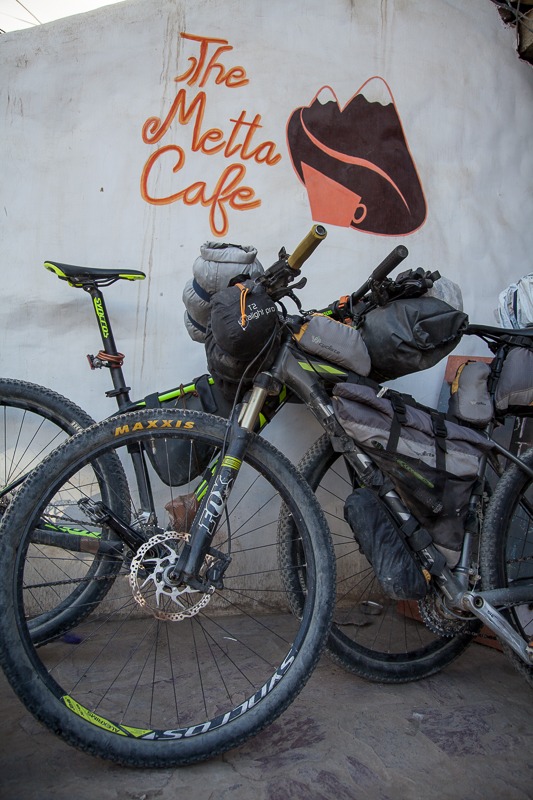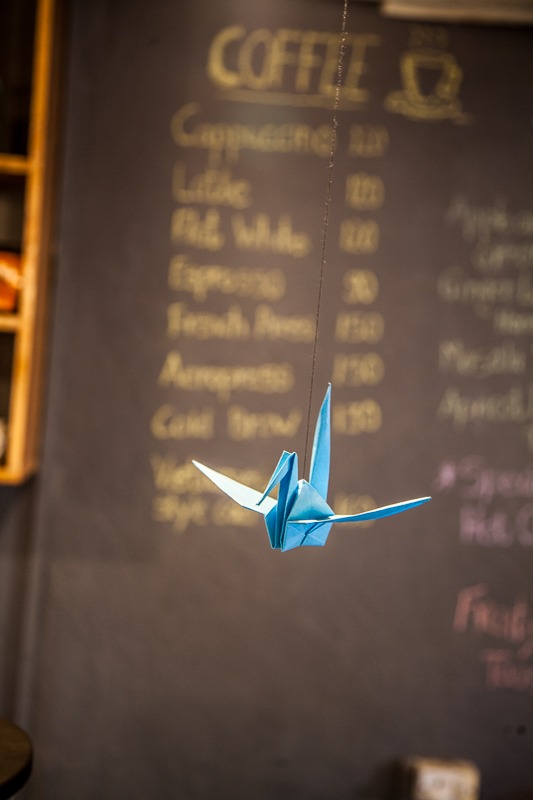 Day 44
After spending far too many days in Leh, it was time for Akshay and me to leave. Sumit had warned us to leave before 9 or not at all. With a loaded bike there was no way we would reach the top of the mighty Khardung La before dark.
So we woke up early. Akshay took a month of Sundays to get ready, even more time to have breakfast and then some more for tying his luggage. On the other hand, my luggage was packed and I slept in my riding clothes. It took me 15 minutes in comparison to his two hours!
As we left, we were accosted by Akshay's friends in Zaltak who clicked pictures and then walked us out of the gate. Wishing us a long and safe journey.
Safe it was, long not quite. We pedalled 50 metres, when Akshay called Sumit to let him know we were leaving. Sumit invited us for tea and a second breakfast. It was 9:20 and he didn't want us to leave, knowing fully well the conditions at the pass late in the evening.
Thus we rode a grand total of 50 metres for the day. We hid our bikes in Jimmy's Homestay so that Akshay's friends wouldn't see them and know that their farewell was a wasted effort!
The wasted day was wasted entirely as we did nothing. To that end Sumit invited us to stay in his room for the night, so that he could pack us off on time!
Day 45
The second attempt at reaching escape velocity went along the lines of the first. The difference was that we managed to ride a kilometre to Ladakhi Kitchen before having crossed the 'safe time' window. It was depressing. This time Tanvi saw us so late and told us it was foolish to leave.
It was back to square one for us and Zaltak. The lady who runs the place, asked us why the hell were we back and when were we going to get out of there!
Too many days of chilling in Leh had let laziness set into our bones. Sumit pushed us to climb a bit to get the blood flowing in the unused muscles.
Half Climb
We ended up removing our luggage and rode up towards Khardung La. Akshay's friend joined us for the climb on a rented bike and we all set out for a joy ride.
I planned to climb the first seven kilometres, but the cycling bug bit anew. I love climbing and without excess baggage, the climb was a pleasure. Revelling in it I ended up climbing a substantial amount without overdoing it.
The road to Khardung La is a gradual ascent without any steep sections and one can easily pace their climb. The descent is similarly easy. At no point of time are you rolling downhill at speeds which are scary. This can in fact catch the rider off guard. There are a few slow kinks which are not visible till you are almost at the turn. If the rider is pedalling hard downhill, then it could end in disaster. I saw it almost happen with a tourist on a rented bike who overshot a hairpin and almost flew off the cliff!
Akshay and his friend had turned back before me, while Sumit rode 7 km beyond my turnaround point. I ended up riding down alone all the way to Metta Café. As I waited for Sumit to return, I treated myself to excellent waffles with apricot cream and interesting conversations that Tanvi rustled together in quick time. The apricots were of a variety that is the best of the local produce and I can attest to it being absolutely delicious.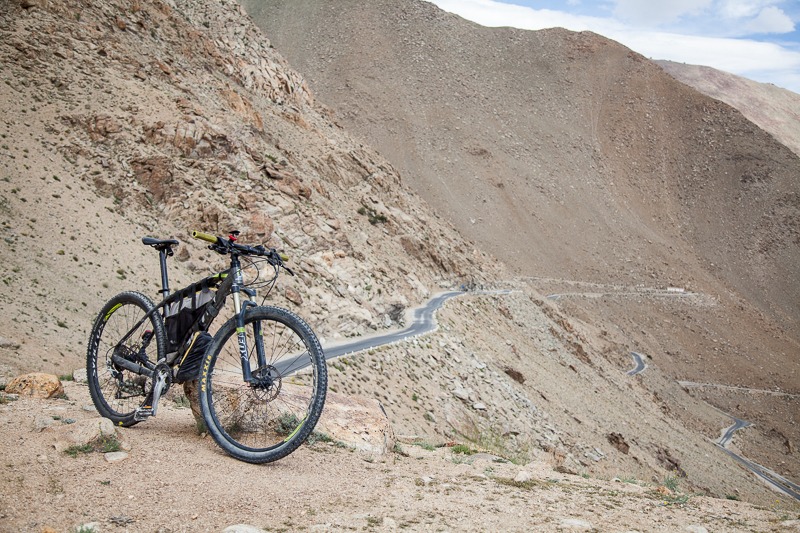 Day 46
The next morning we couldn't leave because Khardung La was closed for the La Ultra race. The same race which our friend Dharmesh was running.
Another day spent in Leh without climbing Khardung La. Sumit came over to Zaltak, shortly followed by Sudhanshu, who informed us that Dharmesh was nearing the finish line. We rushed to Shanti Stupa with plans to run the last kilometre with Dharmesh.
No Running Legs
We waited in the shade for the Jaipur runner and when he came past we tried to run with him. Sumit and Avik managed to keep up with Dharmesh, while Sudhanshu and I gave up after 20 metres! Akshay and Nithin were chilling at the Stupa café waiting for the finishers.
Lesson learnt, just because I can cycle 100 km, doesn't mean I can run 10 metres!
After the race we went down to Rover's Den, a cool hostel for backpackers with a serviced kitchen, which helps keep costs low if you plan to stay for an extended period of time. Dharmesh was staying there and it was fun listening to the tales of his race. He had to return home to pace his wife as she was participating in a run as well. And this he had to do as soon as he landed. Marriage!
All are invited to the cycling party!
I saw two extremes of the cycle touring world. A cheap looking battered and bruised steel bike with a cheaper looking front suspension. The only thing that made it stand out from the masses was the Rohloff hub, the cost of which was ten times that of the bike! Unfortunately I couldn't get to meet the owner of the bike.
The second set of bikes were two spanking new Cannondale Lefties with top of the line components and a polished Dutch couple all set to ride their adventure. Just goes to show, one can use any machine to ride, as long as the will to ride exists.
Leh has an eclectic mix of cycles. Foreigners over the years have been riding here on a variety of bikes and often leave their bikes. As such, one can see bikes from unheard of brands and styles. You can spend a day just visiting the cycle shops to ogle at the vintage exotic machinery!
The evening saw the return of the prodigal sons. The three boys who had left Zaltak had done their trips and returned while we were still twiddling our collective thumbs in Leh. Mithun, Bart and Max were back with stories and adventures. The route taken by Mithun in the Batalik sector was one to die for. The three doves returning to the ark was a sign for us to leave as well. Finally.
Day 47
Except we didn't. We stayed another day to chill with them!
After breakfast a trigger went off in my brain. I got antsy, it was time to leave the city. Every additional second there was making me uneasy and a longing for the road was burning bright. I couldn't sit in the Zaltak dormitory anymore, it was oppressive, the walls caving in, drowning out my sanity.
I ran out of Zaltak, just wanting to get out. Not knowing where I was headed and for what. In the Leh main market I found myself floating around like a ghost, haunted by the unchanging scenes, day after day after day.
As is generally the case, two wheels drew me in. I found myself staring at the fully loaded rigs of cyclists, who I presume were from Thailand. The fires of longing for the road were flamed afresh.
As I stood there, Chandana walked up and drew me out of my reverie. The Leh school Olympics was being held in the polo ground and she took me along to watch.
Leh School Olympics
It was good to see sports being properly organised and given importance in a country where it is more often than not neglected. The level of competition left a lot to be desired, but it was the first time and I imagine it would only improve. We watched a boys volleyball and girls football match.
A girl scored a goal and went running around the field in celebration. Her teammates clustered together in celebration amidst a lot of back slapping, completely ignoring the goal scorer!
The rest of the day was spent wandering around the city and eating lunch at 5pm. Nithin played a guitar built for children and a mouth organ, while I played the fool!
Goodbye Leh
The evening was spent at the Leh Palace and we were extremely lucky to see a local archer practicing his art in the by lanes of the old city. He taught kids archery during the winters and thus answered in detail all the very many questions that we kids had. The sunset and the moonrise from the palace was superb and a fitting farewell to the city. I didn't have my camera on me, which was the reason why I enjoyed it even more!
The last supper in Leh was with all the characters who played a pivotal role in our stay there. 5 cyclists from Maharashtra who had done the same circuit as what we planned in the opposite direction were also there, who gave us oodles of information for our ride ahead.
All good things must come to an end including my extended stay in Leh.
Route Profile