The final three days of the fortnight long cycle ride through the Spiti Valley in September 2012.
Day 12 Losar to Batal via Chandertal
The day started with a flag off for my 5 new xBhp friends. I then saw off Prakash, as he had to load his cycle onto a bus to Manali.
I was so excited about climbing Kunzum, that I forgot to secure my luggage properly. Within the first 100 metres my bag fell off!
Cursing my idiocy I pedalled onward, looking forward to the massive challenge; literally and figuratively! But as most things hyped, the climb turned out to be too easy. At the top of Kunzum Pass I met a couple of Delhites on a rented Bullet. And sure enough they were cursing the bike, as it didn't have enough power!
As I was descending in the wake of the Bullet, I tried catching up with them, only to crash. Twice! The two crashes were a sure dampener on my spirits and speeds reduced all the way downhill till Batal, where I chucked my luggage at the only dhaba which existed there. Needless to say, the ride down from Kunzum to Batal was the most adrenaline pumping day of the entire trip.
I then climbed 14 km to Chandra Tal. And what a climb it was. All my cabbie friends (who I had met in Losar), rented Bullet friends and xBhp friends passed me on my way up as they were returning. Mixed reviews I got of the lake. Some said very nice, others gave a big thumbs down.
At the lake I saw Ivan the Irishman leaving, and wonder of wonders, I had the entire lake all to myself. Took a long relaxing walk around the lake. When on the far side of the lake, I gave into temptation. Went skinny dipping. Bad Idea! It was freezing cold and I jumped back out gasping for breath. The jacket was put to good use to dry myself off and sat sunbathing on the lakeside to get some warmth into my body. After spending some of the best hours of my life, all alone,  I finally bid adieu to the gorgeous Moon Lake.
While going down I ran into a group of 4 forty year old gentlemen. Lake Lovers Club they called themselves and wore club jackets! Good to see nature lovers from the bigger cities of India. The important thing is to promote such activities without destroying nature.
At Batal, I caught up with Ivan again. We had dinner together at the dhaba, where I tried out country liquor from passing contractors, the bottle looked like a WWII relic. A group of Israeli girls came for dinner. And it was a delightful evening after that. A small mouse in a small dhaba with a bunch of screaming and shrieking girls! Almost died laughing. To top it all the dhaba owner says that if you order chicken curry, he will catch the mouse and cook it!
As night drew closer, I inspected my sleeping quarters. My dogs kennel back home is much more comfortable! It was a frickin' cow shed that was to be my room for the night!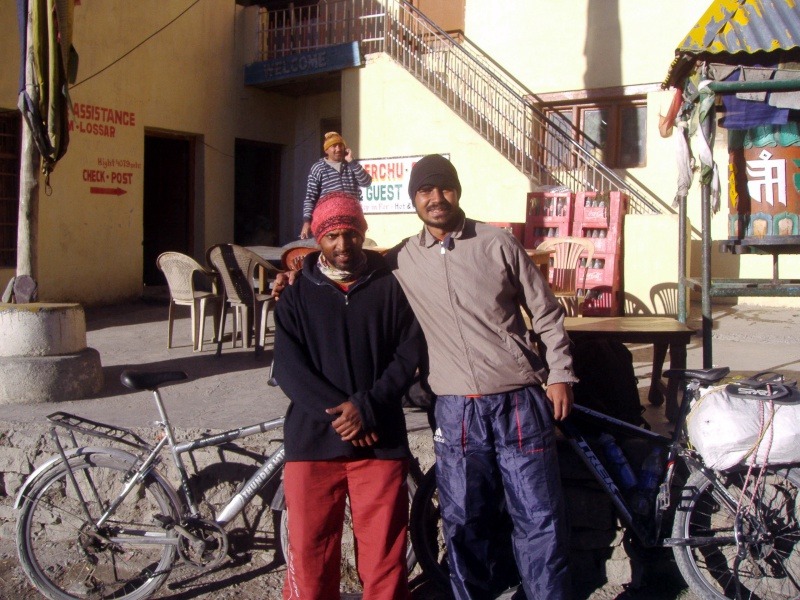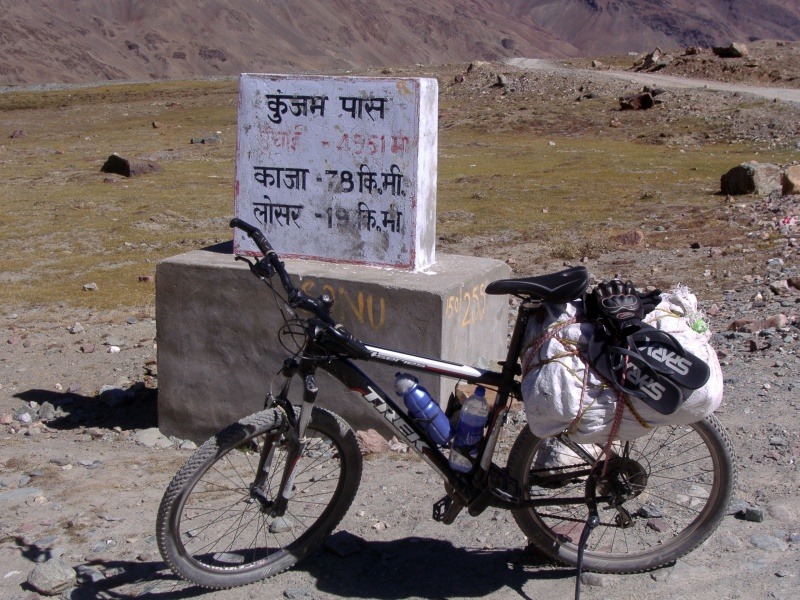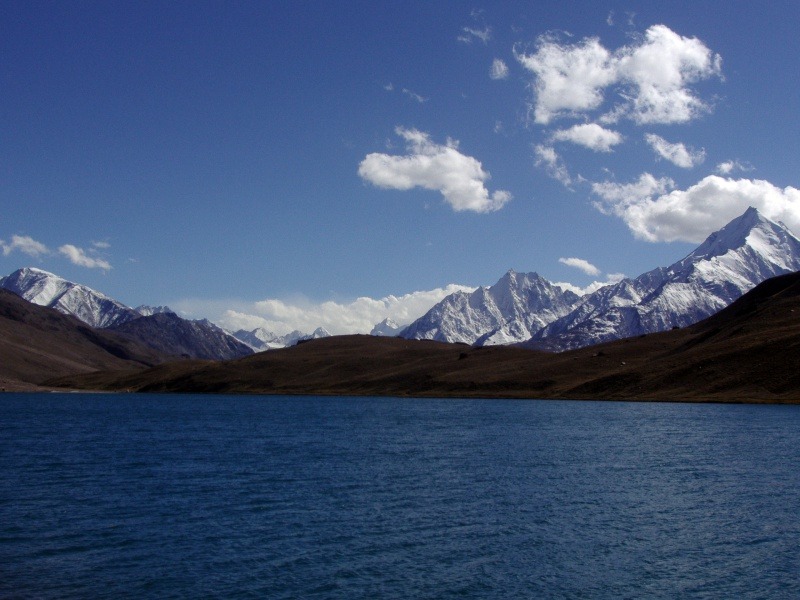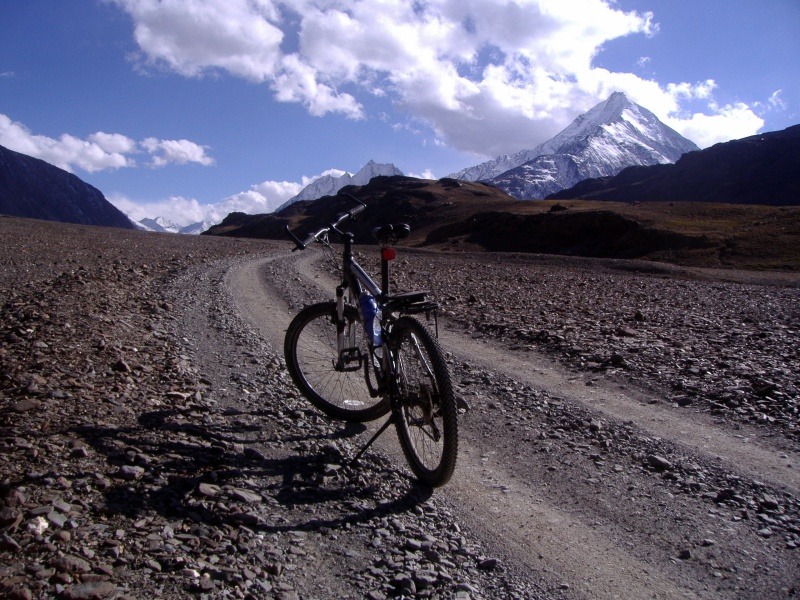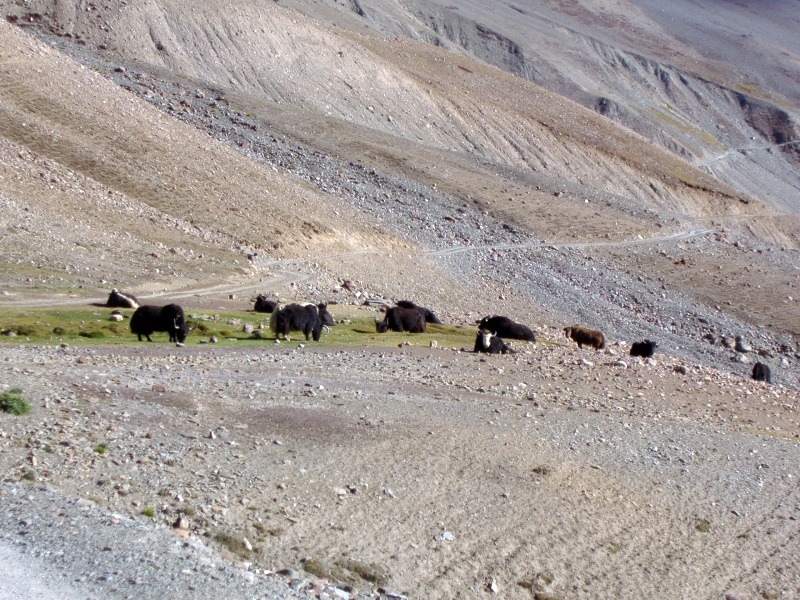 Day 13 Batal to Gramphoo
I had been dreading this section for the duration of the ride, as the previous year I had to cross many knee deep streams. But in September, the water had all frozen at the top of the mountains and the streams were dry. Only the smooth worn rocks remained. I checked the date to see if it was 2nd October, as it was quite an unexpected 'dry day'!
The morning was cold that no one was willing to do anything till the sun came out. The puddles of water on the road had frozen overnight!
I love travelling in these far off regions. The one thing that I don't like is having to take a dump in the open. But since one must, so one must. After checking to see that no one was around I found a nice secluded spot for my morning chores! The second I pulled off my pants, this Israeli girl, whom I had met at the dhaba the previous evening, popped out from behind a rock. And I was sooooo embarrassed. She was unfazed, standing there and chatting with me as if it was the most normal thing in the world! Try as hard as you might, it's difficult to act macho and cool with your pants around your ankles hiding behind a rock!
After turning beet red with embarrassment I ran off to my cycle, loaded my luggage and pedalled away as fast as I could, hoping that I would never meet that girl again! In my life.
Soon enough I caught up with Ivan, and we rode together for the remainder of the day. 'Rode together' is not very accurate as I would ride ahead and stop and wait for him to catch up! The roads (or lack thereof) were the most scenic of the entire trip.
Ivan asked me if any of those mountains had been climbed, but I was unsure. So he said that some 'mad Englishman' must surely have attempted! At this point it must be reminded that he was Irish.
I met two Austrian trekkers who had been trekking from Manali to Chandertal. It would surely have made for an interesting walk in the park! At Chatru we stopped for a nice long relaxing lunch. I met a contractor there, who gave me some wonderful insights on the smuggling routes across the international border!
As we pedalled further, we saw a cloud of dust. Under that cloud was a Husqvarna,  next to it was a sprawled out biker. A guy from Bangalore, doing a recce for the Raid de Himalaya. Unlucky for him that he crashed, worse still to meet someone like me, who laughs at other people's misery! Though we did help him up and saw him disappear in another cloud of dust, as he zipped downhill.
At Gramphoo we stayed in another cowshed behind a dhaba. After dark 4 bikers reached there. And we were ready to defend our cowshed against these invaders in biking attire. But as luck would turn out, these guys were from xBhp, Shivanshu, Manish, Rakesh and Chip. Good to meet friendly faces in the middle of nowhere. I sat and chilled with them, and had an evening of free entertainment. Lots of racist humour flying thick and fast, as all five of us were from different parts of India, good to make fun of one another, without taking offence!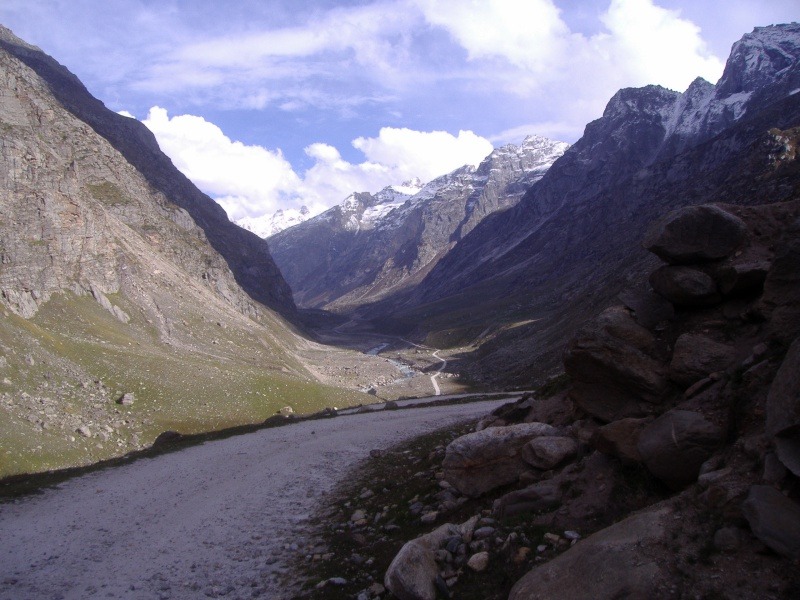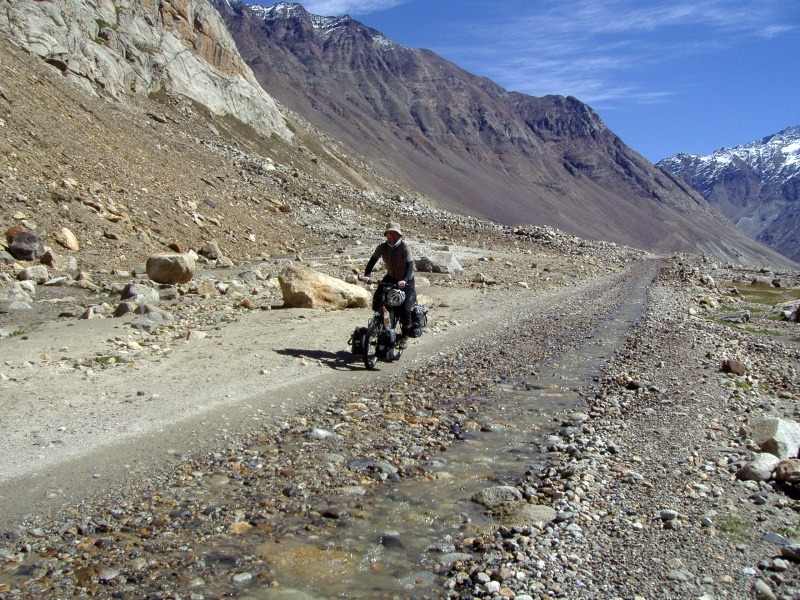 Day 14 Gramphoo to Manali
In the mountains people worry about whether their bikes will start. One should actually worry about whether the body will start. Everybody stands huddled up drinking tea and looking skywards waiting for the sun to show up in full force!
Shivanshu and co. lined up for a couple of pics and I then saw them off. Ivan and I had a similar cycle line up and he then departed for Leh, while I headed for Manali over the infamous Rohtang La.
The climb to Rohtang was on smooth tarmac and pretty much a breeze. When I reached the top I saw the tourists and almost had a heart attack in fear.
How does one commemorate the climb to the shittiest pass in the Spiti- Lahaul region? Well by taking a dump at the top! And that's just what I did.
I was tired and wanted to stop for a tea break, but seeing the crowds at Rohtang ensured that I pushed straight on to Manali. And what a descent it was. 52 km of coasting downhill. And not a single vehicle overtook me in that descent.
Went straight to the Manali Bus-stop and found out that the next bus to Delhi was leaving in 5 minutes. Removed my luggage, climbed onto the roof of the bus with the cycle on my back and tied the cycle onto the bus carrier. By then the bus had moved out of the bus-stop.
I had to jump off the roof, run to the bus stop, pick up my bags and run back to the moving bus as it was leaving Manali. The most strenuous activity that I undertook during the entire trip!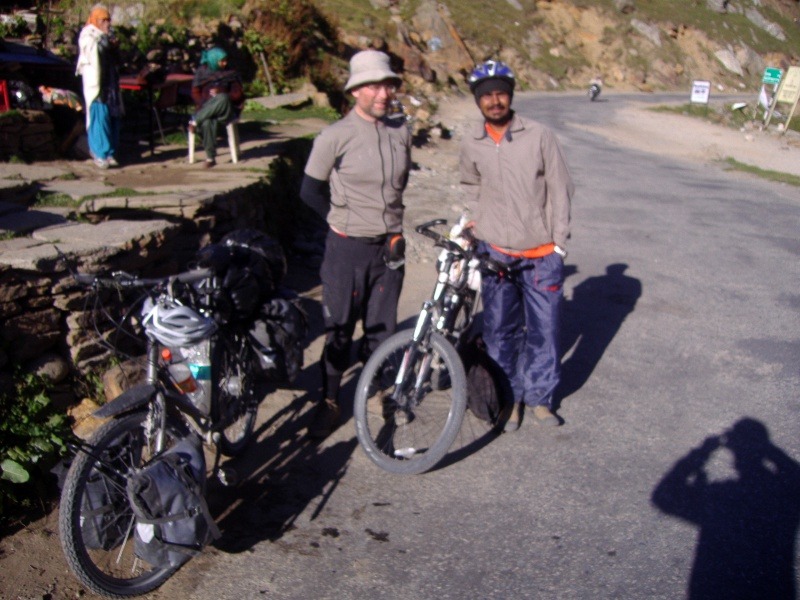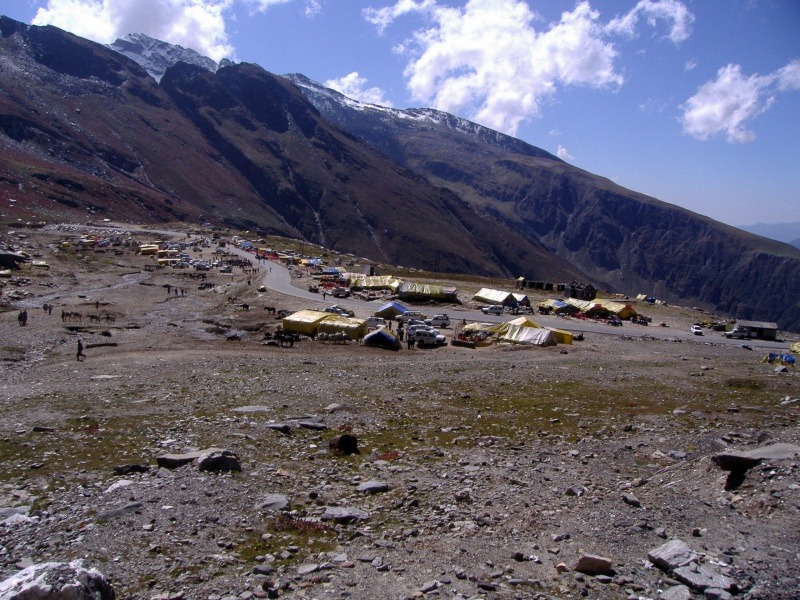 Day 14 Manali to Delhi (Bus)
The bus conductor was so happy to see an Indian cyclist that he went around telling everyone in the bus that this kid has cycled around Spiti. As always I took the seat near the emergency window. I never trust others driving skills! I stayed awake the entire night watching the road. And the bus guy was pelting it from Chandigarh to Delhi as if he was late for the F1 race at Buddh International Circuit.
Reached Delhi Kashmere Gate ISBT at 6 in the morning, where I unloaded my bike, loaded my luggage and started cycling to Gurgaon.
In the hills whenever I saw a Delhi number plate vehicle, I would jump off my cycle, climb up a tree or hide behind a rock and hope that the Delhite won't run me over! They believe that the national sport is running over pedestrians and cyclists!
In Delhi I almost had a nervous breakdown with all the cars having Delhi number plates, I thought someone was surely gonna make me a tarmac accessory!
Finally I reached Gurgaon after racing a few cyclists in the satellite town! When I reached my aunt's house I was shocked to see myself in the mirror! Not having looked in a mirror for long and it was near impossible recognising that weirdo in the mirror!