The 4th and 5th day of the bicycle travel tale from Spiti in September 2012.
Day 4 Jeori to Reckong Peo
At the dhaba where I stopped for breakfast I was fortunate to watch the art of momo making. Call me weird but the sight of raw meat got me drooling! Breakfast was a weird concoction of parathas and momos, from Punjab to Tibet. It might not sound extremely appetising, but it does get the job done for a cyclist!
In the town of Tapri I stopped for lunch and there the shopkeeper offered to buy off my cycle. He told me to catch the bus home while he would keep my bike. When I told him the price he said he would rather buy a motorcycle in the same amount of money!
Since this stretch was under construction, everyday for 2 hours the mountains were blasted. Then the blasted bits of rock would be cleared out by the bulldozers. During one such blasting site, I sat and chilled with a Jharkandi labourer. He told me about how the people lived and worked there. The appalling work conditions and the reason for them to leave home. The majority of the labourers were from Bengal, Jharkand or Bihar. The poorer states of the country.
Soon after that I passed through a place called Lal Dhang, the wind out there was terrible. I couldn't sit on my cycle, even while stationary! I could barely walk. My helmet strapped onto my head was being pulled with the breeze. Scary stuff it was and gingerly I crossed that section, far away from the edge of the road.
I finally reached Powari, there I turned off the National Highway onto the State Highway to Reckong Peo. The road up to Reckong Peo was crazy steep, or so it felt to my exhausted legs. It was a 6 km climb which took me one and a half hours to climb. The previous year on my motorcycle it had taken me about 14 minutes. That's how much slower and difficult riding a cycle is. Ha!
To top off my bad luck, the cable of the front derailleur broke. And I was stuck in the first gear. Damn! I seriously contemplated loading my bike onto a bus heading home. The words resounded in my head, Don't exhaust. Paint a picture of colourful chaos instead. So I gritted my teeth and moved on.
Once at the town I found a hotel, checked in and slept off without even unpacking, washing up or even taking off my clothes. 4 hours I slept non-stop before waking up for dinner. More terrible food later I was back in bed!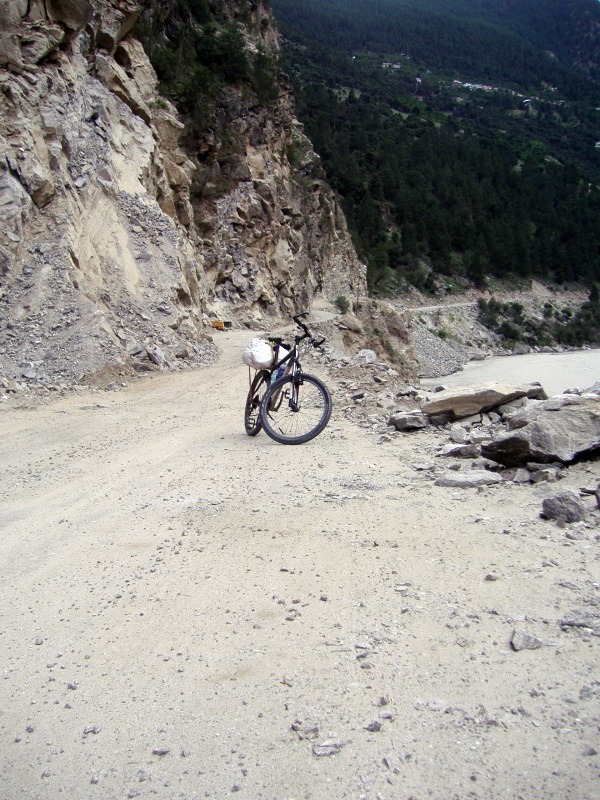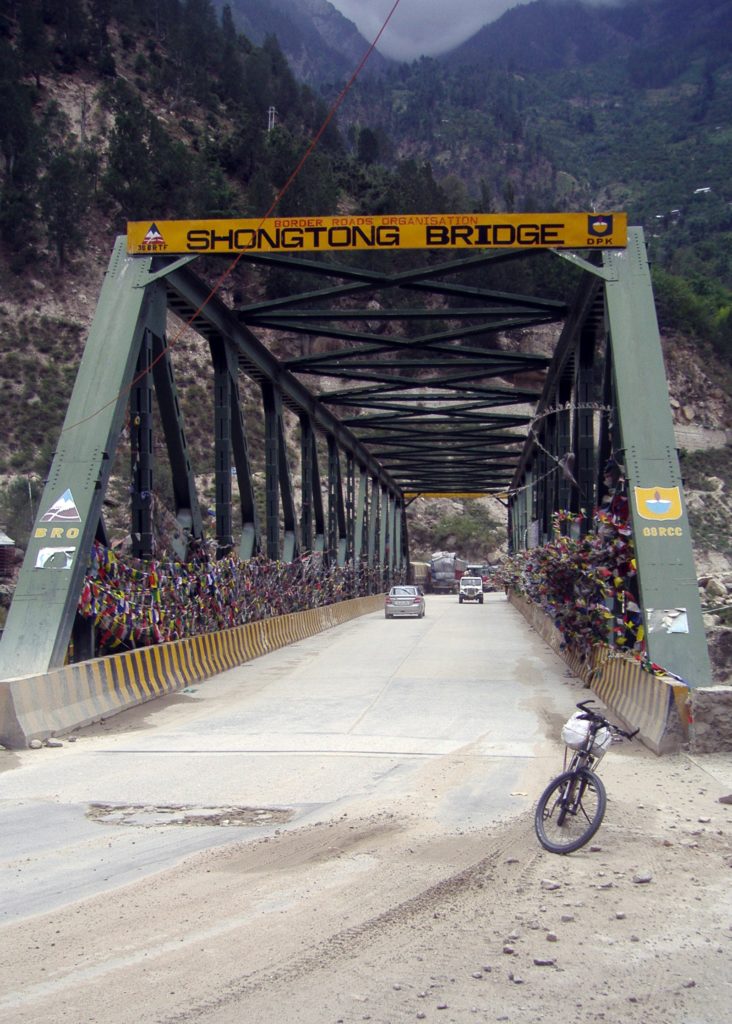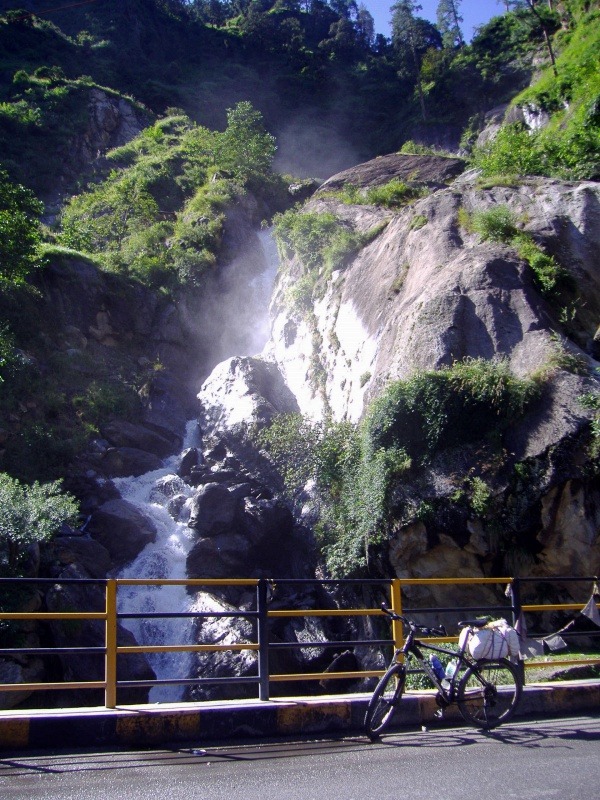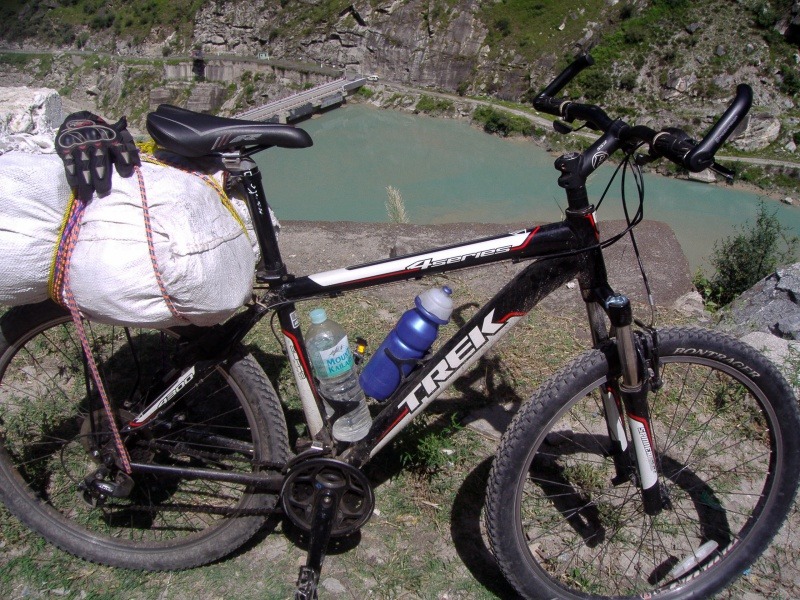 Day 5 Reckong Peo to Pooh
I woke up as if hungover from a couple of bottles of Old Monk. Sadly I had slept like a good child, and yet woke up with a hangover. You know you are alive when every muscle in your body screams out in pain, 'Hey I am alive but you are killing me!'
The really terrible roads started after Powari. Tourists don't go beyond this point generally. They normally move up towards Kalpa and then return to Shimla. As a result these roads were kind of neglected.
A few kilometres later on an empty and desolate stretch of road, I encountered my worst fears. Four mean, viscous growling and snarling dogs, emerged from behind a rock. No habitation or passer-by in sight meant that it was man vs wild. Literally!
They first stalked me and then slowly moved in for the kill. I yelled out the most guttural yell imaginable. A cold blooded Comanche yell. They froze, scared and slunk away like street dogs. Only then I remembered to breathe and my heart remembered to beat. My hands and legs were shivering with fear.
At Spillo I met an English couple cycling. They had been travelling on the old HT (Hindustan Tibet) road. Much more difficult. They had cycled from Leh along some trekking path, which even most locals had not heard about. And I thought I was crazy!
I normally don't like children. But when I was climbing to Pooh, 5-6 kids started pushing my bike up as I was cycling uphill. I was grateful to these sweet children. Ya right! Soon they showed their true kiddie colours, they started pulling my cycle back. Holding the carrier and not letting me move ahead. Imagine struggling uphill on a cycle, with heavy luggage at the end of the day. Now imagine lil monkeys hanging on to that for dear life. I guess it is obvious why I don't like kids!
After Pooh the 'hills' get over and the 'mountains' begin.