PEDAL FAT BOY, PEDAL!
A beginner's tale of cycling in Spiti from September 2012.
---
"I'll huff and I'll puff and I'll blow the mountain down". These words from a children's fable came to mind when I loaded my cycle onto the train headed for Kalka. I was gung-ho and prepared for cycling in the Himalayas, or so I mistakenly believed!
Two wheels have always attracted me. My friends ask "Why?" My standard retort is "One is lonesome and three a crowd, only two wheels float my boat!" Last year when I motorcycled through Spiti, I met two foreign solo cyclists. Inspired by them I decided that to do the same someday. That day had arrived.
Having barely slept in the train, I woke up bleary eyed in Kalka station. A cursory check to my cycle later I was pedalling to Shimla. I felt like Superman – Up, Up and Away! At least for the first 100 metres and then it was like Superdog – pant, slobber, someone feed me please!
After 95 km of climbing smooth tarmac, I reached Shimla, only to realize that it was a pricey Saturday. After a horrible dinner and worse people, I got much needed sleep. Next morning as I crawled out of bed my legs protested; the left went on strike and the right on a killing spree. But my centred brain hauled me out of creepy Shimla.
I could hardly pedal for the first 15 km; having to walk my bike. After Khufri, I was able to ride. From Narkanda the road steeply descended for 37 km and I was freewheeling downhill without a stroke of the pedal. The joy of overtaking trucks and buses was short-lived as my luggage came loose and almost caused me to crash.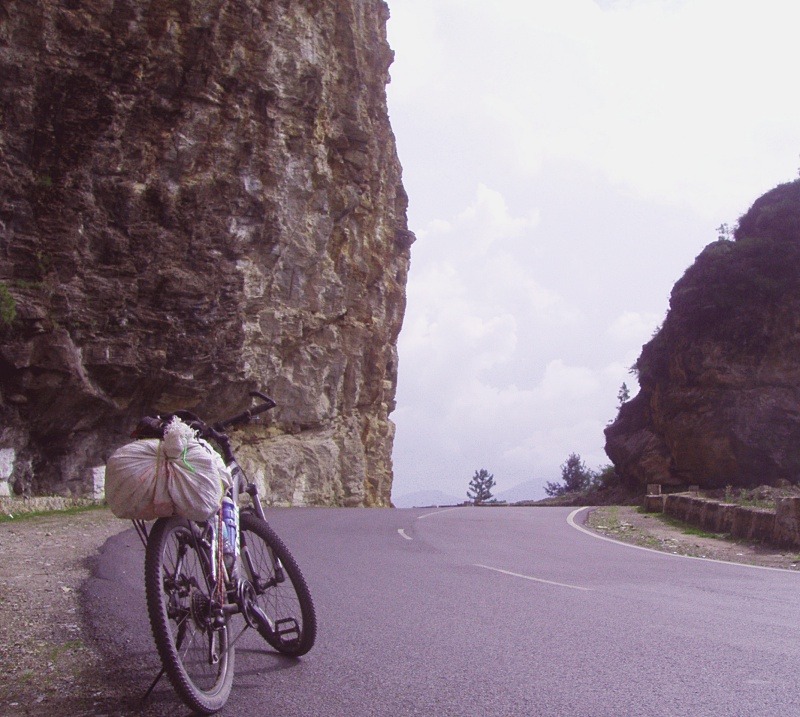 The night was spent on the banks of the Sutlej River in a one 'bar' town, Rivali, 25 km before Rampur. The next day was an easy ride as the road to Jeori was mostly flat. At Jeori there is a hot spring to soak one's tired legs, which I didn't learn about until nightfall. I was at my clumsy best and dropped my cycle down a flight of stairs and ended up with a gear-cable cut and my body bruised.
Aloo Parantha was the staple breakfast of the trip and Rajma Chawal was lunch. For a meat lover, that's worse than torture. I could picture my mother laughing at my vegetarian feasts! Apples are abundant and strangers offer them for free. But I am a fan of 'The Doctor' and therefore don't quite enjoy apples!
En route Reckong Peo, I was caught in a blasted jam. The mountains were being blasted and I was in a jam! Not as bad as being in a pickle, which I soon found myself in, as I climbed the last 6 km to Peo in 2 hours. Why did humans come up with the 'bright' idea of building towns at the top of a hill!
A pack of snarling dogs attacked me. I let out my wildest guttural yell which stopped them in their tracks, slowly they turned and slunk away. Since then dogs have always worried me!
From Peo to Pooh I was constantly reminded of the cute bear – Winnie the Pooh. The people there were sweet as honey, but the roads were tempting as a beehive! There I watched the India- Afghanistan cricket match at the local diner. One high spirited (pun intended) gentlemen almost got beaten up for cheering every Afghanistani run!
Pooh to Nako was the toughest day of the entire trip. After crossing the river at Khab, I climbed 31 km continuously till my destination. I got worried because of my empty water bottles, parched throat and no visible habitation. I was capable of cycling just 20 metres at a stretch. But when the body weakens, the mind strengthens. I willed myself to the top. Nako Lake was a terrible disappointment since it was no bigger than a pond.
There I met a solo cyclist from Chennai, Prakash. I met a few cycling couples as well who had ridden around the world on their bikes. Taking a walk round the tiny village is essential to understand the lives of the locals. I was fortunate to witness a Buddhist wedding, as always the groom looked like a lamb to slaughter!
I drank about 7 litres of water the next day, since I had been on the verge of dehydrating while climbing to Nako. As a result I was leaking like a broken bucket! An experienced biker once told me – "The most important thing of long distance riding is to correctly judge the direction of the wind. Get it wrong and you end up peeing on your pants"!
Prakash and I rode together from Nako to Tabo, viewing beautiful wind swept mountains en route. The cycles were thrown around like rag dolls by the strong gusts of wind, even though no steep climbs were encountered. We stayed in the monastery guest house and later went for a trek to the caves, where the monks meditate.
The next day I rode solo to Kaza, the district headquarters. There I stayed for two days at a home-stay, which mostly catered to Israeli tourists. The food served was Israeli and the walls were covered with Bob Marley, Che Guevara and marijuana posters! On my rest day I cycled to a small stream outside town, where I gave my cycle a thorough wash and service. There I met a French motorcyclist on a 1990 500cc well maintained Bullet. A photographer by profession, he had been travelling through India for two decades. I went for a 60 km ride on his bike as he wanted to take pictures of the sunset.
I felt like a 'loser' while pedalling to Losar. The road was flat and yet I could only manage speeds of 7 kmph. At Losar I stayed at the check-post dhaba, where I befriended everybody, the policemen, bikers, cabbies and tourists. I informed all my newly acquired friends that I would be riding to Chandra Tal. As a result everybody on that stretch of road was looking out for an Indian solo cyclist with an orange tee, checking to ensure he reached safely.
After a dozen days on the road, my legs had grown stronger. Climbing Kunzum La (4551 mts) was an anti-climax. Descending from Kunzum La was a roller-coaster ride as I tried to catch a Bullet. But in my glorious attempt at reeling in a motorcycle, I crashed. I picked up my cycle and took off like a rocket after the Bullet. Almost caught them. Crashed again! The worst aspect of cycling is that even Enfields can go faster!
I left my bags at Batal; from there I climbed to Chandra Tal. I had been crying for the moon and at last I reached the 'Moon Lake', the source of River Chandra. The lakeside was devoid of humanity at that hour and I had it to myself, to experience serenity and tranquillity like never before. After sunbathing at 4200 metres, I left with leaden feet and a heavy heart, as my Guardian Angel walked me through, from this heavenly abode back to the humanity infested earth.
I spent the night in a cowshed. There I met another solo cyclist, who hailed from Ireland. Ivan the Irishman and I rode together the next day to Gramphoo, en route I met a motorcyclist who was doing a recce for the Raid de Himalayas. Unfortunately he was flat on his back, as he had just crashed! I finally returned to unfriendly civilization.  But I was fortunate enough to meet a few bikers. Another night spent in a cowshed, but this time with much better company!
Climbing to Rohtang La was a piece of cake and I reached Manali in no time. There I caught a bus to Kashmere Gate, Delhi, and the next morning I rode from Delhi to Gurgaon. In the last leg of my journey I raced past a pack of Gur'gaonwaalas' on their expensive cycles; cheap thrills!
A fat boy left home to test his mental and physical endurance. The affection of strangers was the motivation that kept him going through those two gruelling weeks. A lean, mean cycling machine returned joyous to have found that he is indestructible!
Read the day wise blog of the trip here and a guide to successfully riding through Spiti here.