We are in conversation with Sudarshan Sanchari, a 24-year-old from Karnataka who has cycled 22000+ kilometres and counting across India…
---
We all have dreams. Some dreams are too crazy to be considered, others are too crazy to stop at dreaming. Few of us have the courage and good fortune to chase our dreams. And to realise a dream, you need to take that first step into reality. Here's a story of one such dreamer who is currently living out his dream.
Sudarshan Sanchari, a 24-year-old from Chitradurga, Karnataka, is a madcap cyclist who is crazy about exploring new places on his pedal powered two wheels. We caught up with him, while he was cycling through Sikkim, to have a chat about his ongoing journey through the entirety of India…
Sudarshan Sanchari on a Bicycle…
His journey in the world of cycling began in 2018 when he met a relative who introduced him to the joy of cycling. The two embarked on a small trip together and Sudarshan was instantly hooked. He decided to buy his own bicycle in November 2018 but didn't get around to making the purchase until 2020.
Sudharshana's journey on two wheels began with a simple idea – to ride across India. But it wasn't until he had a life-altering experience with his previous employer that he decided to take the plunge and make it a reality.
When Push Comes to Shove…
Working as a senior sales executive in Hyderabad, Sudarshan's branch was closed during the second lockdown of 2020. When his employer refused to pay him his rightful settlement, Sudarshan refused to back down. He took to his bike and rode from his hometown of Chitradurga to Hyderabad, with a banner on the back of his bike that read "My Company Cheated Me. Write an Email to My HR." Despite having only 200 rupees in his pocket, Sudarshan was determined to fight for his rights.
When the HR department called him to come to the office, Sudarshan didn't trust them and continued riding. He even filed a complaint with the labour commissioner, but nothing came of it. It wasn't until a newspaper reported on his story that the labour commissioner finally gave a notice to his company. In the end, Sudarshan was victorious, eventually receiving his settlement.
The Hyderabad experience left a lasting impression on Sudarshan. He had grown up in surroundings where there was a lot of 'othering' of different communities. But when he spent time in the Charminar area, he met people who welcomed him and even gave him a place to stay for a week. It was a transformative experience for Sudarshan. He realised the world of bigotry and paranoia was not the reality on the ground. That experience planted a seed in his mind that he could travel the country and meet new people.
The idea of an all-India cycling trip had been on Sudarshan's mind for some time, thanks in part to his relative Thippesh, a hardcore cyclist whose account "Journey on 2 Wheels" had inspired him. But it wasn't until he returned from Hyderabad that he decided to make it happen.
Ride to Infinity…
With only 2000 rupees in his pocket and no real plan, Sudarshan Sanchari began his journey on August 18, 2021. He didn't even know where he was headed, but he had a goal in mind – to reach Kanyakumari and then figure it out. Along the way, he stayed with friends and strangers alike, including Shakthi. Who arranged for a flag off for his ride in Bangalore by Mac from Track & Trail cycling store.
Sudarshan's journey had started with a fight for his rights, but it had evolved into a journey of self-discovery and exploration. With his bike as his trusty companion, he was ready for whatever lay ahead.
Troubles are Part of Life!
He has been on the road almost constantly, except one instance. Sudarshan returned home after meeting with an accident. Riding in Kerala, he lost control on a steep hill in Ranipuram and injured his left hand. It took him 25 days to recover and get back on the road.
However, his troubles didn't end there. On another leg of his journey, his cycle suffered significant damage in Mumbai due to a mistake made by a local cycle shop. The wrong spanner was used, resulting in the loss of bottom bracket threads from the frame. Unable to repair his cycle, Sudarshan had to borrow his friend Thippesh's bike, a Cannondale Trail 6, which he continues to ride till today.
Solo Lover
Throughout the journey, Sudarshan rode alone mostly. Although he had company on a few sections. He has already ridden through numerous states in India, including Tamil Nadu, Pondicherry, Kerala, Goa, Karnataka, Chhattisgarh, Maharashtra, and Gujarat, covering almost every district in each state.
Currently, he is in Sikkim. He wanted to ride from Gujarat eastwards. But upon reaching Bhopal, he decided to take the train, covering a distance of 1500 km to Siliguri. He made this decision because he wanted to ride in the northeast of India before the onset of the rainy season. His next destination is Asia's second-highest bridge.
The Best of India… So Far!
Sudarshan loved camping in the white desert of Kutch. An area where not many people have camped before. However, he was quick to add that he couldn't really say which place was the "best" since every place has its own unique beauty, and he enjoys them all.
He enjoyed his time in the Western Ghats of Maharashtra, especially climbing the highest peak of the state.
He reminisced the start of his journey in Tamil Nadu. There he entered with only 2000 rupees and exited with 4000 rupees, thanks to the help of people along the way.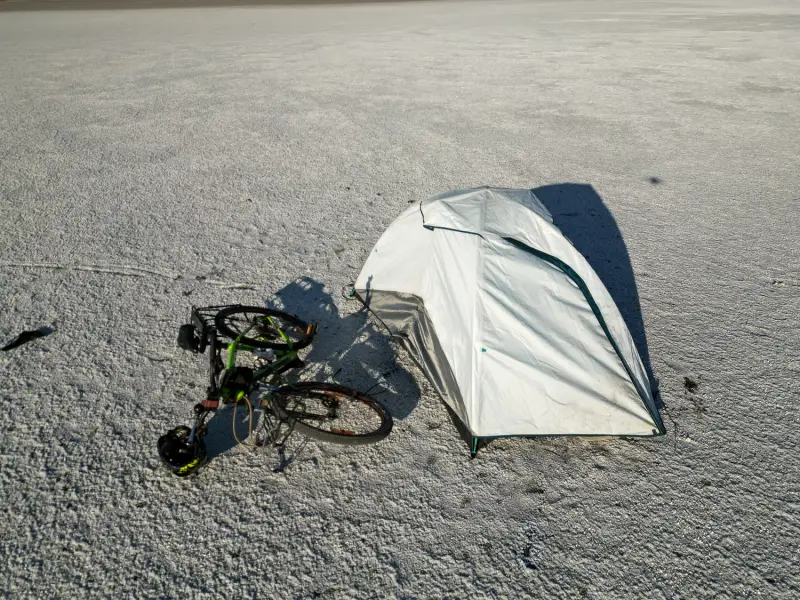 Challenges of the Road
During his travels, Sudarshan faced some challenging and difficult experiences on the road. One such experience occurred just a couple of days ago before we spoke to him. While he was camping between Legship and Gezing, a drunk man attacked him with a khookri, a type of Nepalese knife, and threatened him. Even though Sudarshan had taken permission before pitching his tent in the area.
Another unpleasant experience happened when Sudarshan's friend Raghunandan's mobile phone was snatched from his handlebar on the first day of their ride together in Maharashtra. The snatchers escaped on a scooter, leaving them feeling helpless. When they went to the police to file a complaint, they found that the police were unhelpful and lazy, compounding the negative experience.
Sudarshan also faced mechanical difficulties on his journey. In Munnar, he was unable to reach Top Station due to the terrible condition of the bike's cassette, chain, crank, and shifters. He had to return to Kochi, where he spent four days selling masks to earn the money needed to repair his bicycle. Such difficulties, make him even more determined to continue his journey, enjoying every place for its unique beauty and charm.
Travel Equipment
Sudarshan currently rides a Cannondale Trail 6, which he borrowed from a friend. He's actively seeking sponsors to get his own bicycle for his journeys.
He carries his belongings in a Decathlon pannier bag and a backpack, ensuring that he has everything he needs for his travels, including a stove, a cooking setup, a tent, a tripod, a monopod, and a GoPro.
Sudarshan considers his equipment to be similar to a home, as he is able to manage himself anywhere he goes.
A Bazillion Memories!
When asked about the best thing about touring on his bicycle, Sudarshan had a few experiences to share.
Kolli Hills in Tamil Nadu was one of them, where he witnessed the breath-taking Agai Gange waterfall. Sudarshan had to descend1200 steps to reach the waterfall, and upon arrival, the force of the air was so strong that he felt as if it would push him outside.
The sunset in the White Rann of Kutch was another spectacular moment he cherishes.
Sudarshan indulges himself with a short trek or two mid-journey. When he comes across nice hills, he leaves his cycle with somebody and sets off on foot. He recounted his trek to Harihar Fort and Kalasubai, the highest peak of Maharashtra, which he climbed at night.
Gastronomic Delight or Disaster?
As for food, Sudarshan's journey has allowed him to relish the local cuisine of each place he visits. Even though he carries his camping equipment, it is only since the last five days, he has been cooking.
Sudarshan started the ride as a vegetarian. But along the way he had to change his approach to food. The story is both amusing and instructive.
His first non-vegetarian eating experience happened on his 35th day of travel in Hoggennackal, a remote location in Karnataka. Sudarshan crossed a river and entered an elephant reserve forest, where he found a home of a forest dweller. The people offered him mutton and rice, but since he comes from a vegetarian family, he was hesitant. However, realizing that the poor people couldn't prepare something else separately for him, Sudarshan decided to eat the offered meal and was surprised to find it delicious.
Now, he eats whatever people offer him without worrying about whether it is veg or nonveg.
Support Matters
Sudarshan has been on a cycling tour across India for over a year now, covering over 22,000 km so far. He has been traveling solo and has carried all of his belongings on his bicycle.
Although he hasn't received any sponsorship from companies, he has received support from individuals around the country. Though financial support he got mostly from Kannadigas along the way.
When he couldn't find support he did things to earn some money, like selling masks in Fort Kochi. Or working in a sand mine in Telangana.
In terms of getting support from his family, Sudarshan mentions that they are okay with what he is doing. He has been financially independent since 2014, when he was just 16 years of age. In fact, when he used to work, he used to support his family financially as well. However, once he knew that his family could run without him, he quit his job and started cycling. For Sudarshan, every situation in his life pushed him to get on the cycle and ride around India.
When asked what advice he would give to others who would like to do something like this, Sudarshan stresses the importance of being financially independent. He advises that they must manage their expenses because on the road you can never count on anything or anybody.
We are delighted to see this enterprising young man cycling around the country. And are even happier to have gotten a chance to chat with him in the middle of his ride. Here's to many more happy miles Sudarshan Sanchari…
You can follow Sudarshan on Instagram, check out his videos on YouTube and see the routes he has taken on Strava…
---
Enjoyed this article? Then read Vignesh VP's journey from Jammu to Kanyakumari on his single speed bicycle. And also read Sorav Gahlot's journey on the simplest bicycle of them all.