A guide to indoor cycling in India. We cover the pros and cons of indoor cycling and why you should or shouldn't start training indoors. We also get user reviews from a range of cyclists with widely varying training experiences.
---
Indoor training has been around for quite some time now. First with rollers, then 'dumb' trainers and now super 'smart' trainers with added gizmos to give you an outdoors feel.
Indoor cycling has been steadily on the rise this past decade and it has exploded with the current global pandemic. Every cyclist and their grandmothers are hammering away on the pedals inside their homes.
Which leads us to the question. Is Indoor Cycling in India just a passing fad or is it something genuinely useful for everyday cyclists?
As mentioned above, this form of training has been gaining popularity even before the pandemic. Why?
Baba Velo, whilst talking to us, about amateur road racing in US and Europe, summarised it perfectly. The cycle racing season has got longer over the years in Europe. The season now begins in February, where earlier it would start in the latter half of March. Competitive amateur cyclists have to now train through the winter so that they hit the ground running (or pedalling!) in February.
Training in European winters outdoors is no fun! And from that indoor training has become popular.
Indoor cycling has trickled down to India as well. What with cyclists in many North Indian cities being unable to ride outdoors during the polluted winter months. Or cyclists in the coastal cities being unable to train during the monsoons.
Indoor Cycling in India
Indoor trainers aren't cheap and before you go ahead splurge, ask yourself, do you need one? To help you make an informed decision, below is a list of reasons where indoor training helps versus where indoor training isn't beneficial.
The subsequent section consists of real users indoor training experiences. Riders with different backgrounds, from amateurs, to recreational riders, to racers and everything in between. They tell you why they like to train indoors and when they avoid it!
Benefits of Indoor Cycling
Structured Workouts
The biggest advantage of indoor training is structured workouts. You can focus entirely on your workout goals, without any distractions from your surroundings.
You don't ride junk miles. Rather every pedal stroke of yours has a purpose.
In the real world, you might first have to ride out of the city to empty roads, ride back, slow down for traffic etc. On a trainer you have none of those problems.
Needn't Pray to the Weather Gods
Another area where an indoor trainer helps in tremendously is training in inclement weather. At times, because of the cold, rain, heat or in some instances pollution, training outdoors might not be possible. Without a trainer, these days end up becoming 'rest' days. When the rest days become rest weeks or even months, then it is a cause of worry!
Indoor trainers ensure you can do your full workout irrespective of the weather outside. You also have the added advantage of riding in an air-conditioned environment if you prefer.
Time Machine…
For people who are short on time an indoor trainer is a boon.
You don't waste time finding the perfect jersey to match your socks! You can just throw on whatever you have at hand and get training. The time spent on travelling to and fro the start point of your ride is also saved.
For shorter daily workouts which you need to fit alongside your work hours, a trainer helps. You don't have the excuse of not having enough time. Well, not having that excuse could be a bad thing for some!
Even if you have irregular work hours, you can easily fit in a training ride. You don't have to wake up at the crack of dawn to beat traffic or finish your ride before twilight.
No Road Infrastructure… No Problem
For many who live in big cities, there is no decent road around where you live to do a proper workout. You cannot focus on your numbers, because you need to pay attention to the dogs chasing you, the potholes, speed bumps and more.
All these seemingly small problems get in the way of you hitting your training numbers and improving as a cyclist. An indoor trainer goes a long way in smoothing out your training process and helping you become a better cyclist.
For example, if you want to work on improving your pedal stroke, then doing it on a trainer is significantly easier.
Races to keep your competitive juices flowing…
For many riders, there might not be a race organised anywhere in the vicinity. And during this time of lockdown, the problem gets exacerbated.
Smart indoor trainers connected to an app like Zwift, help you explore your competitive side. While sitting at home you can compete with athletes at a similar level from around the world.
And nothing makes you fitter faster than racing.
Hills for Flat Landers
For a lot of people in India, the hills are too far away from where they live. Few are lucky enough to live and train in the hills. A handful might enjoy hills during the weekend, but for many a climb is a distant dream.
Smart trainers help greatly in this regard. You can, as our friends in ATH say, "Go Climb Some Hills!". The only way to get better at climbing is to practice it, a lot. And for folks living in the plains, an indoor trainer is a boon.
Safety
Needless to say, you are safer at home training without the fear of being mugged or hit by a vehicle. Dangers which are ever-present on urban roads.
The only injury you might sustain indoors is if your partner gives you a whack for spending more time on the trainer rather than with them!
Downsides of Indoor Cycling
After reading the above, you might be inclined to rush to your nearest dealer and order one for yourself. To slow down your pace, read on…
When chatting to ace Indian mountainbiker, Shiven Aerohawk, he told us that before the lockdown for 2 years his indoor trainer had been lying untouched. He would only train outdoors, be it winter, summer or the monsoons. But then, Shiven lives and trains in Manali, so there's that!
Cost
Indoor trainers aren't cheap. At least the smart trainers which replicate real world conditions. Investing in an indoor trainer keeps many cyclists out of this coterie.
Plain Jane trainers can cost under 10000, but as you get progressively better quality with more features, you are knocking on the door of a figure ten times that!
Bike Handling Skills
What you cannot learn riding an indoor trainer is bike handling. No matter how many hours of hard work you put in.
And this applies in equal measure to road racers, as it does to mountain bikers. Riding a paceline or gnarly single track, can only be understood and improved in real world conditions. There is no replacement to it.
Headwinds
No matter how realistic your indoor training software gets. It can never replicate the soul sucking nature of mammoth headwinds. For that you need to be out and about.
And its not just headwinds. Cycling indoors will not teach you how to dress appropriately for the weather or carry sufficient hydration or nutrition for the ride.
Altitude
If you are training for a high altitude race like La La Land Ultra or the NorthQuest Challenge, then your indoor training will not help you a lot.
You might get better at climbs in general. But your body will not get acclimatised to the lower oxygen levels, for that you need to head to the mountains.
Power Failures and Internet Drops
A unique feature which effects indoor cycling in India is electricity failures and losing your internet connection!
If you have a smart trainer, then you are dependant on electricity. Without electricity your trainer isn't smart or depending on model, even operational. The easiest way to address this concern is connecting it to an inverter. A backup power unit which most Indian households have these days.
If you are racing on an application like Zwift, then pray to God that your internet doesn't stop working. Because if it does, your fellow racers will suddenly see you disappear from the scene. The effect is very much like online gaming.
Cycling is an Outdoor Sport
At the end of the day, every single one of us, got into cycling because it is an outdoor sport. Having the wind in your face, enjoying the countryside or just feeling the adrenaline of pushing your body in the lap of nature is what makes cycling special.
No matter the amount of Artificial Intelligence used to mimic real world conditions, it can never replicate the joy of riding your bike outside.
The important thing to keep in mind is that indoor training is to be used exactly as advertised, for training. It will help you be a better and fitter cyclist. But the joy of cycling is only when you step out of your front door.
Himanshu Gupta
No. of Years Cycling: 6 Years
No. of Years Since Indoor Training: 3 Years
Cyclist Category: Amateur Road Cyclist
Indoor Trainer Model: Elite Direto
Applications Connected to Trainer: Zwift & Garmin Connect
Reasons for Using a Trainer:
Improves performance especially with a power meter based smart trainer.
Slog Indoors and Enjoy outdoors – This has been the mantra of my rides on the trainer. I push hard during the indoor rides during structured workouts as well during leisure rides so that I can focus on weak areas and translate those improvements during my outdoor rides. For me outdoors rides are more of leisure and fun rides.
Structured Workouts & Training: I usually have a high HR and while riding this crosses even 190 BPM which psychologically affects my outdoors and I lose my focus. Instead of enjoying the ride I tend to think about lowering my HR and thus miss all the fun during group rides. With an indoor trainer I specifically target my improvement areas and do lot of interval training that helps me in improving my HR and recovery rate. It also helps me in improving my cadence and other aspects like sitting posture, build stamina which are extremely important when you are participating in outdoor races or riding in a paceline.
Ride in any weather: Cycling especially during rainy weather and winter season get badly affected and that's where indoor trainers comes into the picture. Be it a heavy rain outside or a chilly foggy winter morning. You can simply plugin your trainer and use any virtual platform to ride and train which is the biggest USP of indoor trainers.
Indoor Trainers and interactive apps like Zwift provide a perfect platforms for riders to not only improve their physical strength but also become mentally strong. Be it a VO2 Max interval or a coffee ride each one requires focus, mental stability to achieve that target wattage and enjoy the pain and sufferings which eventually make a rider strong than before.
Indoor trainers are time efficient as well. If you have little time and want to ride then you can easily squeeze in some training plan or workout and finish the job.
Indoor trainers also remove the threat of punctures, accidents, mechanical failures etc. Simply mount your bike and keep pedalling. It's far safer than riding outdoors especially if you are riding solo and in early morning hours etc.
Indoors Trainers also gives an opportunity to ride on Zwift and socialise with riders from across the world. Be it a sufferfest or a coffee ride you get a chance to e-meet like minded riders and trainers.
Judge your Real Power: Indoor Trainers also helps athletes in determining their FTP which is the core of any training plans on Zwift. We all are number driven and FTP is something which is a true reflection of a cyclist's abilities and power.
Keeps the happiness quotient high.
Reasons for Not Using a Trainer: None
Will you Recommend Indoor Training for Similar Purpose: YES
Angana G Barua
No. of Years Cycling: 4 years
No. of Years Since Indoor Training: about a year
Cyclist Category: Amateur triathlete
Indoor Trainer Model: Wahoo Kickr Core
Applications Connected to Trainer: Sufferfest, Rouvy, Zwift, Trainer Road (primary)
Reasons for Using a Trainer: Gives us more freedom to do our workouts at a time convenient for us. The traffic and the weather at times is not conducive and having a trainer gave us the freedom to complete our workouts without the fear of missing it.
Reasons for Not Using a Trainer: When we have opportunities to go out, we will take that option for sure!
Will you Recommend Indoor Training for Similar Purpose: Indoor training is a more focused way of getting your workouts done. Also, the convenience it offers is great – and you can do your workout in the middle of the day without the apprehension of a scorching sun or torrential showers. The flexibility is great for working people who need to balance life in general and still work out. Also, a good trainer gives you a road feel and the different apps give you a certain experience. I like watching movies or listening to my favourite songs while riding on the trainer 🙂 but I would pick outdoors any day!
Imaad Sait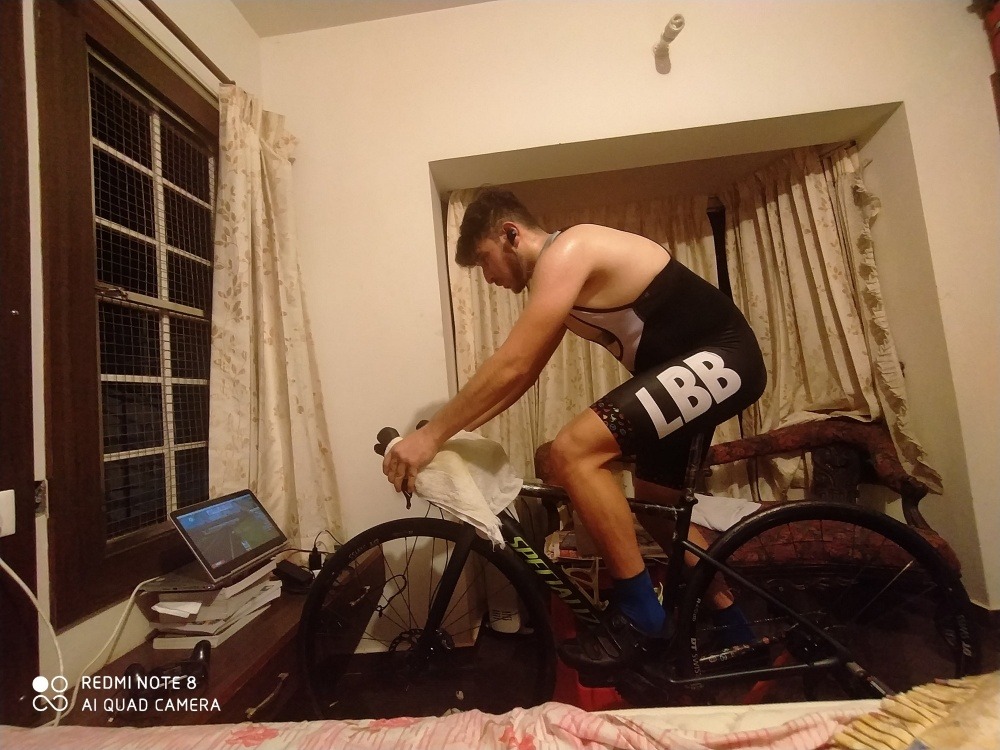 No. of Years Cycling: Racing for the past 4 years
No. of Years Since Indoor Training: Indoor training for 3 years
Cyclist Category: Road and MTB racer
Indoor Trainer Model: Used a Jet Black roller and then shifted to a Jet Black fluid 'dumb' trainer as I had a fracture.
Applications Connected to Trainer: Used Zwift as an indoor training platform until then I used just the Garmin cycle computer.
Used a trainer during monsoon and some busy days with school and college. Indoor training is easier and a more focused form of training, your bike is already on a trainer and all you need to do is wear your shorts and shoes and jump on. There is no hindrance such as traffic or terrain change when doing a workout, making it is easier to nail your training sessions.
Especially by doing intervals one can save time and just get the workout done. On an indoor trainer you just connect your speed sensor to an app like Zwift and it will give you an estimate power output and this way you can train with power numbers which makes it cheaper and better.
The only down side of indoor training is, one can't really enjoy cycling as a whole and it is equal to a form of exercise to get fit or maintain fitness. I prefer cycling outdoors in my hometown, Ooty as it is good to explore places and take in some fresh air. But whilst in Bangalore, indoor training is my go to tool due to pollution, traffic and bad roads.
Sonia Vyas
No. of Years Cycling: 5 months
No. of Years Since Indoor Training: 5 months
Cyclist Category: Amateur Triathlete
Indoor Trainer Model: Wahoo Kickr Core
Applications Connected to Trainer: Garmin + Trainer Road
Reasons for Using a Trainer: As a working woman + mother it's not possible for me to leave the house often for my workouts as before. And after work I have the responsibility of my child and more so now during this pandemic with children being at home & schools are shut things are even tougher. The trainer has literally been a life saver through weeks of lockdown. When running was also not at option I could get my cycling done at home at whatever time suited me. It's helped me immensely to get stronger as a cyclist as I got an opportunity to clock in 100s of hours on the trainer every month.
Reasons for Not Using a Trainer: None I love my indoor rides! But of course at the end of the day road practice is a must to prep you for race day!
Will you Recommend Indoor Training for Similar Purpose: 100% YES
Ashley Moras
No. of Years Cycling: 3 years
No. of Years Indoor Training: 1 year
Cyclist Category: Road, Professional
Indoors Trainer Model: Elite Turno
Applications Connected to Trainer: None (Used a few though)
Reasons for using a Trainer: Important workouts where concentration is key are done well. Indoors trainer helps you completely focus on the workout. No time restrictions, you can hop on anytime and do workouts. You can do workouts even at night. You can't give excuses, if you can pull through. Mentally challenging.
Reasons for Not using a Trainer: Definitely boring. Room needs to be well ventilated as things get pretty hot. Damn hard when you got to do certain intervals.
Recommendations: In the current situation if you have a trainer then your training doesn't get affected. Please purchase a trainer only if you really need one. Just don't purchase one because everyone else is doing so. Think of your goal, your problems it (trainer) will solve and the duration of usage.
Abhishek Purohit
No. of Years Since Cycling: 8 years
No. of Years Since Indoor Training: 5 years
Cyclist Category: Avid mountain biker occasional roadie wanderer
Indoor Trainer Model: Tacx Neo
Applications Connected to Trainer: Zwift & RGT (Earlier TrainerRoad)
Reasons for Using a Trainer: Thanks to the roads and traffic of Mumbai I discovered what is called a 'Turbo Trainer' or trainer in short. While I had a fairly active cycling life in Delhi owing to the fact that the trails were accessible and we had ATH group rides and races, Mumbai didn't offer much or at least it wasn't accessible. While riding my full suspension MTB on the roads there felt out of place. So, I got a roadie, but quickly realised that riding on the roads was a risky affair and was best restricted to weekends when traffic was less.
Cyclops Fluid2 was my first trainer. It allowed me to train at specific heart rate zones without having to worry about oncoming traffic signals, jay walkers or the errant taxi/ auto drivers. It was a revelation, my performance in real world conditions improved, I was hooked. However, limitation of this trainer being – your own motivation!
The next phase came when I discovered Smart Trainer. Back in 2016 apps like TrainerRoad, Zwift, Sufferfest etc. were making onslaught for the indoor training space. Few of my friends in Delhi had ordered Smart Trainers from global sites. I got one too, the Tacx Vortex Smart, opening up an avenue which is hard to replace – training, riding and racing from the comfort of your home! While you did all the work the smart trainer replicated real road feel simulating gradient changes and power to be generated; there was no escape! TrainerRoad was my coach for next one and half years.
Having clocked more than 20,000 virtual miles (across several platforms) I find it hard not to include the trainer as an integral part of my riding life. Especially at times like these when not having the option to ride outdoors would have surely made me go mad or depressed.
Zwift races, group rides and climbing segment allow plethora of choice to ride at the intensity of my liking. Consequently, not only have I lost weight, I have won the Season title in ATH races, been on the podium at MTB Shimla, learned the importance of being consistent, focused and chasing intensity.
Its all because of the 'not-so-humble' trainer.
Reasons for Not Using a Trainer: There aren't any!
Will you Recommend Indoor Training for Similar Use: Absolutely!
Sumit Patil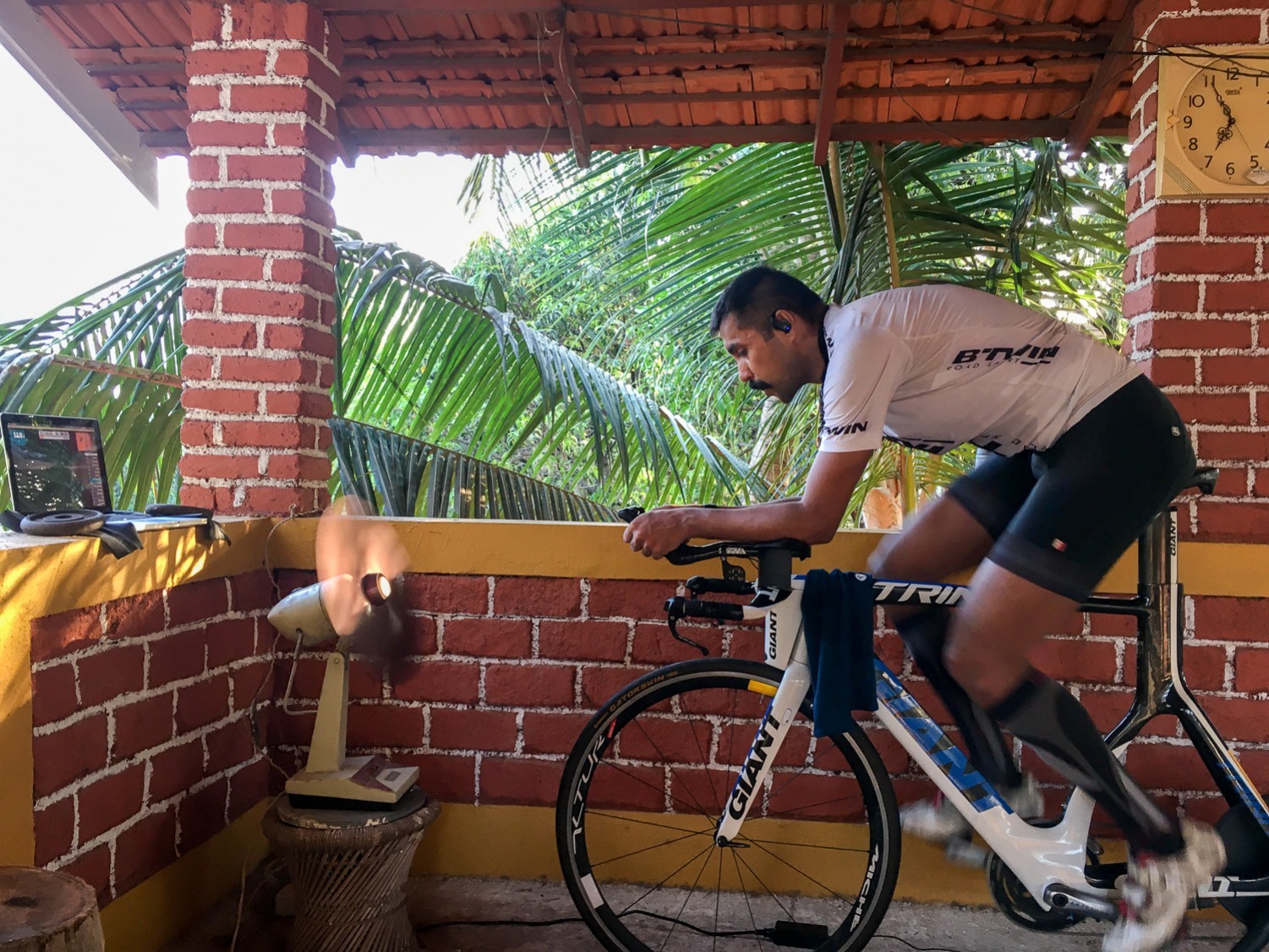 No. of Years Cycling: Cycling since school days including, multi-day self-supported, touring kind! Ultra Cycling in real sense started since 2010.
No. of Years Since Indoor Training: Using Indoor Trainer since 2013.
Cyclist Category: Amateur Road Ultra Cyclist.
Indoor Trainer Model: Btwin Inride 100, Elite Qubo Digital (2013-14 Model), Wahoo Kickr Core (Using at present).
Applications Connected to Trainer: Sufferfest, Zwift, Elite E-Training and Wahoo Training.
Reasons for Using a Trainer: Primarily it started to reduce excuses of not riding due to reasons like getting up early etc.
Then I got introduced to the structured way of training with numbers, lots of numbers. With smart trainers one can dial these structured workouts with such an ease. And one can focus on numbers and feel (RPE) with laboratory precision.
It makes, putting oneself through the torture, easy! Don't get me wrong. It nowhere reduces the level of torture. According to me it makes the training sessions highly productive! For Ultra Cyclists it comes with one more advantage. Once in a while, one can go on a 12hr-24hr Zone-2 ride without a "support crew"!
Reasons for Not Using a Trainer: Not hitting the road is not an option. One trains to be a better cyclist in real world conditions. That's road for me. One shall not forget the language of riding out there on the road. I prefer to do my Long Steady Distance (LSD) rides on the road.
From the philosophical point of view, cycling for me will always be synonymous to Freedom and Liberation. Training on an Indoor Trainer is far from that!
Will you Recommend Indoor Training for Similar Use: Yes I would.
To Sum Up Indoor Cycling in India
This has its benefits and shortcomings. It might work for some, while it might be a no go for others.
A couple of things should be kept in mind before you spend on indoor training setup. Indoor training is expensive and requires a substantial investment.
The second thing to keep in mind is whether you are the kind of cyclist who requires such equipment.
If you are a leisure/ recreational cyclist, you don't need a trainer. Your cycling goal is to 'enjoy' a ride outdoors.
For those looking to compete, at any level, this makes for a fantastic tool, to facilitate your journey to be a fitter cyclist.
This is the first part of two articles. The second part will deal with choosing a correct indoor trainer for your needs and budget from the Indian market. It will also deal with getting you started on your indoor journey and extracting all the advantage that an indoor trainer offers.
---
Also read Sumit Patil's 24 hour ride on an Indoor Trainer, where he raised funds for the migrant crisis earlier. Check out this list of Online Cycle Stores, from where you can purchase your trainer!