The 17th day saw us riding from Batal to Gramphoo as Si left the Himalayas to head back home, while Driftjockey joined up for the road ahead. This was part of a 90 day ride in the Himalayas covering Spiti, Zanskar, Batalik, Ladakh, Nubra, Shyok, Pangong, Hanle, Tso Moriri, Garhwal and Kumaon. 
---
Day 17 Batal to Gramphoo
The day Si and I went our separate ways.
After experiencing the beauty of Chandra Tal, Si didn't feel the desire to ride anymore. A feeling of accomplishment was strong. He had climbed Kunzum La and seen the lake. He wanted to get back to civilisation asap, to continue work on his thesis.
What could he possibly miss in one day's ride? A lot apparently!
Batal is the place where 6 years previously I had to go to the loo in the open. Now a proper toilet has been built and for me that is real progress and development! After a solid breakfast at the dhaba I bid farewell to Si and chacha chachi.
As I left a light drizzle started. That rain stuck with me for the rest of the day. Temperatures were ranging between 5-8 degrees and I was freezing. The pedals were spun harder than normal to work some heat into my frozen body. Within the first couple of kilometres an abandoned motorcycle and car were visible.
This section has no road, it is closed for seven months of the year because of snowfall. There are no permanent villages or people. Only fair weather shepherds, dhaba owners and tourists. The area is covered under 20 feet of snow in places. When the snow melts in spring it destroys the road, after a couple of attempts, the government has now given up building it apparently.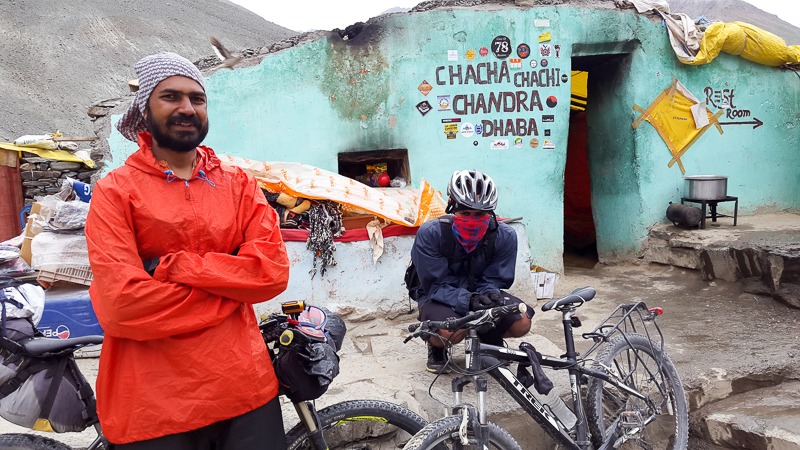 Thus this section is a real adventure.
With three knee deep streams to be crossed among many other smaller water bodies. Normally the water in the streams rises in the afternoon because of the snow melting under the sun. The smartest travellers cross early in the morning when the water is a meek animal.
Thanks to the rain on that day the streams were a raging beast.
Drivers struggled to cross. I on the other hand, took off my shoes, wore rubber slippers and waded through the ice cold water. By the time I reached the other end of the stream, I couldn't feel my feet! The good news was that my luggage, clothes and most importantly shoes were dry. I had to rub my feet vigorously to get the blood rushing in them. After which my slightly damp shoes also felt like the warmth of heaven!
This act I repeated thrice.
Chhatru
At a tiny village of Chhatru I gobbled a hot bowl of noodles which gave me strength for the climb. Then the climb started and the road turned to a slush fest. 4-5 inches deep mud soaked with the incessant rain made for quite the party. Added to that were the deep ruts left by have vehicles and my humble cycle was dancing across the road. At times I would pedal furiously, only to be left standing in one place.
Constant attention is imperative as I realised to my detriment. I was crossing a small stream without giving it the necessary respect and attention, my front wheel hit a rock underwater and my bike came to a standstill. Not so bad, except I had to put my foot down and there went my shoes from damp to soaking and freezing wet!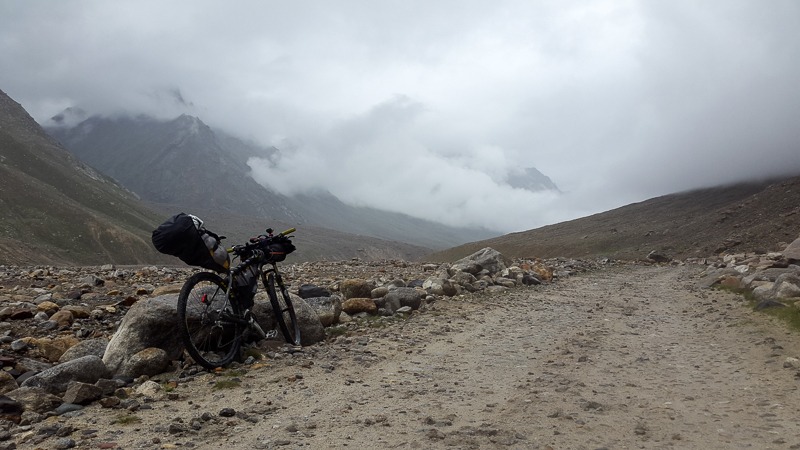 A mammoth struggle later I reached Gramphoo and began the search for Driftjockey.
We had planned to meet in Gramphoo. He was supposed to reach a day earlier and camp out in the open and I was to search out his tent. I had to go old school since there is no phone connectivity. Which meant, pedal up and down the road, looking for suitable camping spots, yelling out his name! It didn't do any good.
Exhausted, wet, freezing and slightly disoriented I spotted a jeep with a waving hand. Lo and behold, it was Si. He had hitched a ride in a jeep going towards Manali and still reached after me. My cycle wasn't all that slow then!
That gave me a boost and with renewed efforts I searched out Driftjockey. I finally found him walking up a path, flitting through the air like a ghost.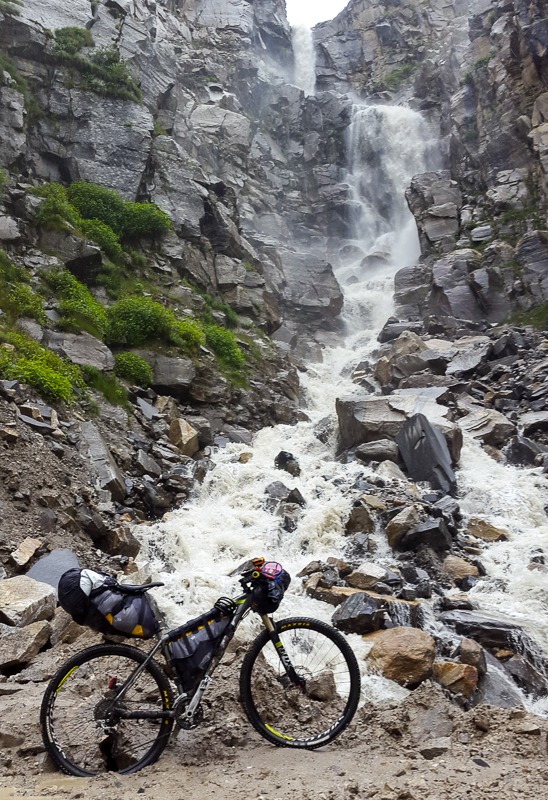 Part Deux
And just like that it was on. Part 1 of the ride with Si was over and the second part was in play with Driftjockey.
At the dhaba we met three boys from Kerala who were desperately in search of cotton gauze. Seeing their desperation, I pulled out my medical bag and handed them a roll of gauze. Enquiring whether they needed antiseptic as well. Nope, they wanted it to clean their chillum, so that they could continue smoking up! I could easily have lynched them with that gauze itself!
By late evening the rain stopped and instead of pitching my tent, I stayed in the dhaba at Gramphoo, where the owner allowed me to stay without charging me any money. The generosity of people towards cyclists is amazing!
Route Profile: Batal to Gramphoo
There is NO road!
Numerous water crossings are part of the route. The water can be a few inches or feet deep, depending on time of the day and year. Till Chhatru the route is filled with loose rocks.
From Chhatru it is all loose mud. Best case it is a pile of mud, worst case it is a lot of slush, which makes cycling through it a pain.
Expenses
Food for one 70
Stay for one NIL
---