On the 18th day of the cycle ride, we rode from Gramphoo to Keylong, the last town before turning off for Zanskar on the trekking path! This was part of our 90 day cycle ride in the Himalayas covering Spiti, Zanskar, Batalik, Ladakh, Nubra, Shyok, Pangong, Hanle, Tso Moriri, Garhwal and Kumaon.
---
Day 18 Gramphoo to Keylong
The first day of riding with Driftjockey.
We left Gramphoo in high spirits and pleasant weather. It wasn't hot neither was it raining either. 5 km after Gramphoo we reached the village of Koksar where they check tourist permits. We were asked for permits which we didn't have. I made some random excuse of coming from Spiti and got away with it.
What are these permits required for and who issues them? I wonder.
Spiti vs Ladakh
The road from Manali to Keylong is almost 100% asphalt, which makes it an extremely boring ride.
Two things struck me coming from Spiti, one, traffic is much faster and you are regularly given a face full of diesel smoke from speeding trucks. The second was the impersonal nature of the road. In Spiti rarely ever a vehicle would pass me without waving out or letting out a gentle toot of the horn in acknowledgement.
Out here no one cared! A rude culture shock for me after spending a blissful fortnight in Spiti.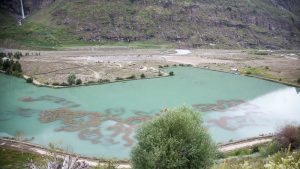 Luxury!
The reason for staying in Keylong was modern.
We needed electricity to charge our gadgets, phone connectivity and Internet for connecting with the family and friends after a week. And the most important hot water and a loo! Bathing after a week was heaven and going to the loo with a roof over my head and a door to shut was pure bliss.
We stayed in a hotel a couple of kilometres before the town, it generally is cheaper and less crowded. I could do with less humans around after the splendour of Spiti. Directly over our heads, sitting atop a cliff was a monastery. It looked tempting even for out tired souls. The climb to the monastery is steep and starts from the back of a bus stand.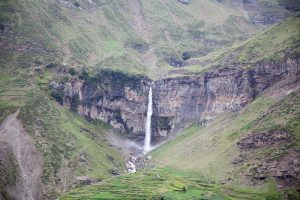 Monastery: Women Only!
Driftjockey had the bright idea of making a time-lapse of us trekking to the top. And to make sure it came out well, we marched up without a break. Our lungs were bursting, quads burning, but we didn't stop. All for the love of photography!
Unfortunately, Driftjockey sucks at cinematography and our effort was in vain.
Since it was a full moon night the place was filled with women. For religious reasons it is auspicious to visit the Stupa at the top.
I felt weird in the monastery, it looked like a place for nuns only! I stood there like an idiot while grandmother aged women milled about. Finally a foreigner lady resident of the monastery came to our rescue and she told us the reason for the many women, she also told us to go to the top of building from where the view of the valley was breathtaking.
Anyone who has experienced the overpowering affection of a grandmother will understand. Imagine 20 grandmothers peppering you with questions about your travel. Someone offering you tea, another shoving a plate of fried rice in your hand, one giving you a historical perspective of the place, another the mythological.
It sends your brain in a tizzy, since they look alike with their nun's uniform, so you never know if you have just spoken to the lady or is it someone new!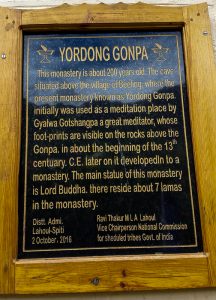 Yordong Gonpa
Paaartay Animals
After an eventful couple of hours at the monastery, we returned to the hotel in pursuit of things more modern and frivolous! High speed Internet to update Facebook, Instagram and the like! For which we had to walk around quite a bit, stand in the correct spot, face the phone tower and pray that the photo would get uploaded!
We were shooed away when we went down to the dining hall. It was filled with a raucous crowd of drunk middle aged men who were having far too much fun than their wives would have approved! Dinner was served in our room, to make sure we stayed far from those immoral men!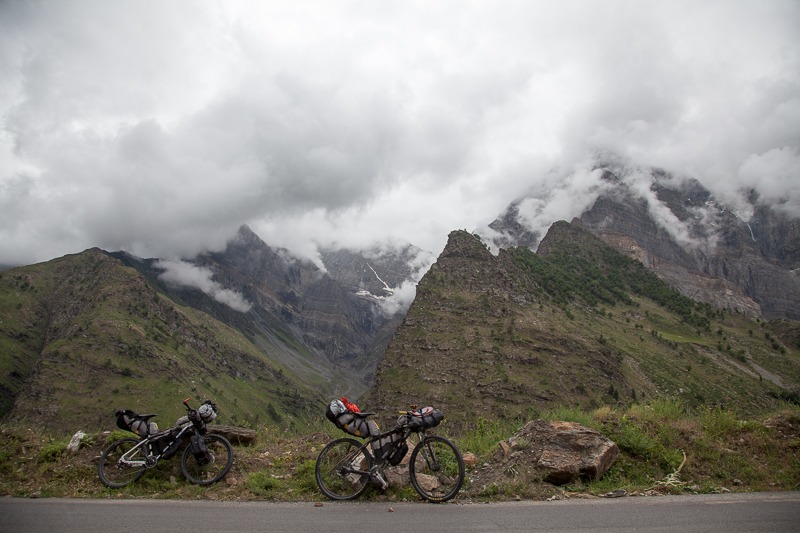 Route Profile: Gramphoo to Keylong
The road from Gramphoo to Keylong is unremarkable. It is mostly downhill or flat with two small sections of climbs.
The asphalt quality is quite good throughout and the surroundings are green and pretty, with a few white peaks visible in the distance.
Food and lodging is available throughout the route for a wide range of prices.
Expenses
Food for two 370