The penultimate day of the Spiti section saw us ride an exceptionally short distance, from Chandra Tal to Batal. This was part of our 90 day cycle ride in the Himalayas covering, Spiti, Zanskar, Batalik, Ladakh, Nubra, Shyok, Pangong, Hanle, Tso Moriri, Garhwal and Kumaon.
---
Day 16 Chandra Tal to Batal
A rest day it was, of sorts!
We saw off Si's friends as they needed to catch the morning bus from Batal 12 km away and then we had nothing to do and all day to do it!
A lazy breakfast with toast, butter and fresh honey was followed by an hour long trek to the lake. The walk to the lake was through lush green hills, peppered with sheep, and a pleasure to navigate. Si had wanted to spend no more than an hour at the lake, we ended up at the lakeside for closer to 4 hours!
We sat by the lake shore munching on thoughts on life, the universe and everything. The serenity of the mountain lake being the perfect breeding ground for buried thoughts. We circumnavigated the lake before heading back.
On the way back, we saw a shepherd picking something off the ground and filling it in his sack. On enquiring, we got to know that he was collecting dried dung to burn, since there is no wood available! Nothing goes to waste, not even poop.
Once back at the camp we loaded up our bikes and with a heavy heart rode the 12 km to Batal. For Si the trip was over, the journey had climaxed with the view of Chandra Tal and he had no desire to ride anymore. It wasn't an act of giving up, but finding peace in completion.
On the way we bumped into a cyclist from Switzerland, Thomas, who was in a massive hurry to get to the lake to shoot the sunset. For that reason we unfortunately couldn't chat for too long.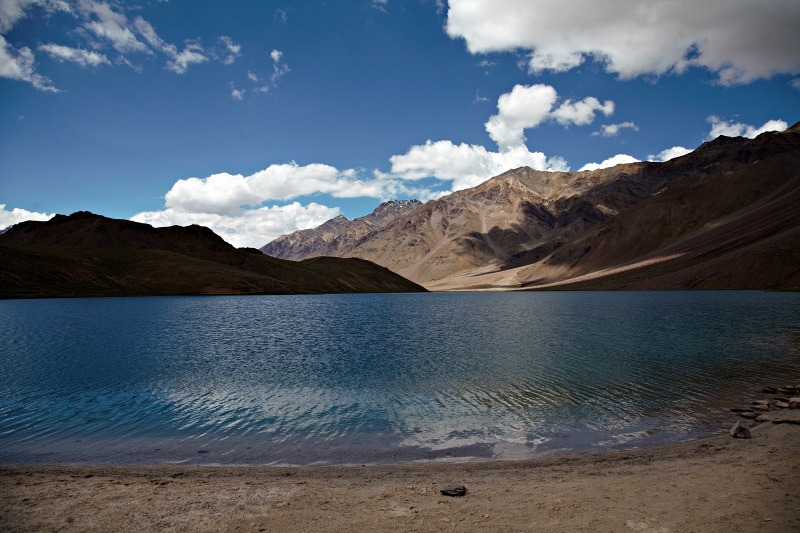 Batal
At Batal we met the famous chacha chachi of the place. They are literally the uncle and aunt of whoever passes through, as they have been a permanent fixture in Batal over the decades. There was a time when besides them, Batal was nothing!
We were provided with a barn for sleeping through the night, which was surprisingly comfortable and warm. An exhausted cyclist doesn't need a lot of comforts to feel pampered.
As we waited, news spread that the road ahead was closed. An inexperienced driver had gotten his car stuck in the stream. This left the rest of the traffic waiting for four hours. And when the traffic did go through, it came like a cork from a champagne bottle!
All the while Si and I stood by the side of the road contemplatively observing and commenting on the people passing us by. Si moved around melancholy as his ride for all practical purposes had come to an end…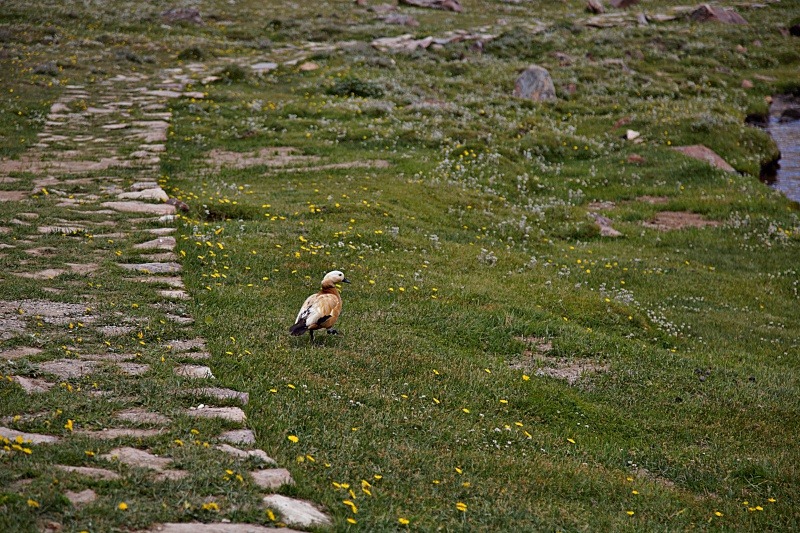 Route Profile: Chandra Tal to Batal
The short 12 km stretch from Chandra Tal to Batal has nothing on the way. It is just an undulating rocky stretch.
Batal has 3 dhabas and those dhabas provide accommodation as well. Amenities available is all very basic, besides food and a shaky roof over your head, nothing else is available.

Expenses
Food and Stay for Two 300
---